Revolvers starting with the letter "A"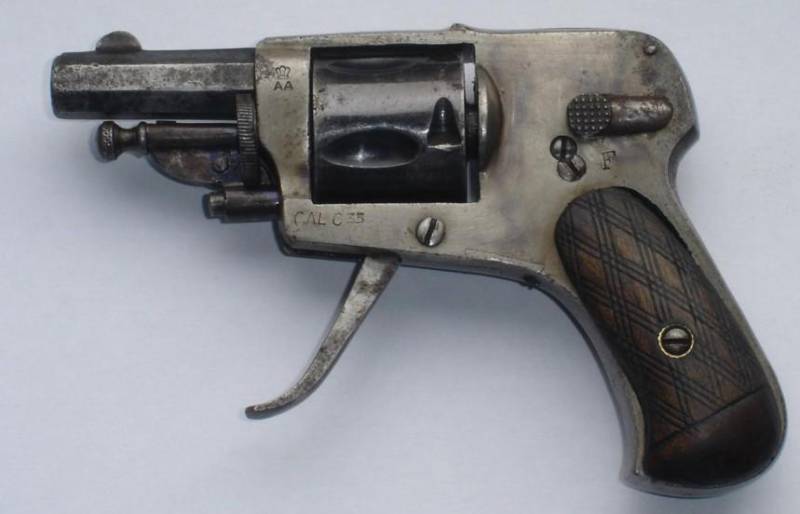 Agniel Adolphe revolver (in Belgium these were called Bossu)
You will never find a friend,
Than your combat revolver!
Adam Lindsay Gordon (October 19, 1833 – June 24, 1870).
ancient weapon from A to Z.
We are starting a new series of articles dedicated to weapons. And not just weapons - they have been written and rewritten about them in VO, but little-known, ancient weapons, such that not everyone knew in the past, or, on the contrary, everyone knew, but only then for some reason they forgot about them. And these weapons will be arranged in alphabetical order. Or rather, not the weapon itself, but its creators and manufacturers. And these will be mainly Europeans, whom we know least of all. But we will only talk about pistols and revolvers. The fact is that photographs of the same hunting weapons usually do not turn out very well. You can take a photo of the castle, but then the gun itself will not be visible, and vice versa. The same applies to rifles, which, alas, are too long, so it is difficult to show them in a high-quality manner in a photograph.
But revolvers and pistols can be photographed as large as you like, shown in detail, in a word, shown with all the interesting details, of which there are really a lot, and which are simply unknown to most people... many years ago. And it will be the most real and complete
story
short-barreled weapons of the last and the century before last. So, today we have manufacturers whose first and last names begin with the letter A. And the first on this list will be Agnel Adolphe, about whom it is known that he lived in Herstal, Belgium, and from 1901 to 1906 received 13 patents for various designs weapons and their improvements. He also released for sale (that is, he had his own workshop or small enterprise) a hammerless revolver, 6,35 mm caliber. The trigger without a trigger guard folds under the frame. The barrel is short, octagonal, with a crescent-shaped front sight. It had a safety, which is very rare for such a weapon, on the left side. The drum is five-shot.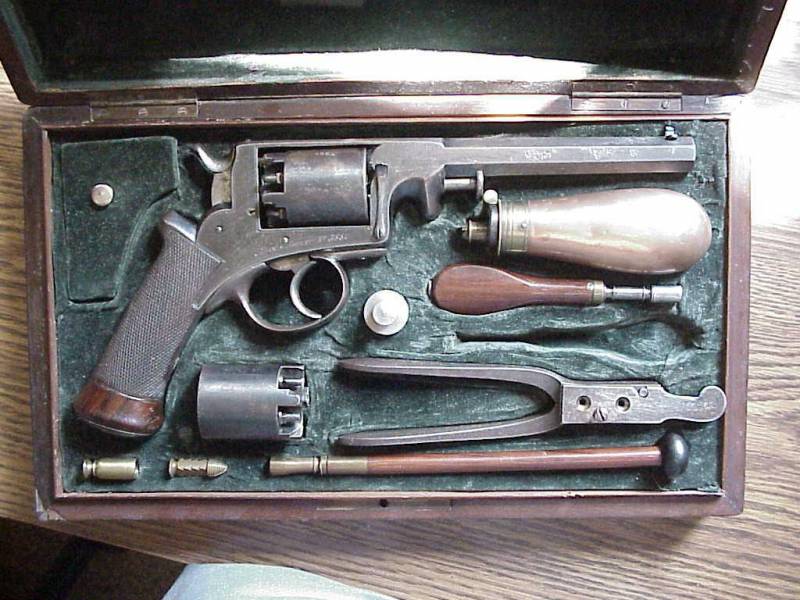 Before us is a revolver from Ansion & Co. A beautifully crafted double-action capsule revolver of the Adams system, Colt's main competitor on the European continent. Year of manufacture 1851. Patent number indicated - 3880. The set is equipped with a spare magazine and all other imaginable accessories
What is known about him? A little. This may be Jules Ansion of Liège (1837–1880). He founded his company in 1849. Collaborated with Auguste Francotte, Frere Rankine and Frere Pirlo to fulfill an order from the British government for the supply of 150 Enfield M000 rifles. Perhaps it was then that he met R. Adams and began producing his revolvers under license.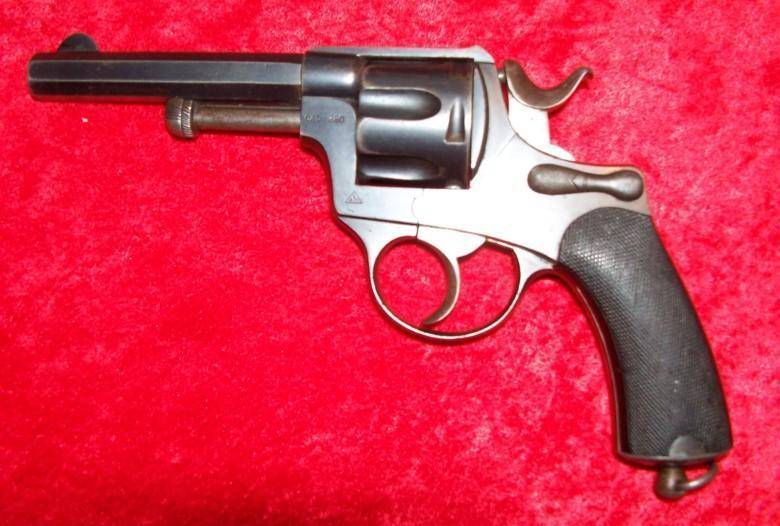 Ansion Marx Leopold's police revolver. Year of manufacture 1877. Octagonal barrel, .380 caliber, six-round drum. Charges through the "Abadi door". Externally very similar to a revolver!
Ansion Marx Leopold began his career as a gunsmith in the 1860s with Lefauchet-based revolvers, and later produced weapons in smaller calibers, notably "velodogs" in 5,5 or 6,35 mm caliber. To be able to sell them to different wholesalers, he came up with (or used) different names for them. Unfortunately, these names were not protected by law, and you can find similar weapons with the same name, but manufactured by other companies. Here are his most famous models: "Kobold Extractor Le Novo" (name also used by Bertrand and Galan), "Lincoln" (name also used by various manufacturers in Liege), "Milady" (used by Jansen Fils). Models "Zinger" and "Pappy", and even "Kiy-Kiy" were produced. Production continued into the first decade of the XNUMXth century.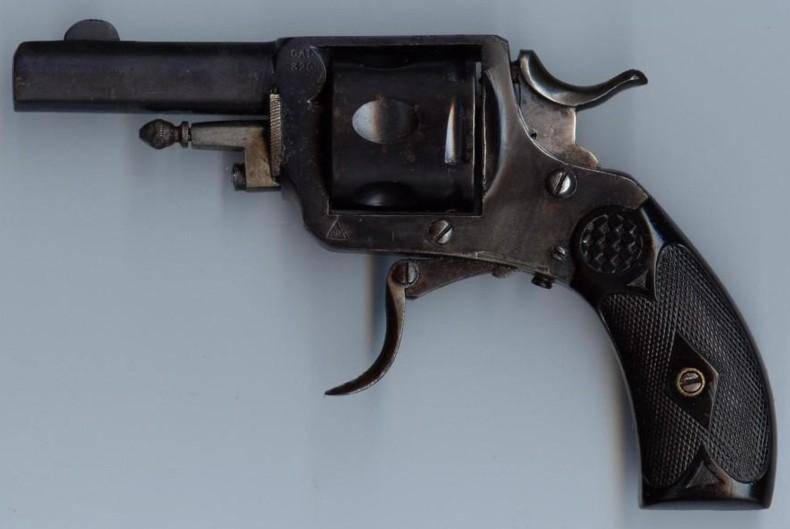 Revolver "Bulldog" produced by Ancion Marx Leopold. This model was available in black or nickel finish, in .320 (7,8mm) and .380 (9mm) calibers, with or without safety (additional price 0,60 francs), with or without engraving (additional pay). The .380 caliber revolver could be sold with or without a trigger guard (at the buyer's request)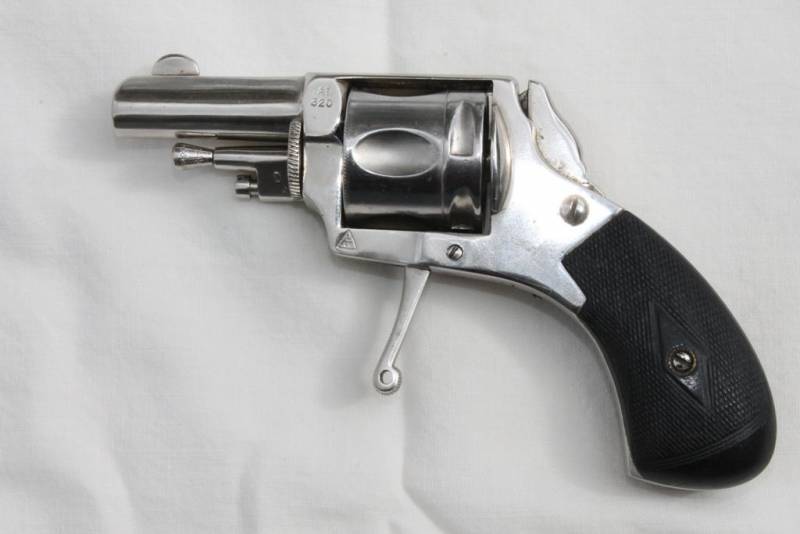 Five-shot nickel-plated .320 caliber "Pappy" double-action revolver, manufactured by Ancion Marx Leopold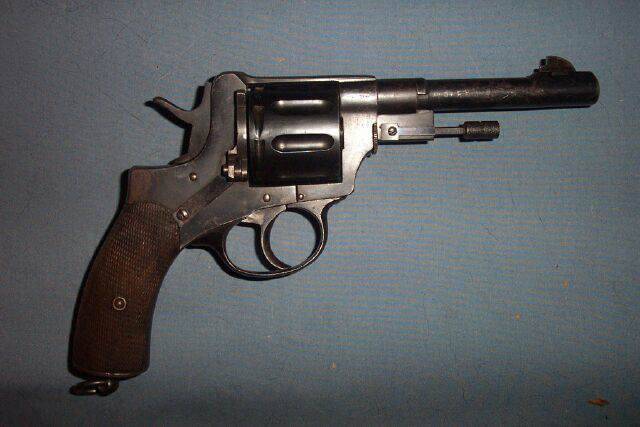 But this is a revolver... a revolver, yes, but not exactly the revolver that was adopted in Russia in 1895, but the "revolver" of Ansion Marx Leopold. Markings indicate that it was produced in Liege in 1897. The caliber is the same - 7,62 mm, but the drum does not slide onto the barrel, and besides, it has 9 chambers, not 7. Like this!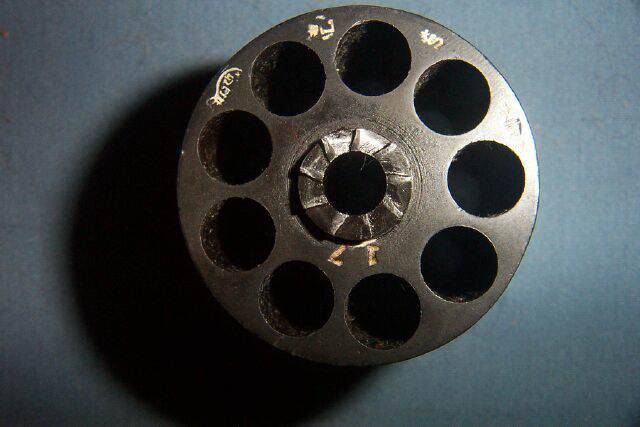 And this is what the drum for it looked like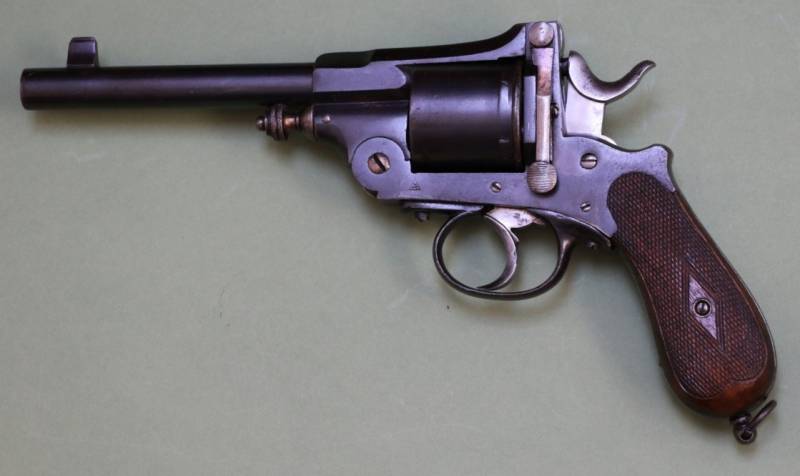 Well, starting in 1875, Ansion produced Varnan break-even revolvers, weighing 900, .320 caliber and with a six-round drum. Varnan revolvers can be easily distinguished from all others by one or two levers on the sides of the drum, by pressing which the frame of the revolver was opened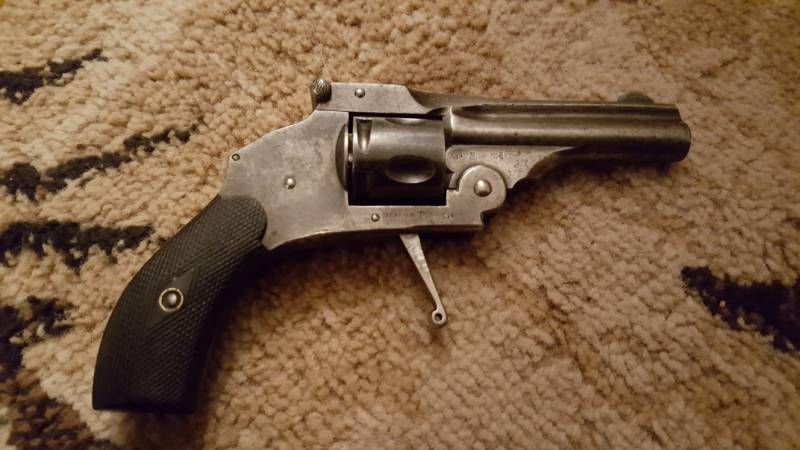 Revolver by Leonard Andre, about whom practically nothing is known except that he lived and worked in Liege. The revolver has a caliber of 6,35 mm. It is a copy of the Smith and Wesson revolver, but is correspondingly reduced in size and equipped with a retractable trigger without a guard.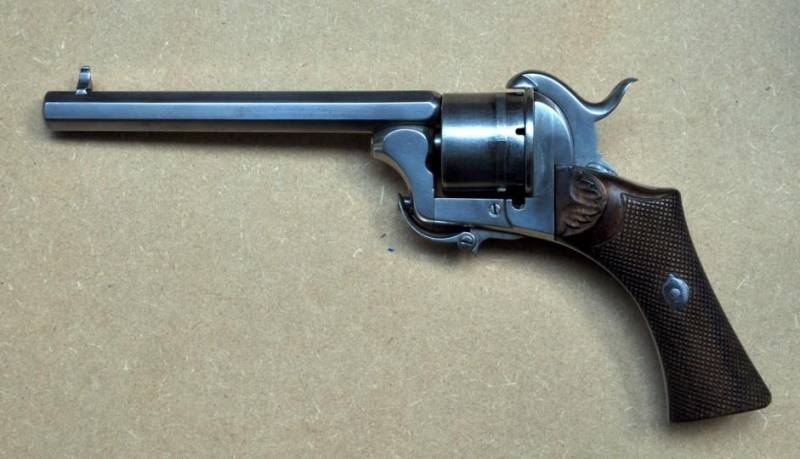 Arendt Maurice's hairpin revolver, patented by Comblain Hubert. Lefoshe type revolver with open frame. Six-shot drum, caliber 9 mm. The barrel is octagonal and has a length of 148 mm. Empty weapon weight: 648 g. The revolver has both single and double action, does not have a half-cock
Arendt Maurice himself was registered as a weapons manufacturer in Liege from 1857 to 1889 and received no less than 10 patents during this time. The gunsmith Comblain Hubert from Vendre received nineteen patents.
As you know, the pin cartridge, invented by Casimir Lefoshe in 1836, prompted gunsmiths to create countless samples of small arms chambered for these cartridges. A feature of this cartridge was the absence of a rim on its sleeve and the presence of a protruding pin on it, which rested on the primer inside the sleeve. A blow to it caused the ignition of the primer and, accordingly, the powder charge. In general, the idea was not bad, but it had a number of specific shortcomings. If the cartridge fell with a pin on something hard, the primer could easily be punctured and fired. Such cartridges could only be inserted into the drum in a certain way, that is, so that the pins would fit into the corresponding grooves on it. It was difficult to do this in the dark or by touch. It was difficult to unload such a revolver. A cleaning rod was required, which should be used to knock out the empty cartridges one at a time from the side of the barrel. The pins themselves sticking out from the drum increased the dimensions of the weapon. They had to be covered with a special casing, which also increased its dimensions. Many designers tried to somehow facilitate the process of unloading such revolvers, and it was precisely on this revolver that it was implemented.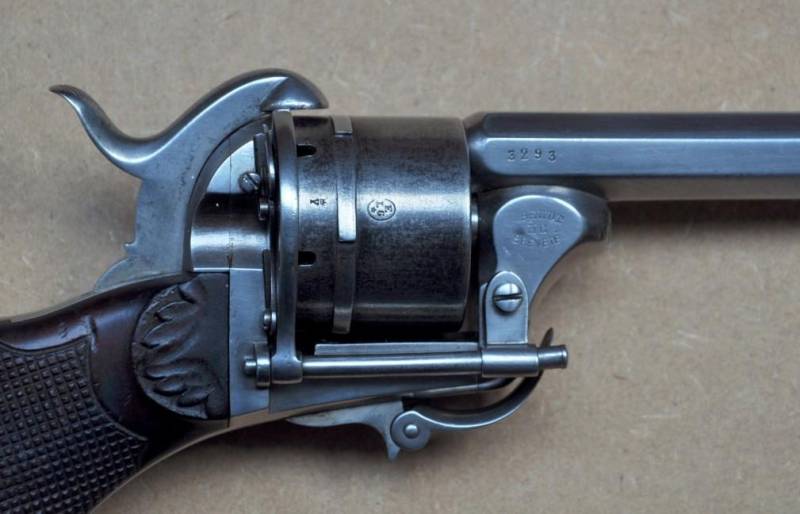 The ramrod on it was not attached under the barrel, but on the right side of the revolver frame!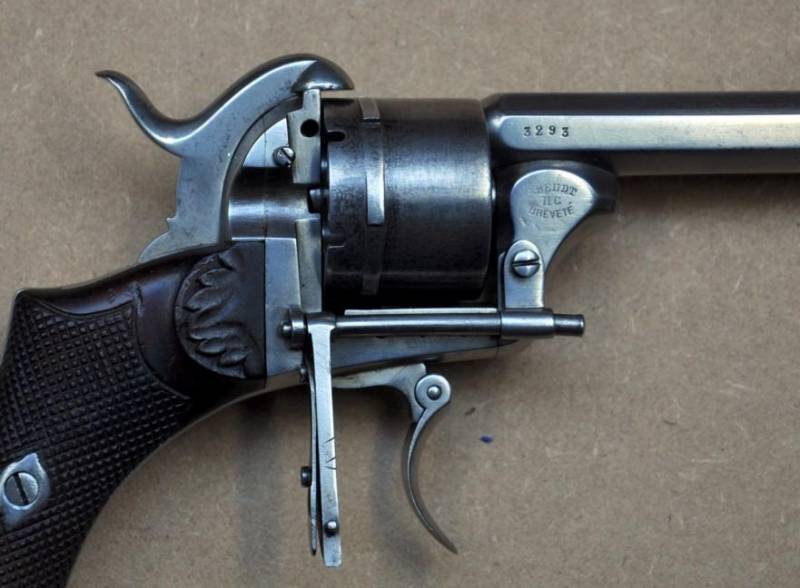 In order to start working with a ramrod, it was necessary to release its spring-loaded handle, which was attached to the right of the frame and simultaneously covered the chambers of the drum on the right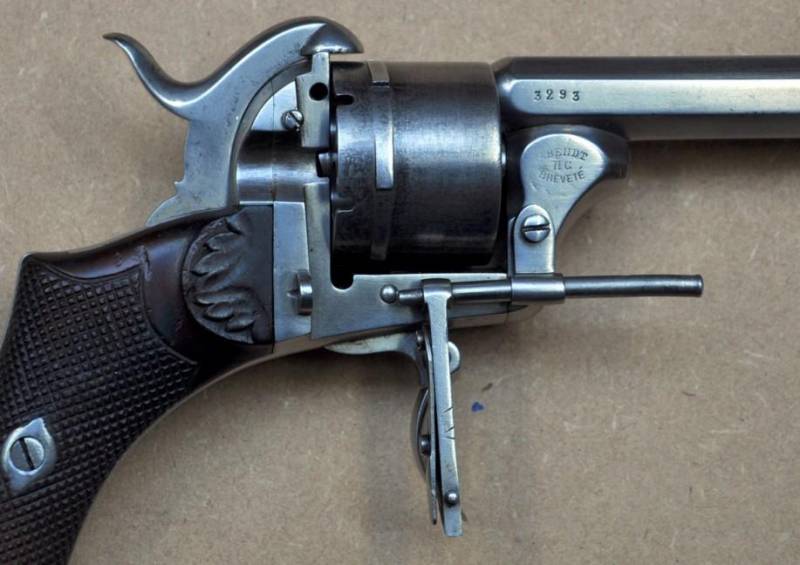 Then the handle with the ramrod moved forward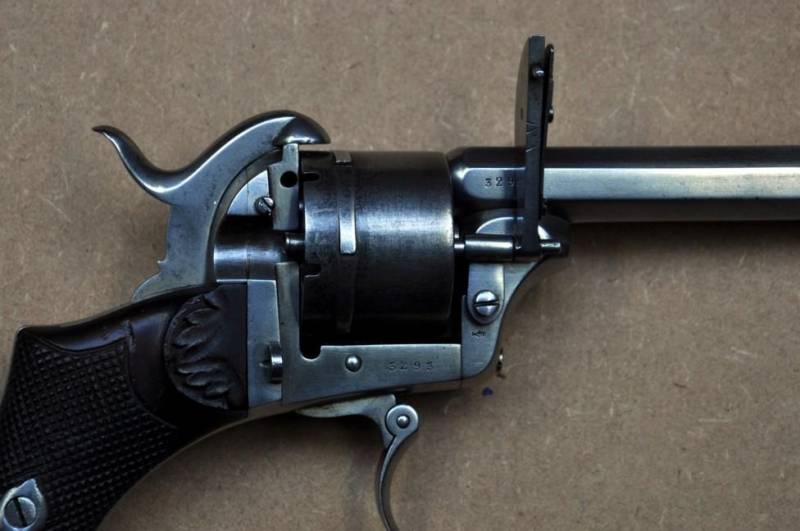 After this, it was necessary to turn it on an axis fixed to the frame of the revolver 180 degrees, and it was possible to knock out spent cartridges from the chambers by turning the drum one by one!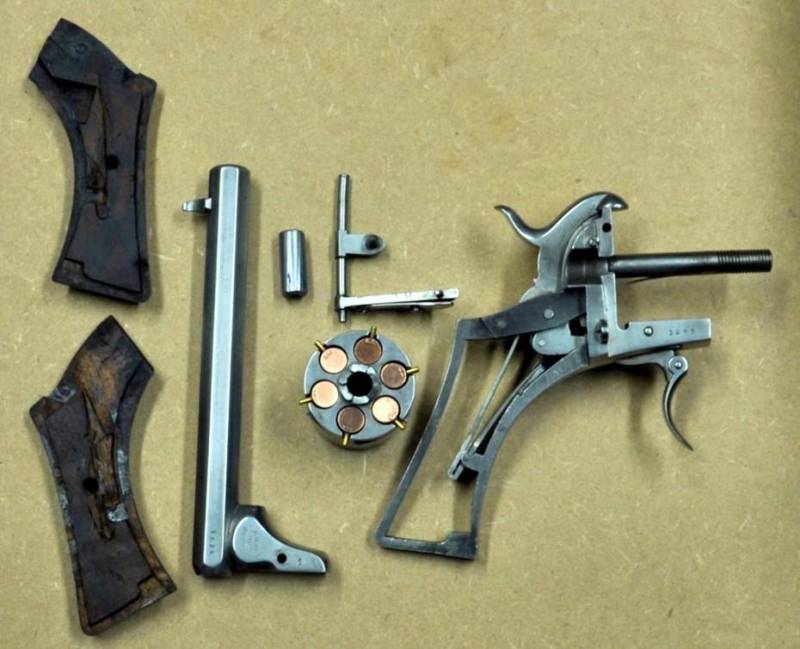 And this is what the Arendt-Combline revolver looked like disassembled and with a drum equipped with pin cartridges
These are the interesting revolvers produced in Belgium at the end of the XNUMXth and beginning of the XNUMXth centuries by manufacturers starting with the letter "A". It is interesting that for some reason there were much more of them with the letter "B", but we will talk about them and their designs next time.
PS

The author and administration of the site would like to thank Alain Dobres (www.littlegun.be) for the opportunity to use his materials.

To be continued ...