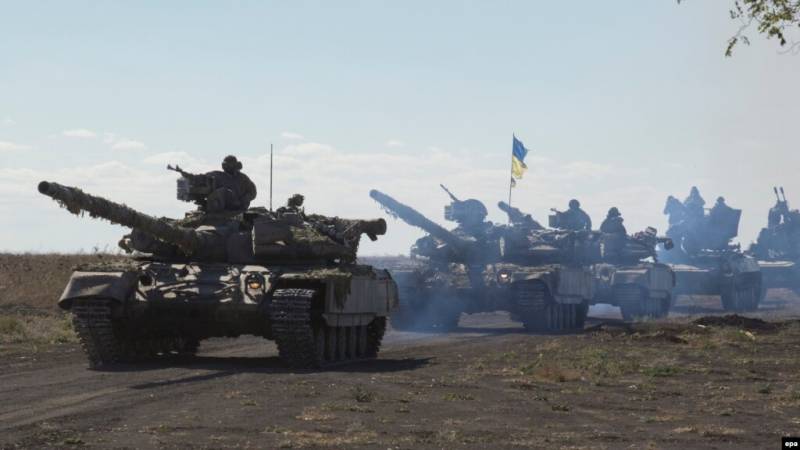 Ukrainian Tanks "Stronghold" These machines were probably destroyed long ago. Photo of the Ministry of Defense of Ukraine
Since last year, foreign partners and patrons have been supplying the Kyiv regime with various armored vehicles, and the process of transferring tanks has attracted special attention. MBTs of various Soviet and NATO models are being sent to Ukraine, incl. cars of the latest modifications. However, such assistance is already facing noticeable problems. The ability of foreign armies to ship tanks is gradually being reduced, and additional risks are emerging.
Delivered and lost
Deliveries of foreign tanks to the Kyiv regime began in the spring and summer of 2022. Then a number of Eastern European states began shipping Soviet-style armored vehicles. T-72s of various modifications came to Ukraine, including those developed by foreign organizations. Over time, it came to the latest versions of the long-outdated T-55 medium tank.
At the turn of 2022-23. NATO countries, after lengthy disputes, nevertheless decided to transfer their current MBT models to the Kyiv regime. European countries played a major role in further processes. So, Germany, Sweden, etc. removed from their units and sent to Ukraine more than 120 Leopard 2 tanks of several modifications, as well as unified engineering equipment. The transfer of almost 180 older Leopard 1 MBTs and engineering vehicles based on it has been announced.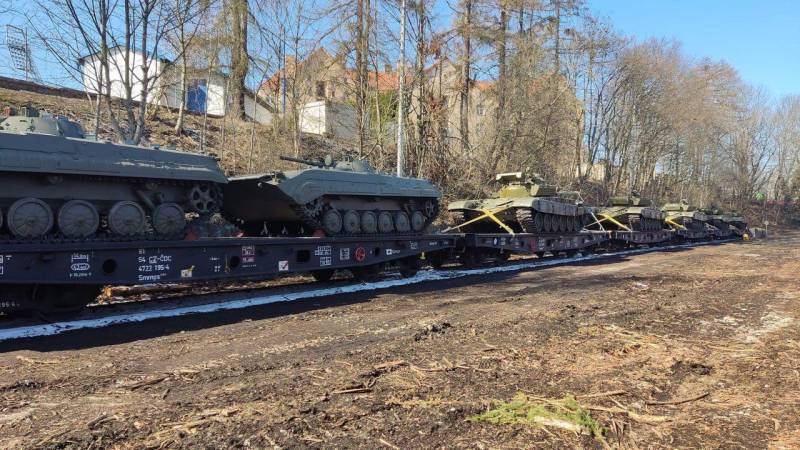 A batch of equipment from the Czech Republic for the Kyiv regime, April 2022. T-72M tanks are located on distant platforms. Photo Telegram / Dambiev
Great Britain limited itself to supplying only 14 Challenger 2 tanks. The United States, in turn, is only promising such assistance. They announced the transfer of 31 M1A1 Abrams MBTs. Deliveries could begin this fall.
All tanks received from abroad have already been used in battles - and predictably suffered losses. According to available data, to date, the Russian army in different sectors of the front has destroyed most of the foreign T-72s, and has also disabled a significant proportion of the enemy's Leopards. Challenger 2 has not yet been actively used, but one such MBT has already been destroyed, along with slogans about the invulnerability of such vehicles.
Thus, foreign states have shown their readiness to help Ukraine by supplying the most important armored vehicles on the battlefield and are fulfilling such promises. However, the volume of supplies does not correspond to the level of losses and the needs of Ukrainian forces. In addition, vehicles transferred from abroad are also destroyed, and the problem of replenishing the fleet not only persists, but is also getting worse.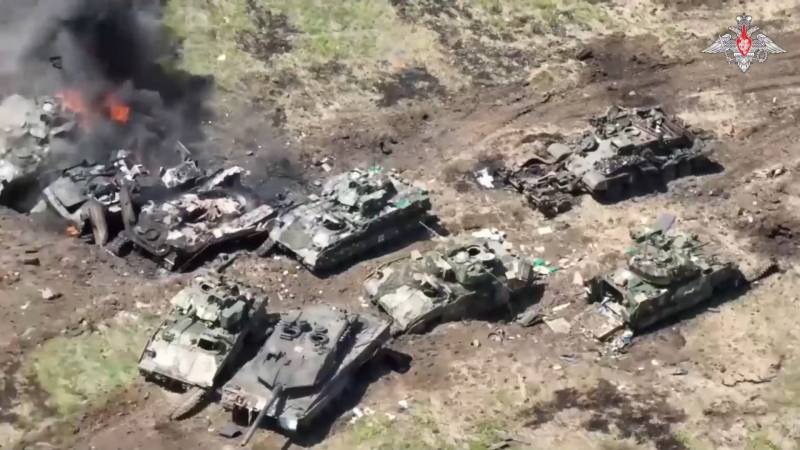 Broken Ukrainian equipment in the Zaporozhye direction. Photo by the Russian Ministry of Defense
Transfer from stock
For well-known reasons, tanks are transferred to Kyiv only from existing ones - they are taken from combat units or from storage areas. This factor largely determines the nomenclature and volumes of possible supplies, and also allows one to make certain forecasts for the future. Thus, it can be assumed that NATO countries will continue to support the Kyiv regime at the cost of disarmament of their own armies. At the same time, they face characteristic problems or will face them in the future.
Germany and other Alliance countries can continue to supply Leopard 2 tanks. The armies of Europe and NATO have more than 2 thousand of these MBTs of different versions and modifications. However, the number of fleets in individual countries rarely exceeds several dozen vehicles. It is unlikely that they will enthusiastically write off their Leopards to help Ukraine and create problems for their own defense capabilities.
The situation with the British Challenger 2 looks very interesting. Until recently, 227 vehicles of this type were officially in service. At the same time, the UK Ministry of Defense recently admitted that only 150 MBTs are "available" (ready for use or can be restored in a short time). Of these, 14 were sent to Ukraine. There will probably be new deliveries, but each of them will spoil the already difficult situation in the British army.
Destroyed engineering equipment based on Leopard 2. Photo Telegram / "Special Purpose Channel"
The United States is doing best in this regard. Their combat units have about 2,5 thousand M1 MBTs of various modifications. There are still approx. listed on the storage bases. 3,7 thousand cars. The Pentagon has the theoretical ability to supply the Kiev regime with tanks for quite a long time and in significant quantities. However, it is unclear whether this opportunity is being used and to what extent. It is unlikely that Ukraine should count on all 3,7 thousand Abrams from storage.
Deprecated Help
It is characteristic that Ukraine receives not only modern main tanks from abroad. So, Slovenia shipped it M-55 products - its own modernized version of the old T-55. Several countries are now assembling a batch of German Leopard 1s. The reasons for this are quite simple. Foreign partners want to help the Kyiv regime, but they cannot or do not want to give away newer equipment - and old and outdated products are used.
It cannot be ruled out that such an idea will be developed and will form the basis for future deliveries of armored vehicles. In this case, NATO countries will collect the remaining tanks from almost the middle of the last century in parts and storage bases, try to restore them and send them to Ukraine. At the same time, they face specific problems of various kinds.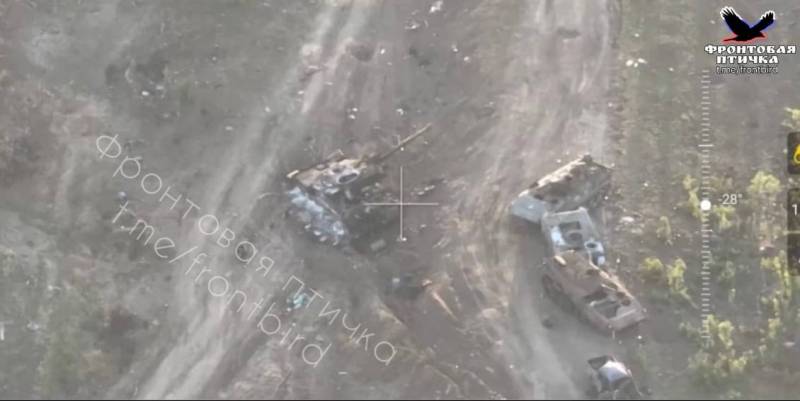 The first burned-out Challenger 2. Photo Telegram / "Front-line bird"
There are no more than 700-750 Leopard-1 tanks left in NATO armies, and their owners, unable to replace such equipment with newer ones, are unlikely to agree to give them away. At the same time, hundreds of MBTs are at the disposal of commercial organizations that buy back decommissioned equipment. The first shipments of Leopard 1 were received from them, and they can provide further assistance to Ukraine.
At one time, the British Army received 420 Challenger 1 MBTs. They were in service until the early 2s, when they were replaced by newer Challenger XNUMXs. A significant portion of older model tanks may remain in storage. Theoretically, these vehicles could be restored and transferred to the Kyiv regime. However, the specifics of operation in the past cast doubt on the possibility of restoring and supplying a large number of such equipment.
In this context, we can recall the old American M60 tanks. Previously, they were in service with a number of NATO countries, but later almost all operators replaced them with new equipment. The released vehicles were sent for storage or sold abroad. At the same time, in Turkey, modernized M60s of several versions are still one of the foundations of the tank fleet.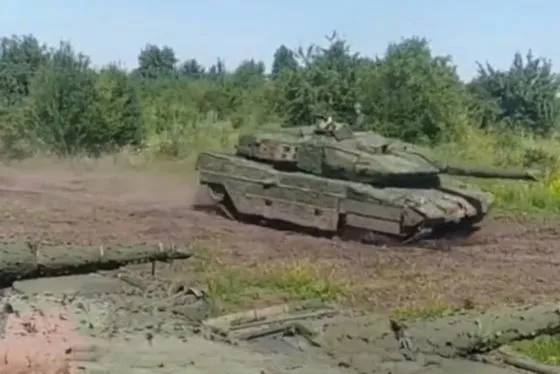 Swedish MBT Strv 122 in Ukraine. Photo Telegram / BMPD
General demilitarization
The processes currently observed show that the demilitarization of the Kyiv regime is successfully continuing and moving forward. In this process, special attention is paid to the destruction of the main striking force of the enemy ground forces in the form of tanks. As follows from open data, to date, Ukrainian formations have lost the vast majority of MBTs they had at the beginning of 2022.
Since last year, foreign patrons and partners have been trying to help Kyiv with supplies of equipment from their army fleet. Several hundred MBTs of various models and modifications have already been delivered, and a significant part of them have now been destroyed. This causes damage to enemy troops, and also destroys the reputation of foreign equipment that does not perform well on the battlefield.
Foreign countries are already preparing new deliveries of MBT, and again we are talking about a limited amount of equipment that is not the newest models. The prospects for such "help" are quite clear and predictable - once in Ukraine, these tanks will become targets for the Russian
weapons
and will be destroyed.
How supplier countries will react to this and what measures they will take is still unknown. They will probably continue to provide some form of assistance. However, such actions are associated with the gradual depletion of their own arsenals and parks. Whether the United States and its allies are ready to demilitarize their armies is a big question.