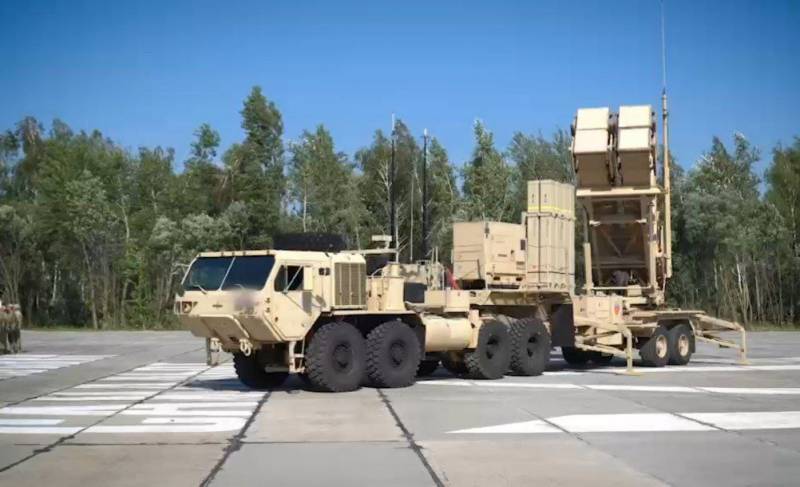 Launchers of American air defense systems transferred to Ukraine in August 2023. In the foreground is the Patriot launcher, behind it is NASAMS. Photo Telegram / "Military informant"
During the first few months of the Special Operation to protect Donbass, the Russian army destroyed the Kyiv regime's air defense system with targeted attacks. To restore it, starting last fall, foreign partners and patrons began supplying various air defense systems to Ukraine, both modern and outdated. By now it has become clear that such measures did not live up to expectations - Ukraine was unable to fully restore its air defense and protect itself from attacks even on key military targets.
Equipment from abroad
The process of restoring the Ukrainian air defense facility actually started in the spring of 2022. After some discussions and consultations, Slovakia agreed to give Ukraine the S-300P system it had. Subsequently, despite all the efforts of the Kyiv regime and its patrons, other countries did not provide Soviet and Russian-made equipment.
In July, the United States and other countries announced the imminent start of deliveries of the NASAMS stationary medium-range air defense system. The first products of this type arrived on Ukrainian territory in early autumn. To date, Kyiv has received at least four batteries of this complex from several foreign countries and now keeps them on combat duty.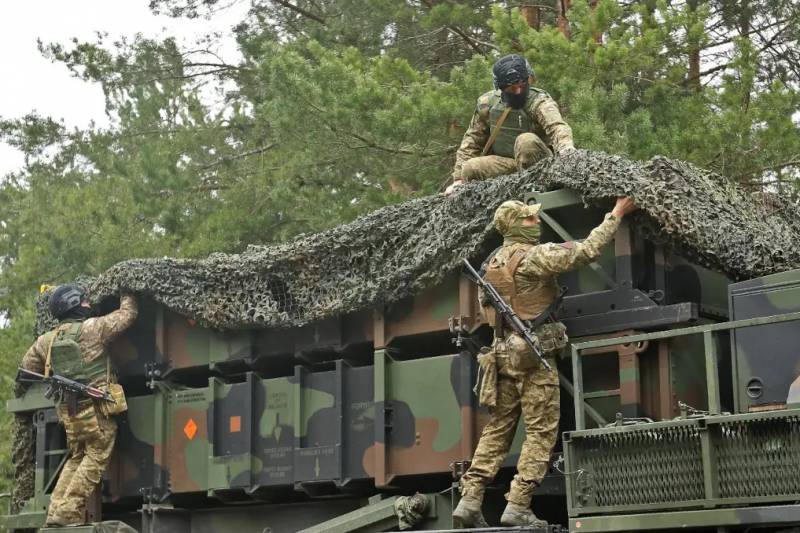 Ukrainian crews are working with Patriot. Photo: Thedrive.com
Since last year, Germany has provided several batteries of IRIS-T complexes of two modifications with missiles of different ranges. After lengthy preparation and resolution of various issues, France and Italy jointly assembled and sent one SAMP/T air defense system battery to Ukraine.
For obvious reasons, the most famous was the delivery of the American Patriot long-range air defense system. Two batteries of such equipment and a significant supply of missiles of various types were transferred. The possibility of shipping additional complexes cannot be ruled out.
Since last year, press publications and statements by officials have regularly mentioned the possibility of transferring other anti-aircraft systems suitable for use in site air defense. For example, hypothetical deliveries of HAWK air defense systems from the USA or other countries were discussed. For one reason or another, things have not come to fruition yet.
Levels of Defense
Anti-aircraft missile systems provided to Ukraine by foreign partners have a different composition, include different means and differ in their tactical and technical characteristics. Using air defense systems of different classes and types, Ukrainian formations could create a kind of layered air defense system with several zones and detection and interception lines. As can be judged from the available data, this is exactly what they tried to do - but without success.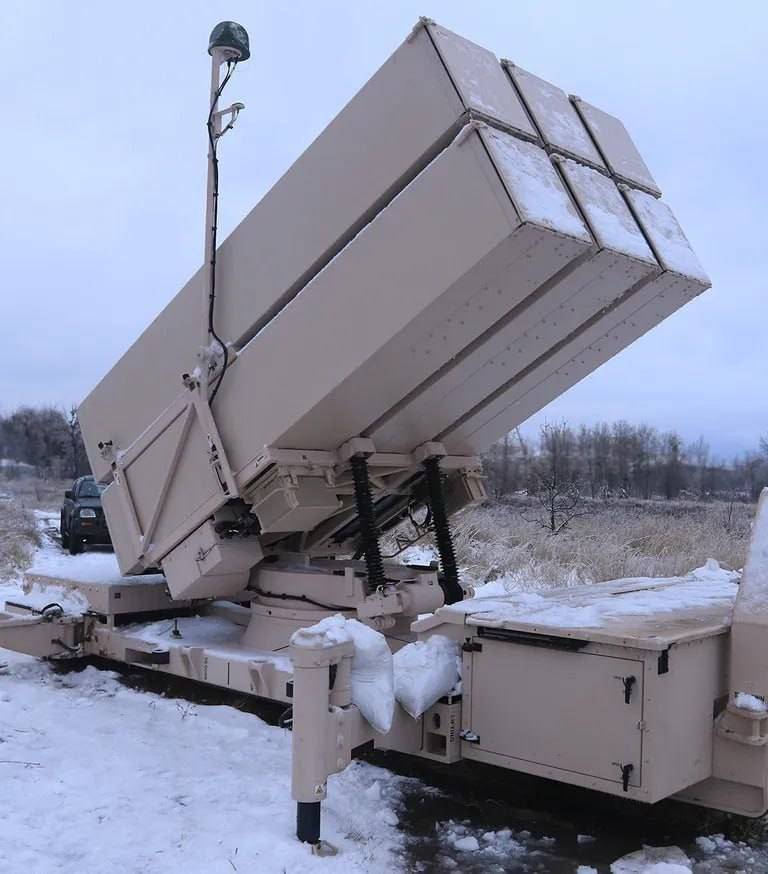 One of the first NASAMS installations delivered to Ukraine. Photo Telegram / "Military informant"
The long-range interception system in such a system should be the American Patriot air defense system. The batteries of such a complex transferred to Ukraine include a towed multifunctional radar with AN/MPQ-65 type phased array. This product monitors a sector 90° wide in azimuth with elevation angles up to +83°. Detection range of large aerodynamic targets - up to 200 km, tactical
aviation
– no more than 120-130 km, ballistic missile warheads – 70 km. 125 targets are tracked simultaneously; maximum target speed – 2 km/s.
The United States is transferring MIM-104 PAC-2 GEM, MIM-104F PAC-3 and PAC-3 MSE anti-aircraft missiles to Ukraine. The GEM product has a range of 100 km when intercepting aerodynamic targets; ballistic - 20 km. The PAC-3 MSE features an increased interception altitude. The PAC-3 is intended only to combat ballistic targets at a distance of 20 km and altitudes of 20 km.
In the long-range echelon, the Patriots can be supplemented by the Italian-French SAMP/T complex. The transferred complex includes the Arabel airborne surveillance radar. The digital locator with phased array is close in maximum characteristics to the American AN/MPQ-65.
It was reported that Aster 30 type missile defense systems are being sent to Ukraine. In the basic modification, this product has a firing range of 120 km when launched at aerodynamic targets. The modernized version flies 150 km. The possibility of intercepting warheads of operational-tactical missiles has been declared.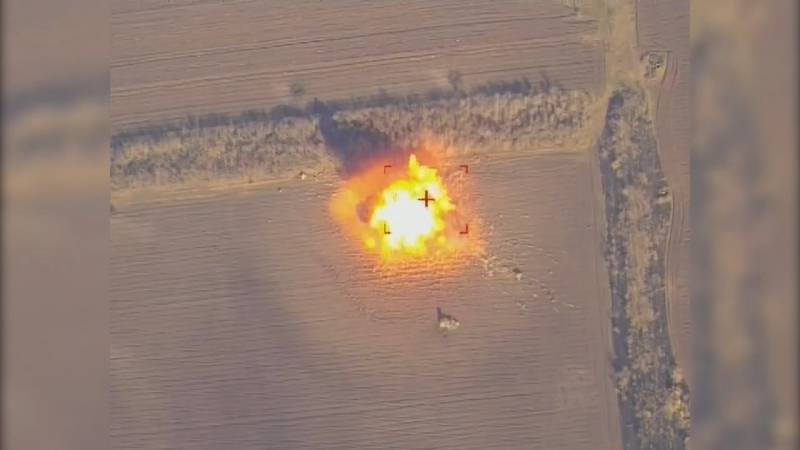 Defeat of the Ukrainian S-300 system. Photo by the Russian Ministry of Defense
In the class of medium- and short-range air defense systems, two modifications of the German IRIS-T product can be presented at once. Both of its variants, SLS and SLM, are equipped with a CEAFAR radar with a detection range of at least 50-70 km. It is possible to pair with other stations or work with an external data source.
The IRIS-T SLS complex is equipped with a missile of the same name with a range of 12 km and a strike altitude of 20 km. The medium-range IRIS-T SLM variant should intercept aerodynamic targets from a distance of 40 km and at the same altitudes.
The most widespread foreign air defense system in Ukraine is now the Norwegian-American NASAMS, which belongs to short-range systems. The main modifications of this complex include the AN/MPQ-64F1 detection radar with a detection range of large objects of up to 120 km. In addition, the air defense system has an optical-electronic system for working in the near field. Work on external target designation is provided.
Ukrainian NASAMS use AIM-120 missiles, originally created for military aviation. Due to the need to launch from the ground, the launch range was reduced to 20 km, the destruction altitude was 16 km. The developers pointed to the possibility of integrating the AMRAAM-ER missile, which can fly 40 km. NASAMS is also capable of using AIM-9 products with some deterioration in performance compared to the AIM-120.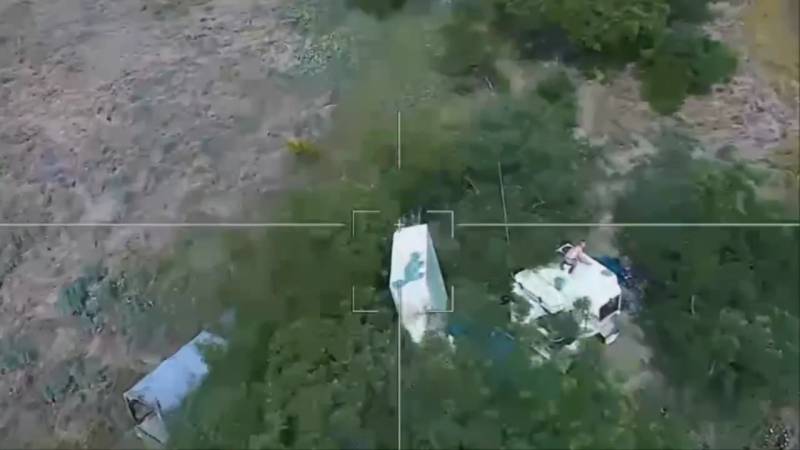 Radar of the IRIS-T complex in the lens of loitering ammunition, June 2023. Photo Telegram / BMPD
Opportunities and results
Using the received foreign systems and equipment, the Kiev regime could organize a layered air defense system to cover critical areas. Judging by the available information, he took similar measures and tried to protect the main administrative center in the form of Kyiv. At the same time, at a minimum, individual foreign air defense systems were sent directly to the combat zone to organize air defense of troops on the ground.
The results of several months of work of such an air defense facility, built on the basis of foreign technology, are well known. Predictably, the most widely publicized missile attack occurred in May, which destroyed one of the Patriot batteries in Kyiv. In addition, it was reported that other imported air defense systems were hit and destroyed.
According to our Ministry of Defense, Ukrainian air defense has already lost a large number of S-300 systems, incl. funds received from Slovakia. At least one of the IRIS-T SLM air defense systems was hit. The destruction of several NASAMS systems was reported. The only SAMP/T complex and a few IRIS-T SLS products are still in operation, but their prospects are clear and predictable.
There are several reasons for this result. First of all, this is a very limited amount of supplied equipment and other equipment. Because of it, the Kiev regime was able to organize only focal air defense, whereas in the current situation, continuous radar coverage and large fire zones are needed. Even information support from NATO does not help in the formation of such a defense.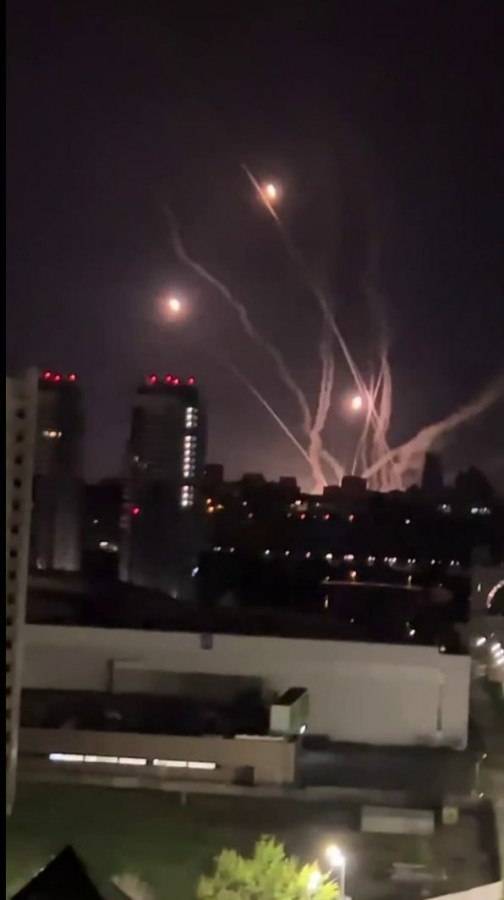 Patriot air defense system in Kyiv - the crew fires off ammunition in one gulp. Soon the complex will be hit by a Russian missile. Photo Telegram/Bmpd
The quantity problem was exacerbated by technical limitations. Ukraine was given mainly short- and medium-range systems. Deliveries of long-range systems were limited to just a few batteries, and we are talking about Patriot and SAMP/T products with an interception range of no more than 100-150 km.
An unpleasant surprise for the Ukrainian air defense was the fact that Russian aircraft, UAVs and missiles were ready to counter foreign air defense systems, including the newest ones. To break through and suppress such defenses, a variety of strike systems, means and tactics corresponding to the specific situation are used. Thus, the Kiev Patriot, as far as is known, was hit by a hypersonic Kinzhal missile. A few weeks ago, the IRIS-T complex was demonstrated to be damaged by the Lancet loitering munition. There are regular massive strikes using UAVs, which simply bypass dangerous areas.
Broken plans
Despite all possible assistance from foreign patrons, Ukrainian formations were unable to create full-fledged air defense in key areas. The Russian armed forces continue to strike at designated targets, incl. breaking through the remnants of enemy air defenses. In addition, whenever possible, our military attacks enemy anti-aircraft systems - radars, launchers, etc. The already low effectiveness of Ukrainian air defense is further reduced.
The prospects for the development of such a situation are quite clear. Third countries will continue to supply Ukraine with certain complexes and ammunition for them, but it will not be possible to solve the main problems with their help. Possible volumes of supplies do not meet the needs of the Kyiv regime, and Russia shows a clear advantage in weapons and equipment, which can no longer be reduced at the current stage.