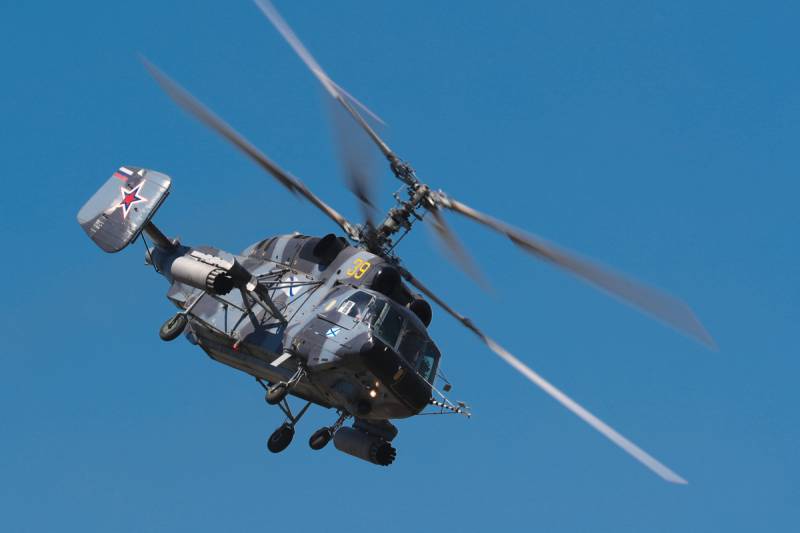 After the publication of an article about maritime problems
aviation
, which received a very positive response, I suddenly received a two-page letter from an outraged reader. It contained a very well-reasoned statement of the complaint addressed to me, the essence of which was that I did not pay any attention to helicopters in the service
naval
. I am correcting myself, because the problems that Anton voiced are really quite serious, and I caught them at the very edge.
So, the problems of naval rotary-wing aviation using the example of the Russian Black Sea Fleet, which, in turn, give rise to problems for the entire fleet as a whole.
Why is the already long-suffering KChF taken as an example? Yes, everything is simple: this fleet, in theory, should conduct the most active operations in the Black Sea, because in reality the work there is through the roof. But... activity as such is minimal.
The cancellation of the so-called "grain deal" brought a statement from the Ministry of Defense that from July 20, all ships in the northwestern part of the Black Sea are subject to mandatory inspection. The ships, it is worth clarifying, are traveling TO Ukrainian ports, and not FROM them. It is clear that Ukraine can export whatever it wants from itself, but what can come by sea to Ukrainian ports from its allies raises certain doubts.
That is, according to this statement, Russian sailors will stop all suspicious ships for inspection.
But it is usually much easier said than done.
Unfortunately, the KChF naval personnel capable of performing such tasks at such a distance from their bases is not only limited - it is minimal. Coast Guard ships of the Border Service are not suitable here for reasons of seaworthiness and autonomy; only patrol and patrol ships of the fleet remain. Moreover, precisely those that are capable of patrolling a certain area of ​​the sea for a long time.
Let's try to see which ships are generally suitable for such a service as long-term patrols in the area to detect and inspect ships with potentially unacceptable cargo?
It is clear that these should be seaworthy ships, since they will have to patrol not near the base, fast, because it will be necessary not only to catch up with the ship subject to inspection, but also to quickly go to the area of ​​​​its movement, which will be difficult to do. There is confidence that the courses of such vessels will be adjusted according to the testimony of the constantly present reconnaissance UAVs of the same United States. And the ship must be armed with a helicopter.
Project 1135 patrol ships. 2 pcs. "Okay" and "Inquisitive"
40+ years old, these ships, keeping in mind the incomparable post-repair condition of the cruiser "Moscow", I would not send anywhere. It is unknown whether there will be Ukrainian or American anti-ship missiles there, but it is better not to risk it.
Project 11356R frigates. 3 pcs.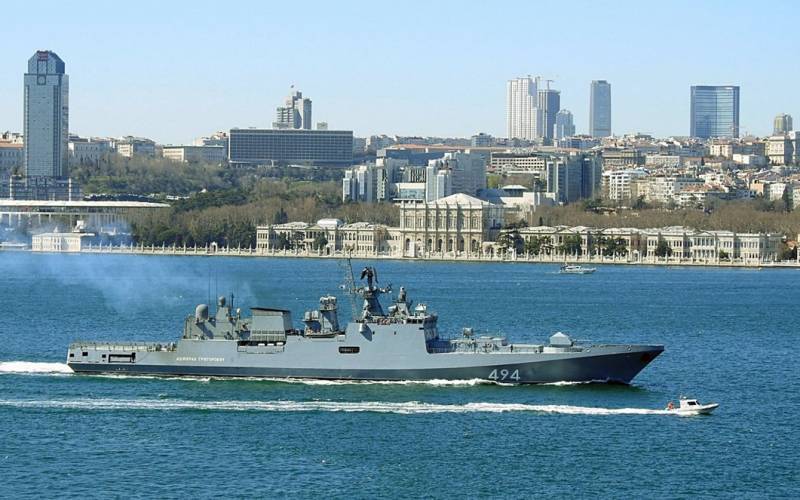 These, of course, will cope, but here the only question is economics: is it worth sending such ships to perform such dubious tasks? Resource, you know, that's the thing... Well, it's like driving a Ferrari to the supermarket for shopping. It's possible, but it makes little sense. Still, the purpose of the frigate is somewhat different. Of course, when there is nothing, a heavy cruiser will do just fine to chase pirate boats, but here the situation is still different. Let's leave it, as they say, in reserve.
Project 20380 corvette. 1 pc.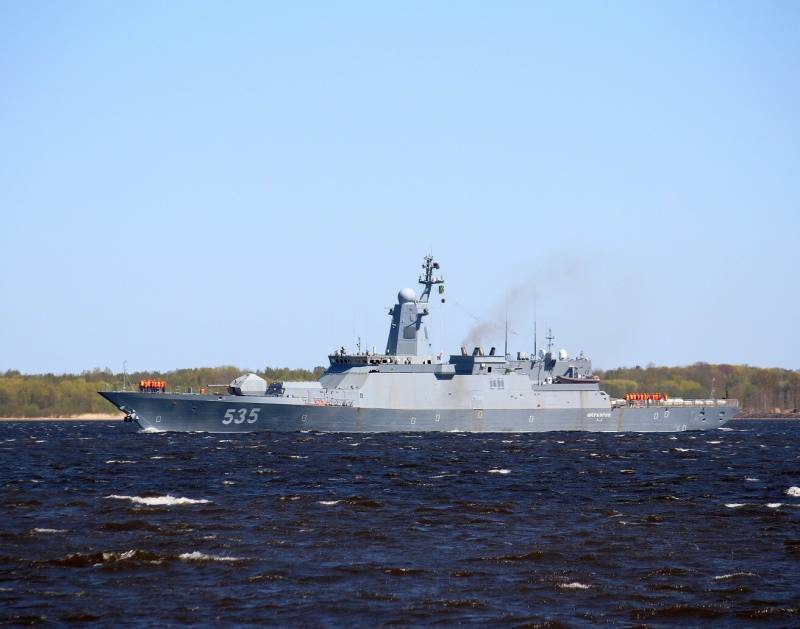 This is just the ship for just such work. Yes, it has low autonomy, but the amount of weapons that our designers managed to cram into 1800 tons of displacement makes the "Guardians" a very difficult target. Unfortunately, there is only one such ship on the Black Sea.
Project 22160 patrol ships. 4 pcs.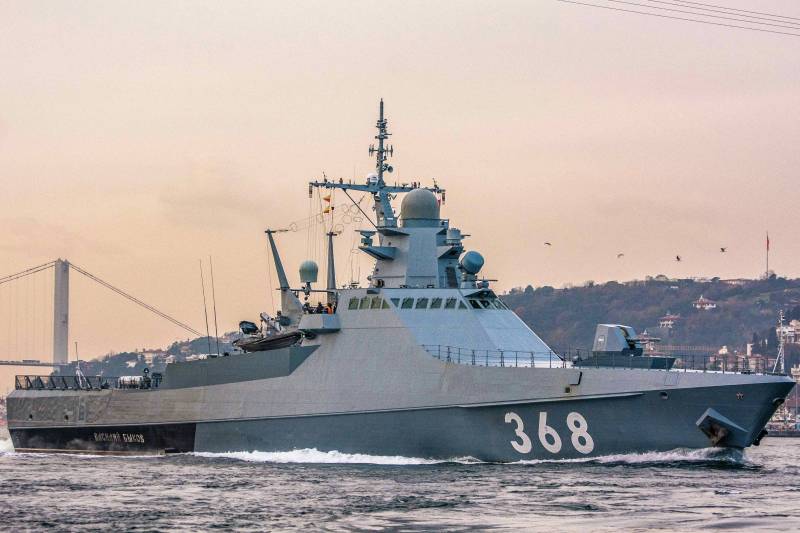 These are the most criticized Russian-built ships; only the corvettes of Project 22386 can compete with them. There are practically no weapons, no speed, seaworthiness is very so-so, but there is great autonomy: the ship can patrol the area for up to 60 days. Yes, during the inspection service there is no particular need for weapons, so these sub-corvettes can engage in just such activity.
In general, the Black Sea Fleet has five ships capable of patrol duty and inspection. The rest, alas, are not suitable. And three frigates behind us in reserve.
Not rich, right? But this is not the main problem.
The main problem is that it is not enough to detect the ship and catch up with it. Further, according to the protocol, you should stop and inspect. Stop it - okay, 14,5 mm machine guns work wonders in this regard and sober everyone up. But then... Then the difficulties begin.
As you understand, the days of "And the frigate and I stood side by side" are long gone, and boarding is not in fashion now. Modern ships are quite fragile and expensive to pile on top of each other. All that remains is a boat or a helicopter.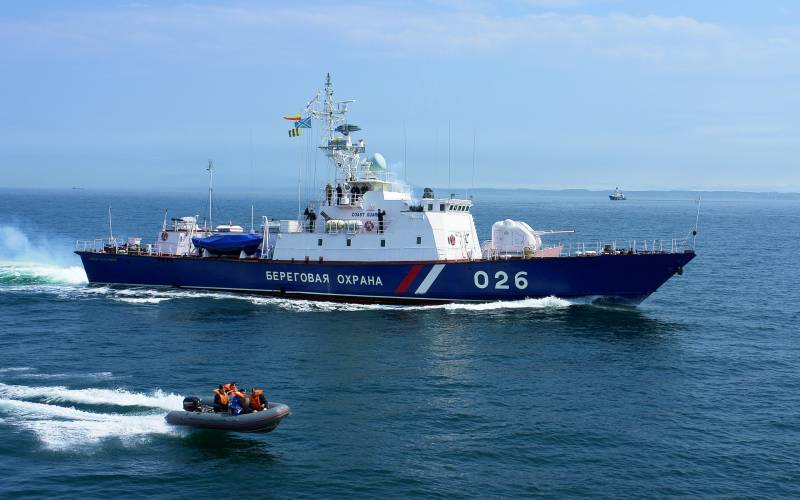 A boat with an inspection team is good, but the trouble is, restrictions are imposed by rough seas. 3 points or more - that's all, the boat simply may not catch up with the cargo ship, as it already happened once. And waves of decent intensity are far from a gift for those on the boat.
What if there is more anxiety? Then all that remains is the helicopter. Moreover, there is an opinion that it is precisely this weather that will be used by peaceful dry cargo ships heading empty to Ukrainian ports. The nastier, the better. It is clear, based on what considerations.
So a helicopter with an inspection team will remain the only way to carry out this very inspection.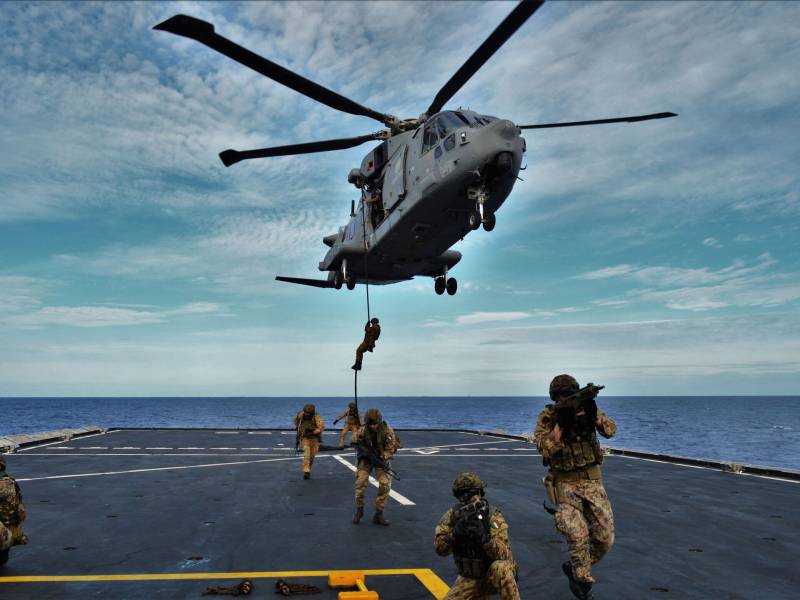 No, of course, there is another option - convoying the ship to the nearest port and there a full inspection. However, this is fraught (especially if nothing is found) with complex claims and penalties. Diplomacy is not our strong point, so dragging it to ports that are located at a decent distance from the "grain corridor" is not worth it.
That's why, in fact, they missed the incomprehensible container ship "Josef Schulte," which had been standing under the Hong Kong flag in the Odessa port for quite a long time.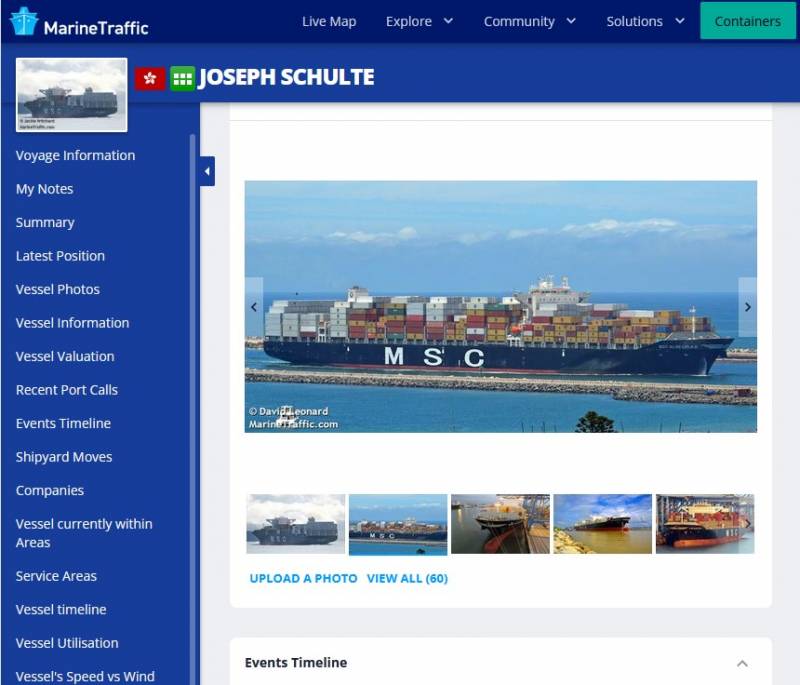 Such a strange container ship, the name is different on the specialized website... However, this is not our headache. There were 2114 containers on board, as the Ukrainian side said, with cargo. This is a dubious provocation; it is not clear what kind of cargo the container ship, which had been standing all the time at oil berth No. 6, could have been carrying. And grain in containers doesn't look very good. It is quite possible that it was empty, and was used precisely to see the reaction of the Russian military.
Normal reaction, "Josef Schulte" was on
OF
Ukraine, and therefore, most likely, there was nothing interesting on it.
But another steamer, the Turkish Sükru Okan, sailing under the flag of Palau, was sailing
В
Ishmael, and therefore he was stopped.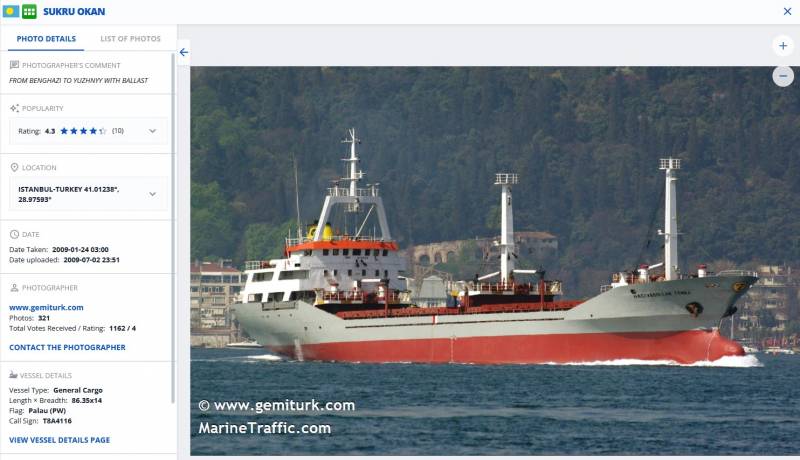 Our ship (the same "Vasil Bykov") asked to stop and take on board an inspection party. The Turks turned on the "mine is yours don't understand" mode and increased their speed. Our guys said: "Okay" and hit us with KPVT. "Sükrü Okan" began to stop, and then the Ka-29 helicopter took over. As soon as he left the deck, it turned out that the Turks not only understood the international code of signals, but also knew how to use radio communications. Such is progress.
The inspection team boarded the cargo ship and, after checking it, allowed the captain to continue moving. By the way, there was nothing prohibited or questionable in the cargo, why it was necessary to behave this way is not entirely clear.
And here is the result of the operation: if there had not been a helicopter on board, "Sükrü Okan" would not have been easy to stop. A hit from even a 14,5-mm machine gun is already a reason for worldwide yelling from the "victims." But the squad of Marines, having landed on the deck, somehow quickly conveyed to the captain who had lost the shore what he should do. Including signing a paper stating that the cargo is intact and there are no complaints. Whether the captain got hit in the teeth in the process or not will now remain a mystery, but it would be worth stopping by for a better understanding.
That is, in addition to seaworthiness, autonomy, speed and weapons, a ship intended for patrol service MUST have a helicopter on deck. It is specifically designed for inspection work, that is, there must be space on board for a landing force of at least 8-10 people and weapons with which the helicopter can support the landing Marines if necessary.
And this is where optimism ends and universal melancholy and sadness begin. No, in the case of "Sükrü Okan" everything ended well; "Vasil Bykov" had the Ka-29 on board, and even in the configuration of an air assault vehicle. By the way - a rarity in our naval aviation.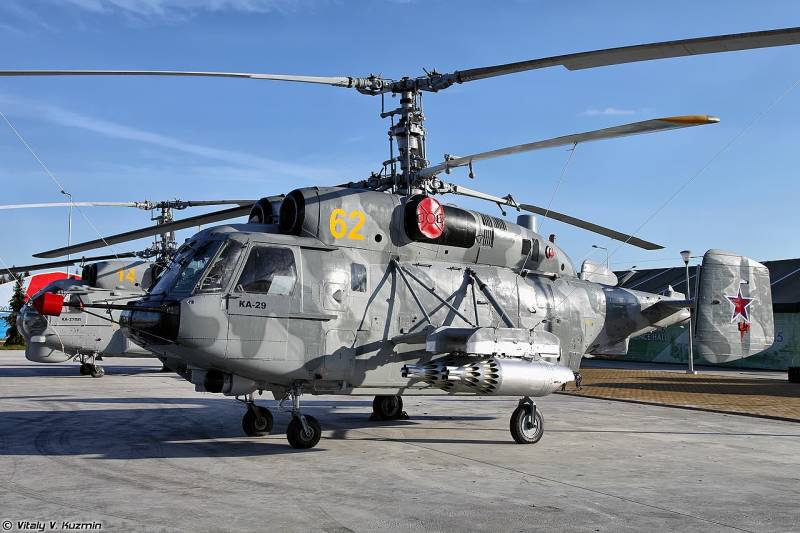 We will look at the Ka-29 in more detail in one of the following articles; the car is worth it. Today it is enough to say that the helicopter, to put it mildly, is not new: it made its first flight in 1976. The last Ka-29 helicopter was manufactured in Kumertau in 1991. That is, today helicopters that are at least 32 years old serve in the Navy aviation. Minimum.
What we have
In total, 59 Ka-29 helicopters were manufactured during Soviet times. Today there are 27 left. And these are cars that have undergone major repairs with all the ensuing consequences and have been removed from storage.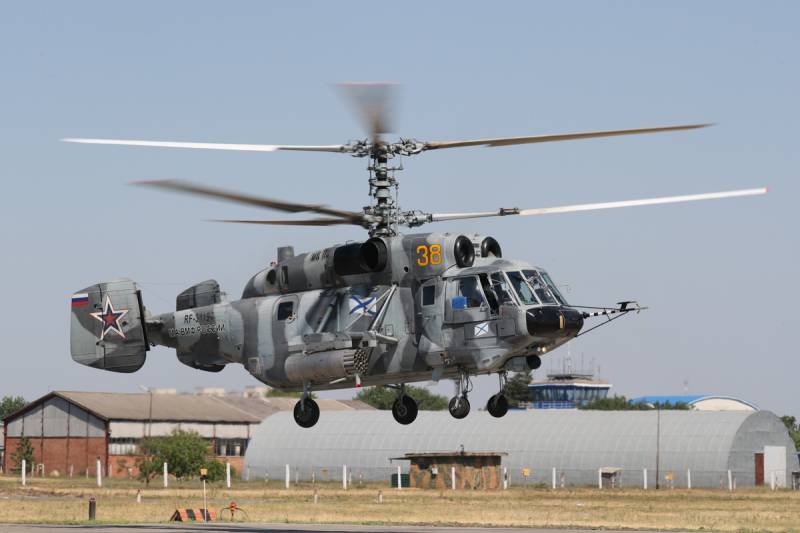 27 vehicles for 4 fleets - is that a lot or what? As for me - about nothing. If we talk about the KChF, then the number of carriers there is greater than the number of helicopters of this type in principle.
There is also a predecessor, the Ka-27, which is also a veteran in the ranks of the Russian Navy.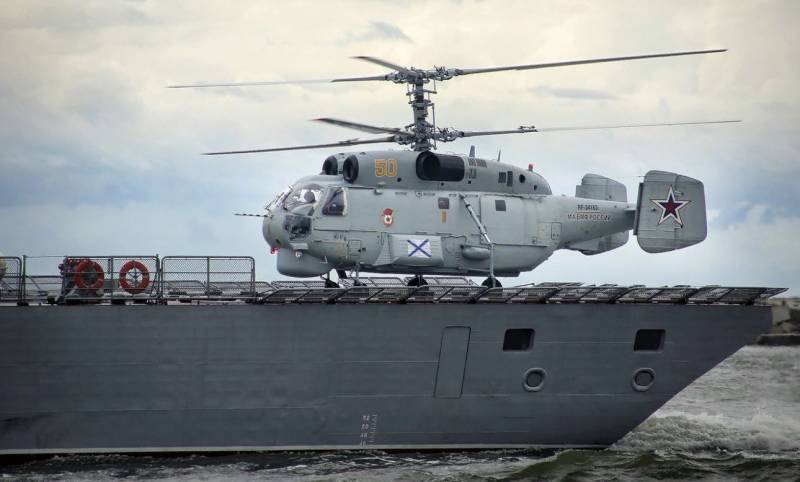 The number is larger; out of almost three hundred Ka-1980s manufactured since 27, 63 Ka-27s and 16 Ka-27PSs remain in service, of which 20 helicopters were upgraded to Ka-27M. But these are mainly anti-submarine helicopters, which cannot be assigned the responsibility of landing inspection teams.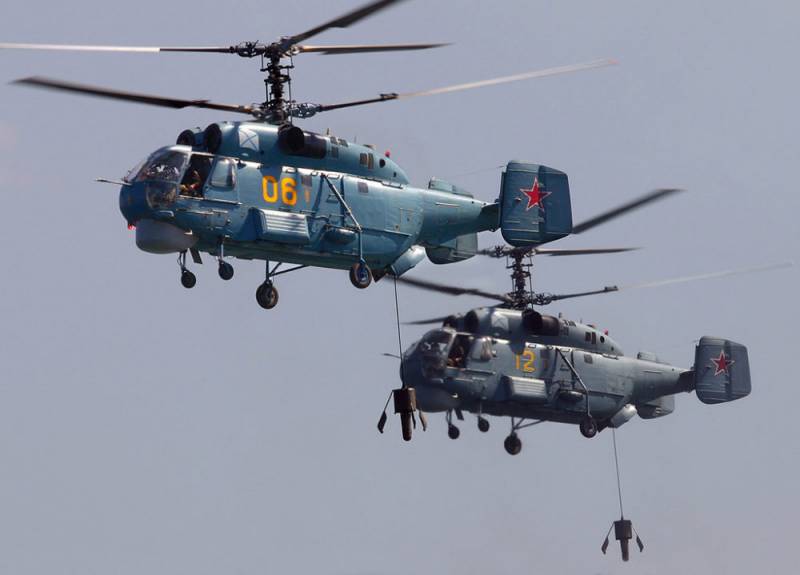 The anti-submarine Ka-27PL is not suitable for such use, since its main cargo is submarine search and detection equipment: the AMP-73 magnetic detector, the Ros-V hydroacoustic station, anti-submarine torpedoes or depth charges. There is no place for landing and cannot be.
There is also a strike Ka-52K. But an attack helicopter is just that: an attack helicopter.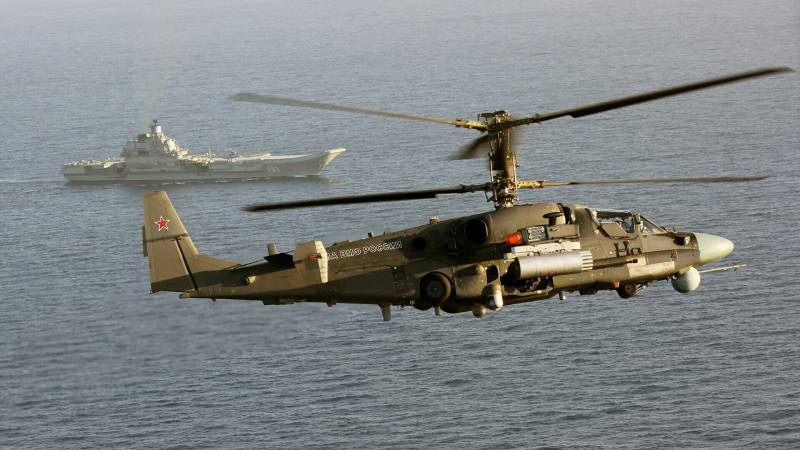 So the Ka-29 is practically the only option for the Navy in this regard. It cannot be said that a helicopter is only about landing. It is quite well armed; the vehicle can carry 4 B8V20A blocks with 80 S-80 unguided rockets of 80 mm caliber. You can take, as an option, 2 incendiary blocks 3B-500, 2 universal cannon containers UPK-23-500, 8 anti-tank missiles "Storm" or bombs with a total mass of 500 kg.
But the main thing is space for 16 paratroopers in full combat gear. It was this option that allowed the crew of "Vasil Bykov" to complete the combat mission.
But I'll add a fly in the ointment. If you look at the situation realistically, the Ka-29 is clearly too big for such operations. 11 tons of take-off weight, 3 tons on the external sling, 2 tons of troops in the cabin - that's a lot. Well, the Ka-29 consumes fuel, let's say, according to Soviet standards, when there was no need to save it. After all, this helicopter was not intended for service on corvettes, but on much larger ships.
But the main thing is that the Ka-29s are old, so don't do anything with them. Fatigue of metal and mechanisms and components will sooner or later lead to accidents and disasters. A patched up helicopter 30+ years old cannot serve like new.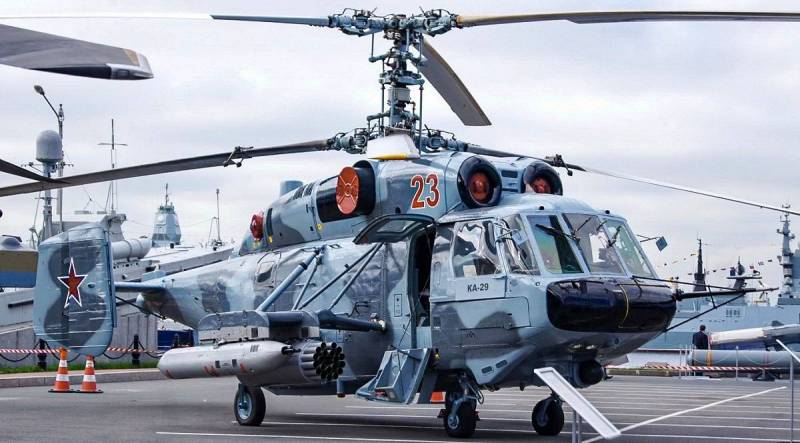 Start restarting production? What about the Tu-160? The option, of course, is so-so, because it is clear that in the three decades since production stopped, much has been lost. The Tu-160s that were assembled in Kazan are from the old Soviet stock, which clearly does not and cannot exist in Kumertau.
But we need a helicopter...
Well, if it is not possible to resume production of the Ka-29, let's think about the options. There is an option, it was even produced in some tiny series. Ka-226TM. A variant of the civilian helicopter Ka-226, which was developed for the Border Service of the FSB of Russia. Precisely for working from PS ships.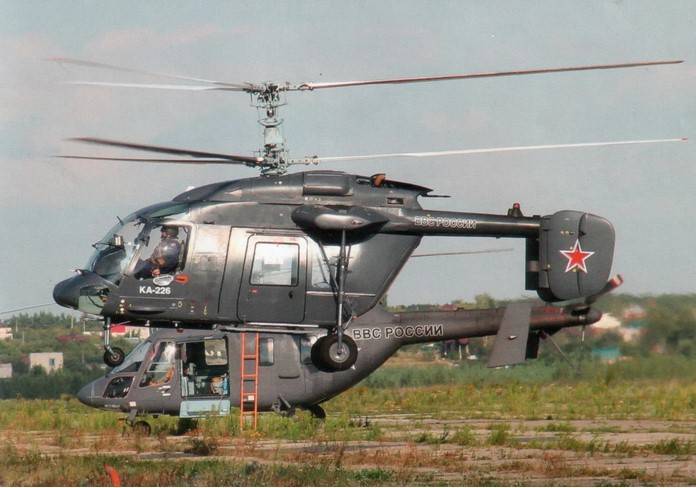 The helicopter is small, weighs up to 4 tons, the speed is less than that of the Ka-29 (210 km/h versus 285 km/h), but this is not critical, because anyway, not a single ship will escape. The Ka-226 can carry up to 7 people. This is less than that of the Ka-29, but if we are talking about an ordinary intruder ship, that is, on which there are no armed people, then 7 people are more than enough to inspect it. And you can cover the inspection group with a machine gun from a helicopter in the air. A second crew member can easily handle this.
Considering that corvettes are ships of small displacement, that is, size, such a helicopter, and even with folding blades, is a godsend. It requires less space and can fly much longer distances on the ship's fuel supply. Yes, there is no room for various electronic components, but there are radars and other equipment on the ship.
In general, the fleet really needs such a helicopter. It's worth emphasizing – a new helicopter. Not morally, but physically. Well, how much longer will we pray for the old Soviet technology? It's clear that our ancestors did it conscientiously, but you can't expect service from such a complex machine as a helicopter for half a hundred years? And even in an aggressive sea environment...
Finishing about the Ka-226. A very serious drawback of the car today is considered to be the initial development for imported Rolls-Royce Allison or Safran Arrius 2G1 engines. This is really not good, but back in May of this year, Rostec, through the mouth of the general designer of ODK-Klimov, Vsevolod Eliseev, announced plans to begin mass production of VK-2024V engines suitable for the Ka-650 in 226.
In general, in our navy, no matter what you poke at, we need everything. Where trillions of rubles went is not entirely clear. Have the empty plans for nuclear aircraft carriers with a displacement of 100 tons and nuclear destroyers with a displacement of 000 tons really eaten up new helicopters and torpedoes?
But a patrol helicopter is needed today. And the Katran Ka-52K should also be registered on the decks of our ships. This is the kind of modularity that some of our admirals dreamed of. The corvette goes on an anti-submarine search and takes what will replace (it's time to replace the veteran) the Ka-27PL. Goes to patrol sea routes in search of violators - Ka-29/Ka-226TM. Covers the landing - Ka-52K. And behind any of these options lies a certain enhancement of the ship's capabilities. How the Ka-29 enhanced the capabilities of "Vasil Bykov".
By the way, while we have complete calm in other fleets, why not take such a step as temporarily transferring Ka-29 helicopters belonging to the Baltic and Northern fleets for use by the Black Sea people? Indeed, then it would be possible to easily block all sea routes to Izmail and Odessa.
In addition, even two dozen helicopters will be able to significantly facilitate the patrol service to protect ports from the encroachments of Ukrainian maritime unmanned aerial vehicles, and if we talk about the Crimean Bridge, then it will be a complete benefit.
However, there is one unpleasant thing here. The more these old repaired helicopters work, and they actually have to work, the faster they will need new ones to replace them. And it turns out to be a vicious circle.
But the fleet needs new helicopters. There is no point in hoping that the veterans of the Ka-27 and Ka-29 will accomplish all the tasks on their propellers. Physics vs. We need new rotorcraft.