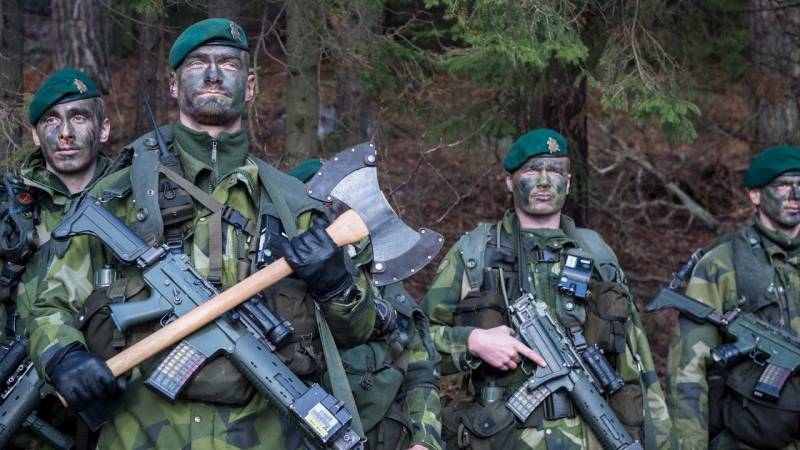 There is a very peculiar country nearby, like Sweden. With a population less than the population of Moscow, but with a simply amazing defense industry that allows you to almost completely satisfy the needs of your armed forces in terms of equipment and
weapons
.
This past July, our great diplomatic neighbor, Turkish President Recep Tayyip Erdogan, signaled that he would finally drop his objections to Sweden's entry into NATO's European security alliance. Hungary, which backed the Turkish bloc, indicated that it would not prevent Sweden from joining if Turkey gave the green light. In general, the Koran was burned in vain, politics is stronger than faith.
This means that after a procedural vote this fall, Sweden is ready to become the 32nd member of the North Atlantic Treaty Organization.
Sweden and NATO began to cooperate more closely after the end of the Cold War, and an additional impetus came in 2014 when events in Ukraine began, most of which were blamed on Russia. However, for a very long time, a minority of Swedes believed that joining the alliance would benefit them.
Sweden's accession to NATO is clearly the merit of the Russian Foreign Ministry and the Russian media, which together carried out (according to the Swedish media) a policy of non-alignment with NATO through open intimidation, including by nuclear forces. Well, the beginning of the NWO did not really push, but gave a kick to the Swedes towards NATO.
Ultimately, the Russian operation in Ukraine, which also dreamed of NATO, finally convinced most Swedes (as well as neighboring Finns) that they needed the additional protection provided by the alliance.
But unlike Finland, which officially joined NATO on April 4 this year, Sweden has been subject to a lengthy blockade by Turkey and Hungary, with the former particularly complaining that Sweden is too accommodating to both Kurdish separatists of Turkish origin and anti-Islamic demonstrators. Well, the burning of the Koran played a role, although in Turkey it was not greeted as violently as in Syria.
And suddenly Erdogan backed down. It is difficult to say why this suddenly happened, but they say that in addition to the words of guarantees from Sweden, words from the United States have been added, guaranteeing a trouble-free modernization of the F-16 fighters in service with the Turkish Air Force.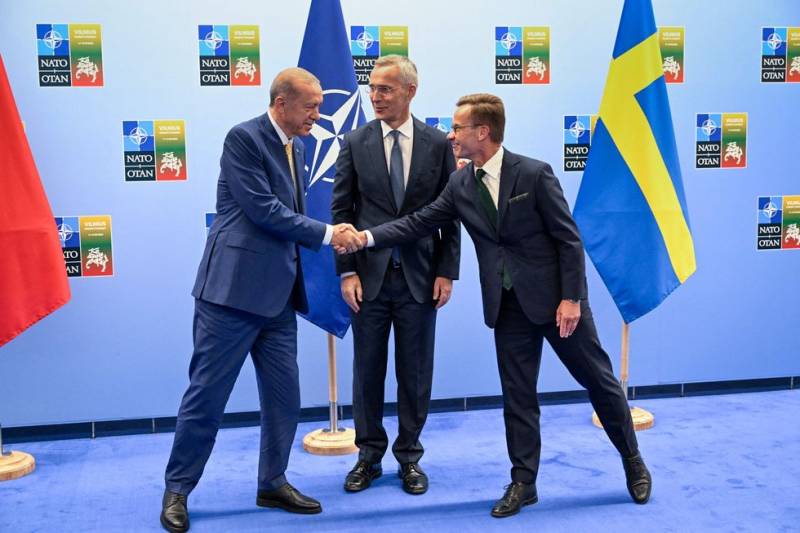 Turkish President Tayyip Erdogan (left) and Swedish Prime Minister Ulf Kristersson shake hands with NATO Secretary General Jens Stoltenberg before meeting on the eve of the NATO summit in Vilnius July 10, 2023.
Whatever the reason, Erdogan abruptly retracted his veto based on what he was assured by the representatives of Sweden and the United States.
Who can break the Swedes?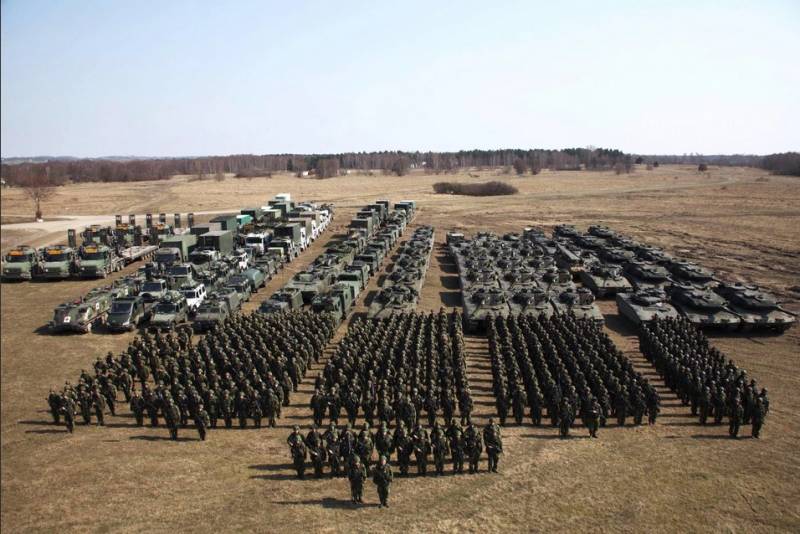 Yes, this is "Hurrah, we are breaking, the Swedes are bending" - this is far away, in
stories
. Today, the armed forces of Sweden are about 15 thousand people and it is impossible to call them a significant addition to the forces of the alliance, the total number of whose armies has long gone beyond 3 million people.
However, it is worth considering here that in terms of equipment, the Swedish army is superior to many European armies of countries that have long been NATO members. There are such strange neutrals. Very well armed.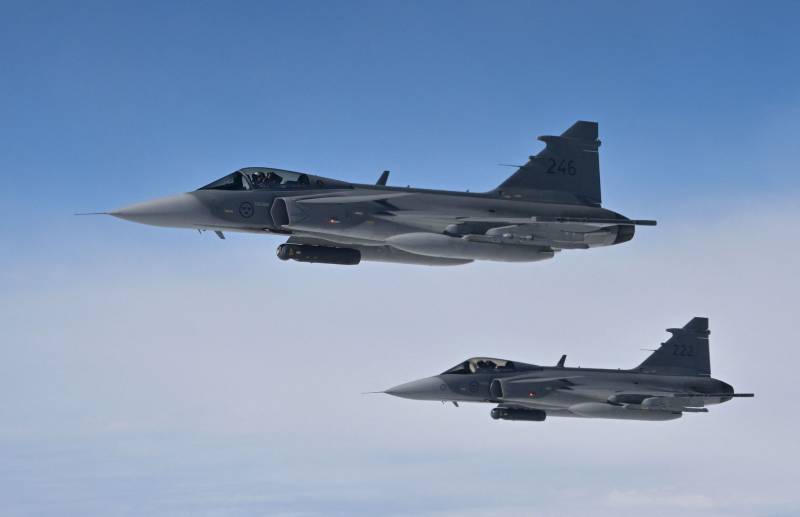 In addition, one should not ignore the fact that Sweden is geographically located to strengthen NATO's defenses where the alliance is now most vulnerable. That is, in Scandinavia. After all, Finland, twice inferior in population to Sweden, has a smaller army. And it looks very doubtful as a NATO combat unit, although the Finnish fleet, although sharpened for mine operations, is quite capable of solving many problems.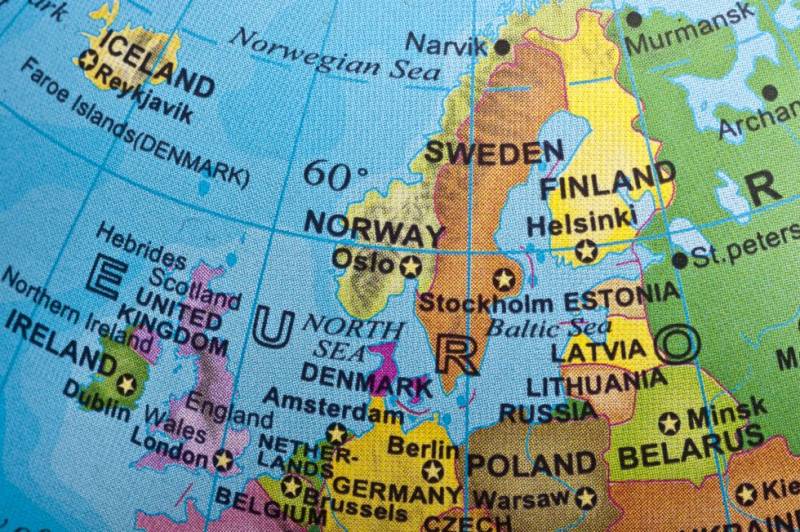 Sweden lies between NATO members Norway and Denmark to the west and Finland to the east, and has between one and two thousand miles of coastline on the Baltic Sea. This is important, because if in the future NATO needs to blockade the Kaliningrad enclave of Russia, where the warships of the Baltic
fleet
, it will be very easy to do. Despite the presence of ships and ground-based anti-ship systems in Russia.
With Sweden joining NATO, Russian warships, submarines and aircraft in and over the Baltic will be forced to pass between the "jaws of the crocodile": the coastlines of Sweden and Finland in the north and the coastlines of Germany, Denmark, Poland and the Baltic states in the south. And, by and large, the Swedish island of Gotland is located right in the center of the Baltic.
Membership in the alliance guarantees NATO intervention to protect Sweden, and Sweden, in turn, undertakes to provide assistance in the event of an attack on Finland or the Baltic countries.
Of course, Russian aggression against NATO members seems even more unthinkable now that Russia is preoccupied with an operation in Ukraine, giving many reasons to overestimate its military capabilities. But nevertheless, NWO is precisely the reason why the Swedes and Finns lost faith in the intentions of Russia and rushed to membership in the alliance.
What is the Swedish military machine capable of?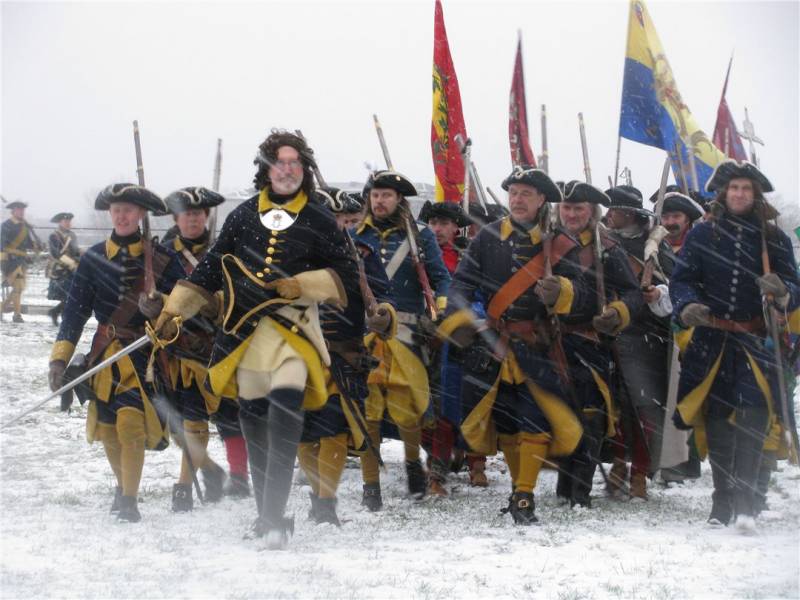 The Swedish Armed Forces are dedicated to the territorial defense of Sweden and the surrounding waters of the Baltic Sea, although they have demonstrated some ability to deploy aircraft and mechanized peacekeeping forces abroad in various peacekeeping operations. But peacekeeping operations should not be considered at a serious level; just look at where and with what contingents the Swedes "made peace."
Overall, Sweden has a very mature military industry for a country of 10,5 million people. It manufactures its own jet fighters, early warning aircraft, modern non-nuclear submarines, infantry fighting vehicles, anti-tank weapons and heavy artillery. Swedish aircraft and armored vehicles are adapted to NATO standards and are already used in many armies of the alliance.
Swedish Air Force Saab JAS 39 Gripen jet fighters take part in a NATO exercise as part of the NATO air policing mission in the sovereign airspace of the Alliance on July 4, 2023.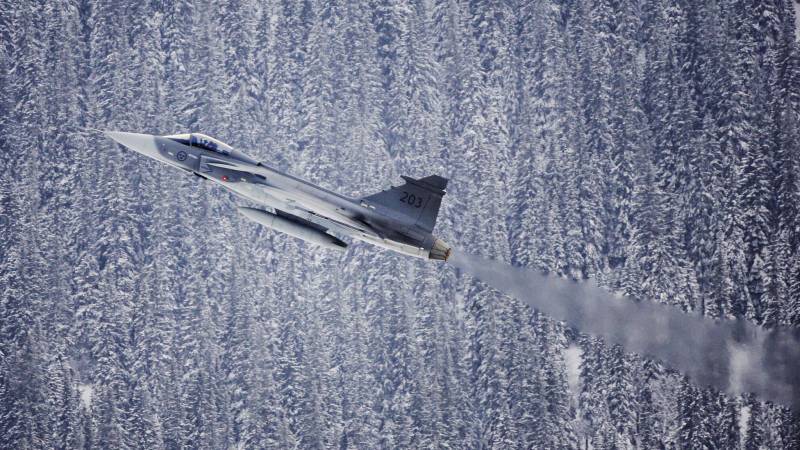 The Swedish Air Force operates 94 fourth-generation Saab JAS-39 Gripen C/D multirole fighters, comparable to the American F-16Cs but better optimized for point operations. In addition, the Griffins have a very useful feature: a very short take-off run, allowing you to take off from highways and small airports.
In the future, the Air Force will be strengthened with the addition of 70 Generation 4+ Gripen-E fighters with improved stealth, longer range, advanced radars with AESA jamming capability and upgraded F414 turbofans to enable supersonic cruise. What can I say, in SAAB planes have always been made head and shoulders better than cars.
Other Air Force assets include two domestically produced airborne early warning aircraft, one KC-130 tanker, five C-130 transport aircraft, and more than 50 utility helicopters.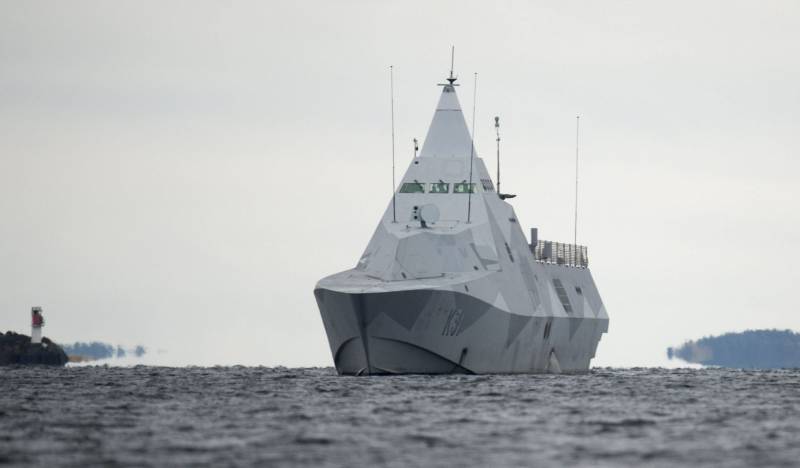 At sea, the Swedish Navy operates five Visby-class small stealth corvettes with anti-submarine weapons and RBS-15 Mk.2 anti-ship missiles, developed by SAAB Bofors Dynamіcs together with the German company Diehl BGT Defence. The missile has a range of up to 70 km, which is more than enough in the conditions of the Baltic, and it can be launched from any carrier: surface, ground and air.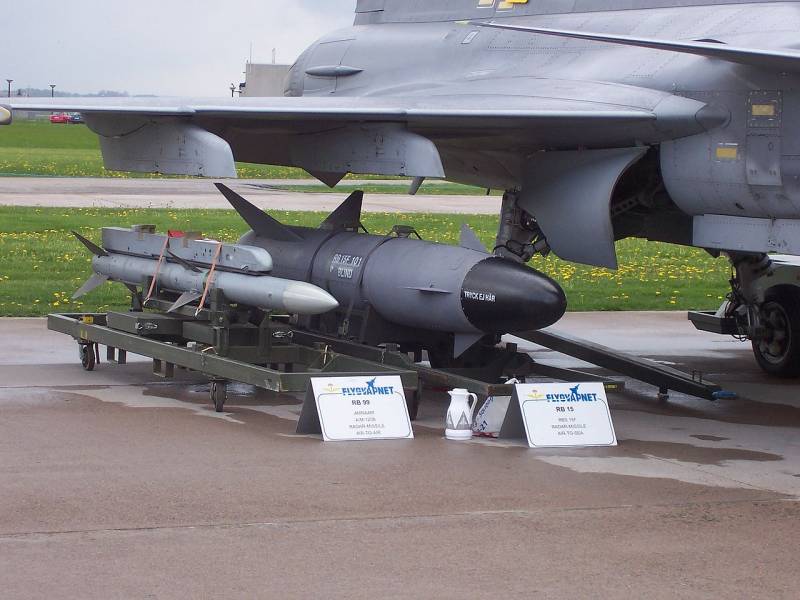 The fleet is armed with six more older corvettes of the Gothenburg type, mine-sweeping ships and boats. Quite a decent anti-submarine fleet.
In addition, the Swedes have three Gotland-class submarines and two Södermanland-class submarines in their fleet, which have an air-independent Stirling-engine propulsion system, which allows them to swim underwater at low speeds for several weeks - much longer. than traditional diesel-electric submarines.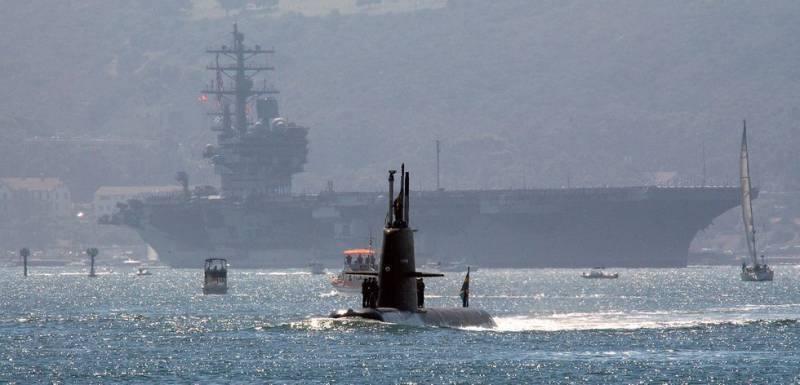 Swedish Navy submarine HSwMS Gotland in San Diego in 2005. Gotland, as you know, "sank" a nuclear aircraft carrier during the exercises thanks to its air-independent propulsion system.
Naval support assets include 11 anti-submarine patrol boats, 9 minesweepers and approximately 150 CB90 jet-propelled fast attack craft. They can be used by the Navy's two active Marine amphibious battalions. Although Stockholm has decommissioned its fixed coastal defense batteries, the Swedish Marines have now been using the Hellfire-based RBS-17 mobile short-range missiles in an anti-ship version since 2016.
In terms of heavy armor, the Swedish ground forces are virtually equal to the recently reduced British Army, despite Sweden having one-sixth of the British population.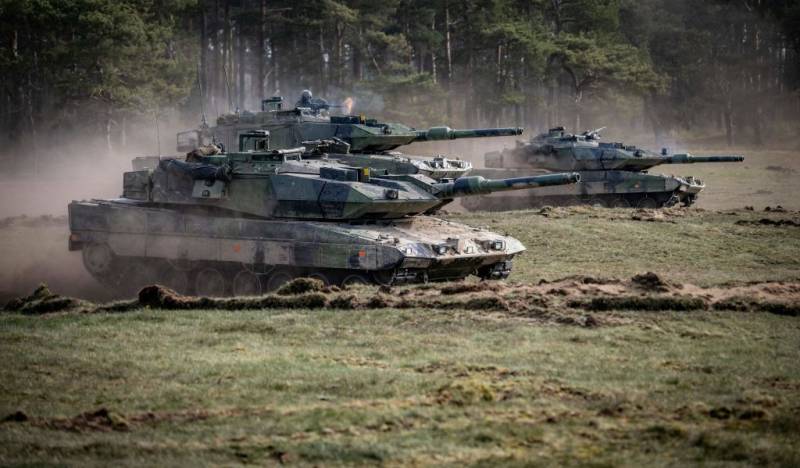 The Swedish army has 120
tanks
Stridsvagen 122 (It's just a German "Leopard" 2A5, greatly improved by order of the Swedish side), 354 CV9040 tracked infantry fighting vehicles (which are unusually heavily armored and armed for their class with 40 mm cannons) and more than 300 lighter Finnish Patria eight-wheeled armored personnel carriers.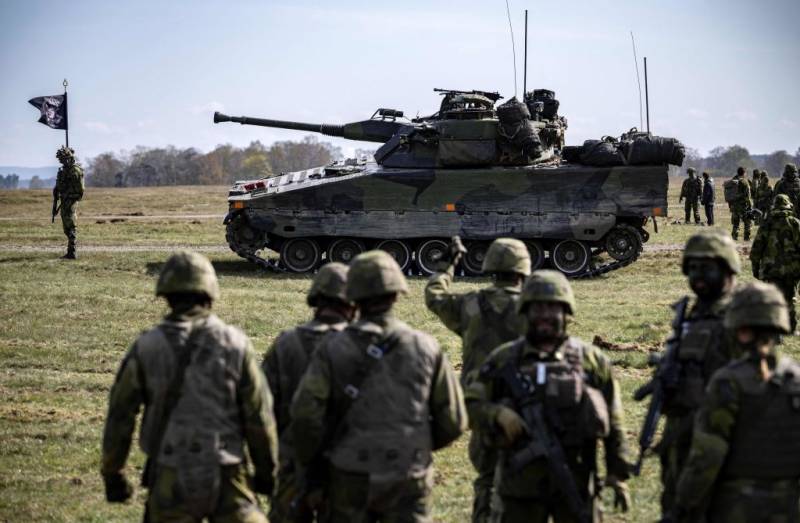 CV90 combat vehicle during exercise Aurora 23
However, the Swedish army remains small in terms of manpower, with six mechanized battalions (tanks and IFVs), two motorized battalions (wheeled armored personnel carriers), four rifle battalions, and one airborne ranger battalion and one chasseur mountain infantry battalion each.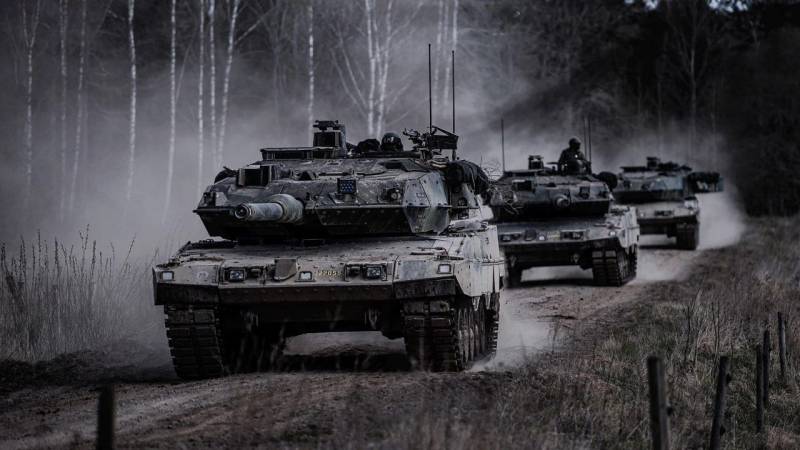 Stridsvagn 122 tanks during exercise Aurora 23 at the Rinkaby training ground near Kristianstad, Sweden, May 06, 2023
While Sweden was building its own tanks, including the turretless S-tank and the L-60 light tank, the Stridsvagen 122 is a heavily modified German Leopard 2A5 tank with heavier and more advanced composite armor, Barracuda infrared camouflage system, French smoke grenades GALIX, as well as local radio stations and fire control systems.
Support units include four artillery battalions equipped with Archer self-propelled guns, two engineer battalions and two air defense battalions with short-range RBS-70 and IRIS-T systems, as well as HAWK medium-range missiles (AKA RBS-97), which will be replaced by American Patriot systems.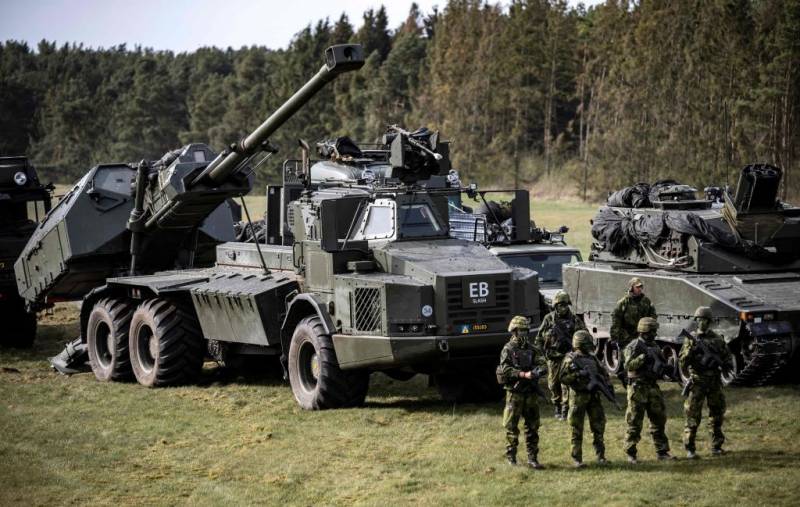 Archer artillery system of an artillery regiment during exercise Aurora 23.
The National Guard, Sweden's reserve force, can raise another 40 light infantry battalions, 22 strong.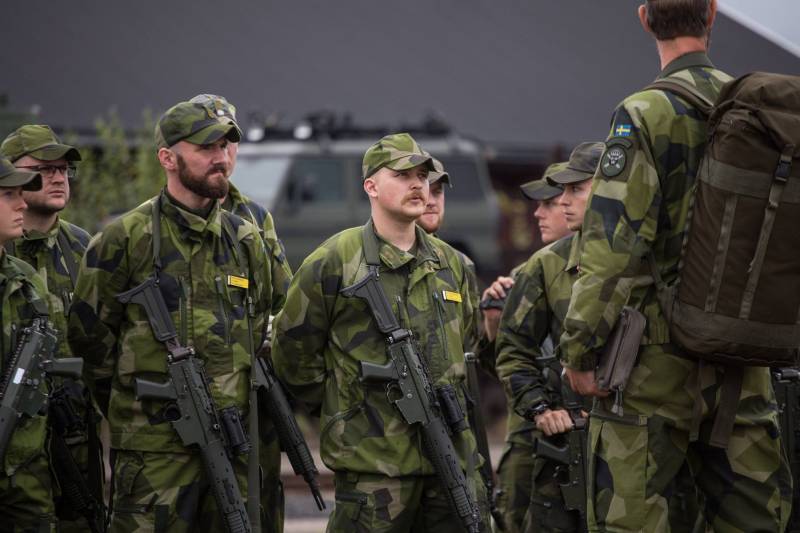 Despite the fact that the Swedish armed forces are few in number, they have a certain value, since they are located near Finland and the Baltic states, places that NATO would really have to defend in the event of a conflict with Russia.
The Swedish air force and navy could contribute to the collective defense of these countries on the 1st day of the conflict, while ground forces could be deployed more quickly to help neighboring Finland or, via air and sea routes , the Baltics. The additional lines of communication that Sweden opens up, allowing NATO to strengthen the vulnerable Baltic states, are especially valuable, as they reduce dependence on the Suwalki Gap, a narrow land corridor between pro-Russian Belarus and Kaliningrad (according to the Americans).
In fact, the so-called Suwalki corridor is a kind of Veksler test, but for the military. All the talk about this strip of land is really a test for mental inferiority. The Suwalki corridor is a perfectly shot through territory, inconvenient for the advancement of troops, low-lying and swampy. And only a general who has not passed this very Veksler test can poke his head in there.
It is much easier to break Lithuania in a day or two and make a normal trip to Kaliningrad. But this is another topic for conversation, just inspired by music.
In general, although no one forbids or ridicules the Swedes' desire to see a Russian submarine in every shoal of Baltic herring, the prospect of becoming a first-day shield is so-so.
However, the Swedes themselves made their choice. NATO is NATO.
Swedish soldiers take part in NATO exercise Trident Juncture in the Roros region, central Norway, October 27, 2018. It was the largest NATO military exercise since the end of the Cold War.
But it was Russia's special military operation in Ukraine in 2022 that finally convinced the majority of Swedes to support joining NATO. And Russian diplomacy was unable to change the situation.
Early on, Sweden provided Ukraine with extensive military assistance, including 15 AT000 anti-tank missiles, RBS-4 surface-to-air missiles, NLAW and BILL anti-tank guided missiles, machine guns, Barret sniper rifles, and more than 70 sets of body armor. That is, something that could be used immediately and without additional training.
More advanced technology followed. 10 Stridsvagen 122 tanks, more than 50 CV9040C combat vehicles, air defense equipment, RBS-17 Hellfire anti-ship missiles and eight 155mm Archer howitzers. The 21st mechanized brigade was equipped with Swedish-made vehicles, which was also trained in Sweden and by Swedish instructors.
In general, there is no sadder story in the world than the tale of the old Swedish neutrality. Although the Swedish neutrality itself is so strange. And during the Second World War, he easily allowed to drive steamships with iron ore to those against whom the entire civilized world fought. You can say they were wrong.
Today, too, not everything is smooth and smooth, but there is nothing to be done. There is no neutrality, but how beneficial it will be for the Swedes from joining NATO - time will tell. The army of the country is really not bad, armed quite decently and is of combat value. Yes, some "own" products are slightly different from the standards of the alliance, but here the question is this: the Swedes come with their own.
Of course, Sweden's accession to NATO is an unpleasant moment. Sweden is not Finland, not the Baltic countries. This is already a slightly different level, higher. And the most unpleasant thing is that now the Baltic Sea will finally become a NATO sea, and we will have new problems that will not be easy to solve. But we will talk about what can happen in the Baltic next time.
In the meantime, as a result, it is worth expressing regret that Sweden has ceased to be a neutral country and has moved into the NATO camp. This country is a really good force on the water and in the air, which does not promise us bright prospects.