The problem of detecting the location of the enemy, which is armed with small
weapons
, solved by METRAVIB specialists.
Special detection systems allow detecting the exact location of a shooting enemy along the trajectory and speed of flying bullets. The main means for obtaining information is a complex of microphones. Systems of this type are already used in Afghanistan and Iraq and are proving to be effective. Here we are talking about the acclaimed Boomerang complexes.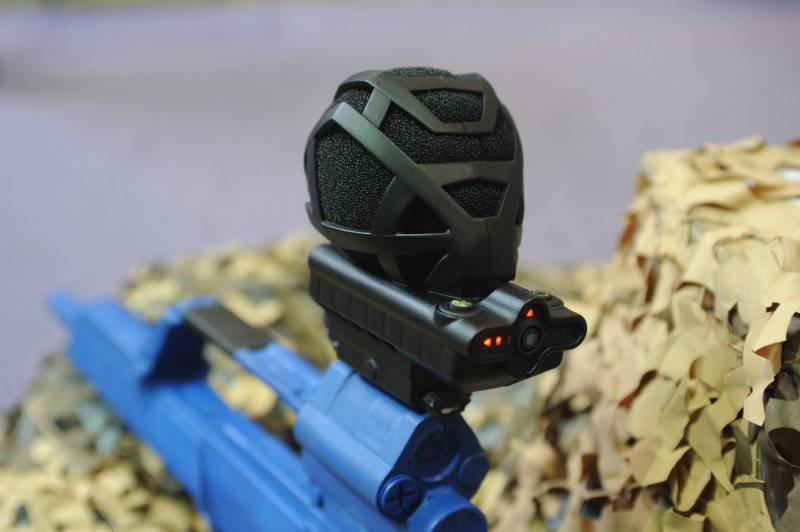 However, the new METRAVIB PEARL systems provide an even more powerful detection tool. They can be installed directly on the weapon (up to automatic grenade launchers and large-caliber sniper rifles) and with their help during the battle to clarify the location of the enemy fighters.
The size of the complex METRAVIB PEARL is small - does not exceed the size of the human palm. In this case, the system works on the basis of a simple algorithm that allows analyzing information from microphones. On the complex there are special sensors that show the arrow, in which direction it is worthwhile to start firing to destroy the hidden enemy. The system of illuminating sensors allows you to find out whether shooting is in that direction. If the green sensor lights up, it means that the fighter took aim with perfect accuracy. With the help of such a system, it is easy to conduct not only fire at suppression, but also aimed fire.
The speed of the system METRAVIB PEARL is much higher than the speed of human reaction. This is what allows you to conduct accurate fire without losing time, even in a situation when a fighter is ambushed.
For the machine-gunner, the use of the METRAVIB PEARL system allows in the shortest possible time to suppress any masked enemy firing point.
Today, such a system is planned to equip not only individual shooters, but also helicopters, which will coordinate the fire attacks from the air. In this case, the use of expensive systems of advanced optics or UAVs loses meaning.