The new kopter-drone capable to float in air, I use the special screw which is in a ring. Without carrying any navigation system on board, this kind of equipment is equipped with only a pair of high-resolution video cameras. The difference in the image of these cameras is used by the unmanned vehicle in order to stabilize the position in space relative to the surface of the Earth. For night observations, the UAV uses a special camera with an IR emitter. The electric motor allows you to move in the air.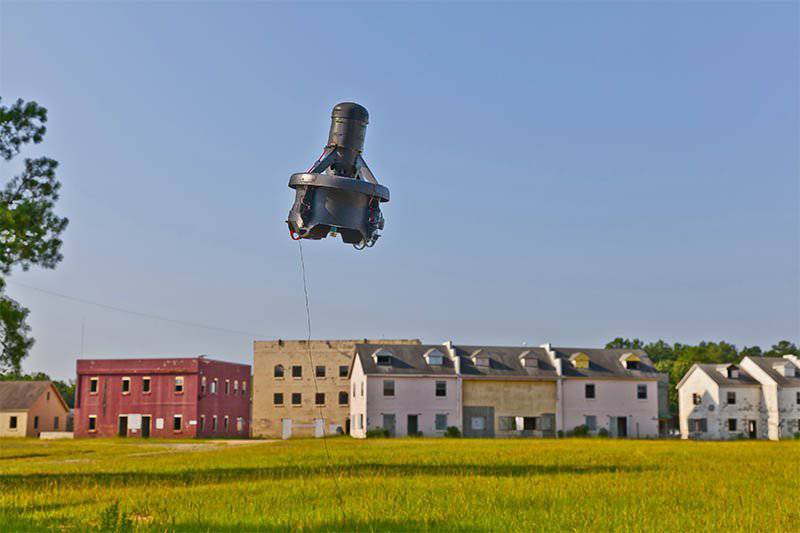 In bright light, the Ease power and communication cable is still visible. (Here and below is a photo of CyPhy Works)
But if there is an electric motor, then there must also be a battery. However, not in this case. The creators of such an interesting model claim that there is no special UAV battery on board, and this reduces the overall weight of the aircraft. Charging is carried out allowing the copter to fly for about 50 minutes. You say: but this is not enough! What do UAVs do when the charge ends?
This raises a reasonable question: what is charged in the UAV, if there is no battery on board? The Extreme Access System for Entry robot is powered by the thinnest cable, which is based on a kind of masking technology: an alternation of light and dark stripes. If the video does not allow to consider this cable, then it turns out that the idea of ​​the developers worked, and the masking is actively working. The cable is connected to the battery, which is located at the ground operator. And as soon as the battery runs out, the operator can change the battery in real time without landing an unmanned aerial device. The second battery should be, respectively, always at hand. And if the battery is not so simple, then you can generally power the UAV from the outlet, which gives him the opportunity to be in the air for almost an unlimited amount of time. The main thing is that the cable is enough, as well as the service life of electric motors ...
Such drones are created by CyPhy Works. Developers do not see anything wrong in the fact that the device is wired. Moreover, they find their advantages here: nobody can intercept information, as in the case of a radio signal emanating from ordinary drones.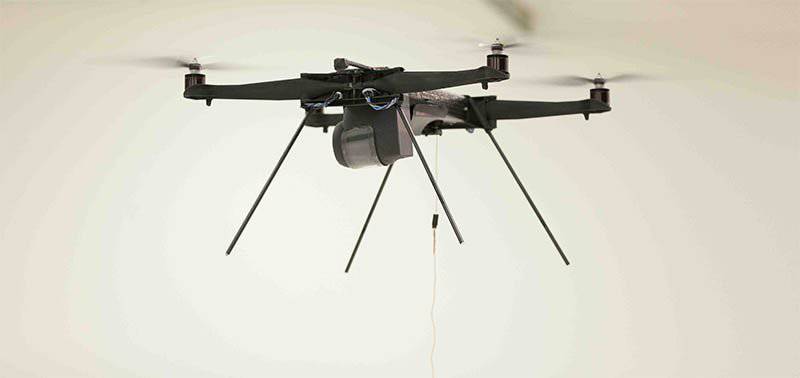 More high-altitude Parc can serve not only in urban environments
There is another interesting modification of the drone - Persistent Aerial Reconnaissance and Communications (PARC). It is slightly larger than the one mentioned above. At the same time, the service life on one battery is up to 12 hours in a row. It is obvious that such a device will arouse the interest of the military, and therefore the developers are already conducting unobtrusive advertising of their offspring. It remains to bring the work started to the end, and implement it for interested departments.