The US military again boasted of its successful developments in terms of military equipment. Now we are talking about testing a supernova unmanned fighter that will take off from the deck of an aircraft carrier. The preliminary name of the drone is X-47B. Before testing the take-off from the deck of an aircraft carrier, the Americans conducted UAV tests on the ground. A steam catapult was used for its take-off. The tests were successful, according to the US military, which gave them a reason to announce the beginning of a new era of maritime
aviation
.
The US military is confident that the launch of a new type of drone from the ground proved its great prospects for taking off into a limited space.
Today, US Navy Vice Admiral David Dunaway says that experts are working on the compatibility of X-47B with the parameters of the deck of the aircraft carrier. Dunaway says that just a few decades ago, no one had such projects in his mind, and now the United States is almost ready to implement plans to use a drone robot.
Since 26 November, the X-47B is being tested on the deck of the Harry S. Truman. This suggests that the Americans can already literally the other day announce that they are ready for the serial production of such unmanned models that can easily take off and land on the decks of aircraft carriers.
Americans note that the beginning of the test can be called
historical
an event, because the very principles of the development of naval aviation in the near future depend on the success of these tests. At the same time, in the USA they consider their project to be truly unprecedented, and therefore they are ready to go to the end in terms of its implementation in the near future.
The military publish video materials on the beginning of the test of the robot drone, which should be a new aviation sensation.
The drills aboard Harry S. Truman will be completed in mid-December. The DefenseNews publication notes that naval engineers will be monitoring X-47B maneuvers with remote controls.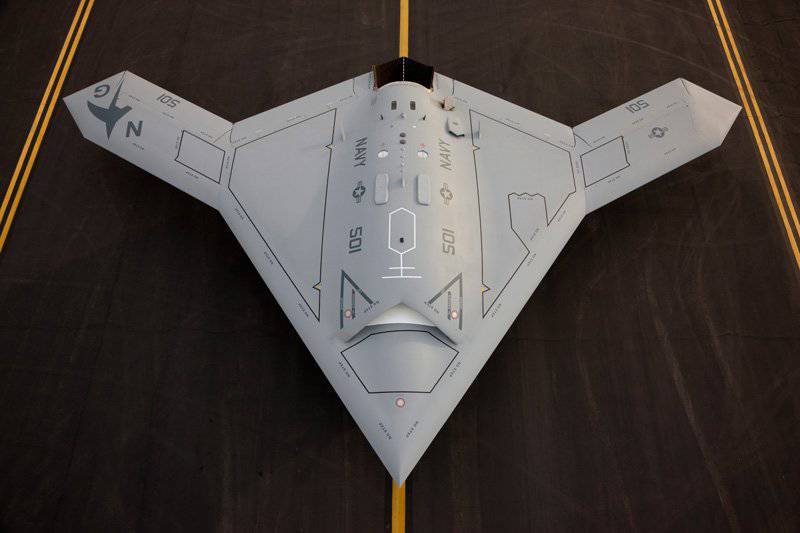 Lieutenant Tarver is already ecstatic about the trials of the new unmanned aerial vehicle. According to him, the test team feels its involvement in what is called, participation in a historical event, so significant for the US Navy. Larry Tarver adds that his team has received special training aimed at providing more efficient movement control X-47B.
X-47B itself can be called a breakthrough in the field of progress of unmanned aircraft. If earlier, to launch a drone, it was imperative to engage a specialist on the ground who controls the take-off and landing of a UAV, then today the entire flight task can be located in the memory of the on-board computer X-47B. The computer is able to independently control the actions of the aircraft, including such a complex maneuver, as refueling in the air.
The new UAV will carry on board laser-guided bombs that are capable of speeds of around 800 km / h, reaching a maximum height of over 12 km.