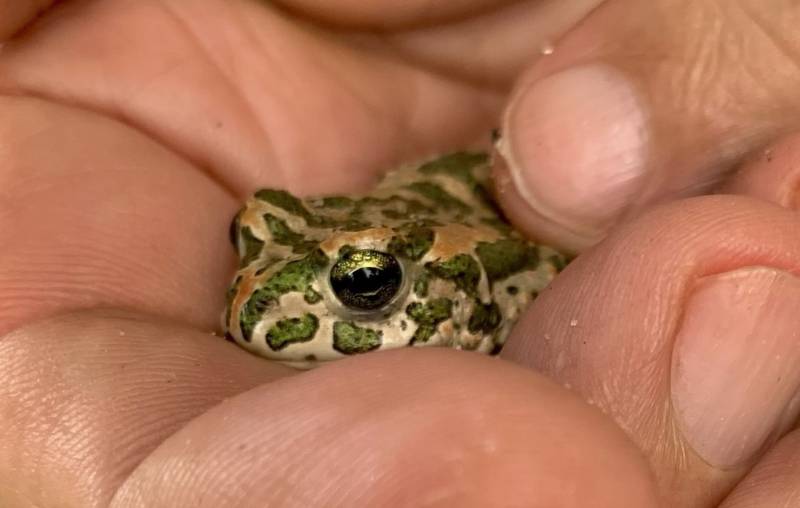 This little touching toad, like tank, there are a lot of enemies. But this camouflage helps her escape...
"... and you will look with your eyes - and you will not see,"
Matthew's Gospel, 13: 14

They stole this one, dressed in khaki,
And ate in the garden under a banana ...
Originally poems by Alexander Gorodnitsky
Tank camouflage yesterday, today... tomorrow.
The fact that any tank is nothing more than an excellent object for observing it in a war zone, people understood literally immediately, as soon as they appeared. And it is not surprising that it can be more noticeable than such a three-meter-high moving box! And so, first the British, then the French, and finally the Germans began to paint them with camouflage of various shapes and colors.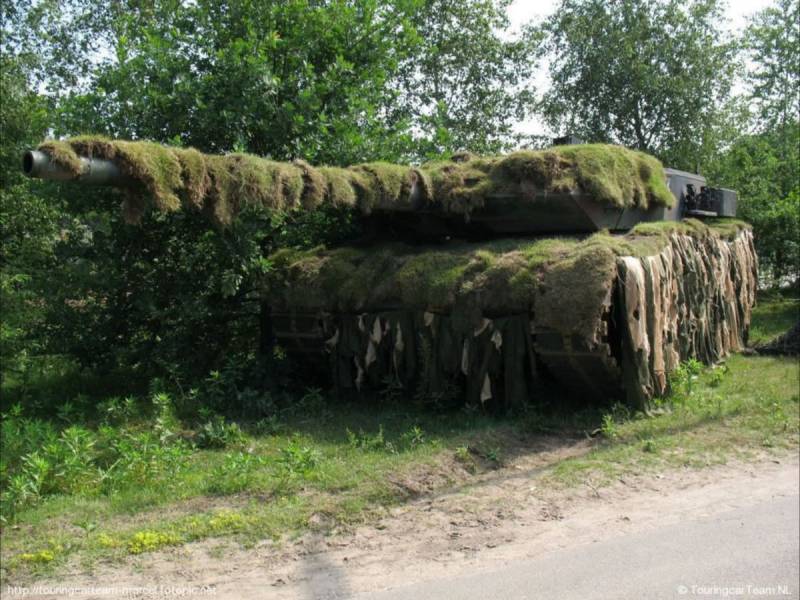 Tank in living moss camouflage
Usually these were spots of yellow, green, brown and gray color and necessarily irregular in shape, which distorted the view beyond recognition. In addition, there was also a monochromatic blue-gray (French), dark gray (Germans) and dark green (British) color scheme, but the first tanks mostly had large-spotted camouflage.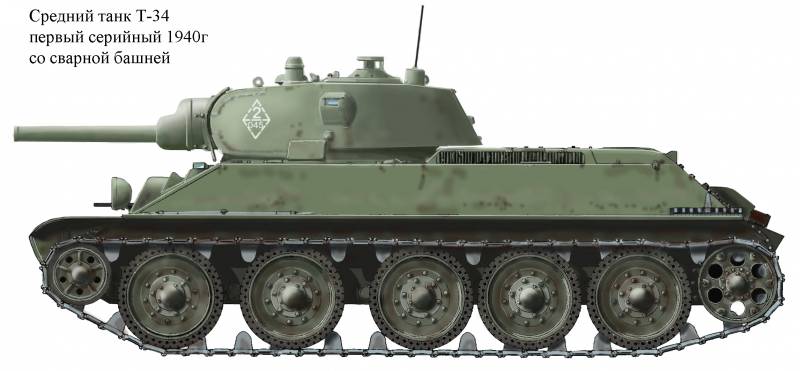 "It's good when you're so green and flat!"
In the interval between the world wars, tanks were painted "medium green" by the British, grass green by us in the Red Army, and khaki by the Americans. And only the French continued to use camouflage. And although for identification they painted three-color round cockades and card suits on tanks, from a distance it all still merged into something unobtrusive.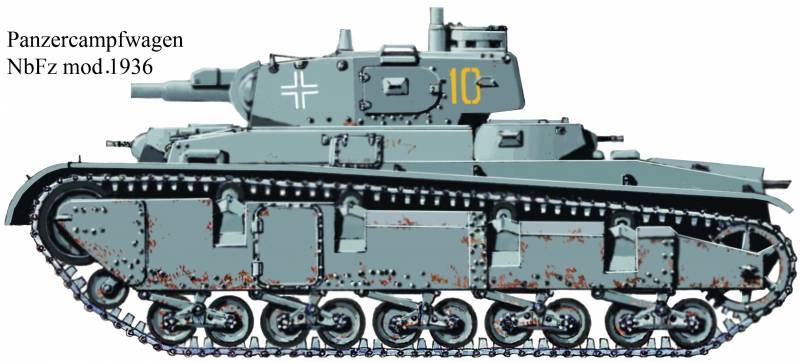 Gray color is the most not easily soiled and versatile. Heavy German tank NbFz
German tanks met World War II in dark gray, but Soviet tanks were painted green in summer and white in winter. Green and olive were the tanks of the British and Americans, while the French continued to be striped and spotted. On the other hand, the Japanese not only began to use tricolor camouflage, but in addition they also applied a bright yellow winding cross to their tanks, which divided their hull, when viewed from above, into four parts.

PzKpfw III Ausf M. The Germans considered the yellow background and green stripes for the summer of 1942 to be a panacea ...
In 1942, German tanks began to be painted yellow with green and brown spots and stripes. Moreover, for one or another place of action, their crews often had to repaint them.
So, the yellow "tigers" sent to Tunisia in early spring were repainted with bright green paint to match the color of young grass, which dried up and turned yellow only in summer. On the contrary, the British painted their dark green "Crusaders" in the color of the desert. But the tanks on the island of Malta were painted, imitating the laying of wild stone.

"Tiger II", Henschel tower. The stripes are red-brown. This is how Hitler's tanks and self-propelled guns were painted in 1944
At the end of World War II, both Soviet and American tanks turned green again for a long time. Apparently, no one was going to fight them seriously. But already the Vietnam War showed that camouflage is needed, that one cannot do without it ... Therefore, today the bulk of tanks are painted with camouflage, and sometimes very whimsical.
But, of course, there were options. For example, a "hunting" coloring was invented with colored spots and "circles" on a multi-colored background. And besides the brown stripes, they also painted green ones ... Tank "Mouse"
It is clear that it would be ideal to make the tank invisible, as the inventor Q did in the movie "Die Another Day", which turned James Bond's car into invisible, covering it with a special layer that reproduces in front everything that was behind him. Indeed, an object protected in such a sophisticated way will be practically invisible. And yet, the tank, if it is a tank, will have problems with invisibility.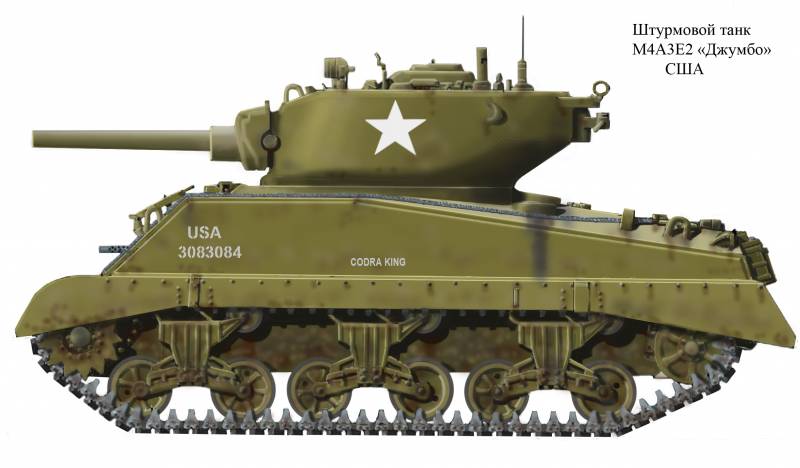 Typical olive khaki of the US Army - Jumbo assault tank M4A3E2
The fact is that it can be seen with the help of infrared devices operating in the infrared range. And what about then in this case?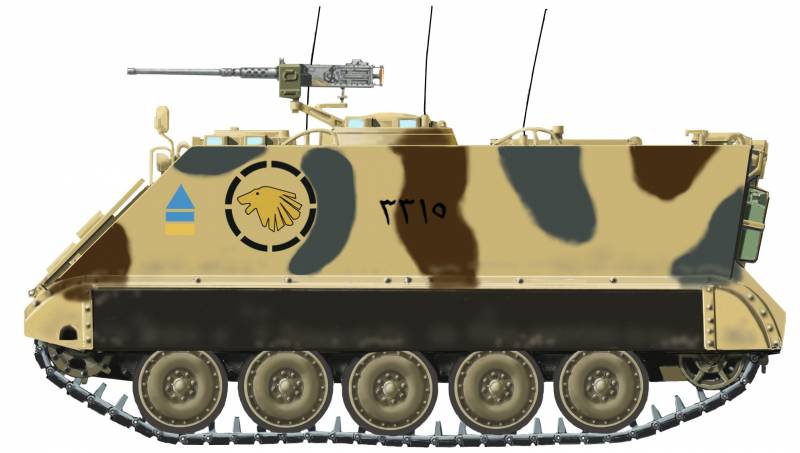 American armored personnel carrier, Egyptian coloring ...
Here we need to remember that back in the 80s of the last century, the famous English inventor David Jones, in his book "The Inventions of Daedalus", published at the same time in the USSR, proposed an interesting idea: to create artificial fur based on an unusual ... magnetic paint, representing a suspension iron filings in any coloring nitro base. Such paint, in his opinion, should first be applied to the desired surface, and then, while it was still wet, held over it with a powerful magnet. The magnet will attract sawdust, they will pull a thin thread of paint behind them, which will quickly harden, and thus the entire painted surface will turn out to be ... "shaggy". A tank with such a shaggy carpet waving in the wind will be much more difficult to notice than if it is traditionally smooth. Moreover, instead of such paint (which is not quite clear how to make it yet!) You can also use ready-made coatings made of colored faux fur. In fact, it can be the same camouflage, but it protects much better from radar radiation and, in addition, reduces the IR visibility of the tank.

And this is the desert coloring of the French BA of the rapid reaction unit ...
But so far there is no such paint, and it is not known whether it will ever appear at all. But the tanks of the future can be covered with ordinary forest moss! We take a fine-mesh plastic mesh, between its two layers we lay layers of soil with grass or moss. Today, this is how artificial lawns are made, but there the soil layer is thicker and such a strong mesh is not used. But tanks certainly need it, because moss and grass must be fixed on a moving vehicle! And it will also be excellent thermal insulation. The same gun barrel, so that it does not overheat in the sun, is now covered with special covers made of synthetics. But in the case of grass, it can simply be covered with such a net and ... watered!

"Merkava" Mk.4. Another tank in desert coloring
And if you regularly take care of such a "living paint", the plants will intertwine with their roots, and the entire surface of the tank will be covered with a carpet of natural vegetation. And the "carpet" is quite durable. And by watering the grass cover with water, it can be very cool, again lowering the thermal signature of the entire tank. Suppose there is a small tank with a sprayer on the tower, filled with water, constantly cooled by a special device. In a critical situation, the commander presses a button, and a real fountain beats over the tank, covering its vegetation with dew drops. Here, no thermal imager will "break through" the moisture evaporating from plants. It will be too cold and in all respects "natural". Well, hill and hill, overgrown with grass ...

The Indians also, apparently, have deserts, and such "yellow tanks" operate in them
And the Israeli company Polaris Solutions has already developed a special TVC fabric for masking both in the visible and in the infrared range. It is somewhat reminiscent of the elven invisibility cloaks from Tolkien's saga about the ring of omnipotence. You hide behind it - and now you are most of all like a stone block, and besides, it's also cold! And... you can also sew covers for tanks from it and use it in various inflatable and drop-down structures. A square meter of this fabric weighs from 490 to 700 g, so it will not add much weight to the tank, but you can easily create landscape elements from it - various stones, bumps there! However, we also already have something similar - the "Cape" coating, although it is arranged on other principles and is simpler.

But for some reason, the Indians paint their "Vijyanta" differently
That is, you can completely change the shape of the car with the help of inflatable blocks made of such a fabric, imitating stones, and if desired, even with a bush growing from them. Of course, it is necessary to put such a disguise on a tank so that it does not interfere with surveillance devices and weapons installed on it. But if they are already inflated, and even with a grassy surface and coloring to look like rocks, such structures (and you can inflate them with exhaust gases from the engine!) Can change the appearance of the tank so much that it will be impossible to recognize it. And even up close. It is important that no tank will be similar to the others. And… who knows the future? - maybe the time will come when at the next Victory Parade we will see tanks on Red Square, completely overgrown with lush green grass, and even with placers of yellow dandelions or white-pink daisies on the towers.

Al Khalid is a Pakistani tank named after the 592th century Muslim commander Khalid bin al-Walid (642-XNUMX). The camouflage is, well…very "camouflage". The drawing is based on a photo from the Internet
PS Drawings by the artist A. Sheps were used to design the material.