I will immediately make some preemption so that there are no accusations of provocations. Of course, there is no AK-17 in nature, but ... In
weapons
In circles, the option of switching to a more powerful cartridge is being discussed more and more, since the practice of SVO shows that our main cartridge 5,45x39 frankly cannot cope with modern personal protective equipment such as bulletproof vests of class 5, 5a, 6 and 6a. Protective helmets made of modern materials also often become an insurmountable obstacle in the way of a 5,45 mm bullet.
And in our circles, too (the Americans no longer talk, they have been doing it for a long time) they started talking about the need for a more powerful cartridge. About the start of work on the Legionnaire theme, a new-generation shooting complex and equipment that will replace the Sotnik, which is now being tested as a replacement for the Ratnik.
In general, everything is complicated, because we are talking about matters of such a distant future ...
It is difficult from the moment that the "Warrior" was not brought to mind, although in my opinion the complex has a very decent potential for modernization, and here the "Sotnik" has already begun to get along. And, not having tested, we are thrown to the Legionnaire.
Of course, for those who develop, a complete thrill. Know only money, get it and report on time about the work done. Nothing personal, pure business: if you don't want it with amber buttons, it's not a question, we'll add pearl ones.
But about the kits, the conversation is separate and no less topical, because a fierce mess reigns there. But we still talk about cartridges and calibers. After all, replacing like this on the go in the process of waging a war of the main caliber is not easy. It is difficult in every sense, from technical to financial and economic.
After all, it was not for nothing that during the Great Patriotic War, Joseph Vissarionovich did not indulge the army and the Air Force with new models of weapons, oh, not in vain. Let's just think about this:
The Air Force received ONE new aircraft. Bomber Tu-2. All other aircraft were modifications of pre-war models.
The infantry received ONE submachine gun (PPS-43) and ONE machine gun (SG-43). Tankers received ONE new tank, IS. Artillerymen had the most novelties; in accordance with the changing conditions of warfare, the SU-85, SU-100, SU-122, SU-152, ISU-122 and ISU-152 appeared there. Plus a wheeled 100-mm field gun BS-3.
They didn't spoil, yes. It's clear with artillery, it was the god of that war, and it would be incredibly difficult to fight such a war with cannons and howitzers of the pre-war development period. But the point, I think, is clear.
So let's get back to cartridges and calibers. At the very beginning, I spoke about the Americans, who practically began rearmament. But they began to think about the need to strengthen their small arms ten years ago, when they were still tightly seated in Afghanistan and there the brave marines were convinced from their own experience that modern Chinese bulletproof vests that got to the Afghans through Pakistan simply perfectly hold the standard 5,56- mm bullets. And the power of American standard bullets became insufficient not only at long distances, but also at medium ones.
Surprise gave way to understanding, and so the development of a new caliber, 6,8 mm, began. And at the present time, the US military already has fully functional models of new weapons at its disposal. We have already written about the product of the famous company SIG, there is nothing to repeat.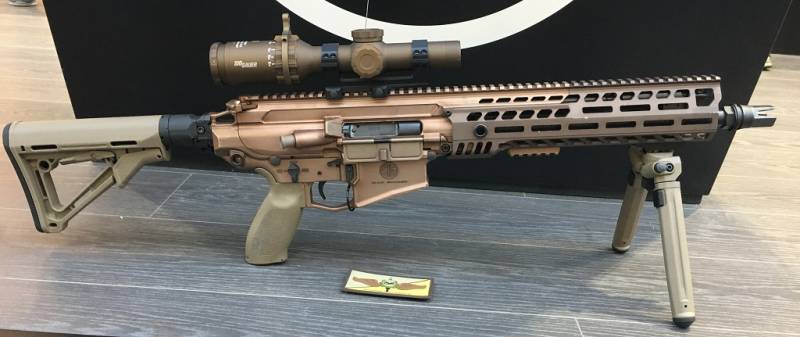 True, they also have to be brought to mind and brought to mind, because American designers are faced with a very unpleasant problem of decent recoil, which generally makes it very difficult to conduct automatic fire.
During my service, I just happened to be involved in the rearmament process, therefore I dealt with both AKM and AK-74. And shoot, as they say, to your fill from both one and the second.
Of course, in peacetime, the AK-74 was simply gorgeous. The recoil is minimal, the barrel hardly jumps, the accuracy is amazing, and it's more fun to carry an AK-74 with ammunition. Still, the difference between four 5,45 mm horns compared to 7,62 mm is almost a kilogram. Complying with the regulations on the shooting range is a breeze.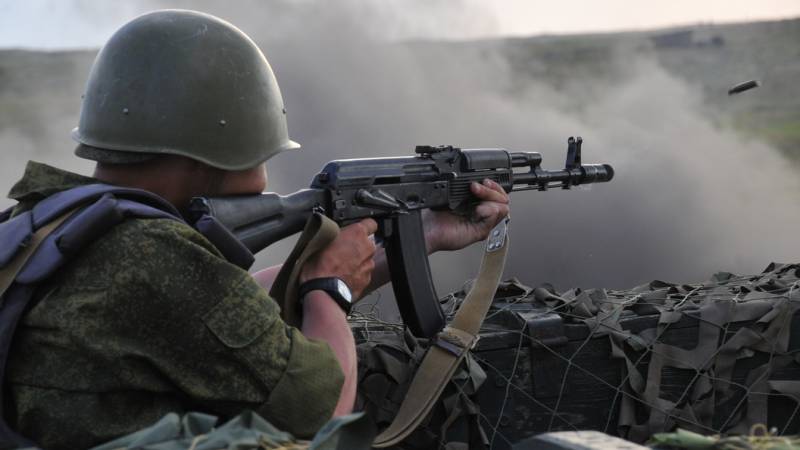 AKM is more cruel in this regard. Freedom-loving behavior when shooting, no bursts of 5-6 rounds (it will fly away to God), a spread from which there is no escape and nothing to level, shooting at a distance of 300 meters and beyond is a feat.
However, at such distances, modern combat almost never takes place. And for 300+ there are guys with SVD and RPK who throw metal at such distances quite regularly and quite accurately. Nothing to pretend to be Rambo.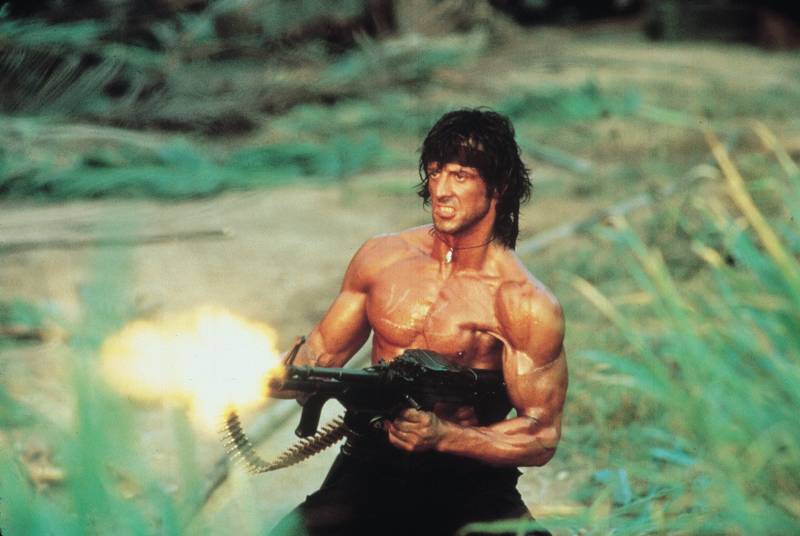 But at a distance of about a hundred meters, and this is a normal distance for today, the 7,62-mm cartridge practically does not give the enemy a chance, either behind the armor or behind the brickwork. It is clear that 7,62x39 is not 7,62x54 from a three-ruler, it will not break through a brick wall. But it will give a decent psychological effect by arranging a cloud of fragments from a brick. As for armor, here at 100 meters 7,62 mm can seriously compete with armor of any class. And with any helmet.
Here I agree with one company captain from the security unit of the Moscow air defense airfield in Migalovo near Tver. My friends served there, and when they looked in surprise at the AKMs, PKs and Kordas in the armory, the captain gave them a speech with something like this:
"What, you understand (approximate translation), hatched? We protect the airfield, which covers Moscow and St. Petersburg from the air, and therefore no holes in accordance with the Geneva Convention and other nonsense! I need corpses on the way to the second line of barriers in which case. Clear?"
.
There is something in this. The 7,62x39 cartridge is a pretty killer thing that solves many problems when you don't have to puzzle over the distance to the target. And he is guaranteed to allow you to drop the enemy, not particularly thinking about what number is in the bulletproof vest passport on the enemy.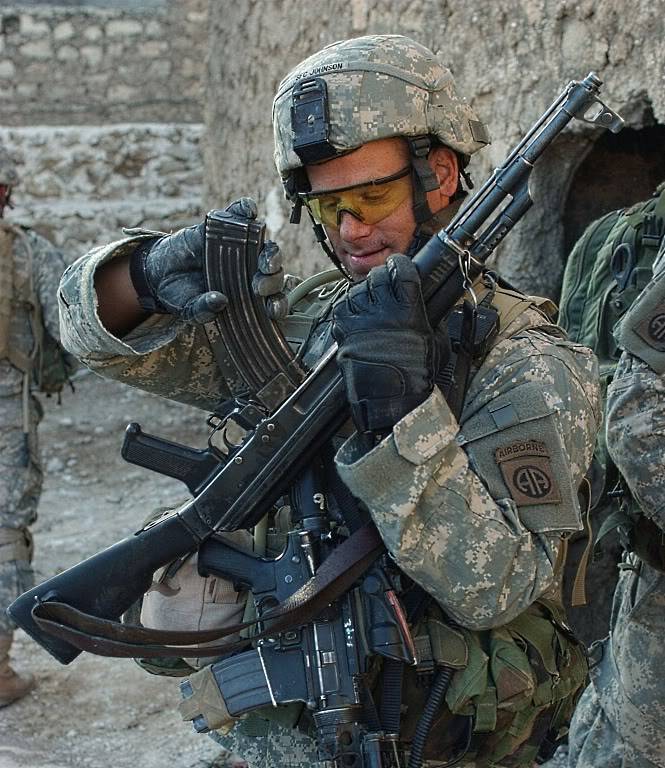 So if the Americans were faced with the problem of penetrating Chinese body armor and began to recycle their weapons, God himself ordered us, moreover, in the very near future. The war in Ukraine will not end quickly now, and the armor has already been dragged from all over the world.
Although, as I was told by my old friend from the Specialized Specialized Brigade "Prizrak", who served as an orderly there, and now continued this in the 2nd ac of the NM of the LPR in the same position, no more than 20% of the wounded who came to them account for bullet wounds. 65-70% are fragmentation and explosive.
So the artillery still confidently holds the first place in the destruction of a person on the front line and behind it.
Nevertheless, a person still does not want to die, therefore he uses helmets and bulletproof vests of various degrees of protection. And since we are talking about the fact that this man, packed in armor, still needs to be disabled and sent to think, the 7,62-mm bullet is definitely better suited for this. Other calibers can also be considered, here the question is that 5,56 mm and 5,45 mm are clearly a thing of the past.
Yes, the 7,62 mm caliber has an unpleasant nuance. AKM, as a weapon, is actually less accurate at distances of 100+ than AK-74, and it should take three times more nerves, time and cartridges to make a shooter out of a slanted recruit. However, it will be quite a high-quality shooter with opportunities.
It is believed that 7,62 mm is the caliber of weapons for the pros. It's hard to argue, the cartridge is more lethal, accuracy ... but it all depends on the design of the weapon. Say, 415 mm barrel length AKM is one thing, and 559 mm barrel M-14 is quite another. It is clear that the M-14 is much more accurate, although firing bursts is not at all for this rifle.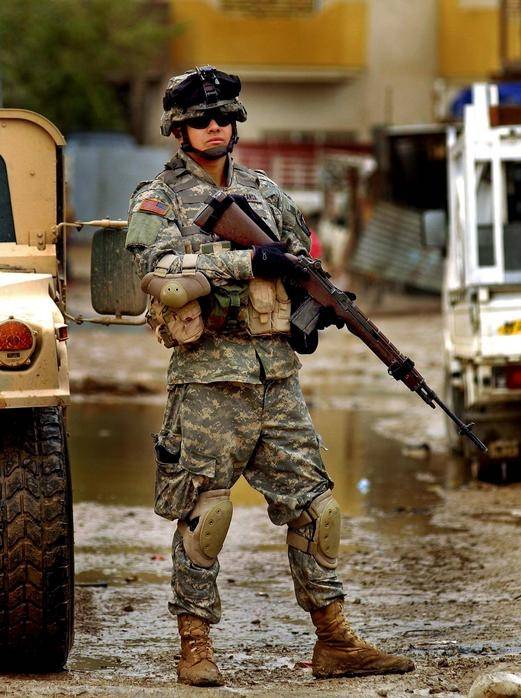 It is clear that the truth and solution of the problem can be somewhere between 5,45 and 7,62. The Americans chose 6,8 mm, well, they have the opportunity for this.
We have… No, no one has canceled our Kalashnikov concern, moreover, we already have some developments. For example, AK-308 chambered for 7,62x51 NATO. Already something, a machine gun for a rifle cartridge, albeit not ours.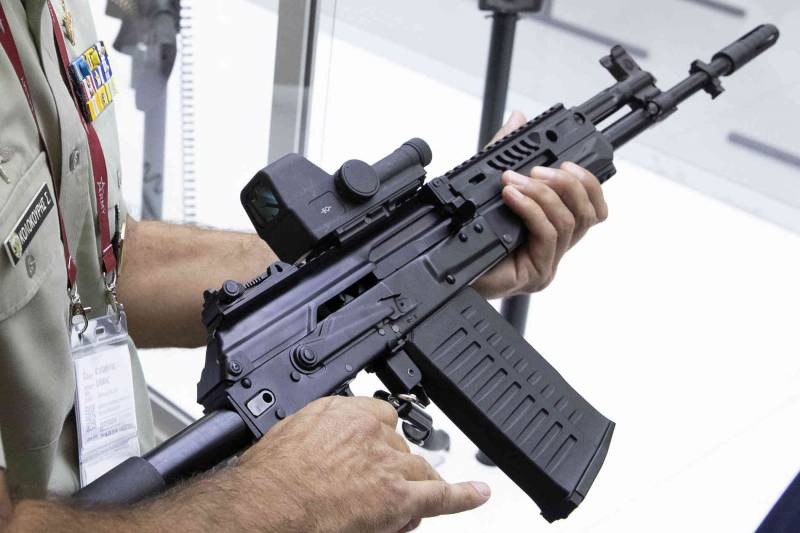 However, before taking it apart piece by piece, I would consider it necessary to pay attention to this: on the Kalashnikov website, you can read this:
"The design of the AK-308 used components and elements of the AK-12 assault rifle - a posted forend, an adjustable butt, a receiver cover with a Picatinny rail."
AK-12 / AK-15 ... The weapon is very controversial. Moreover, this was talked about by people who understand weapons much more than the author. And these people quite reasonably questioned the stories about
"the highest ambidexterity, modularity, multi-caliber and the ability to reload with one hand"
. And the fact that the Ak-12 is a fifth-generation weapon was also questioned.
However, there are more than enough materials on this topic on the Internet. I managed to talk to a person (it's good when you have a large military hospital in your city), who used the AK-12 in practice for a long time and shared his impressions with me.
In fact, the AK-12 is a modernized AK-74 and not a ruble more. Differences? Yes, they are. But very little.
1. Sliding butt. Great deal, very comfortable. Positively.
2. Shooting mode with a cut-off in two cartridges. Neutral, my interlocutor already cut off two on the machine, it is rather useful for recruits.
3. Lightweight bolt carrier. Neutral, the difference is imperceptible.
4. The trigger mechanism is made removable. Very convenient in terms of replacement, if there is something to change. In the field, an invaluable option with a spare trigger. Positively.
5. Body kit. This is where it gets tricky and needs some explanation.
An "old school" person (and we are practically the same age, +/- 2 years around fifty dollars) does not need a front "tactical" handle. Unusual. She changes the grip, to which she is already used to at the level of brain firmware. Maybe young and comfortable, but ...
Everything is simple. Just imagine that you have an AK-12 in your hands with a front tactical assault grip, a collimator, a laser pointer or a flashlight on one side of the forearm (there is no longer a hand there, you can hang around) and you need to perform a simple exercise: from the "shooting from the knee" position give an aimed burst, fall, make two rolls, a burst from a prone position, a roll, a magazine change, a burst, a roll, back to the kneeling position.
Represented? Do you understand where the "ambush" is? Yes, in the corner of the left hand. Yes, now some will say that no one canceled turning the barrel up. I agree. And no one canceled the Ukrainian black soil in autumn either. Now try to imagine how much it will stick into all these ribs, it's not clear what your collimator, flashlight / laser will look like, what the Picatinny rail will turn into and so on.
I didn't come up with this, this is a person who, let's say, made martial evolutions under certain conditions. And, judging by the fact that he "only" had a concussion from the arrival of a projectile, he performed them very coolly.
The AK-12 looks very...imposing.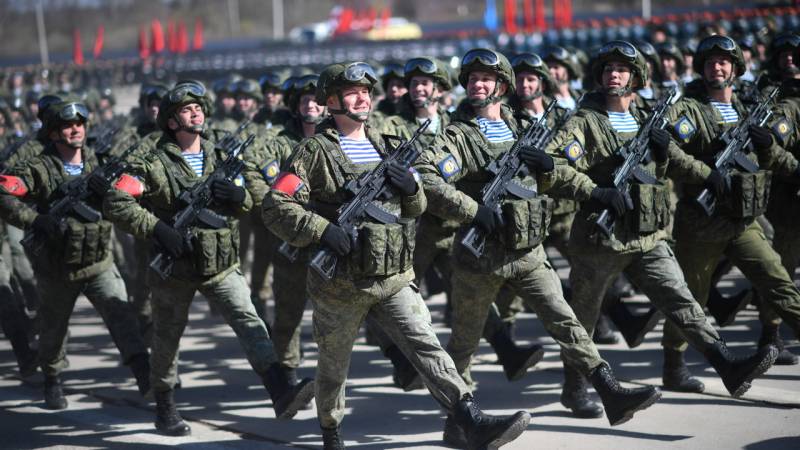 But in a battle that does not take place in the city, among asphalt and concrete, the AKM, with its almost completely smooth forms, looks preferable. In reality, there are many times fewer places where dirt can accumulate.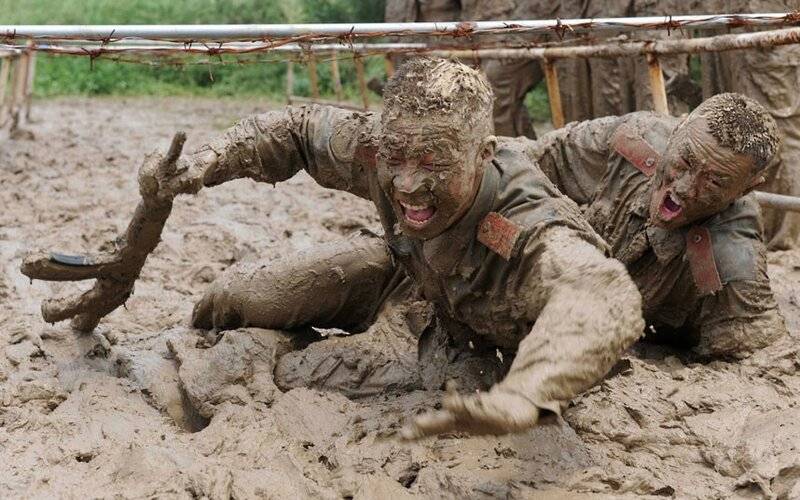 Yes, these are Chinese, but ... what's the difference in principle, a soldier of any army can be in reality in such conditions
In general, the combat universal weapon, which the Kalash was considered all its life, should have a minimum of relief in the form of ribs, pockets, crevices and other places that will immediately collect all the dirt. It is clear that no one is going to shove the machine into the black soil, but there are situations when the black soil flies to the machine.
We will not talk about plastic Picatinny rails, including on the cover of the receiver. And without that, not very somehow. "Dovetail" originally from the USSR was a controversial thing, but at least reusable. What will happen to the plastic bar when "ejecting" from
tank
, which I wrote about in one of the articles, depends on how the machine will land on the same engine compartment cover.
No offense, the machine looks very nice and weighty. But given that over the past 10 years our army has been transformed from combat to parade-competitive, as evidenced by "successes" in the NMD today, the AK-12 is the weapon of just the parade army.
Separately, it is worth mentioning the cut-off of firing on two rounds. On the one hand, this complicated the mechanism, on the other hand ... But why? In general, this cut-off was originally invented for submachine guns, which since their inception had to be limited in the rate of fire. At the same PPSh, it reached 1000 rounds per minute, and with this it was really not very convenient. The Germans at their MP-40 struggled with this by weakening the return spring and increasing the mass of the shutter parts. It turned out to be reduced to an acceptable 550-600 rounds per minute. The modern MP-5 is in the middle with its 800-900 rounds / min, depending on the model, and this is where the cutoff is quite appropriate.
But the AK-12, which has 600 rounds per minute - why would he? If only for a beginner, so as not to release the entire store in one fell swoop ...
In general, the AK-12 does not contain anything breakthrough and useful in itself compared to the AK-74. Alas, but it is. In addition to the sliding butt, there is nothing else in it. As for modern bells and whistles in the form of laser sights, collimator sights - and you ask if they are so common in the army and where do they get batteries for them? You will be very surprised by the answers.
Do I need a new cartridge for new conditions?
Very difficult question.
New conditions - they are already in the yard. American miracle fighters in the same Afghanistan did not go on missions with anything, from their M-14s to their Chinese-made AK-47s. To snatch a Soviet machine gun was generally for happiness.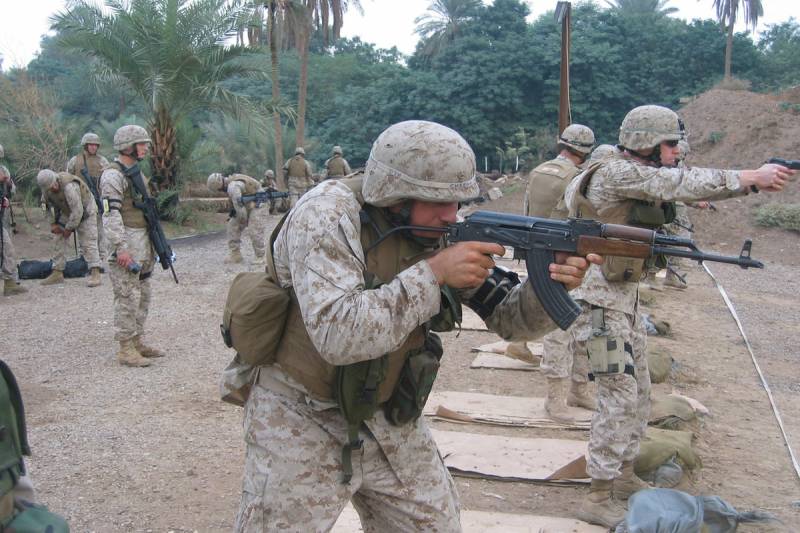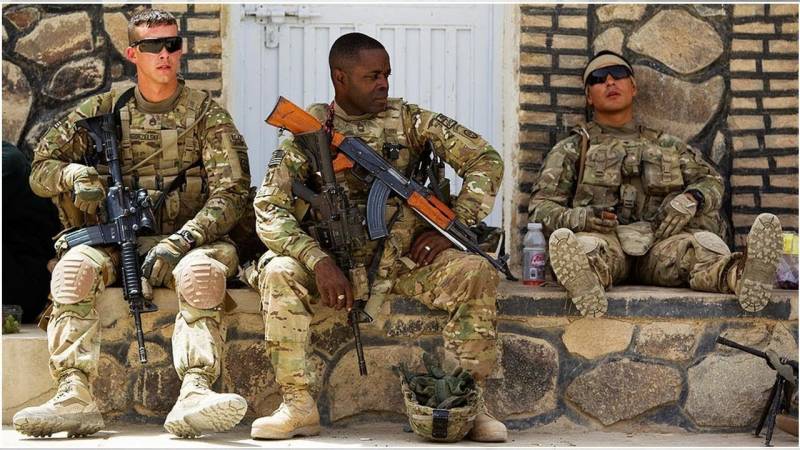 It is clear that this is not only about bulletproof vests, the Mujahideen treat them calmly, they roamed the mountains in unloading over a dressing gown, and continue to do so. Classics of the genre plus local conditions. The point is the instability of a light bullet in the green when it began to scour from branch to branch.
Of course, when 5,56 or 5,45 mm enters the body, and then into the bone, such fun begins inside it, which I myself witnessed. You wish only the enemy, because a light bullet cripples very much. But vice versa - a neat hole right through and the wounded can easily fall to a safe place, moreover, at a trot.
After a 7,62 mm bullet, you don't run much. After it, in general, survival becomes an urgent problem, especially if it is far from the sanitary battalion.
Just when there was a theoretical confrontation between the USSR and NATO, the games with calibers pursued one goal: to ensure the most dense fire both on the defensive and on the offensive. That is, the soldier should have been able to pour bullets on the enemy for as long as possible. Hence the increase in the ammunition load, which for the AK-74 consists of 4 magazines (120 rounds) and a stock in packs of 330 pieces. Total 450 rounds. For AKM, the figure is significantly lower: 3 magazines (90 rounds) and 240 in packs. Total 350 rounds. It is clear that the weight of the b / c plays the main role here, and in this regard, the caliber of 5,45 mm gave a certain advantage. Especially if in battle there is an opportunity to calmly reload magazines.
So which is better, the much more unstable 5,45mm cartridge, or the heavier and less numerous 7,62mm?
As many practitioners of the use of small arms today believe, our 7,62x39 cartridge is quite relevant and optimal in its combat missions. Modernization? Yes, our gunpowder is rubbish, that's a fact. We are 10-15 years behind the world. The sleeve is not the most modern - it can be survived, all the same, our industry will overstrain in terms of mastering a new sleeve and it will not end in anything good. It would be quite possible to play with gunpowder, but this is also an option that is practically inaccessible today.
What can be played? We think that the length of the barrel. What was Mikhail Kalashnikov looking at while working for AK? Given that his first model was a submachine gun for tankers? That's right, on the PPSh, with which the entire Red Army fought. Cartridge 7,62x25 (very strong for that time) and a barrel length of 269 mm. Sprinkler. Deadly at close range, but a sprinkler. There was nothing to do in the field with PPSh, rifles and machine guns began to rule the ball there. An extreme, but for an example it is quite.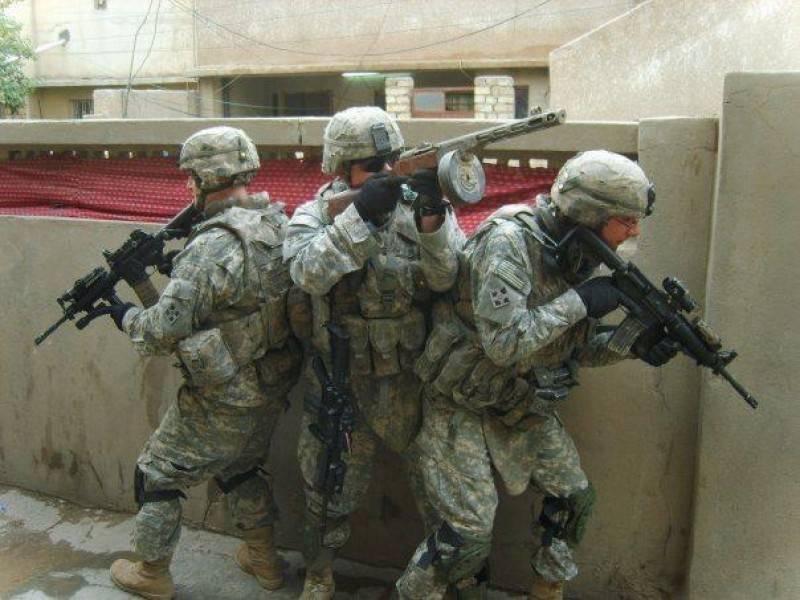 Second extreme. Very accurate, not very fast-firing RPK. 7,62x39 and a barrel length of 590 mm. Twice as long - and here's the result.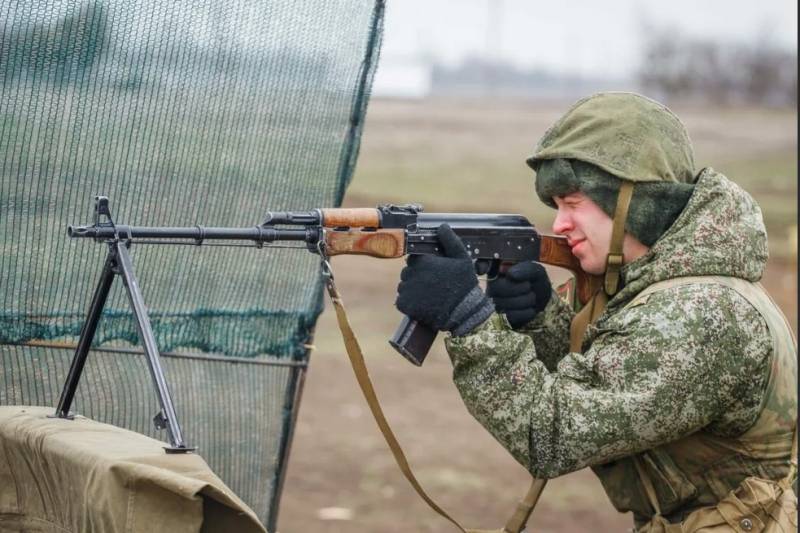 What can be the "golden mean"? AK-15/AK-308. 7,62x39 or 7,62x51 with a barrel length of 415 mm. The 7,62x51 NATO cartridge is, of course, elegant, but it is more than doubtful to master mass production in billions of quantities. Moreover, Western gunpowder is better than ours and our such cartridge will not be similar.
Hence 7,62x39 and a barrel length of 500 mm. And the question begins to take shape.
By the way, if you look at Western modern counterparts, for example, take the NK-417 and SCAR-H chambered for 7,62x51 (although the Belgian rifle can easily be converted to our 7,62x39), then you can definitely see TWO barrels there: the usual one is 406 mm long and weighted with a length of 508 mm. Moreover, the 508 mm barrel is not considered a purely sniper weapon, it is a Sniper Support Rifle, a sniper support weapon. More accurate than standard weapons.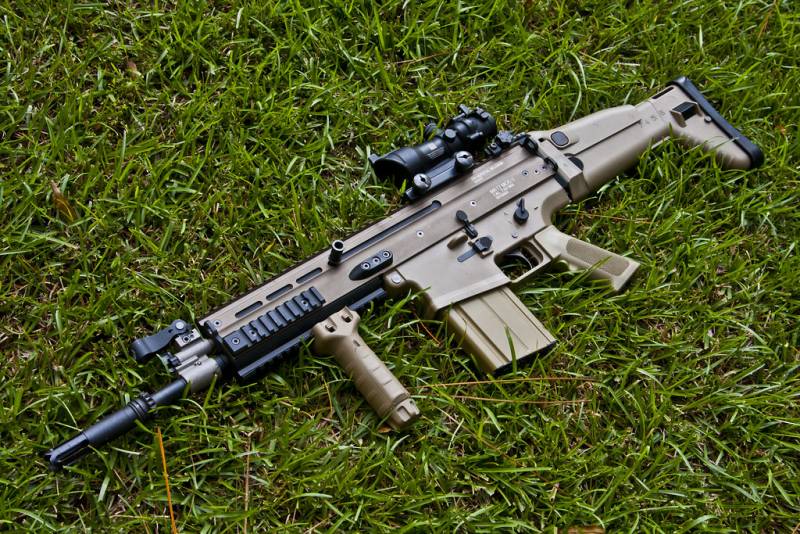 A reasonable compromise, as it seems to us, between the length of the weapon and the accuracy of shooting.
It would also be nice to do something with the frankly archaic gas exhaust system in the AK, and it would be generally fine. Today, almost all gunsmiths in the world are trying to work on the topic of a short barrel stroke, but Kalashnikov stubbornly does not want to part with the existing system. Meanwhile, lethal force due to a bullet of a larger caliber, automation due to a short barrel stroke, shooting accuracy due to the length of the barrel and, again, a short stroke - and here it is, a weapon of a new generation.
I emphasize boldly that this is for an ordinary army shooter. The guys from the special forces, who walk in their cozy bunch one after another and look at the world through a collimator within their shooting sector, are different for them. For them, canopies and body kits, for them the layout of the "bullpup" and everything else. We have it for the shooter in the field or trench.
But the managers who have swarmed the now lucrative military sector see it differently. For them, the next generation is primarily in plastic body kits and bells and whistles, more interesting to the same special forces than ordinary infantry.
I suspect that today if you give the task to develop a new cartridge, the military-industrial complex will squeal with delight. After all, the new caliber is new everything:
- new bullets;
- new sleeve;
- new trunk;
- new shop;
- new machine guns, let them be old ones, but the receiver for the new cartridge and the extractor for the new cartridge case will not go anywhere.
How much money can be mastered, right? And how much time will have to be spent on developing a new cartridge and bullets, how many tests ... Crack, budget!
But the main point is that those who will now spend the winter in the trenches in Ukraine, these bright prospects somehow do not care. They need a weapon with which to perform combat missions. The 5,45-mm strekalki can be confidently said to have lost to modern bulletproof vests. And yes, they need to be changed to something more efficient.
Efficient, not spectacular.
Because the old cartridge 7,62x39 may well serve. It would be nice to replace gunpowder, and why not? In any case, between 5,45 and 7,62, the new caliber 6,8 is still closer to 7,62. If you add new automation and an elongated barrel to this, you can get just a chic weapon.
No one says that the 6,8 mm caliber should be forgotten. If the Americans bring it to mind, if the ballistic characteristics of the bullets really turn out to be on top, naturally, it is possible to work in this direction. But work when there is order in the army with weapons in the troops. Rearmament in general is a very slow process, so it can take a very long time to wait until 6,8 in the Russian version is ready. The whole question is, is it worth it? Especially considering that the problem can be solved by a less profitable, but simpler method.