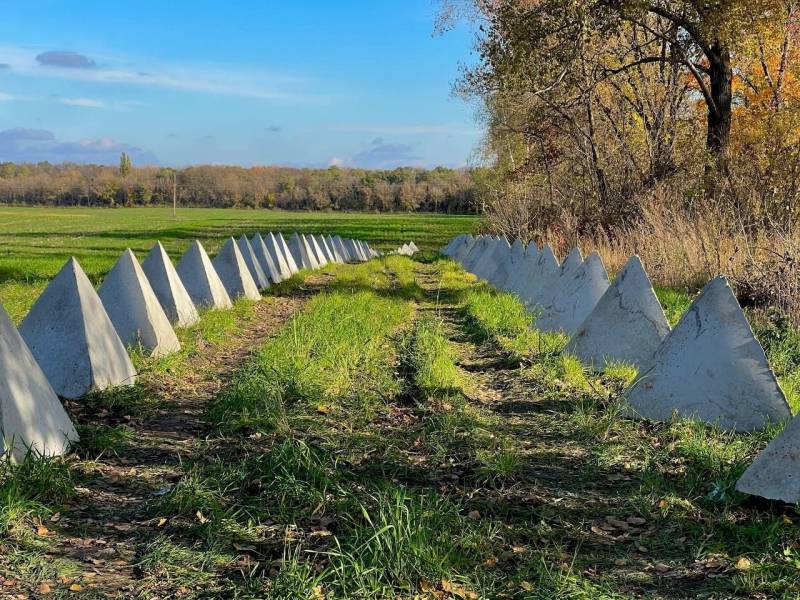 For anyone who understands at least a little in engineering training, what is happening in the Belgorod region raises questions. Given the difficult situation, the installation of barriers can be considered in any way. We will try to assess what has already been done to date, especially considering how it has been presented by the media at the moment.
"The governor of the Belgorod region Vyacheslav Gladkov said that the authorities of the region are installing protective structures. Concrete blocks of a pyramidal shape were placed in two rows in an open field. As a rule, they are used as anti-tank barriers.
- Gazeta.ru, MK, Kommersant and many others replicated this text. Not particularly bothering himself with reflections on the anti-tank nature of these concrete tetrahedra.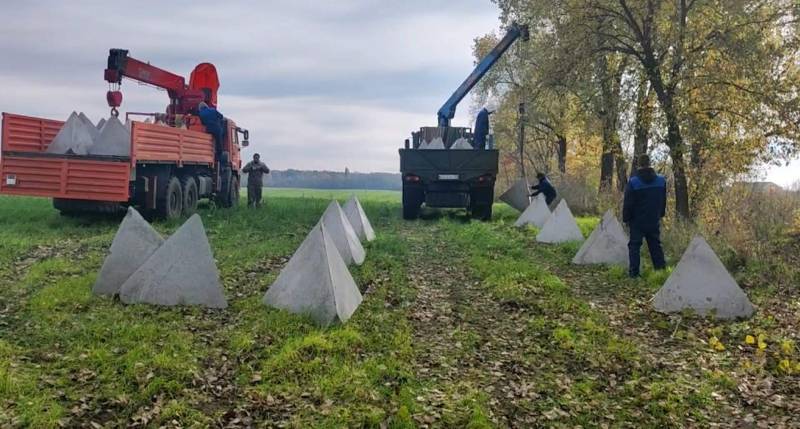 Ukrainians frankly laugh. They have an association with the "Wall of Yatsenyuk", but there is really something else - more outrageous, more stolen money and less use. We will not compare, we will think.
And we will think from two directions, because somewhere the "Wagnerites" under the command of Bogatov arrange barriers from the same cubes, and somewhere some services in the Belgorod region under the leadership of Governor Gladkov are doing this.
And the sense, and the benefits of these works will be a little different, which we want to tell you about.
Let's start with a little history
Barriers have always existed. Against chariots, against cavalry, against infantry. Further against
tanks
. Bronze, iron, steel, concrete - everything depended on the time and who had to be stopped.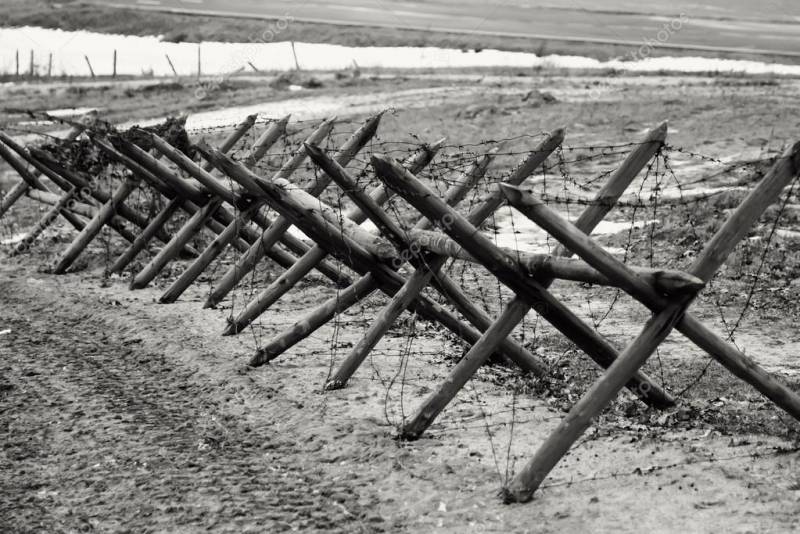 The idea itself is not new. In the Second World War, anti-tank hedgehogs performed their function very well. It cannot be said that many tanks were disabled by hedgehogs, no. It was an interesting means of covering (for example) the flanks. Not a single normal tanker of that time would have climbed on hedgehogs, because it shone with a transmission failure, a torn caterpillar, in general, a tank failure due to the stupidity of the commander.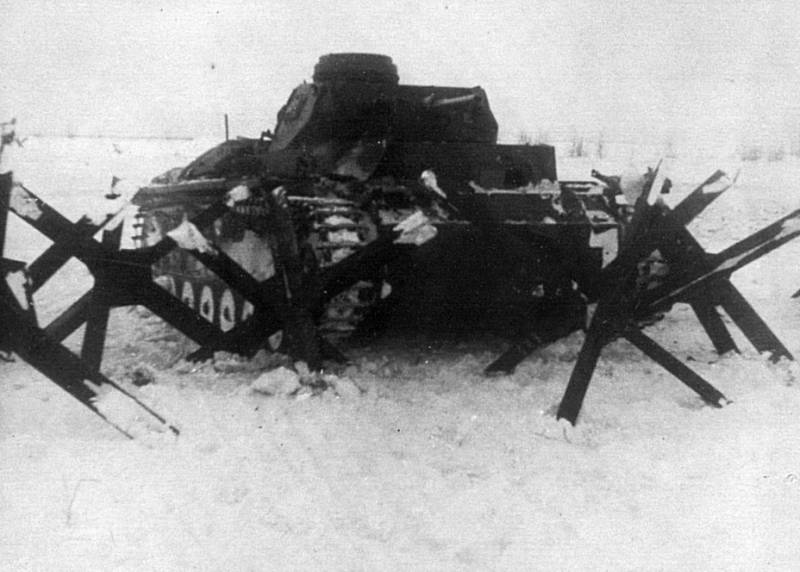 Hedgehogs have proven themselves very well in Poland and France, so the same Germans, having seen the barriers of hedgehogs, simply bypassed them. And if there was the possibility of dismantling and organizing a passage in them, then they used this method of overcoming. But in 1941 no one climbed on hedgehogs.
What is in our time?
In our time, hedgehogs ... have grown somewhat. And they turned into concrete crap, which can really stop the tank with its mass.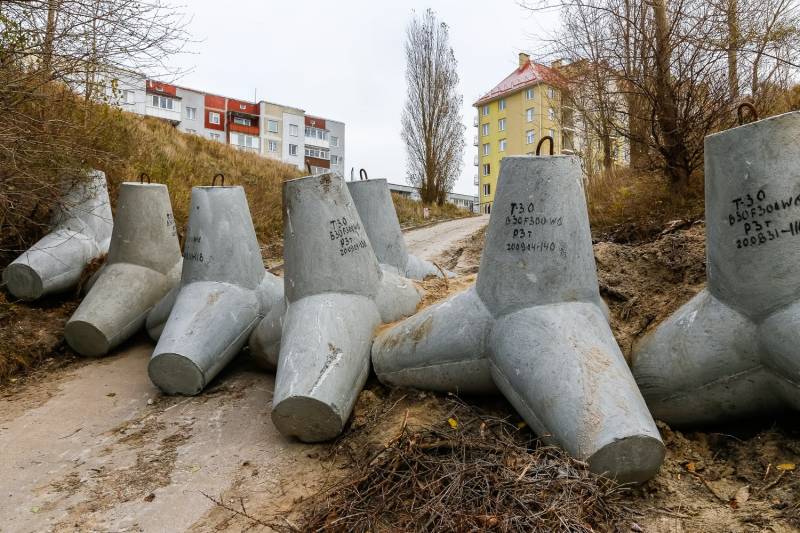 It is not easy to remove such a barrier precisely because each such tetrapod is large and heavy. Here is an understanding of what it is - a protective tetrapod: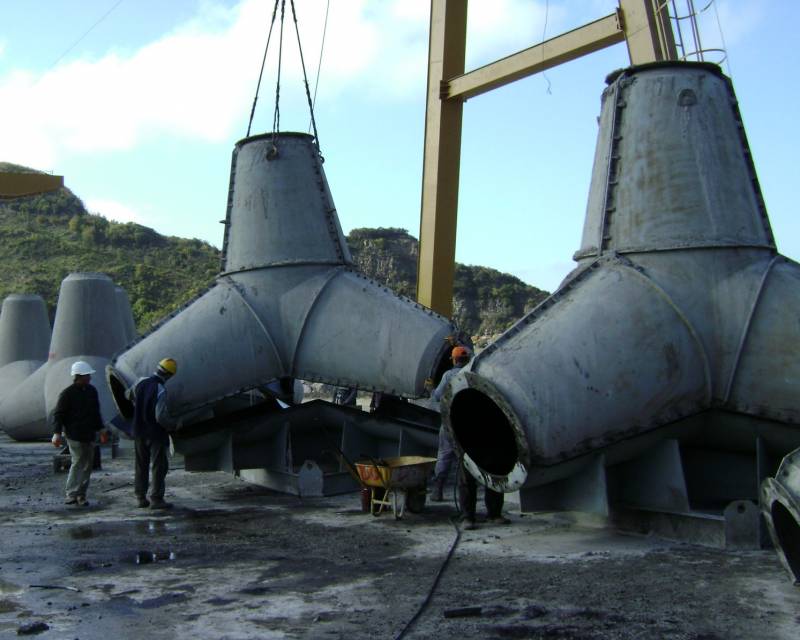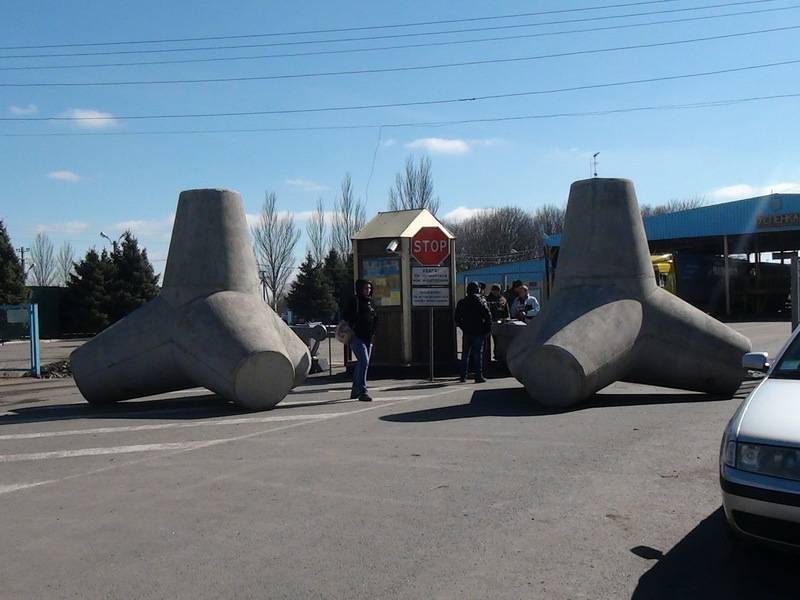 In our case, we have something different - the so-called "dragon's teeth".

These are the "dragon teeth" on the German Siegfried Line. This defensive line was located exactly opposite the French Maginot Line, but in 1944 it did not play its role, although certain sections of the line delayed the advance of the Allied forces. In general, the "Siegfried Line" was overcome in the interval from September 1944 to March 1945.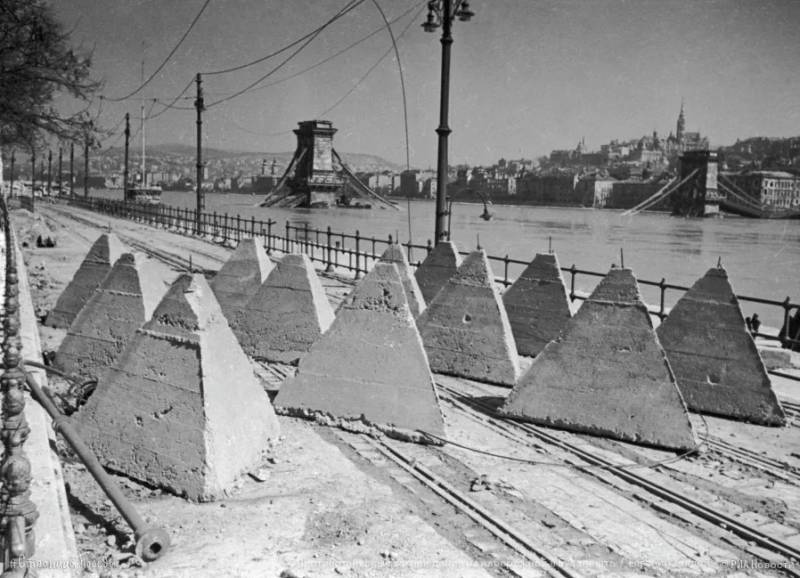 A type of Soviet production. Leningrad.
In general, the "Teeth" proved to be a very decent means of blocking directions. And today, in conditions of a different nature, they are still relevant.
Let's go back to our time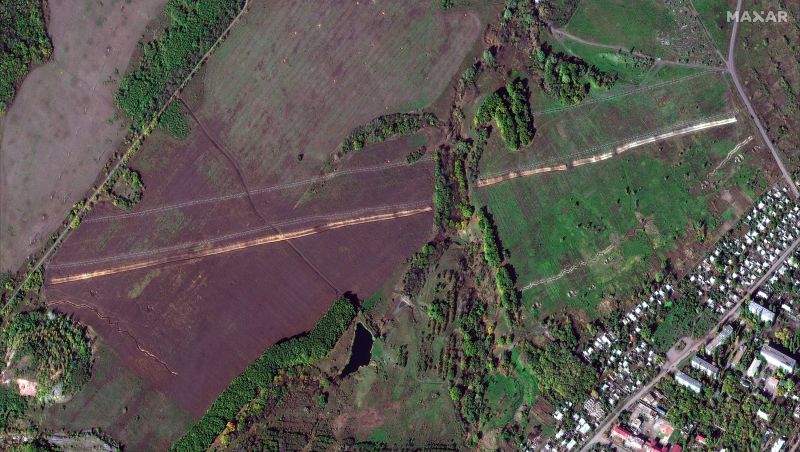 Here is a picture taken by Ukrainians in the area where the Wagner units are building their defenses. Everything is quite logical from the point of view of military engineering: two chains of obstacles, a ditch and, at a distance, trenches, from which it will be very easy to fire at equipment that overcomes obstacles. Something told us that it would be exactly like this, because in terms of preparation, the "Wagnerites" have order.
The Ukrainians, of course, are swaggering, but what was done in the picture fits perfectly into the picture of properly equipped positions. And it will not be easy to go there for a number of reasons, but this is already the subject of a separate consideration.
We are returning to what they are doing in the Belgorod region.
Let's put it this way: you need to consider everything very calmly. What the newspapers called it "anti-tank barriers" does not really make these scattered building materials so.
The main conclusion: this is not an anti-tank barrier.
Call it what you want, but the tank will pass here quite calmly. Yes, there is a possibility that the enemy (that is, we) will stuff mines between two rows of "teeth", moreover, this will be quite logical. But, as our tank expert Alexei Kuznetsov said, "I will pass here. Having spent a projectile, or to be completely calm - two.
It is clear that a 125-mm opener will calmly make a passage in such, God forgive me, "obstruction" easily and naturally, without straining the personnel at all.
Moving on: armored personnel carriers / infantry fighting vehicles with troops? They will pass. These "teeth" are not so heavy, the separation will easily remove them. Cable, crowbar, ten minutes - and the passage will be made. Yes, you will have to check for mines, but this is not such a big problem.
Another question: how likely is the appearance of tanks and infantry fighting vehicles on the border of the Belgorod region? Let's just say it's small. Tanks simply have nothing to do in these places yet, they are needed in other places.
But a pickup truck with a DRG or a mortar in the back - yes. Here is the problem. The engine power may be enough to remove the "teeth", but you will have to tinker a little. It is possible that in the form of an "opener" there will be an RPG-7 or something like that. But there is already unmasking, which the DRG is completely unnecessary.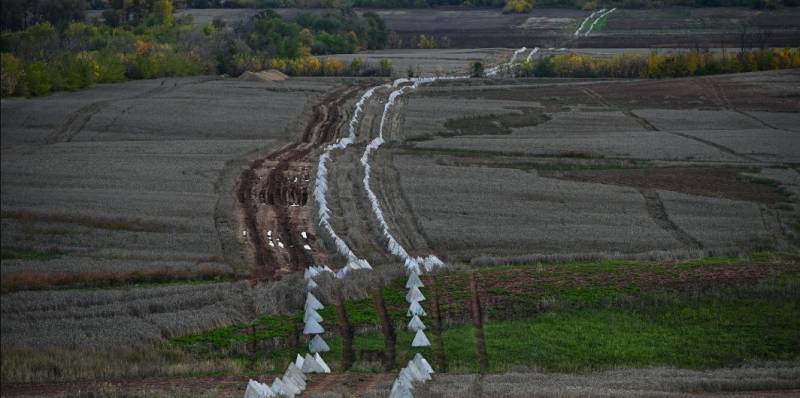 In general, the enemy is very skeptical about all this, and so are we. These rows of "teeth" going to the horizon are a completely pointless waste of time and money (yes, they cost money, including, not to mention delivery and installation), which will not play the role of a barrier simply because it is possible to overcome such a "barrier" very easy.
Like a lock on your gate in the country - for order. Whoever needs to get in will climb in and nothing can stop him.
Mines… A very good thing, but just estimate how many of them will be needed to really close the direction? Yes, and laying mines today is not an easy task, you will have to set them exclusively at night, since during the day the ubiquitous copters and other UAVs will easily detect any swarming with all the ensuing consequences.
From our point of view, the usefulness of such "defensive lines" is more than doubtful. No, of course, the one who fulfilled the order for the ebb of such a huge number of tetrahedra did his good. And Governor Gladkov most likely cheered up the people of Belgorod, who are now getting it from the other side. In this regard, Gladkov is a good fellow, he generally conducts work in the region correctly in such a difficult time.
However, what are we talking about? About barriers.
But it turns out that this cannot be called an anti-tank barrier. Tank can't be stopped. BMP / BTR too. A pickup truck with a DRG ... It is possible, but it looks very doubtful. They will pass.
If, boldly emphasize, this is all that will be done
Here it is time to answer the question of what needs to be done in order for the barrier to become such a reality, and not on the paper of a brave report on the work done. And here we have something to say.
1. There is such a thing as a "tank-dangerous direction." Everyone understands perfectly well what it is. This is an area where it is as easy as possible for tanks and infantry fighting vehicles / armored personnel carriers with troops on board to pass.
So, in tank-hazardous directions, the "teeth" must be laid in six rows, not two. Six rows will make the most experienced tanker think very hard, since the possibility of damage to the vehicle and tracks increases significantly. And an experienced tanker will think very hard about the task of overcoming such an area, especially if item 2 is completed.
2. Ditch. The good old anti-tank ditch, which will be dug away from the "teeth" according to all the requirements of engineering. Fortunately, there is a technique for this.
The ditch must be at least 2 meters deep and at least 5 meters wide. The wall facing the enemy should have a slope of 45-60 degrees, and the opposite 60-65 degrees, so that there is no shedding. The height of the parapets should not exceed 0,5 meters and the edges of the parapets facing the field should be flat and about 7 meters wide.
3. Mines. Both anti-tank and anti-personnel. The first is clear why, the second so that those who decide to remove the barriers do not feel left out.
4. Control. From the air, it is simply necessary to make systematic overflights by drones. At dominant heights, it is necessary to equip observation posts provided with communications.
While the same DRG will pick its teeth and try to fill in the moat, the observers will call in the reaction forces, and they (the forces) in the person of an attack helicopter (and the Mi-8MTSH will be more than enough for such an action of reasoning) will tell the participants of the DRG that such activities are harmful to health.
Such a set of measures may turn out to be quite viable.
If, however, what is shown in the photo and video of the media will be considered measures to counter the enemy, alas, but this is only for those who carefully watch TV and do not understand military engineering. Of course, to a certain extent, such measures will raise the spirits of those who dropped it (and especially those who made money on concrete pyramids), but their military value will not only be minimal, it will be scanty.
So it's worth looking at what the Wagnerites are doing and continuing in the same spirit.