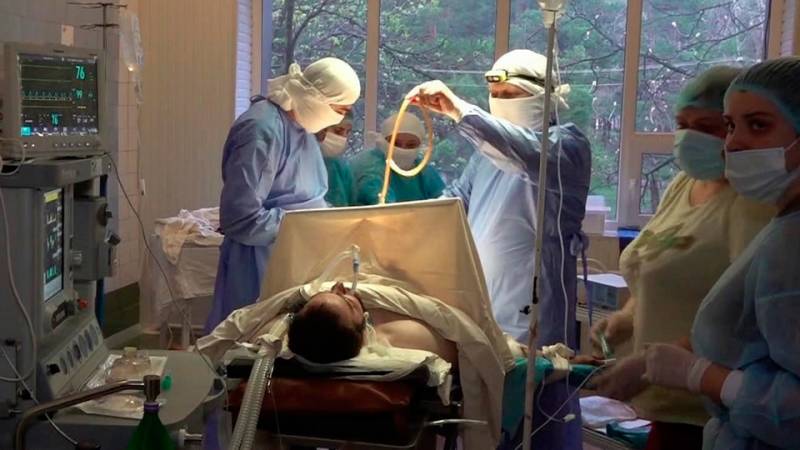 About hypothermia, which is part of the triad, you can
read here
.
The article is for informational purposes and tries to explain complex processes in as simple a language as possible. You will not determine acidosis or coagulopathy "by eye", but knowing how it works, what causes it and what consequences it has, you may have a slightly better chance of holding the victim until help arrives. "He who is warned is armed" - folk wisdom.
Hypovolemic shock
(from Latin hypo - lower, volume - volume) is a pathological condition caused by a rapid decrease in the volume of circulating blood.
Accompanied by changes in the cardiovascular system and acute metabolic disorders: a decrease in stroke volume and filling of the ventricles of the heart, deterioration of tissue perfusion (blood supply in natural conditions), tissue hypoxia (decrease in the level of oxygen supply) and metabolic acidosis (arterial blood pH disorders).
Hypovolemic shock is a compensatory mechanism designed to ensure normal blood supply to internal organs in conditions of insufficient blood volume. With the loss of a large volume of blood, compensation is ineffective, hypovolemic shock begins to play a destructive role, pathological changes are aggravated and lead to the death of the patient.
Reasons for the development of hypovolemic shock:
1) irretrievable loss of blood during bleeding;
2) irretrievable loss of plasma and plasma-like fluid in trauma and pathological conditions. Characteristic of extensive burns;
3) deposition (accumulation) of a large amount of blood in the capillaries. It is observed with injuries and some infectious diseases;
4) loss of a large amount of isotonic fluid during vomiting and diarrhea.
With a decrease in the volume of blood in the body, baroreceptors are irritated and an additional portion of blood is released into the general bloodstream, which is stored in the bones, liver and spleen. If this is not enough, the body tries to save the brain, heart and lungs first of all. Peripheral vessels narrow, and active blood circulation continues only in the vital organs.
If it is not possible to compensate for the lack of blood further, centralization intensifies even more, and the spasm of peripheral vessels increases.
Further, due to the depletion of the compensatory mechanism, the spasm is replaced by paralysis of the vascular wall and a sharp expansion of the vessels. As a result, a significant part of the circulating blood goes to the peripheral regions, which leads to aggravation of circulatory failure of vital organs. These processes are accompanied by gross violations of all types of tissue metabolism.
The main signs of hypovolemic shock are a progressive increase in heart rate (tachycardia), a decrease in blood pressure (hypotension), pale skin, nausea, dizziness, and impaired consciousness.
Metabolic acidosis or acidemia
In simple terms, this is an acid-base disorder that is manifested by depression of the myocardium, the respiratory center and a decrease in sensitivity to catecholamines (for example, neurotransmitters such as adrenaline, norepinephrine, dopamine or dopamine).
It is diagnosed on the basis of the results of a laboratory study of indicators of acid-base balance (acid-base state). Specific treatment is infusion (slow administration of a substance, most often intravenously) buffer solutions (a solution with a stable concentration of hydrogen ions).
With acidosis, the activity of biologically significant proteins changes due to the shift of acid-base balance to the acidic side. Develops with shocks of any origin. When the cause of the failure is eliminated, the normal state of the internal environment is restored without medical intervention. Severe acidosis requires urgent treatment in the intensive care unit.
Acidemia occurs with increased or decreased excretion of acids by the body, as well as increased excretion of alkaline components of the blood. There are the following types of this state:
· Lactic acidosis. Occurs when the processes of glucose oxidation in the muscles increase. Severe forms of lactic acidosis occur in patients with severe tissue hypoxia, respiratory failure, and a decrease in systolic blood pressure below 70 mm Hg. Art. Acidification does not require correction and disappears on its own soon after muscle relaxation.
Ketoacidosis. They occur in diabetes mellitus, chronic and acute renal failure, alcohol poisoning, methyl alcohol, ethylene glycol, salicylates, impaired excretory function of the liver.
· Loss of grounds. It occurs in a number of diseases of the gastrointestinal tract: prolonged diarrhea, intestinal fistulas, intestinal derivation of urine.
Severe metabolic acidosis at the terminal stage causes depression of the respiratory center. Hyperventilation is replaced by weak shallow breathing. Brain hypoxia develops, leading to loss of consciousness and coma. The activity of the kidneys, liver is disturbed, multiple organ failure occurs. Disturbance of neuromuscular conduction progresses, which causes a disorder in the activity of all body systems. Initially, atrial arrhythmias spread to the ventricles. Fibrillation of the latter is observed, clinical death is diagnosed.
Diagnosis of metabolic acidosis is carried out by an anesthesiologist-resuscitator.
coagulopathy
Roughly speaking, this is a blood disease associated with the ability of blood to clot. Either hypercoagulation and the formation of blood clots inside the blood vessels begin, preventing the free flow of blood, or hypocoagulation and a decrease in the ability of blood to clot with the appearance of a tendency to repeated bleeding and hemorrhage.
The main mechanism of violations of blood properties is an imbalance in the coagulation and anticoagulation systems.
Hypercoagulable syndromes are characterized by a high risk of thrombosis. Clinical manifestations may be completely absent, then coagulopathy is diagnosed only in the laboratory. In other cases, there is rapid blood clotting with minor injuries, thrombosis of venous catheters and needles during blood sampling.
Hypocoagulation syndrome is accompanied by increased bleeding. Bleeding of the capillary type is manifested by the formation of petechiae (a small (1-2 mm) red or purple spot on the skin or conjunctiva, caused by minor bleeding from ruptured capillary blood vessels) and ecchymosis (bleeding into the skin or mucous membrane, the diameter of which is usually greater than 3 mm) on skin, nosebleeds, sometimes - intracerebral hemorrhages.
The traditionally accepted replacement of lost volume with large amounts of crystalloid solutions (to regulate pH and regulate water-electrolyte metabolism) and red cell mass leads to clotting disorders due to dilution, lack of clotting factors and hypothermia.
In particular, hypothermia has adverse effects on enzymes associated with the coagulation cascade and on platelet function.
With the development of coagulopathy, surgical attempts to stop such non-mechanical bleeding, especially from the liver and retroperitoneal space, are usually unsuccessful. Patients with extensive trauma during any major surgery develop coagulopathy after stopping the main sources of bleeding.
Hematologists, hemostasiologists, cardiologists, immunologists, phlebologists and other doctors, who are usually found in hospitals in the rear, and not on the front lines, take part in the diagnosis of coagulopathy.
Conclusions
Despite the specificity of the topic raised and its complexity for the perception of an ordinary person, certain conclusions can be drawn.
First, as with most disease-related cases, preventing the development of the condition is the primary tool in dealing with it.
Secondly, the development of a worsening condition is not always associated with any "bright event", for example, a gunshot wound. Banal significant hypothermia or severe diarrhea can cause the development of conditions that worsen the situation due to the inability to cope with the cause normally.
Thirdly, it is critical to always have radio communication and the ability to carry out medical and evacuation measures. At the stage of stopping massive bleeding
история
does not end, but only begins. For the provision of first aid according to any of the protocols, evacuation should follow, and how much time you have for this directly depends on the literacy of the actions.
Fourthly, a person who has read such "abstruse" texts, or a medical instructor, will not always be able to be nearby. In this situation, the obligation to provide assistance will lie with you, and it will be too late to regret ignorance.