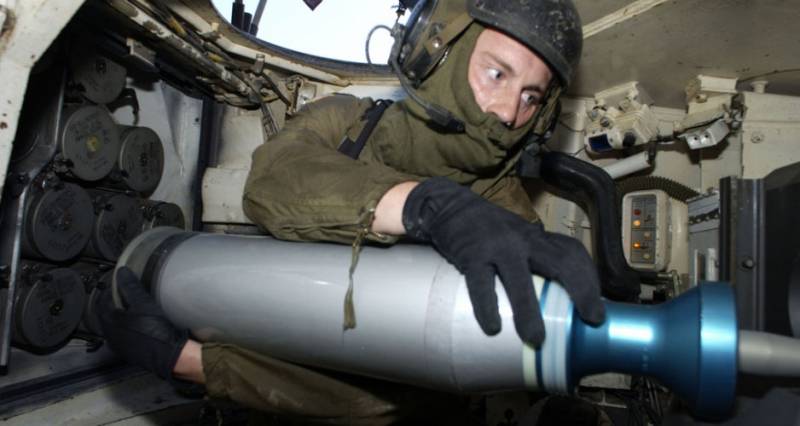 Source: www.naukatehnika.com
By the way, the question is far from being idle. Previously, when talking about some ancient T-34, they always mentioned, they say, and his armor is tilted - a projectile will hit it and "ricochet". However, this has been said and is being said about any tank over 60 years old. But everyone somehow forgot about modernity, which is in vain.
Current
tanks
the armor is still at an angle, just someone has more, and someone has less. So is it possible to get a ricochet when firing modern sub-caliber shells at this modern armor? Although, let's put it this way: can they give a rebound at all or not? And what about the cumulative jet of some kind of grenade, rocket or artillery shell?
Of course, in this material we will only talk about anti-tank ammunition. Any small-medium-caliber "trifle" does not count.
Feathered sub-caliber shells
Of course, one could recall the caliber armor-piercing "blanks" - they really were prone to ricochet more than anywhere else. However, of course, no one has been shooting them for a long time, with the exception of some countries like Yemen, where live SU-100s are still riding. In modern tank ammunition, these shells have long given way to feathered sub-caliber shells, which are the most dangerous in terms of lethality and effectiveness.
But we will not touch upon the ancient feathered armor-piercing sub-caliber projectiles (OBPS or BOPS, whichever is more convenient for you) based on hard alloys, since for more than thirty years plastic alloys based on uranium or tungsten have been the gold standard. So, no matter how strange it may sound, they are less sensitive to inclined armor and, if we are talking about a steel barrier, they overcome it even better than a vertically installed one, due to the "plug" knocked out at the final penetration site.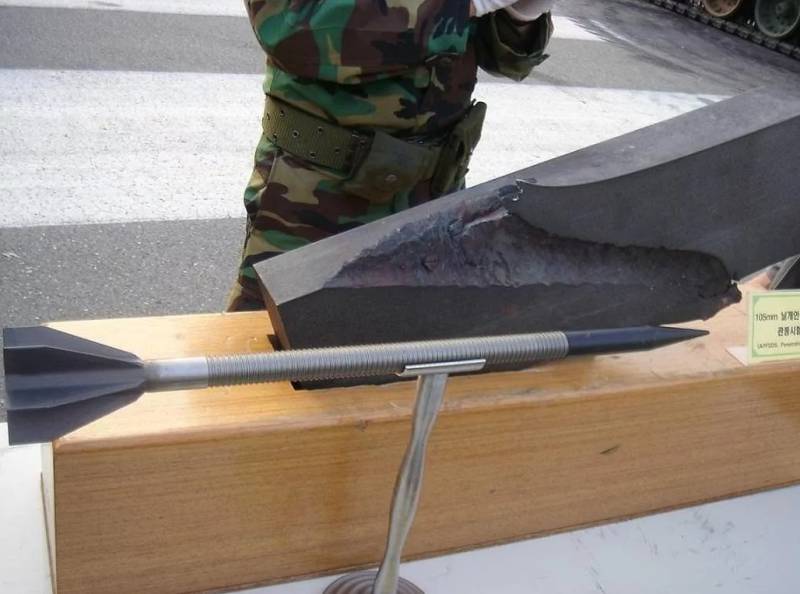 The active part of a Chinese 105-mm finned sub-caliber projectile and a pierced armor plate behind it. Source: dzen.ru
But if everything is more or less clear with breaking through inclined obstacles, then what about the rebound? Based on open sources, it is known that, until recently, we have practically not carried out research on this topic, since there was no particular need for them, but there are still some studies.
One-piece OBPS, in which the body is made monolithic and in itself acts as a core (for example, our "Leads" or American shells of the M829A1 ... 3 series), as well as shells with a long core inside - these are high-speed elongated and heavy strikers that apply maximum of its kinetic energy in a small area of ​​\u65b\uXNUMXbarmor. However, at an impact angle of XNUMX degrees or more, the process of their "biting" (the beginning of penetration into the armor plate) on the armor becomes less stable, and the further, the worse. Roughly speaking, the larger the angle, the more difficult it is for the projectile to cling to the armor, and the normalization of the penetration process leads to unnecessary damage (plastic deformation) of its head.
German 120mm OBPS for Leopard-2 guns. Source: warspot.ru
But even very large angles of inclination practically do not lead to a rebound. Even on armor set at 70–80 degrees from the vertical, a feathered sub-caliber projectile will still be able to "bite". A confident OBPS ricochet is possible only if the armor plate is located almost horizontally - no more than 10-11 degrees from the horizontal. Here, of course, the probability of this phenomenon will be simply huge. According to this principle, for example, the frontal assembly of the hull of the American Abrams tank is made, the upper frontal part of which is installed with a very slight rise. But it is impossible to set it as an ideal example - it actually plays the role of a roof.
What's with the "cumulatives"?
Turning to the cumulative means of destruction of armored vehicles, it should be noted that considering the ricochet of the shells themselves is, in principle, meaningless. A shot is different for a shot, so some clear and generalized probability that a cumulative ammunition will not touch the armor of a tank or other vehicle with the contact element of the fuse and will not detonate is almost impossible simply because these very contact elements can be different. But the ricochet of the cumulative jet itself, which is the main damaging factor of shells of this type, is very interesting. Moreover, it is widely believed that this phenomenon does not exist in nature in principle.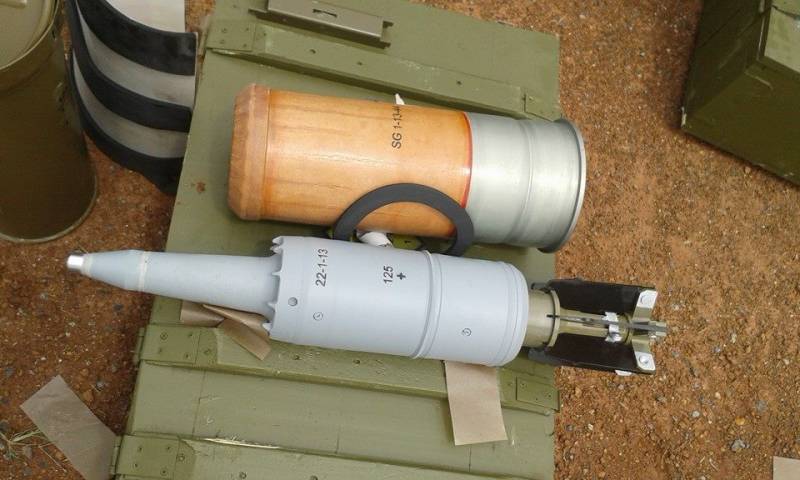 HEAT projectile for a 125 mm tank gun. Source: iohotnik.ru
So, the ricochet of the most cumulative jet still happens. Its appearance depends on many factors.
Firstly, from the hardness of the armor - the higher it is, the more likely it is to ricochet.
Secondly, from the distance between the armor and the detonating projectile, and here, of course, the greater the distance, the more likely the ricochet.
And thirdly, the chance of a ricochet increases with a decrease in the flight speed of the cumulative jet. The latter can be omitted to draw up a general picture.
But the main thing is again the angle of inclination of the armor. Scientific research on this topic was carried out in the laboratories of several research organizations in our country at once. Their results are in the public domain without restrictions on secrecy, so you can voice them.
Experimental work has shown that a ricochet of a cumulative jet of laboratory charges is possible when the armor plate is tilted within 3-5 degrees from the horizontal - that is, along the armor that is practically lying horizontally. At the same time, the cumulative jet, coming into contact with the armor, nevertheless penetrates a little into it, leaving a small hole, and then goes to the side, making a kind of "bounce" and eventually collapsing. You can see the phenomenon of this rebound in more detail in the image attached below.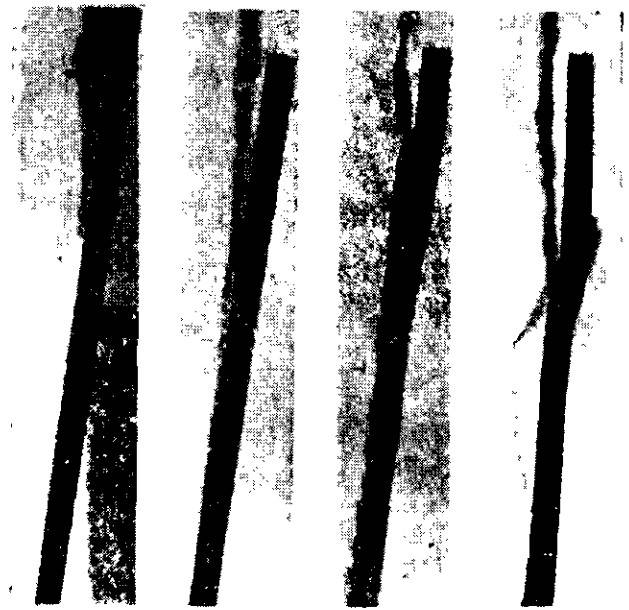 X-ray pattern of a cumulative jet ricochet from a steel plate. Look from left to right. Source: V. A. Grigoryan, A. N. Beloborodko et al. "Particular issues of final ballistics"
However, it is not in vain that laboratory conditions and laboratory charges are mentioned here. The fact is that full-scale tests were not crowned with success. At what angles, up to 1 degree from the horizontal, they did not try to undermine real live shells - the rebound did not happen. So the situation turns out to be twofold: this phenomenon happens with a cumulative jet, but in battle the chances of a rebound are near zero, although what the hell is not joking - sometimes the most seemingly incredible happens. But you should not hope for it.
Conclusions
The conclusion from everything, in general, is very simple. We found out that feathered sub-caliber shells and even a HEAT jet can "ricochet" off armor. It's just like a phenomenon that exists in nature.
But the angles at which it occurs make it unlikely and even random, when, for example, a projectile "strikes" on the roof of a tank, and so on. Such an extreme inclination of the frontal armored parts most susceptible to shelling is simply impossible, so we can say with confidence that the armor of modern tanks cannot give conditions for the ricochet of shells and cumulative jets.