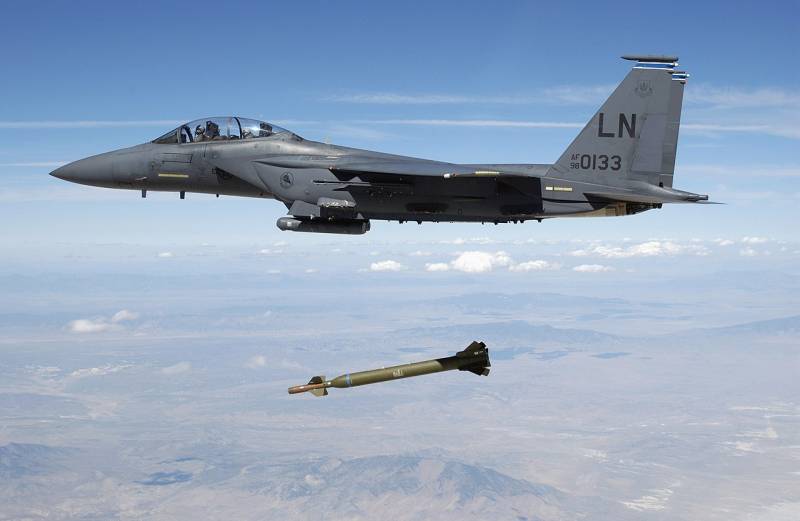 F-15 fighter-bomber dropping a GBU-28 bomb
Over the past decades, the Pentagon has paid attention to the development and production
aviation
bombs designed to destroy the protected buried objects of the enemy. To date, a fairly wide range of penetrating warheads and bombs based on them has been created. Such
weapon
compatible with tactical and strategic aircraft, thereby achieving high application flexibility.
Tactical level
Work on modern penetration/bunker bombs actually began in the mid-eighties. Their first result soon became the BLU-109/B. It was a 2 lb (900 kg) unguided bomb intended for use by tactical fighters and/or bombers.
The BLU-109/B is built in a rugged forged steel case with walls no less than 1 inch thick. 250 kg of explosive were placed in the inner cavity. Provided for the bottom fuse, triggered with a given delay. With optimal release parameters, the bomb develops high speed when it falls and acquires significant energy. Due to it, the product can penetrate 1,8 m of reinforced concrete or several meters of soil.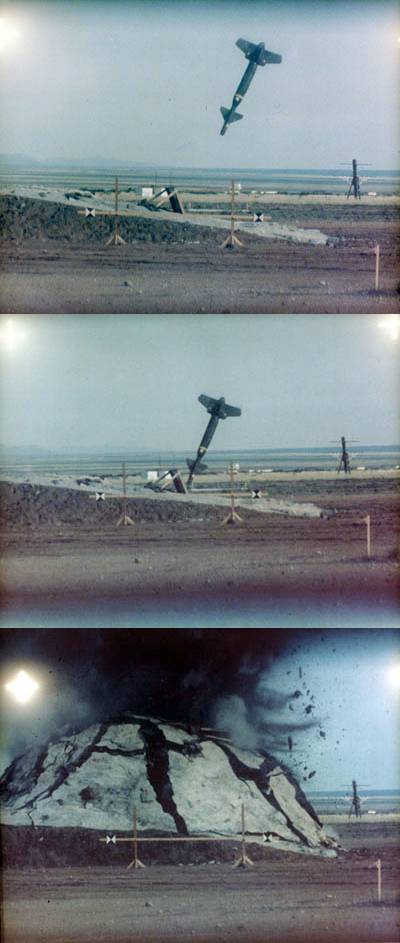 The fall and detonation of the GBU-24 bomb with the BLU-109/B warhead
Subsequently, the warhead of the BLU-109 / B bomb was used as part of other ammunition. With its help, they created penetrating modifications of guided bombs GBU-10 Paveway II, GBU-23 and GBU-27 Paveway III, etc. The means of guidance of these ammunition made it possible to maximize the potential of the warhead.
In the nineties, based on the BLU-109 / B product, the BLU-116 / B bomb was developed. For her, an updated case was created from a more durable alloy based on nickel and depleted uranium. While maintaining the same mass and wall thickness, such a body made it possible to break through up to 3,4 m of reinforced concrete and then undermine the bunker. The warhead of the new type could be used both in the form of an unguided bomb and on adjustable ammunition.
The BLU-109/B bomb was also made on the basis of BLU-118/B. It has a similar body, but is equipped with a thermobaric warhead. A charge weighing 254 kg more effectively hits manpower and various objects inside a buried target.
In recent years, the BLU-109 / B bombs have been gradually replaced with new BLU-137 / B bombs. As in previous projects, proven technical solutions were used in its creation, but they were implemented using new materials and components. Due to this, a certain increase in characteristics was obtained.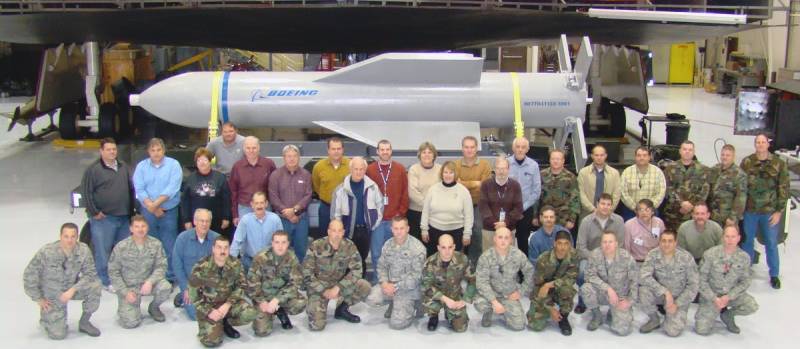 Bomb GBU-57 and its creators
A special place in the arsenals is occupied by the B61 Mod.11 ammunition. This is a tactical thermonuclear bomb with a variable yield from 10 to 340 kt. The reinforced body provides penetration of several meters of soil or reinforced concrete. According to various sources, in this respect, the B61 Mod.11 is similar to the non-nuclear BLU-116 / B. A few years ago, work on a new modification of Mod.12 was completed. It features improved accuracy and penetration.
Large caliber
A curious example of a penetrating bomb appeared during Operation Desert Storm, and it took only a few weeks to develop it. So, after the start of hostilities, it turned out that the BLU-109 / B product could not hit some enemy targets. In this regard, the Pentagon ordered the urgent development of a new ammunition, which received the GBU-28 index.
Such a bomb had a caliber of 5 thousand pounds (2270 kg) and carried 286 kg of explosive. Durable cases for the first batch of weapons were made from 203-mm howitzer barrels from storage. In the future, a specially designed hardened case went into the series. Such a warhead was designated as BLU-113/B. It was proposed to supplement it with a laser or satellite homing head. In tests, both variants of the GBU-28 bomb showed the ability to penetrate at least 6,7 m of reinforced concrete.
GBU-28 aerial bombs were used to a limited extent in military operations. At the same time, they demonstrated the capabilities of heavier ammunition, and it was decided to develop new products in this caliber. To improve the combat qualities, it was proposed to use new means of guidance, as well as to expand the range of carriers. So, some of the new bombs were intended for B-2 and B-52 bombers.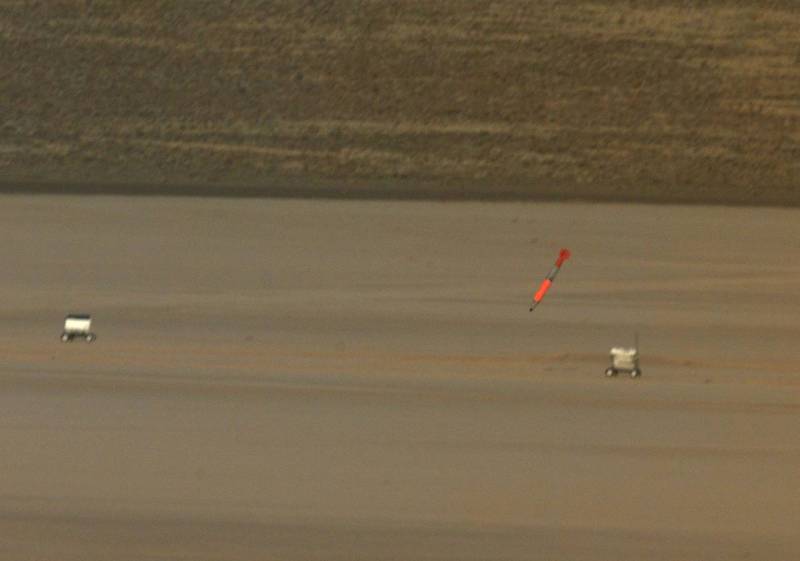 Thermonuclear bomb B61 Mod.12 on trials
In the mid-nineties, the GBU-37 bomb appeared. It was a deeply modernized version of the previous GBU-28 and used a similar BLU-113/B warhead. It was supplemented by a modern GOS based on satellite navigation with improved accuracy. Due to this, the potential of the warhead was more fully realized.
Since the beginning of the 57s, an even more powerful anti-bunker munition has been developed, which later received the GBU-6,2 index. This product is approx. 800 m with a diameter of 30 mm. Caliber - 13,6 thousand pounds (about 2,4 tons) with a charge of 60 tons. Due to its large dimensions, such a bomb can only be used by long-range bombers. The ability to penetrate to a depth of more than XNUMX m is declared. Guidance is used using the GPS system.
To date, the GBU-57 bomb has gone through several upgrades. Their goal was to increase the parameters of penetration, hit accuracy and power of the warhead.
Perspective development
With the development of designs and the introduction of new materials, the combat qualities of penetrating bombs gradually grew. In just a couple of decades, American gunsmiths managed to increase penetration to tens of meters. However, such successes did not lead to a stop in the direction. The development of new ammunition for the destruction of buried structures continues.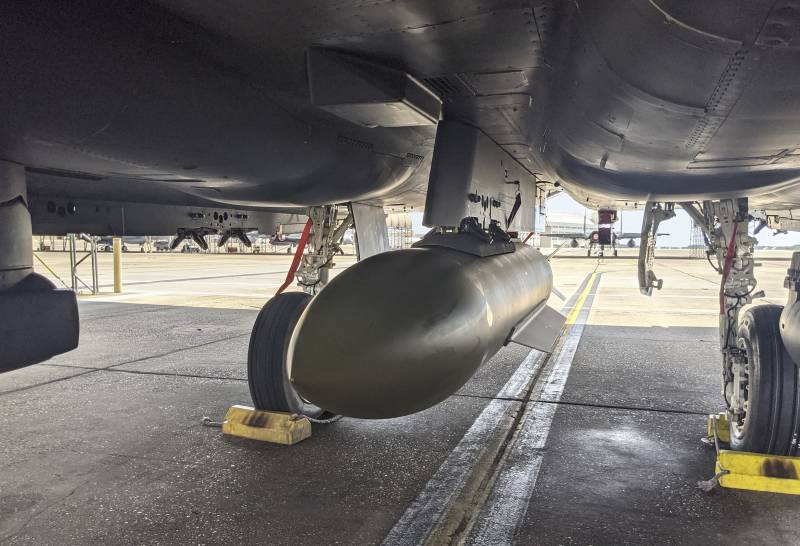 Promising ammunition GBU-72
The reason for such work is the success of materials science in the field of construction. In recent decades, new reinforced concrete compositions with increased resistance to kinetic damage have been found. To do this, a variety of fillers are introduced into the concrete mixture, such as thin metal wire or larger particles. Known experiments show a sharp increase in strength in comparison with "ordinary" reinforced concrete.
In order to develop existing aerial bombs and in order to defeat more complex targets, the GBU-72 ammunition is now being developed. Last year, this bomb was tested and showed its characteristics for the first time. In the near future, it is planned to pass it through all stages and put it into service.
The GBU-72 is designated the Advanced 5K Penetrator, an improved 5-pound penetrating bomb. Outwardly, it is similar to previous anti-bunker ammunition, but differs in the material and design of the hull. An improvement in the main features has been announced, but the exact characteristics cannot yet be named.
According to various estimates, penetrating bombs have approached the peak of their capabilities, but their future is uncertain. Modern and advanced construction technologies and materials make it possible to once again strengthen the protection of buried objects. Whether it will be possible once again to bring the penetration of air bombs to the required level is unclear. In particular, some restrictions on development are imposed by the principle of accumulation of kinetic energy during a fall.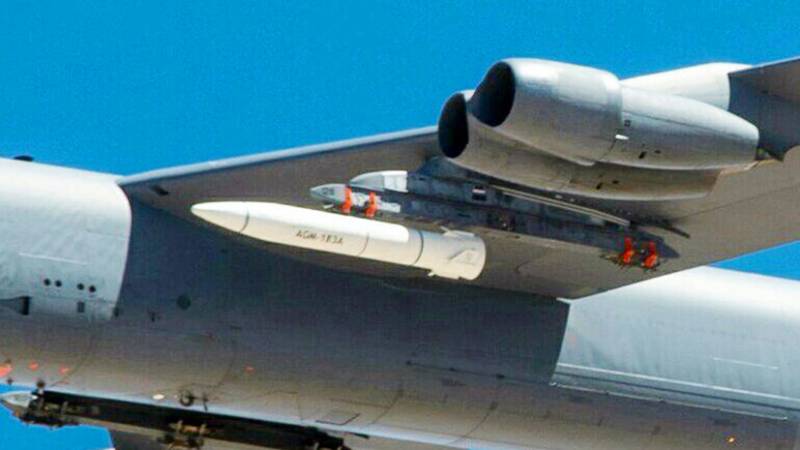 Experienced hypersonic missile AGM-183. Perhaps such a weapon will have anti-bunker functions.
Complementary for penetrating bombs, capable of hitting more complex and durable targets, can be various missile systems with appropriate warheads. Hypersonic systems have great prospects in this area. The hardened warhead of such a weapon will be able to penetrate a larger layer of soil and hit the concrete bunker under it.
At present, several hypersonic systems of one purpose or another are being developed in the United States at once. Whether they will also be used to fight bunkers is not yet clear. At the same time, the Pentagon is aware of the similar use of Russian hypersonic weapons - and is likely to draw conclusions.
Opportunities
Thus, the US tactical and long-range aviation has at its disposal a fairly wide range of bombs designed to destroy underground protected structures. The samples in service are compatible with different carriers and show different characteristics. This allows you to choose the optimal weapon for a specific target and optimize other aspects of the airstrike.
The development of anti-bunker bombs does not stop, and a new model will enter service in the foreseeable future. At the same time, the future prospects of this direction are not completely clear. Perhaps the Pentagon will continue to develop it and develop new and improved bombs. However, in the future they can be supplemented with more effective means of destruction, which will once again expand the combat capabilities of aviation.