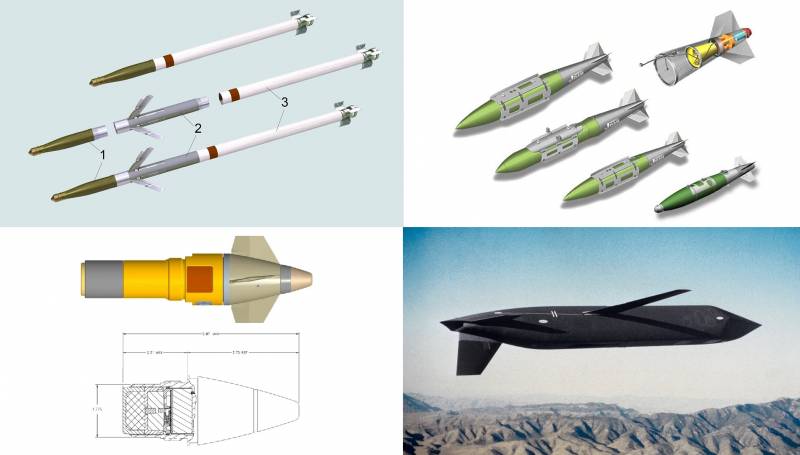 The Russian special operation in Ukraine revealed the highest need of the armed forces of the Russian Federation (RF Armed Forces) in high-precision
weapons
. The problem is that high-precision weapons are expensive, take a long time to produce, and their production volumes are limited by the capabilities of the military-industrial complex (MIC).
What makes up the high cost of precision-guided munitions?
Guidance and control
First of all, this is a guidance system, which, in fact, makes the ammunition highly accurate. For example, on cruise missiles (CR), this is a route correction system based on terrain, signals from the global navigation satellite system GLONASS (or American GPS, European Galileo, Chinese Beidou) and a high-precision inertial guidance system based on ring laser / fiber gyroscopes. At the final stage, the guidance of the CD can be carried out by optical systems for detecting and recognizing the target. Some KR are equipped with satellite communication systems to ensure their in-flight retargeting.
Blocks of inertial guidance for cruise missiles of different classes. Source wikipedia.org
On high-precision weapons designed to hit moving targets, radar or optical, including thermal imaging, homing heads (GOS) are installed. They can also be combined within a single carrier. A slightly less expensive solution is a seeker with guidance on reflected laser radiation. Some precision-guided munitions can be equipped with special seekers designed to target a source of radar radiation, for example, radar stations (RLS) of enemy anti-aircraft missile systems (SAM).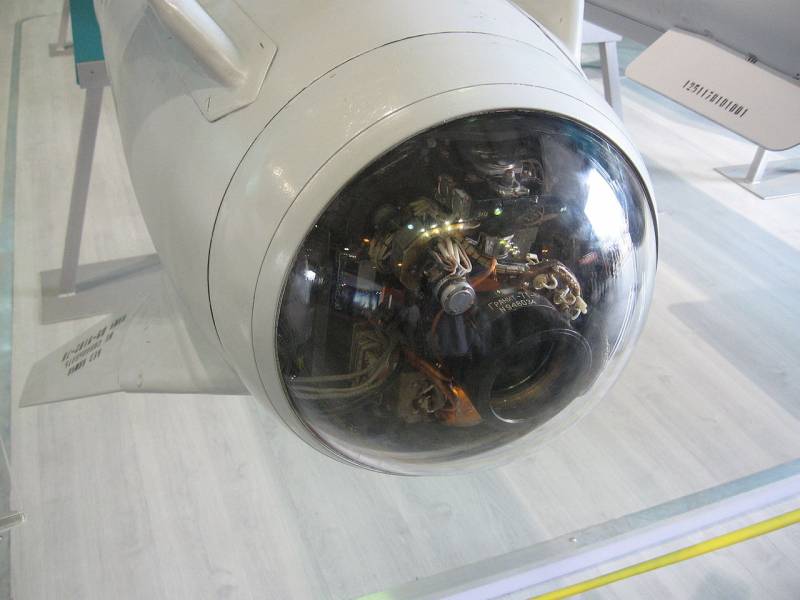 Television seeker missile X-59 "Gadfly". Source wikipedia.org
It can be assumed that of all of the above, the most inexpensive solution is guidance from the signals of satellite navigation systems such as GLONASS/GPS. There is an opinion that the signals of satellite navigation systems are easy to drown out by means of electronic warfare (EW), but in reality this is far from the case.
For example, as part of a special operation in Ukraine, the enemy does not experience any global problems with the use of unmanned aerial vehicles (UAVs), for the orientation of which satellite navigation is extremely important, or Himars high-precision satellite-guided munitions. They will not have problems with the use of Excalibur guided artillery shells with GPS guidance, which the United States is going to supply to the Armed Forces of Ukraine (AFU) in the near future.
Most likely, electronic warfare equipment is capable of tightly closing only a limited area of ​​​​space, but in this case, the attacking ammunition has already been aimed, is in the final section of the flight, and the loss of a satellite navigation signal will not change anything.
It should be noted that for such precision-guided munitions as artillery shells, guidance systems must withstand huge overloads of thousands of G.
Engines
Engines are another complex and expensive component of precision weapons. In cruise missiles, these are highly economical turbojet engines (TRDs), in hypersonic missiles, ramjet engines (ramjet engines) are used. In other types of precision-guided munitions, solid (rarely liquid) fuel jet engines are installed. Gel-like and paste-like fuel engines are being developed.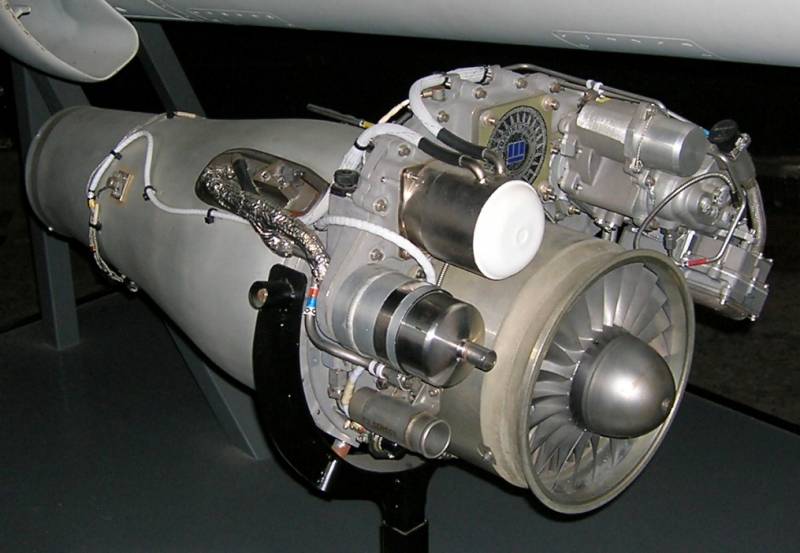 Williams F107 (WR19) small-sized turbofan engine for the Tomahawk cruise missile. Source wikipedia.org
В
UAV-kamikaze
, which can also rightfully be classified as precision-guided munitions, use highly economical piston gasoline and diesel engines, and in some modifications, electric motors powered by lithium batteries / accumulators.
There are no engines only in guided bombs, but their short range is their disadvantage, which does not allow them to be effectively used in the face of enemy air defense (air defense) countermeasures. The exception is gliding guided bombs, which can fly many tens of kilometers when dropped from a great height.
Hull, load-bearing structures, control drives, warhead
Precision-guided munitions designed for flying at high speeds, maneuvering with high g-forces, independently or on a carrier, have strong hulls, often with thermal protection from heating by the oncoming air flow, as well as powerful control surface drives. A significant part of the cost can be added by measures to reduce the visibility of ammunition in the radar range - materials, high accuracy of surface mating, complex hull configuration.
Stealth cruise missile AGM-129 ACM. Source wikipedia.org
For some types of ammunition, the hull must withstand penetration deep into the attacked object, such as a ship or an underground bunker, without damaging the warhead. High strength must be combined with low weight, which leads to the use of expensive materials - special steel, titanium, magnesium and aluminum alloys.
The same applies to the warhead, which can be cumulative, high-explosive fragmentation or thermobaric, with increased armor penetration, with a delay in detonation, or, conversely, with detonation in the air. Some types of warheads may include submunitions, which in turn may have their own guidance systems.
So how to ensure the saturation of the armed forces with cheap precision-guided munitions? An example is the US programs to turn conventional unguided munitions into high-precision ones.
Foreign experience
Joint Direct Attack Munition (JDAM)
As part of the American JDAM program, the development of which was completed in 1997, conventional free-fall bombs receive a set of small wings that increase the gliding range, a tail module that includes inertial and satellite navigation systems, as well as drives and control surfaces. In combination, this allows you to get a circular probable deviation (CEP) of the order of 11 meters at a distance of up to 28 kilometers.
Image of the installation of the JDAM kit on aerial bombs of various calibers. Source wikipedia.org
When dropped from an F-22 fighter flying at an altitude of 15 kilometers at a speed of 1,5 Mach, a range of 44 kilometers was reached. To hit moving targets, JDAM kits include a seeker with guidance on reflected laser radiation.
Since 1998, more than 250 JDAM kits have been produced, which are installed on aerial bombs with a caliber of 000 to 230 kilograms. During the operation in Yugoslavia, 910 air bombs with JDAM kits were dropped, which hit 650% of the assigned targets. The cost of one JDAM kit is about $78.
Precision Guidance Kit (PGK) M1156
For artillery in the United States, a high-precision guidance kit M1156 was developed, which is installed in place of the standard fuse for 155-mm M795 and M549A1 shells, which are designed for American artillery systems M777, M109A6 Paladin and German PzH2000.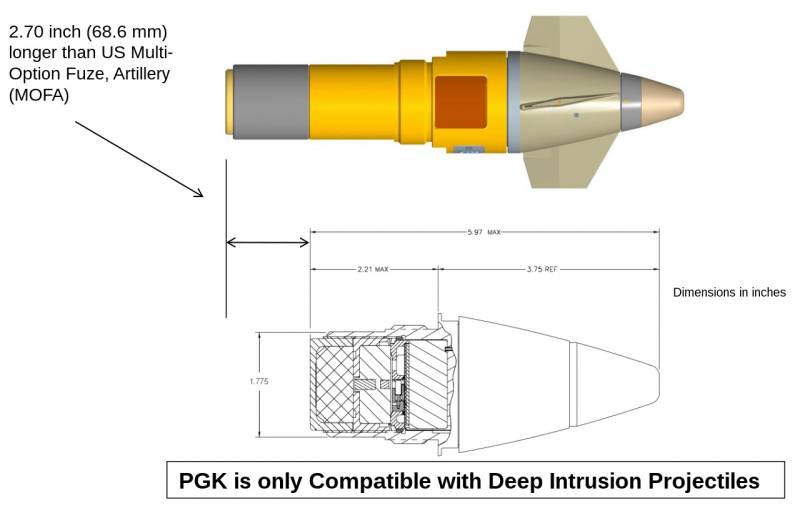 Picture of PGK M1156. Source wikipedia.org
By April 2018, over 25 M000 kits had been produced. The production time for one set is less than six hours. Now about 1156 sets of M70 can be produced in one day. The cost of one M1156 kit is less than US$1156.
As in the case of JDAM, the guidance of projectiles with the M1156 kit is carried out according to the data of the GPS satellite navigation system. Yielding to the high-precision M982 Excalibur projectile in range and accuracy, the PGK M1156 is much cheaper and complements it perfectly.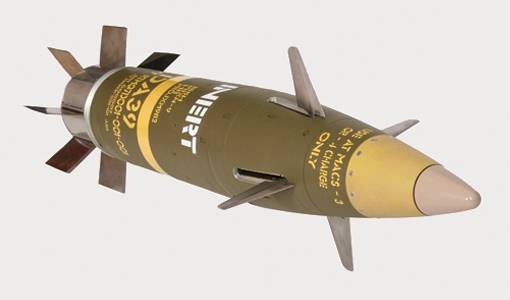 M982 Excalibur projectile. Source wikipedia.org
During tests in 2014, when firing from the German PzH2000 self-propelled artillery mount at a distance of 27 kilometers, more than 90% of the shells equipped with the PGK M1156 fell at a distance of less than five meters from the target.
The M1156 kit has a built-in security system - if it falls further than 150 meters from the given coordinates, it is not undermined, which reduces the likelihood of "friendly fire" - the defeat of its fighters and equipment that caused artillery support in its immediate vicinity.
The M1156 kit is being developed for the new XM1128 and XM1113 high-explosive fragmentation projectiles with a range of about 30-40 kilometers when firing from a 39 caliber barrel (M777), as well as an improved version designed to fire from 58 caliber artillery barrels with the XM1113 projectile at a distance of up to 70 kilometers.

Active rocket projectile XM1113. Source wikipedia.org
Advanced Precision Kill Weapon System (APKWS)
APKWS is a laser guidance system developed by BAE Systems for unguided
aviation
missiles (NAR) Hydra 70 (caliber 70 mm). The name APKWS applies to both the kit being installed and the HAR Hydra 70 equipped with this kit. APKWS in many cases can effectively replace the AGM-114 Hellfire anti-tank guided missile (ATGM), which has a longer range, a different type of seeker and a more powerful warhead, but also much larger and more expensive. The cost of the APKWS kit is about $22.
APKWS includes an original technical solution - laser radiation receivers are located in the edges of the control surfaces, and not in the head of the Hydra 70 NAR. This allows the Hydra 70 APKWS kit to be integrated between the rocket engine and the detachable warhead with a fuse.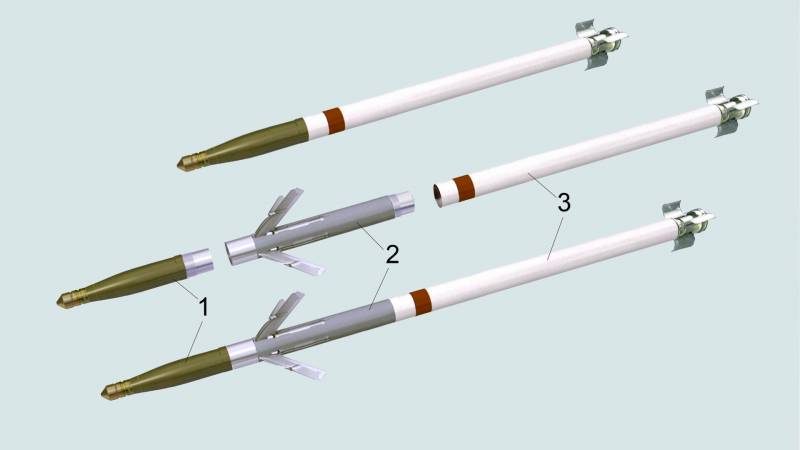 Image of APKWS installation in HAR Hydra 70. Source wikipedia.org
APKWS has a range of 1,1–5 kilometers when launched from a helicopter and 2–11 kilometers when launched from an aircraft. It is planned to increase the range when launched from a helicopter to 12–15 kilometers due to the new NAR jet engine. At the moment, it has already been possible to increase the range of APKWS by 30% only due to the refinement of the software that provides the optimal trajectory of the rocket.
In 2021, an APKWS rocket with a proximity fuse destroyed an UAV during tests, which confirmed its ability to work effectively against air targets, including small ones.
With a high probability, similar kits can be developed for other unguided munitions, for example, multiple launch rocket systems (MLRS) and mortar mines.
Conclusions
Precision weapons are expensive. But when comparing guided and unguided munitions, one cannot simply take two samples, guided and unguided, and compare their cost.
It is necessary to take into account, for example, for aerial bombs or NAR, how many unguided munitions will have to be used to hit a target that can be hit by one or two guided munitions? Then it is necessary to add to this the cost of the carrier's flight hour and how many sorties will have to be made to destroy this target, to assess the risk of destroying the carrier aircraft, which will have to approach the target directly.
For artillery, this will be the wear of the barrel of an artillery gun, the cost and timing of transporting thousands of unguided shells by road, rail or ships (it will be completely unprofitable to transport unguided ammunition by plane). It is also necessary to assess the risk of an enemy retaliatory strike according to the data of counter-battery systems against an artillery battery that fires thousands of shells.
Nevertheless, it is necessary to work on reducing the cost of precision-guided munitions, including using the experience of other countries.
It can be noted that all the above decisions of NATO countries on the conversion of unguided munitions into guided ones are designed to solve problems at a distance of less than 50-100 kilometers. It can be assumed that this is due to the fact that there are simply no longer-range unguided products or their number is limited, respectively, there is no point in bothering with the creation of kits for their modernization.
There is no doubt that the kits for turning unguided weapons into precision ones,
such as JDAM, M1156 and APKWS are extremely important. However, in addition to them, the armed forces need high-precision weapons that allow them to attack beyond the range of most enemy air defense systems, that is, from a distance of about 200-400 kilometers. We will talk about the prospects for creating inexpensive mass-produced high-precision long-range weapons in the next article.