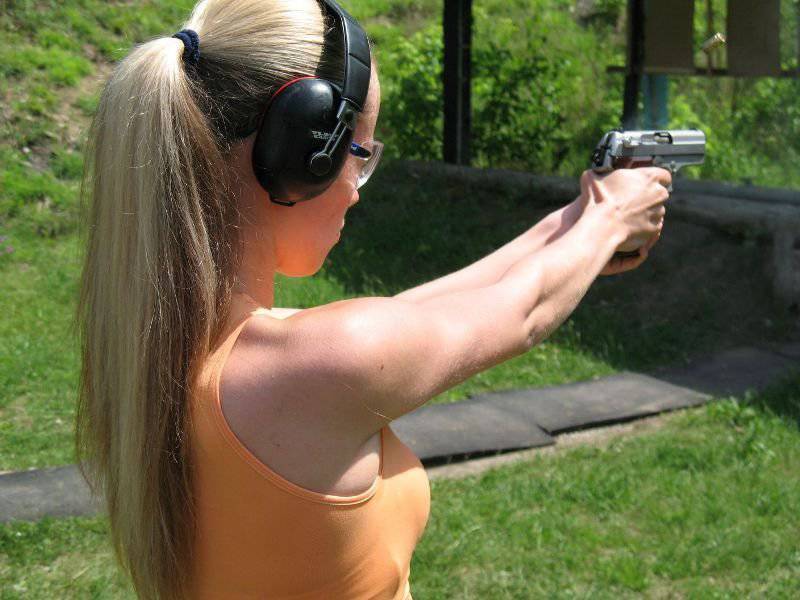 The problem of owning a gunshot
weapons
over the years has been, and now remains extremely acute. And there is nothing to be surprised at. Currently, the population of the Russian Federation has more than seven million gun barrels in their hands. But the problem is that a very small part of the owners really know how to handle it. And when a critical situation arises, most owners cannot properly use their weapons. But even if he manages to open fire in order to defend the enemy, this shooting is ineffective, and instead of a stopping effect, it leads to even greater aggression. Do not forget that the misuse of firearms can cause not only injuries, but also death, and the owner is held criminally liable.
Therefore, it makes sense to talk about where you can learn the proper handling of firearms.
Learning to shoot is much more important than possessing a weapon. Therefore, it is necessary to seek help from specialists who will teach the main skills used in shooting, will teach you how to effectively shoot and use weapons in self-defense.
Currently, there are a significant number of schools and courses where experienced professionals will help learn how to feel the weapon. In this class, they can last as one day or several months. Let us dwell in more detail on each of these courses.
So, courses offering long-term education, as a rule, have two types of systematic classes - for beginners and for advanced shooters.
The first type is characterized by small groups of 3-5 people, lasts about two months, and classes are held several times a week for a couple of hours. During this course, everyone will be able to gain knowledge of what types of shooting and weapons exist, learn how to properly handle it, become familiar with the safety rules when shooting, and will also be able to gain some practical shooting skills. The end of the course is a mandatory exam.
In the course of the second course, the groups already consist of three people, the classes also last two months. At this stage, students continue to get acquainted with various shooting techniques and develop skills in possession of firearms. Upon completion, a mandatory exam is also taken.
If there is not enough time for such a very long course, you can attend a one-day training course, which gives you the opportunity to learn well, how much you can say, handle a weapon, and also gain basic knowledge of its effective use. The program of the course includes such items as the legal basis for the use of firearms, safety engineering in its application, the rules of maintenance and care, formed the basic skills of shooting. At this stage, experts talk about how to properly hold a gun, how to prepare for shooting, how to quickly grab a pistol, and also teach high-speed shooting. In addition, the program also includes such factors as the psychological basis of behavior in the event of an armed threat, as well as the technique of selecting and blocking weapons.
Course duration is only six hours. And its cost is not very high - within 3-6 thousand rubles.
In order to listen to such a course, you must have a passport, firearm authorization, the weapon itself, and be dressed in comfortable clothes. In this case, not only men can attend the course, but also women.
For those who have successfully completed a shooting course, an "advanced course" may be offered, during which more attention is paid not to theory, but to the practical use of weapons.
A few words should be said about the method of training for shooting, developed by experts of the Federal Guard Service of Russia, the Ministry of Internal Affairs and special forces of the armed forces of the state.
All programs that are developed on the basis of these methods comply with Russian legislation, and also take into account the technical capabilities of civilian, service and military weapons and the level of training of trainees. Such shooting courses, as a rule, consist of three stages: basic, advanced and specialization course. At the first, basic, stage, the basics of shooting, initial, basic knowledge are taught. In addition, at this stage, training is conducted shooting from different positions at a static and moving target. The second stage, advanced, pays special attention to tactics, that is, training is given in which situations and how weapons can be used. In addition, at this stage, an intuitive shooting course is conducted.
And finally, the third stage - the course of specialization - is carried out depending on the objectives of training, and also on the basis of the specifics of the tasks that must be performed.
Of course, having a firearm, you need to be able to use it correctly. But I really want to hope that sometime this time will come when the need for it will disappear, when it will not be terrible to appear on the streets of cities at night, when the legislative system will be able to protect its citizens from violence.
Materials used:
http://www.vesti.ru/videos?vid=446100&cid=7
http://center-vityaz.com/kurs/obuchenie_strelbe.php
http://wayofwarrior.com/shooting/