Recently, one can observe complete confusion with pistols, which should replace the PM in the army. It seems that there is nothing incomprehensible, there are three options
weapons
who can live quite peacefully with each other in the military environment, but in every interview that people take from the armament of the army, one can notice almost complete inconsistency in words. So, for example, Rogozin positions the "Black Swift" pistol instead of the PM, quite often forgetting that there are also older versions of weapons that are ready to replace the Makarov pistol in the army. For example, Yarygin pistols (despite all his problems in the first versions), as well as ATP. Moreover, both the first and second versions are already in the military, in general, something resembling a well-known fable is obtained. I will try to reflect on what positive qualities and disadvantages each of the above-named pistols have, and for whom this or that sample would become a normal working tool. I must say that my thoughts and thoughts are purely my own, so that those who disagree with my position will somehow.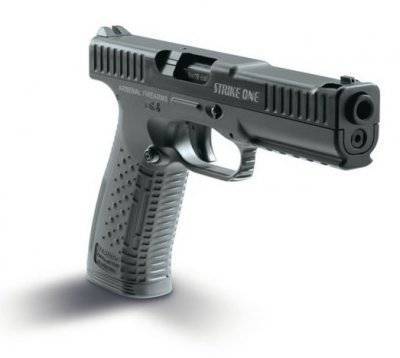 Let's start with the most "tasty" sample - a pistol "Black Swift" or Strike One. I'll say right away that for some reason I don't even like the look of this gun, but this is a matter of taste, so to speak. In general, this gun has recently been positioned as a "murderer" of Glock, so it is or not, time will tell, after all, the weapon is still new and untested. Although if the gun manages to preserve its characteristics in mass production, then here, of course, Glock will have a serious competitor. However, Glock's competitors still have more than enough, for example, the same Walther PPQ, but Glock also wins because there are a huge number of variants of this pistol. In general, it is too early to draw conclusions about the reliability of the Black Cut and its characteristics. But it is possible to note such a moment that even though the production of the "Black Swift" will be established on the territory of Russia, the Russian company will not produce these weapons. So there are two "cons" at once: one way or another, the high price per unit of weapon, well, and a patriotic question, all the same weapon, it seems to me, should be purely domestic, still not Burundi and not Congo. But this is so to say the reasons are more or less objective, there is another one that is alarming me very much. So, almost everywhere it is said that the locking system of the barrel of the Black Swift pistol is revolutionary, but I see in it a modified Browning system, which is really unique in this case, but not revolutionary at all. So to say, such statements undermined the credibility of the weapon and spoiled the overall impression. Considering all this, we can say that the army will do well without a "swift", no matter what its magic characteristics, it cannot claim to be a massive pistol due to the high price, because you need to buy completely 10 and not 20 weapons. Although, perhaps, this weapon would be used in special troops.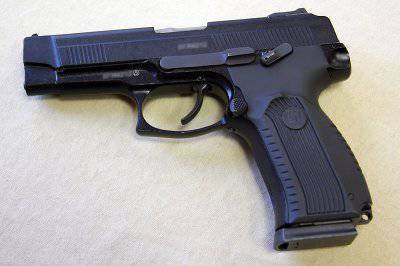 We continue with the option of a weapon that almost everyone spits - with a Yarygin pistol. Indeed, criticism of this gun is not at all small, and in most cases it is quite reasonable, if not for one "but". The sports version of the pistol is mainly subjected to criticism, or those models that just started launching weapons to the masses. Initially, the gun was made quite crooked, and adding the fact that the weapon was put into production as soon as possible, we will end up with a device that looks like a gun, but it's not clear how it can fire at all. But, as they say, it was a long time ago and not true. At the moment, apparently, someone well received a hat, and the quality of the weapon has increased dramatically, and the main drawbacks of the weapon have already been eliminated. In addition, the weapon turns out to be quite cheap in production, which is only a plus for it. The use of more "evil" cartridges than the standard 9x19, also only have a positive effect on the combat characteristics of the pistol. In other words, if it is possible to completely eliminate all the unpleasant moments with this weapon, and this does not make it very expensive to manufacture, then this particular gun can be considered the very option suitable for mass weapons.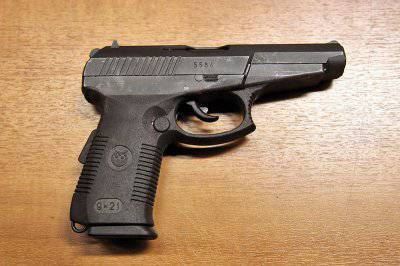 Finally, an SPS pistol, better known as Gurza. In general, of all the three, I like this gun the most. First of all, it should be noted that there is nothing superfluous in it and at first glance it is clear that this is a "working tool", and it is not unknown what. I once read such an interesting comparison: the ATP was compared to KaBar, while other modern pistol samples were compared to multifunctional "Swiss-Chinese" knives, well, I think the analogy is clear here. Plus, it should be added that the ATP is fed by several unusual cartridges, which is both its positive and negative trait, since they will naturally be more expensive than the same 9х19. From this it follows that the weapon is not suitable for mass use in the army, but for special forces it can be very suitable, first of all, because of the same ammunition.
Thus, it can be said that the "Black Swift" is in the span for the army, since for 9х19 there will be Yarygin, and for more effective SP10 SP11 and SP13 ATP. In general, the choice of new weapons for the army looks somewhat strange, especially in comparison with how new weapons came into service during Soviet times. Just look at the fact that there are no more contests in which several samples from different design bureaus are held. Yes, even the fact that the Ministry of Defense cannot simply formulate the TK for a new weapon already leads to bad thoughts. So it turns out that the 3 sample is represented on the new pistol for the army, no matter how much they are adapted for mass armament, and in principle there is nothing to choose. And this is while the pistol has been far from the main weapon for more than a century. Naturally, the system of competitions also had its drawbacks, but at least this way the development of weapons was stimulated. And let Kalashnikov was the winner, losing to Nikonov only in the last competition, for all the victories were well-founded economically reasons. But among other samples there were hundreds of those who had no analogues in the world, they had innovations that are used now in other "special" weapon models. In general, it seems to me that what is there is now forcing domestic gunsmiths to stagnate, and you must either return to the old system or come up with a new, even more effective.