Behold, I am doing new; now it will appear; don't you want to know that too?
Exodus 43: 19
Weapon and firms.
Here, on the pages of VO, it has already been told about the pistol and rifles of Mr. Savage, nicknamed Savage in Russia. So this time we will not repeat either his biography or all other information from the activities of his company. You type in the search engine: "Pistol / rifle Savage. Military Review. Shpakovsky "and everything opens up to you. They talked about the present day of this company, and about what interesting rifles it produces today. And it produces all the same AR-15, as many other firms, competing with each other - who surpasses whom.
And the question is, what new can be added to the "arch" so that it, in fact, remains an "arch", but at the same time acquires some completely new consumer properties?
It is clear that we are not talking about covering all its details with gilding, decorating with Swarovski crystals or cutting a handle out of mammoth bone. Although personally, I would certainly make at least a couple of such rifles at my enterprise. "For men who have every conceivable AR-15", "For women who dearly love AR-15" ... Freaks and show-offs have always been, are and will be, and this is the very "that" for them!
However, from the point of view of technology, this is much more complicated than simply decorating according to the principle of "expensive and rich". However, it was Savage Arms who managed to create the MSR15 Competition rifle for professional athletes who compete in practical shooting competitions.
The main innovation in this rifle is the barrel. Now, again, all kinds of barrels are not put on rifles. Made by cold forging, with longitudinal grooves that reduce weight without sacrificing strength, etc. etc. However, "Savazhtsy" and then said their weighty word. They fitted the MSR 15 Competition with a barrel made using the so-called "carbon" technology, the same as that of the Savage 110 UltraLite rifle. "Ultralight" translates as "ultralight" - it really weighs only 2,63 kg. For a hunting rifle, this decision is certainly justified. But for a semi-automatic, it looks like a somewhat unusual solution.
The carbon barrels were developed by PROOF Research and claims their advantage over conventional steel barrels is that they have better heat dissipation properties than classic steel barrels. The technology of their manufacture is as follows: carbon fibers are wound diagonally onto a steel leitner. That is, the barrel receives a braid, which allows you to achieve better heat dissipation when shooting, which comes from it. That is, the barrel itself becomes much lighter. Its durability does not decrease, and it cools better with intense fire!
It is interesting that "wire" barrels have been known for a long time. It was by this technology that the British made their gun barrels for their naval guns, which were on their battleships of the early twentieth century. A relatively thin leitner, then an outer tube, then a wire winding, then an outer tube, then two or three more windings in the breech - and here you have a finished gun. However, no one has ever made rifle barrels using this technology!
That is, an automatic rifle at a high rate of fire can fire without serious heating. In this case, the barrel itself is subject to less wear.
In addition, the "carbon" barrel reduced the weight of the MSR 15 Competition rifle to 2,63 kg, that is, it began to weigh the same as the "bolt" 110 UltraLite rifle.

Savage 110 UltraLite. Bolt, bolt handle and plastic forend. Savage Arms Photos
Carbon fiber is carbon fiber, a material made up of fine filaments that are 5 to 10 microns in diameter and formed by carbon atoms. Carbon fibers have a low specific gravity, extremely low coefficient of thermal expansion, chemical inertness and strength. For the first time, such fibers were obtained by T. Edison in 1880, and was going to use them in incandescent lamps. Over time, materials based on carbon fibers have found the widest application in technology as heat-resistant insulating coatings, including rocket engines.

Savage 110 UltraLite. Savage Arms Photos
For firing the rifle, cartridges of .223 Remington (5.56x45 mm) and .224 Valkyrie are used, with an initial speed of up to 1200 m / s.
The muzzle brake-compensator is removable, that is, it is installed on the thread. Therefore, instead of it, you can install some other muzzle device.
The MSR 15 Competition has an adjustable gas valve. Moreover, its location on the barrel does not at all interfere with the installation of various mechanical sighting devices on it, which can also be fixed on the Picatinny rail, through which the gas regulator stem passes.
The firm manufactures the receiver from forged 7075 grade aluminum with minimum tolerances.
The bolt has eight lugs and is mounted on a nickel-plated bolt carrier. Such a coating not only greatly facilitates the cleaning of the weapon, but also improves its sliding, thereby increasing the reliability of the rifle when firing. In general, all these minor improvements can well be applied to combat weapons. True, the same carbon fiber braid on the barrel can make it much more expensive. In principle, today technologies have reached the point that they allow almost all small arms, such as the same automatic rifle, to be made of carbon fiber. The only exception may be some important details. Such, for example, as a barrel, a bolt, a tube of a gas engine and ... springs in the trigger. All other parts can be made of plastic today, which will greatly reduce the weight of the weapon, without reducing its strength. And less weight means less fatigue of a soldier and ... more ammunition, which he can take with him with the same weight of his load.
True, today the high demand for carbon fiber has led to its sharp rise in price. It is painfully used in many areas. It got to the point that they began to add it to concrete, the operational properties of which naturally increased from this, as well as its price!
There is the MSR 15 Competition and clearly sporting "modifications", although they may well be used on military weapons. First of all, this is the cone-shaped magazine neck expanding from top to bottom, which facilitates loading, and also an additional bolt cocking handle, installed on the left.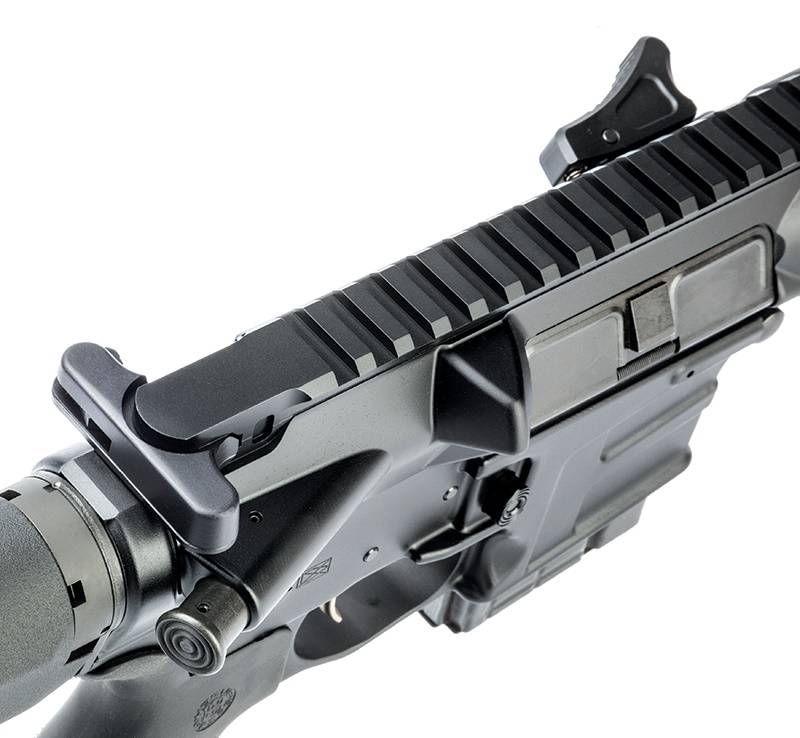 The T-handle is a tradition. Savage Arms Photos
Moreover, the rifle also retains the traditional T-shaped grip at the rear of the upper receiver. That is, this rifle is convenient to use for both right-handers and left-handers, and the latter does not need to reinstall or adjust anything on it - the designers took care of this in advance. By the way, again, such a solution is quite applicable to military weapons. After all, the weight of the rifle is very small, so it cannot be assumed that it greatly increased it. But the grip on the left added very much to the convenience of working with the rifle!

Shutter handle on the left. Savage Arms Photos
The scopes on the MSR 15 Competition are supposed to be used mainly optical, and for their attachment the upper part of the upper receiver was made in the form of a ready-made Picatinny rail.
The MSR 15 Competition forend is made of aluminum and has M-lock slots for attaching various accessories. On the left handguard there is a bright red socket for a quick-detachable sling swivel for a rifle belt. For the rear sling swivel, the socket is also in a red ring in front of the butt tube. So here, too, we see an example of well thought out ergonomics and concern for the convenience of the shooter.
The rifle stock is traditionally taken from the most venerable manufacturer of gun stocks and other accessories - the Magpul company.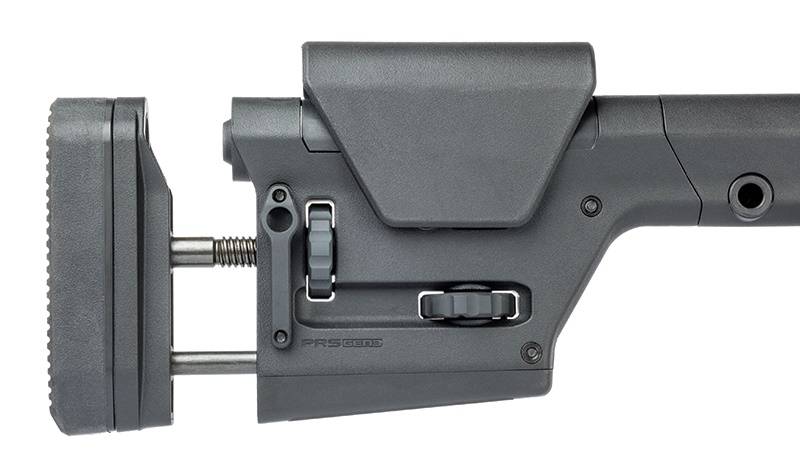 Magpool is forever too! Savage Arms Photos

Another of the design options for the "competition rifle", but only with the barrel "styleless steel". Savage Arms Photos
That is, Savage Аrms did everything to turn the most ordinary "arch" into a sporting rifle of the XXI century, which does not require absolutely any refinement "to mind". Well, the use of a barrel with a carbon sheath made it possible not only to improve the accuracy of shooting from it even in conditions of very intense fire (which is just typical for practical shooting competitions), but also to reduce its weight without sacrificing strength. Well, what of all these innovations (and how soon) will migrate to new models of military weapons, we will sooner or later find out. And maybe even earlier than we think today!