Do not count nuclear weapon weak or harmless. But you shouldn't overestimate either.
In the para-patriotic environment, there is a myth (and it is carefully cultivated in the minds of people) that if something happens, we have nuclear weapons and with its help we will solve all problems. Or its alternative version: we will self-destruct, dragging our enemies with us to the next world.
Usually, such a myth is immediately "spread on the table" when it comes to the need to carefully prepare general-purpose forces for military action. A typical "hurray-patriot" with a patch in the shape of a "pink pony" with bulging eyes rushes into the attack, trying to deliver a ramming blow with the following theses: "Don't you understand that a war with ... automatically means a war with the United States ?! And it can only be nuclear. " After that, arguments like "glass" are used, etc.
In fact, this is an illusion. And, worst of all, the country's leaders, who are responsible for making important strategic decisions, believe in it. This nuclear illusion is nothing more than a wish. In fact, everything is different. And if you continue to persist and remain in the dark, the results can ultimately turn out to be truly deplorable.
It is worthwhile to figure out what can really be "glazed" with the existing nuclear arsenal. And what will an attempt to simply "bang" lead to without taking into account the consequences and planning operations at the proper level.
Just powerful bombs
Let's start this
history
"From the end": it is technically impossible to "glaze" anything. The photo below shows the epicenter of the explosion of the "Tsar Bomba" AN602. The most powerful explosive device in history, with the TNT equivalent, as we know today, at 58 megatons.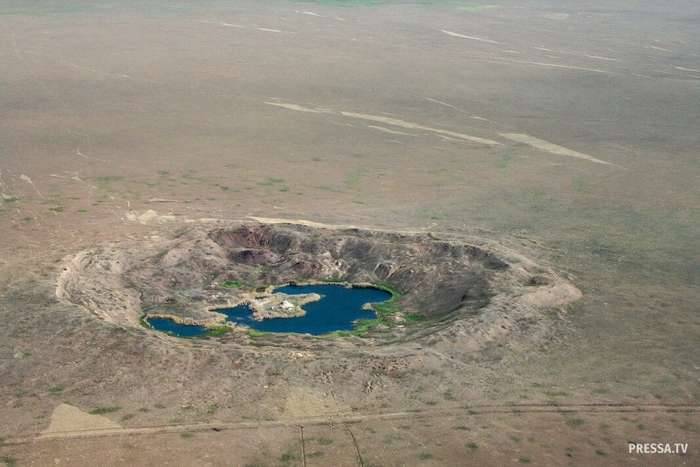 As you can see, there is no glass. Of course, this is ironic. But how destructive are these superbombs really? We will use the service
nukemap by Alex Wellerstein
and "bomb" with this bomb, for example, San Francisco - the largest US naval base. What do we see?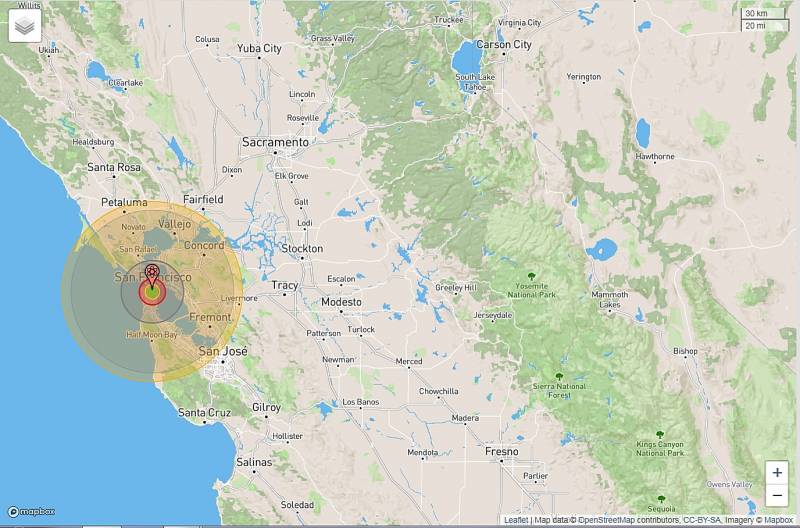 The outer orange circle is the area where people received burns of varying severity. The next darker is the destruction zone, with the growth of destruction and fires closer to the center, but with a mass of survivors. But the small circles are from the edge to the center - a zone of severe destruction (dark circle), a zone of almost complete destruction (red circle), a fireball (orange) and hard radiation (green). Almost everyone inside the red circle has died or will die. Inside the small darkened one is the vast majority. Further - the options begin. Source: Alex Wellrstain's Nukemap
If you do not take into account possible radioactive fallout (they are not shown in the diagram), then it is clear that on the one hand, San Francisco has been destroyed. Most of its population (not all!) Died or became crippled. That is, the mobilization potential of this region has been greatly undermined. But, for example, the nearby San Jose was hardly damaged. In the northwestern part of the city, people received burns, in the rest - eye injuries of varying severity, mostly minor. And a little northeast, in Sacramento -
there are no consequences at all
... If the wind blows the precipitation towards the sea, then you won't even have to evacuate anyone from nearby cities.
But maybe you should have jumped at full capacity? Let's simulate an explosion at full power. By the way, the TNT equivalent looks like the notorious "Poseidon". In the form in which this device was advertised. 100 megatons, adjusted for the fact that the "Tsar Bomba" was real, and before Poseidon it was still cut and cut. And that our virtual explosion is air, not surface. But this is not essential in this case.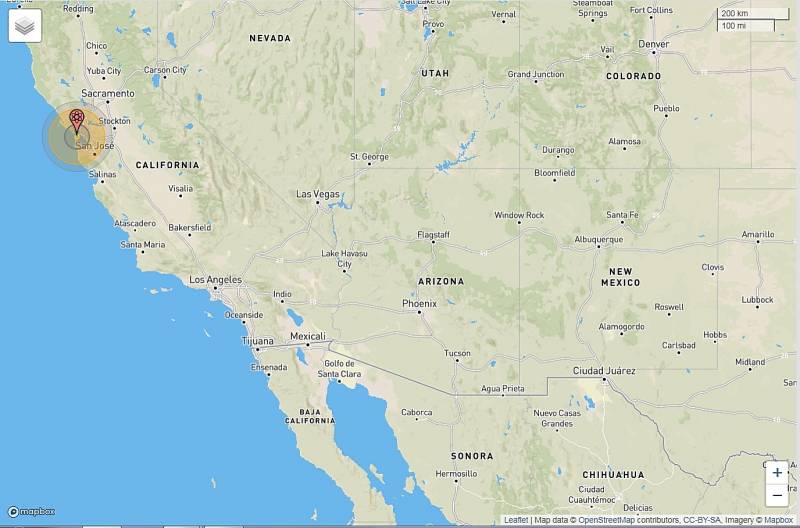 Source: Alex Wellrstain's Nukemap
So, the results are in the diagram. San Jose is now covered, Sacramento is hit by a shockwave, but weak, without collapsing buildings and extensive destruction. Basically, we are talking about broken windows. Of course, there is nothing left of San Francisco. Losses exceeded a million, most likely or so.
Let's take a look at the map of the USA with the affected area from such an explosion. Impressive.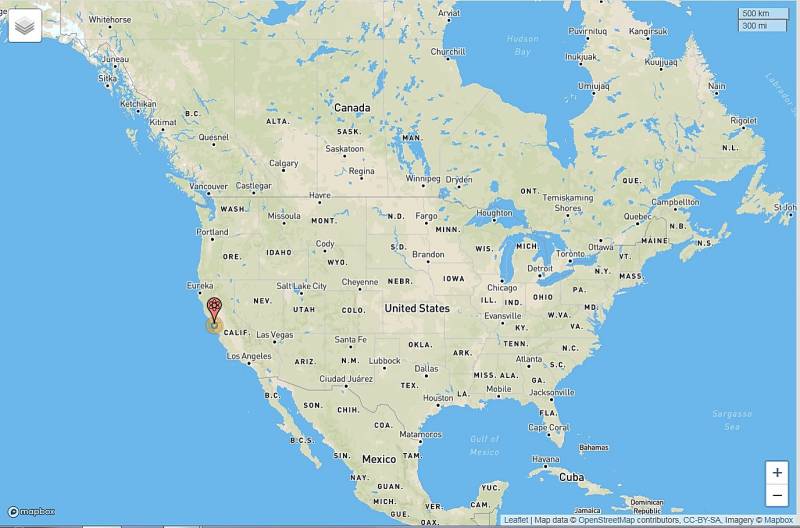 Source: Alex Wellrstain's Nukemap
But we must understand that, firstly, this is about 1/330 of the US population, no more. Secondly, there are actually no such powerful explosive devices. Yes, and the "Poseidon" warhead capacity is actually planned to be less. And thirdly, there are actually much more important goals in the US. And in reality everything will be completely different.
Nevertheless, let us designate the first conclusion. If you do not take into account the radiation contamination of the terrain, then nuclear weapons are just very powerful bombs. "Glazing" with them will not work. There will be survivors, surviving infrastructure. Some industrial facilities will survive, even if you throw 100 megatons.
Although this is where the losses will be catastrophic. But in reality, there are no 100 megatons, right? So. And about radiation a little later. In the meantime, a few numbers.
The beginning of the end and some statistics
Reality is most clearly seen in contrast to myth. The myth of hurray-patriots is this. If a war breaks out, then in response (In response to what? Hooray-patriots do not clarify this point. Is this the answer to the first shot? Or to the second? It is unclear.) We will begin to beat with nuclear missiles and that's it.
Is that all? Could it be that the exchange of missile strikes will not be the end of everything, but only one of the episodes of the ongoing massacre, which will not begin with him, and will not end with it?
In a professional environment, the question is posed differently. There are various theories as to how a full-scale conflict between Russia and the United States with some of their allies could develop. There are some theories about "nuclear de-escalation" on our part. There are plans to use nuclear weapons in various ways, including strategic nuclear weapons.
From the American position, they are opposed by two iron "ideological" principles. The first is that the Russians will not use nuclear weapons until they start losing a conventional war. And the second, that in response they need to throw their bombs so that they know how to reach out to weapons of mass destruction in the war against supercivilization.
Both in our country and in the United States, there is a set of ideas that the escalation from an ordinary limited conflict to a nuclear global one will proceed "in stages", although these stages can pass very quickly.
Let's try to synthesize the myth of jingoistic patriots with what the professionals sometimes talk about, as well as with banal common sense.
Let's say Joe Biden, who has fallen into insanity, orders the US Air Force to provide a no-fly zone over Syria. Ours do not obey, the Americans are starting to shoot us down. We answer them. They proactively direct large forces
aviation
into the Syrian sky and overwhelmingly arrange a massacre for us. In response, we are striking with Iskander from Khmeimim at their facilities in Syria, and with Caliber from the Black Sea and the Caspian at some of their airbases (or airbases) in the region. We are starting to prepare the Tu-95 and Tu-160 for the flight. They see this with the help of satellite reconnaissance, trying to get Engels with cruise missiles from bombers. They suffer losses, bombing Kaliningrad in revenge. Here the Poles come into play, with their guns and
tanks
... Ukraine begins to pull troops to Perekop, arranging joyful squeals in the press that the Muscovites are finished.
Our people understand that the moment has passed. Again, as in 1941, we were caught with our pants down, without AWACS aircraft, with a minimum stock of cruise missiles, without torpedoes in the submarine, with submarines stuck for many years under repair, without minesweepers, with a broken aircraft carrier, without the required number of aircraft refueling personnel, with a minimum of high-precision weapons for aviation, with Baltic corvettes stuck in bases and killed at the piers, without anti-submarine aircraft. In general, "if tomorrow is a war, if tomorrow is a campaign" (and if other jingoistic patriotism did not frighten anyone again), the unwillingness of the Russians to think with their heads again led to the same thing that always led to: an attempt by neighbors to break in and forcefully amputate the non-working "Nominally" Russian heads.
At this moment, our command will face two questions:
"At what point will the enemies sweep us away (if not to use nuclear weapons)? And at what stage should nuclear weapons be introduced into the war in order to ensure the maximum effect from their use? "
That is, the wishlist of hurray-patriots (ready to break anyone who doubts the need to clean guns with bricks) and reality just close up here - we do not pull out without nuclear weapons.
The beginning of nuclear planning will require a miscalculation of its steps to the apogee - before the massive use of strategic nuclear weapons against enemy territory. Not because we definitely want it. But because instead of nuclear "de-escalation", there may well be nuclear escalation. And the enemy will begin to raise the stakes with nuclear weapons. This means that we need to calculate where and when we will launch our missiles. Just to be ready for it.
Here we must make a reservation that targeting an intercontinental ballistic missile is still a process. Just like that, by pressing a dozen buttons, it is impossible to do it. For obvious reasons, the author cannot reveal this topic even in the form of a hint.
Let's just say that by some miracle, it was possible to retarget all the missiles. It was possible to deploy NSNF without losses (let's say the US Navy was also not ready for the whims of old Joe), to disperse the PGRK and strategic aviation. That is, from the point of view of a nuclear war, we have ideal conditions to start: we have the initiative, all the launch vehicles and missiles are in line and deployed, there are no losses, we choose the time of the strike.
You have to understand that even with the scenario with Joe Biden, there will be no such idyll. The question will be that at least something has time to start. But we deliberately leave this "out of brackets" in order to show the reliability of the rate on nuclear weapons.
So, how can we jump around the United States? We proceed from the position of the jingoistic patriots that in response to a non-nuclear attack, we use nuclear weapons. So, American ICBMs are in the mines. After all, it is profitable for the enemy to finish the job without nuclear weapons, he does not want a nuclear war, he wants to bend everyone and dominate over all of humanity, he does not need to rake the radioactive ruins of his cities, he has other plans.
Thus, we are faced with the need to destroy American ICBMs, otherwise they will strike our country. They, of course, will not hit alone. There are also missiles on submarines. But this is a separate issue. In any case, we will not destroy submarines at sea with our own strategic weapons, so we will omit this for now.
How many missiles do we have and how many targets does the enemy have?
Thanks to START-3, we thoroughly know the answer to these questions. For example, for 2019, the statistics looked like this.
Russia
Strategic Missile Forces:
Monoblock ICBMs - 141
ICBM with MIRV - 177
Total ICBMs - 318
Total charges - 1165
Air Force:
Bombers - Tu-95 - 55 units, Tu-160 - 13 units. The number of nuclear-armed cruise missiles is not exactly known. It can be assumed that about 800. The same number of warheads. These aircraft, most likely, cannot use bombs.
Navy:
11 RPLSN, each carries 16 SLBMs with MIRVs. The number of charges according to Western data is 720. Disclaimer - SLBMs, due to specific initial starting conditions, are distinguished by reduced accuracy compared to ICBMs and are of little use for a first strike.
In addition, traditional Russian military doctrines require the NSNF to be viewed as a means of putting pressure on the adversary in an attempt to achieve peace on acceptable terms. That is, they, roughly speaking, are needed "loaded", with missiles, including during the conflict.
Unlike the United States, Russia does not have the technical ability to recharge RPLSN launchers outside of bases, which makes it impossible to use them to deliver multiple strikes against the enemy.
Thus, we have 318 ICBMs with 1165 warheads of the fast and relatively accurate first strike weapons. To strike in the second wave - 68 bombers (a missile salvo of 486 ALCMs, provided that the Kh-55 is used on the Tu-95MS, and 102 missiles are used by all Kh-376 bombers).
The use of SLBMs is optional and must be retained as a negotiating lever. And are they accurate enough? And we will return to them later.
Now we count the goals.
The United States has 400 Minuteman ICBMs in silo launchers. The Americans keep another 50 silo launchers in combat readiness without missiles so that we do not know exactly where to aim our missiles. These mines serve as decoys.
Organizationally, the missiles are deployed in three districts, each under the control of one of the Air Force missile (air) wings - 90, 91 and 341.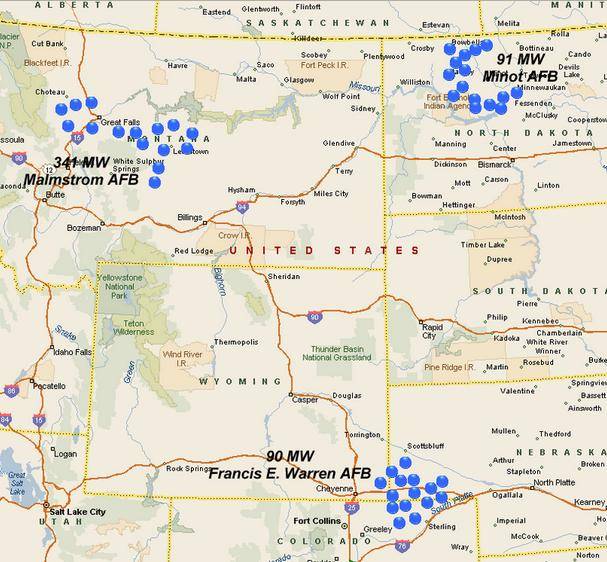 Below is the layout of the positional areas of 91 "missile wings" of three "squadrons" at Minot Air Force Base in North Dakota.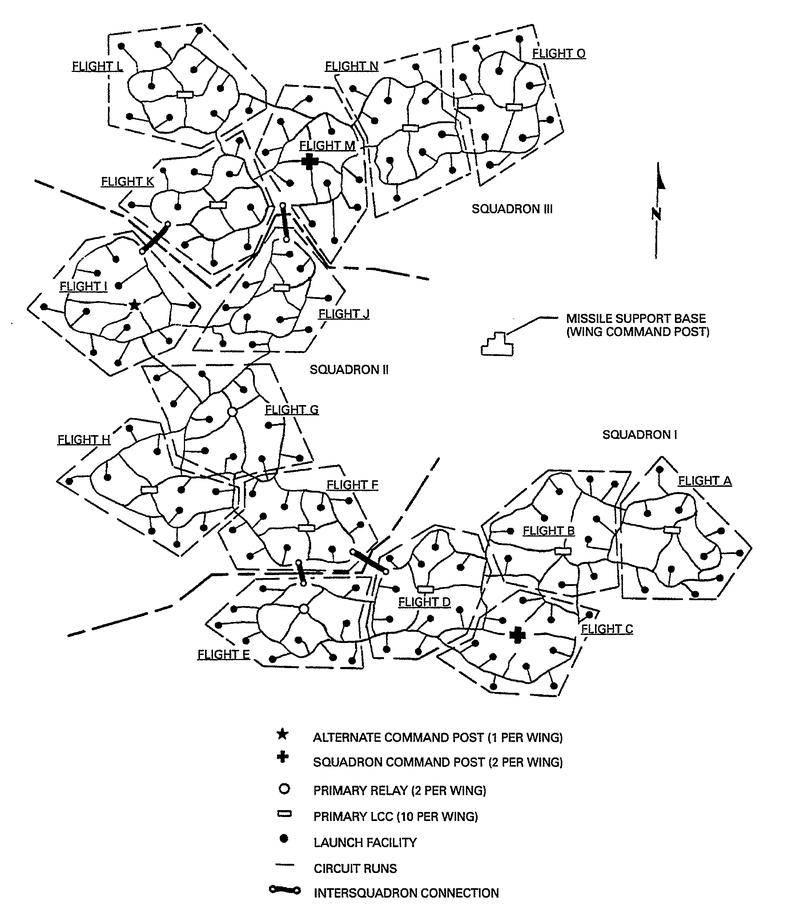 Crosses and stars - KP. In addition to them, there is also the GKP. White rectangles - checkpoints, which are on duty. Circles are communication nodes. Lines are communications.
As you can see, in addition to the mines, it is necessary to hit the command posts, which are based on 14 (main command post, 3 command post of squadrons, 10 control posts with duty shifts) and two communication centers. That is, there are about 16 more targets in addition to silos.
Without going into too much detail and assuming that everything is about the same at other bases, together with empty mines, we get that, with a plus to silos, we need to cover 48 more targets or so. Total 498.
But there are also command bunkers, such as the well-known bunker in Colorado Springs (Cheyenne Mountain). And he is not alone there. There is also the 1st Naval Communications Air Wing, which provides communications with American SSBNs. And bases with bombers, storage of tactical nuclear weapons of the Air Force and the Navy, naval bases with submarines and destroyers, each of which could theoretically strike our territory at some point.
The Americans know how to quickly withdraw their forces from under attack. Here, for example, is their training withdrawal from a missile attack by bombers and tankers. In the video, the planes are carrying real nuclear bombs. And they don't need to download any flight missions. If the situation changes during the flight to the target, radio communication is sufficient. And so that the necessary cards are on board.
Video from the US exercise "Global Shield 1983"
And this is probably the most desperate take-off that the Americans have posted on the Internet.
They must be hit with ICBMs. You can't rely on the CD from bombers. They will arrive too late.
How many missiles do we have in the first salvo? 381 pieces? And how many targets did the enemy have? You can safely plan that there are much more than 500 of them, we won't be mistaken. Moreover, some targets are such that they cannot be covered with one warhead.
We look at the Pacific "focus of evil" - the Kitsap naval base (combined by Bangor and Bremerton, Washington, Seattle).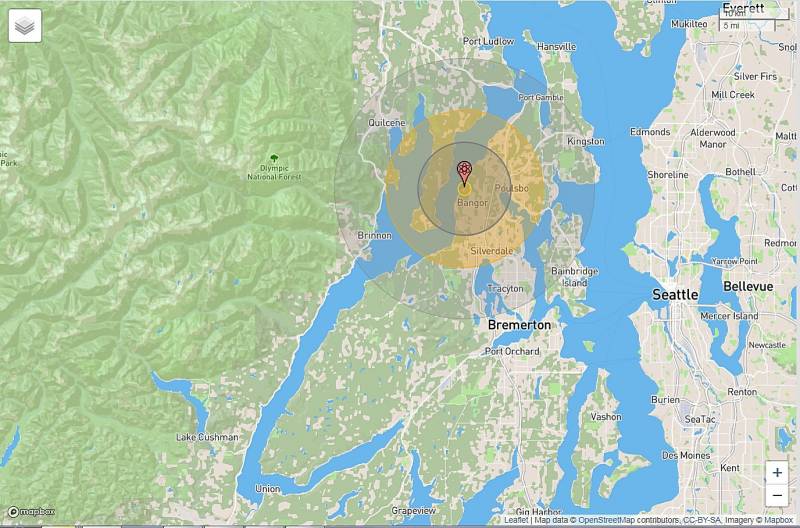 Source: Alex Wellrstain's Nukemap
The diagram shows a very accurate blow of a warhead with an equivalent of 800 kilotons. This is a "Topolev" monoblock. It can be seen that the former Bangor with its famous triangular pier has been completely destroyed. But even the shock wave did not reach the former Bremerton (where the submarines now stand).
Taking into account the relatively low accuracy of even ICBM warheads, it is clear that 3-5 BB are needed to guarantee the destruction of all military installations, submarines and ships. And you cannot skip this stage. After all, not only are we so smart to hit rockets from the pier. And if someone from "Ohio" escapes from there without a volley, then no one will seem a little later.
That is, for many of the targets listed above, you will need several warheads.
At this stage, the hurray-patriot gets the first blow in the stomach. About "glazing". It turns out that we have enough rockets and warheads close and tight to neutralize the American potential for a retaliatory or retaliatory oncoming strike (their missiles, submarines in bases, bombers, command centers, communications centers and nuclear weapons depots).
Well, or really, to be completely honest - not enough at all. Simply because there are too many targets, and we have too few warheads. If you distribute targets so that scattered objects hit SLBMs (the same Kitsap and similar bases), then "vnatyag" can be enough for the entire American "nuclear sword".
And this is in addition to SSBNs and bombers in the air, at alternate airfields and in other places that we do not know about, which are in combat service.
But at the same time:
1. The population of the enemy almost does not suffer. His losses are great only in a few cities, such as San Francisco, Seattle, San Diego, etc. Basically, it learns about a nuclear strike on the United States from various emergency alert means, if not from
News
... The death toll will be several million of the approximately 330 million US population.
2. The military industry will hardly be affected. Almost all military factories and design bureaus will remain unharmed.
3. Many Air Force units will not be affected. And it is possible that by the time our bombers reach the missile launch line, the Americans will be able to regain control of part of their forces.
4. The allies of the USA, the network of their military bases around the world, and the troops on them will not go anywhere.
5. US diplomatic alliances will remain in effect.
6. Most important. We have lost our SLBMs. Now we have no trump cards. Our strategic nuclear weapons are used up. We can no longer hit the enemy. And the enemy understands this. Or you have to come to terms with the lack of force of the first strike. With the fact that we just didn't hit all the targets we needed.
This will be the case until the second wave of bombers. Further, for the United States, everything will worsen. Other targets will come under attack, not their strategic nuclear forces. The map below shows US estimates of targets for our nuclear strike against them. Naturally, this is not intelligence. But there is a lot of truth in this scheme.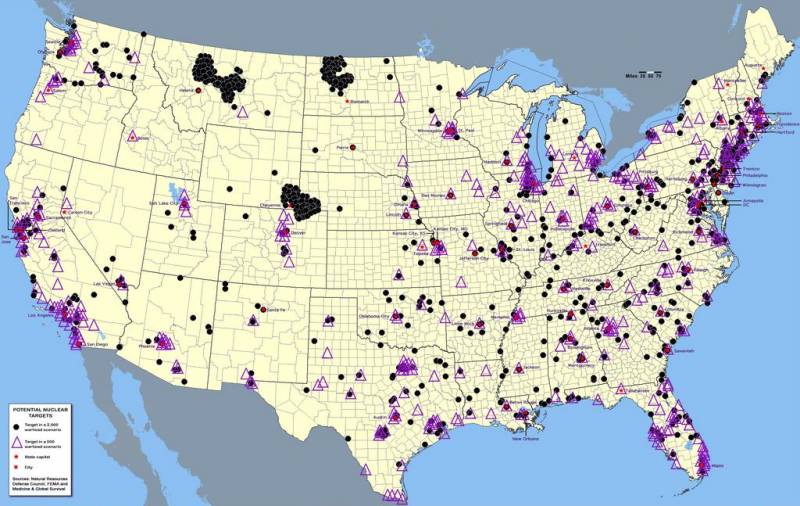 Black dots - Russia hits first, inflicts incl. counterforce strike of approximately 2000 warheads, incl. on mine PU. Triangles - strike with 500 warheads, we do not touch silos, we must assume that this is a retaliatory strike by the surviving forces. Red squares are cities, stars are state capitals. It is easy to see that very little "arrives" in the US population even with 2000 BB. Source: Armen Pogharian (http://www.armenpogharian.com)
As you can see, nothing "glazed" will work. Although the military-economic potential of the United States will be weakened and greatly. But not to death.
This is the main and most difficult conclusion for any jingoistic patriot. Even the full use of Russian nuclear weapons against America will not completely destroy it. Moreover, the entire military potential of this country will not be neutralized.
At some point, it turns out that we have almost completely used up our missiles. Angered them to the point of loss of adequacy. So much blood has been shed that any truce is now ruled out. And everything will go according to the "only one will remain" scheme, with the unconditional destruction of one of the parties to the conflict as a result of the war. But at the same time, the United States will still have a military industry. There will still be population dominance. And there will be fully combat-ready armed forces, albeit with huge losses.
The war will continue.
And this is all under the ideal set of circumstances. An unrequited nuclear strike that the enemy missed. But it won't be like that?
Imperfect circumstances
For the sake of completeness, let's supplement the idyllic (yes, it was her above) picture with a few strokes from the real world. First, like ours, the enemy has intelligence, early warning systems, satellites. The enemy understands perfectly well that at a certain moment we can reach for the nuclear button. And he will do everything possible to work in this case in advance.
With the highest degree of probability, an attempt to strike as described above, and according to this scheme (strike only by strategic nuclear forces) in the real world will end with a retaliatory strike.
In addition, the enemy has the ability to strike back. Due to the fact that Russia is a continental power and the development of its
fleet
does not want to study. As a result, American SSBNs can operate relatively freely. And we have nothing to prevent their retaliation.
In addition, tactical aircraft have nuclear bombs, which we cannot destroy all of.
And of course, no one will ever allow us, in the course of a conflict that has already begun on the initiative of the enemy, to calmly deploy strategic nuclear forces. As mentioned above, the question will be whether we will have time to start anything at all if everything is so sudden.
High instantaneous losses can rarely demoralize someone right away. Usually they make people angry and do not suppress the will to resist, but kindle it. This is exactly what will happen on the side of the enemy.
Diplomatic alliances, purely due to inertia, cannot quickly collapse. In order for the NATO allies to go into battle, it will simply be necessary to convince their leaders over the phone that the US President is in control of the situation and the Russians will soon end.
This is then (sometime), when they have already got into the American war by the reflex they have developed during their lives, it will reach them that everything is a little wrong (if everything is much different). But it will be too late to quit. First, the US allies will go to war against us. Then they will begin to think what is there and how.
All this (we repeat) will take place in conditions when our strategic nuclear weapons are completely used up, including cruise missiles for bombers.
This is how a real attempt to "glaze" will look like. And it will have a long and bloody continuation. Perhaps for many years. And this is a big question:
"Who will fall first?"
Population blow
It makes sense to consider another option. Everything that was described above is the so-called "counterforce strike". That is, a blow to the potential for a nuclear war.
Let's imagine the opposite scenario - "counter-value". That is, a blow to the population.
For all the cruelty of this phrase, it is the fear of large losses among the population that is the main deterrent. Any country would come to terms with the loss of several tens of thousands of soldiers for the sake of victory in a war that its people consider right and necessary. And the population is another matter. This is real value.
Up to a certain limit, of course.
The threat of a counter-value strike is the basis of nuclear deterrence, and therefore peace on Earth.
Interesting, but that's how it turns out. The question, however, is what kind of population losses the enemy is ready to face. Not only morally, but also organizationally. That is, his ability to continue the war with such losses will not be lost.
In the 60s, the Americans considered the loss of several tens of millions of people in the war against the USSR acceptable. That is, it was about the fact that up to of the population is the normal price of victory.
Another thing is that it was undesirable. And that's why they never started such a war. Although they were very close to it. For example, during the Cuban missile crisis.
How much has the environment changed now? Most likely, it hasn't changed at all. Today in the United States a generation is in power, whose teenage years fell just at the time when it was undesirable to lose 30-40 million for the sake of defeating the communists, but on the whole it was acceptable.
In principle, we can assume that the loss of the entire population will be unacceptable for the US authorities. Everything else can be admitted only with a certain degree of probability. But how much can our missiles hypothetically destroy?
Let's first estimate the distribution of the population across the United States. It is uneven.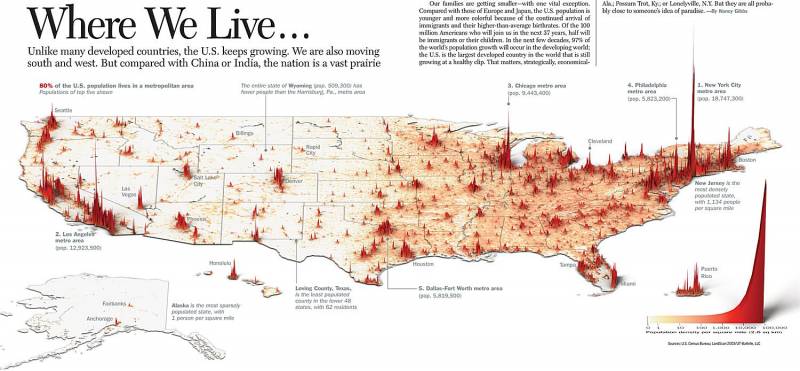 It must be understood that the column refers to the agglomeration as a whole. But within itself, the population is often dispersed. Below, for example, is shown a typical example of human settlement in Los Angeles. Because of this settlement, American cities are often simply huge, and the population density is low.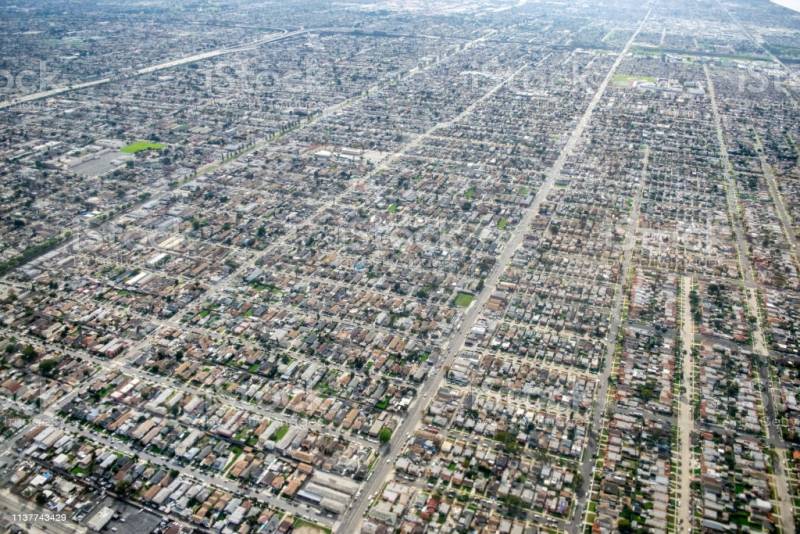 One house - one family. Basically. Source: Nate Bovee (iStock)
At the same time, it is difficult to hit him, one must literally "sow" the entire area with warheads in order to inflict more or less significant losses.
But it is dispersed at the national level as well. Let's give a concrete example.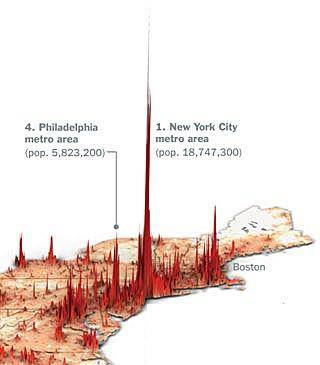 This stockade of charts, stretching from Virginia to Massachusetts, is home to about 50 million people, if you count the population of various small towns. Moreover, in large cities, the population density is, of course, higher. In general, this zone is often one continuous agglomeration; when crossing state or municipal boundaries, building is sometimes not interrupted.
What outfit of forces is needed in order to inflict more or less tangible losses on the population of this agglomeration?
Let's first look at the impact on the northern metropolis in this system - Boston. This is also a simulation of the Topol-M warhead.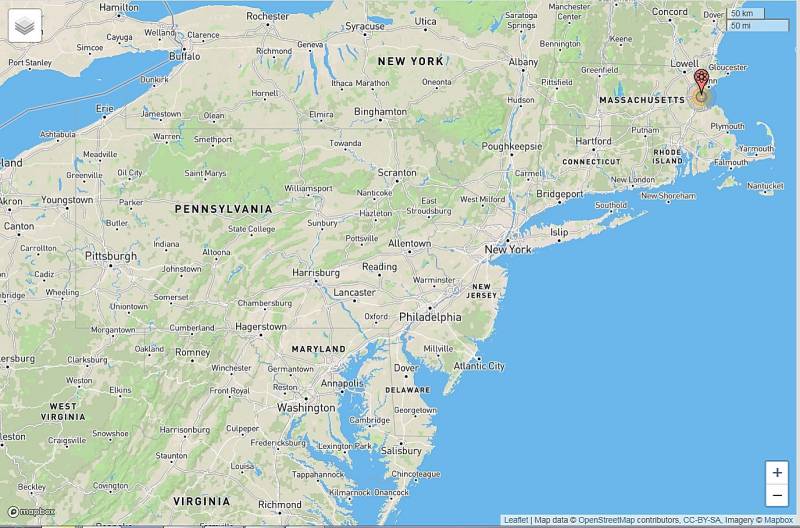 Source: Alex Wellrstain's Nukemap
How many such explosions do we need to cover the entire zone? More than fifty.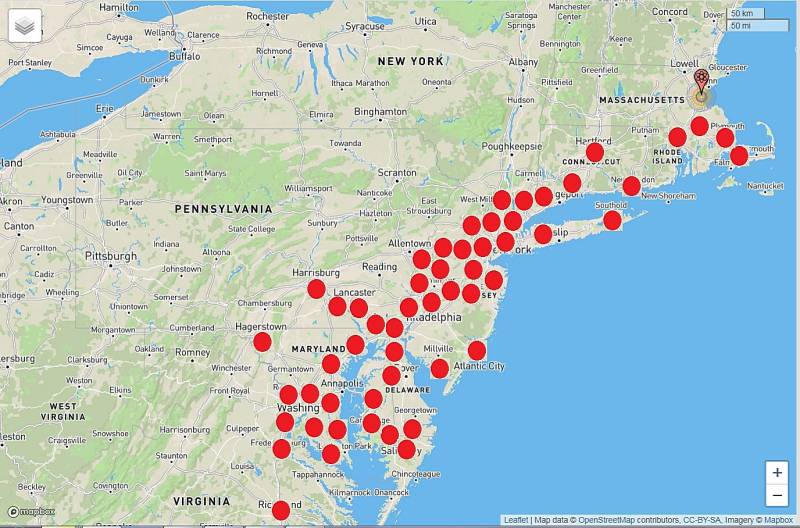 Source: Alex Wellrstain's Nukemap
This is a lot. When struck with monoblock missiles, these are two divisions of the Strategic Missile Forces. In principle, if it is possible to dissolve the warheads of missiles with MIRVed missiles in order to provide such a cover, then one can get by with a salvo of one incomplete regiment with silos. Or even one RPLSN, also with an incomplete salvo (or rather a series of launches) - the submarine can participate in the counter-value strike "without discounts."
How many people will die as a result of such a blow? Approximately 30-40 million at the time of the destruction of designated targets.
That is, we are talking about about 10% of the US population. For us, this is a significant part of our missile arsenal.
But, as can be seen from the density distribution map, there are several such zones in the United States. After we destroy them, the US population will decline by somewhere between 25-40%. The industrial potential will be greatly weakened, but it will not disappear. But it will simply not be possible to show the same results further - the population is much better dispersed. That is, we can, apparently, having used up all our missiles, kill as many more people. And this will be the limit.
At the same time, we must make allowances for the fact that we do not know exactly what the losses will be in cities with dense development. On the one hand, there are many people there and they are boring. On the other hand, high-rise buildings closely standing one behind the other, even when they collapse, extinguish the shock wave (this is pure physics). This factor is especially pronounced in the case of a ground explosion or an explosion at a low altitude.
The image shows the calculated results of detonating a 10-kiloton nuclear weapon in Times Square, Manhattan, New York. The approximate loss of such an explosion is 550 people.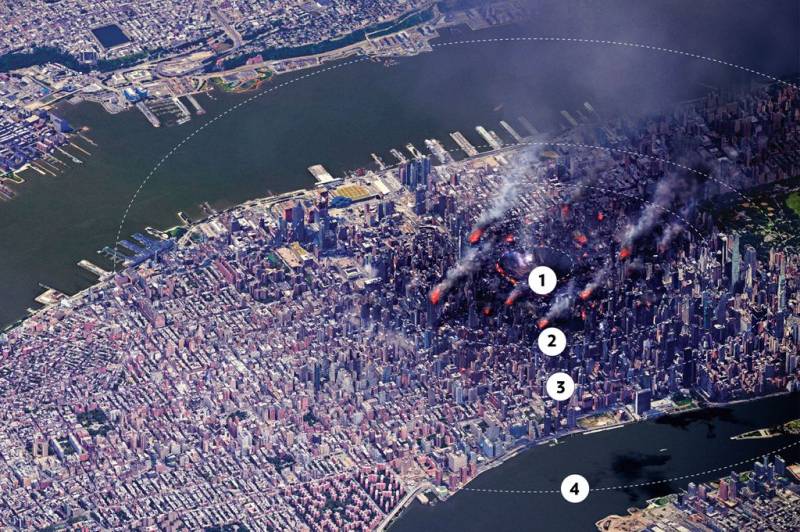 1 ꟷ Flash zone, "fireball", everything burns out, everyone perishes. 2 ꟷ Zone of continuous destruction and fires. 3 ꟷ A zone of extensive destruction and fires, many survivors are already appearing here, strong radioactive contamination begins to decline. 4 ꟷ Massive, but tolerable destruction, collapse of some structures, broken glass and doors, overturned cars, many survivors. Source: New York Magazine by Gluekit (nymag.com)
Obviously, the Hiroshima at ground level New York would "take it and spit it out". An air explosion will have a different nature of damage on the ground, and their scope will be higher, but not fatal.
And what if the Topol's 800-kiloton warhead is dropped? Then Manhattan is basically the end, and the neighborhoods on the neighboring shores will be destroyed very much too. But in general, New York at the time of the impact will not lose even half of the population. It won't even lose a third. It is estimated that no more than 4,7 million people will die in the city when one Topol-M warhead strikes Manhattan (with a population of more than 18 million people, and including illegal immigrants, more than 20 million people).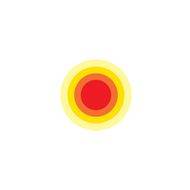 The affected areas are in the same way as in the figure above, on the same scale - the upper 10 kilotons, the lower ꟷ 800 kilotons. The difference is clearly visible. And it (as it should be) is not proportional to the difference in equivalent. Source: New York Magazine by Gluekit (nymag.com)
You can model many different ways, but the output at the end will be the same anyway.
The use of all our missiles in a counter-value (against the population) strike will neither lead to the complete death of the US population, nor to the immediate destruction of at least half of it. Even close. And in the hands of all the survivors there will be enough funds to then fight for many years. And the mobilization potential after such a strike will allow it to be done.
Radiation factor
But maybe radioactive contamination will help the jingoistic patriots turn "the whole world to dust"?
In fact, radioactive contamination will indeed significantly increase enemy losses. Moreover, what is most important, even with a counterforce strike, when the population hardly gets hit (with our number of missiles and warheads this is so), radiation will still do its dirty work.
Unreacted parts of the warhead, nuclear reaction products, isotopes, radioactive dust and soil released into the atmosphere will generally create a zone of radioactive contamination. Larger than the affected area of ​​a nuclear explosion. Moreover, wind and precipitation will carry radioactive elements to a sufficiently large distance from the explosion. But mostly in one direction.
Here is a map of radioactive "tails" according to one of the scenarios of an attack on the United States.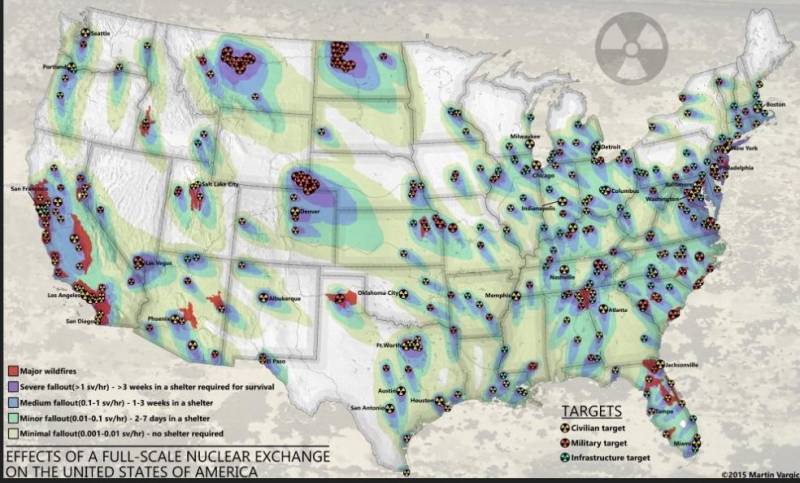 Legend: white zones - no radioactive contamination at all. Yellow - yes, but not dangerous, no shelter required. Green - it takes 2 to 7 days in a shelter to avoid harm to health and risk to life. Blue - dangerous zones, up to 3 weeks in the shelter. Lilac - zones of heavy pollution, being outside the shelter is dangerous for more than 3 weeks (in fact, it can be much more). Red - zones of continuous fires, clearly radioactive. Naturally, these are rough estimates. Source: Martin Vargic
As you can see, the "coverage" is great. However, the following factors must be considered.
First, such radioactive contamination is not an instant process. Some people will have time to leave. Second, emergency decontamination measures can locally reduce the effects of an explosion. Thirdly, even the defeat of people with this radiation will not lead them to instant death - some will be able to live long enough to contribute to the ongoing war in one form or another. And fourthly, as the contamination zone spreads, the radiation will weaken, the concentration of radioactive particles will fall. This will not make it safe to stay in contaminated areas, but it will definitely reduce losses.
The same explosion in Manhattan, a radioactive trail about 100 km long. The orange zone is a heavy pollution hazardous to health. Yellow - a risk to health, the likelihood of contracting cancer in the future is about 10% higher than normal. Source: New York Magazine by Gluekit (nymag.com)
Radiation will kill for a long time. Much longer than necessary for the losses from it to become large enough for the situation that the enemy will be forced to surrender in one form or another.
At the same time, these effects should not be overestimated. They may not be as scary as people think. So, at the site of the explosion of AN602, it was possible to be without risk to life just a few hours after it.
In a global sense, the devastating effect of radiation is absolutely overestimated. From the beginning of nuclear tests and until the complete prohibition of nuclear explosions in the air, water, above the ground and in space, many thousands of nuclear tests were carried out on our planet. And the harm that they caused to people turned out to be minimal, although not zero.
All nuclear explosions in history Except Israeli ones. Israel in this video, as usual, "bounced". Together with my South African friends. But we know.
A little bit of the real world
In reality, of course, there will be no "purely counter-force" strikes by all forces, including SLBMs, or purely "counter-value" strikes against the population. The war is not waged for the mass destruction of someone. It is conducted for the sake of achieving some goals: from changing the world for the better for oneself to ensuring the need to survive.
Therefore, of course, there will be strikes against nuclear weapons. As well as strikes on objects of the economy, which may allow the war to continue further. But strikes "on the population" are already pure retribution.
This already, if it happens, then only when we have completely lost. When our leadership and military command allowed the death of the population of the Russian Federation on a scale that makes the continuation of Russia's existence impossible.
And then these blows will be delivered. But - by the means remaining to this moment. And nothing more.
That is, we are, of course, in heaven. But not all of them will die. In this case.
Nothing "glazed" will work.
In addition, it should be understood that the enemy will try to predict the moment when our nuclear weapons, both tactical and strategic, will be used. He will try to destroy it preemptively, disrupt control of it and buy time for a counterforce strike.
Moreover, the opponent seems to be leaning towards the first blow. That is, to start bombing us ourselves.
In fact, the most realistic assessment of what a nuclear war is is the Soviet approach to the issue. It is simply a big and terrible war, during which nuclear weapons, including strategic ones, are used "to the entire depth of the rear."
The use of nuclear weapons, even the first successful application, does not guarantee anything. It does not even lead to the end of hostilities. It does not guarantee the enemy's exit from the war, victory, or even non-defeat. It does not ensure that the war will not continue as a war of annihilation.
It guarantees only a significant increase in enemy losses. Moreover, not fatal for him. And no more.
The most pessimistic options for the United States speak of halving its population in the event of a successful counter-value strike. And the complete failure of the US authorities in eliminating its consequences. And this process will drag on for at least a year. During which people will die no longer from nuclear weapons, but from devastation, hunger, lack of drugs and the like. "
But even in this case, there will be more of them than we ourselves are now, without any losses. And we cannot do without losses in this situation. And that's to say the least.
Our specific vulnerabilities are also worth mentioning here. Our population is crowded in cities, in areas with dense urban development. And its density (and therefore vulnerability) is often higher than that of the Americans. And in winter (plus all other factors) the survivors will also be killed by the cold. A small population in such a huge area will call into question the sufficiency of the forces required for decontamination.
In general, we ourselves are no more vulnerable to a nuclear strike than the people of the United States. This must be taken into account in any calculations.
So how should we view nuclear war?
First, one must clearly understand that it is preferable to "settle" everything without nuclear weapons than with them.
And this is already a reason for all considerations like "Why should we invest in torpedoes and missiles if we still have to use nuclear weapons?" send to landfill immediately.
Even if we really have to do so, then what to fight with? After such a bloodletting, the enemy will have to be finished off. How can we do this if we have no other tools other than bloodletting and instruments? And the opponent has something. And he has a numerical superiority.
In addition, if we plan to use strategic nuclear weapons, then we need to choose the right moment for this. For example, to give the enemy the impression that we are going to defeat him without nuclear weapons. And for this it will be necessary to inflict a series of severe defeats on it without nuclear weapons. Win the right time (for dispersing the population and mobilization reserves). And only then beat.
And this requires the same thing as for a non-nuclear war. There is simply no difference.
Nuclear weapons are just another very powerful weapon. No more. They alone will not win a serious war, like no other single type of weapon. And its presence, as well as the readiness to use it as part of an offensive operation, does not in any way negate the need to prepare for war in principle: from designing good shoes for soldiers to practicing non-nuclear strikes against enemy naval groupings, moreover, multiple ones.
Superweapons do not exist and cannot be invented.
This hackneyed truth, which some people so much do not want to understand, applies to nuclear missiles as well. We will have to fight with the maximum tension of forces without any nuclear weapons, ensure the surprise of their combat use, disperse the population and reserves in advance, mislead the enemy's intelligence in order to prevent him from seeing all this.
And then, after the use of nuclear missiles, continue to fight further, keep the blows and suffer losses. And so on until complete victory. And for this you need to have something to fight - both before the missiles, and without it.
Alas, we don't think about it. How, for example, to deliver nuclear strikes against the United States after the exhaustion of ballistic and cruise missiles? The Americans have an answer - with bombs. But our bombers cannot do that. And even having bombs won't help. And we have a lot of such punctures.
Unfortunately, due to the extremely aggressive US policy, the likelihood of a nuclear war is growing.
Moreover, a number of American military preparations indicate that they are preparing for this: to wage a nuclear war with the use of strategic weapons, and it is precisely for a surprise attack first. This is a very serious threat.
With this in mind, we need to stop perceiving nuclear weapons as a kind of fetish and a 100% guarantee of our security. This is not true. It's just a very powerful and terrible weapon and nothing more. For our main enemy, it does not even guarantee his exit from the war. In the light of the latest trends in the United States, it does not guarantee non-aggression from the American side - it no longer guarantees. And in the future, its role as a deterrent will rapidly decline. And the value as a powerful tool for solving strategic or even operational (just like that) tasks is to grow. Regardless of our view of the issue.
But apart from general-purpose forces, from non-nuclear weapons, from tactical nuclear weapons and without appropriate preparation for combat use, they will not save us. Apart from all of the above, we cannot even inflict an effective strike on the United States. Such strength that they have lost the ability to fight even if there is a desire to do it (and they will have it at any loss).
We need to prepare general-purpose forces for war as if there were no nuclear weapons. And only then it (this weapon) can really help us. And it is not useless to anger the enemy, and make the conflict insoluble even by force.
We must understand all this as quickly as possible. There is every reason to believe that a "test of strength" is not far off.