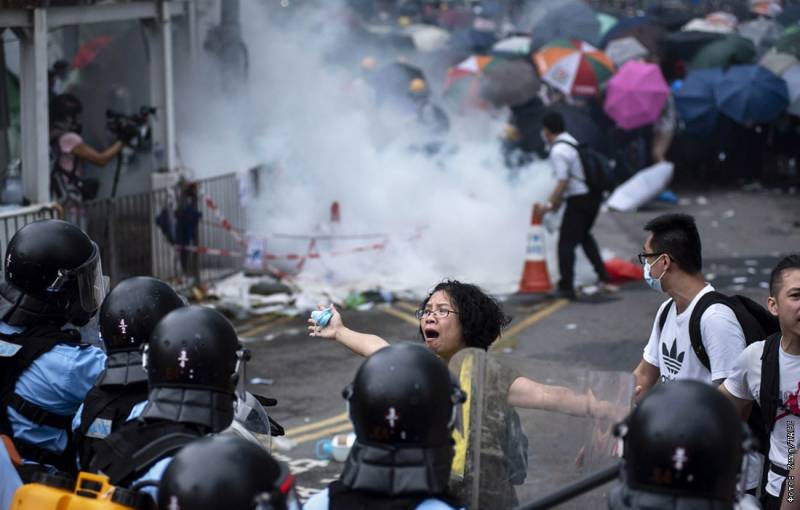 Protests in a special administrative region
This month, mass demonstrations are taking place in the Hong Kong Special Administrative Region of Hong Kong. And this picture is constantly broadcast to us from television screens. They talk about the victims, about the demands of the protesters and so on ... And for some reason sometimes it's almost
news
number one. And the "revolution of umbrellas" was back in 2014.
And these very protests amaze observers with their mass character and organization. And at the same time, it is worryingly broadcasting about the problem of these protests for official Beijing and what official Beijing intends to do: should troops be brought in? And what consequences it will lead ... I will say right away: I, of course, am not an expert on domestic issues and, of course, am extremely far from understanding all the subtleties of this political process. However, from a certain moment, the infinity of these processes began to annoy me.
How much can, in the end? What's wrong guys? In general, from 1860 to 1997, Hong Kong was British (in 1860, after the defeat of China in the second opium war, the territories of the Kowloon Peninsula south of Boundary Street and Stone Cutter Island were transferred to the eternal possession of Great Britain under the Beijing Treaty) and how Some particularly powerful protests there, for example, in the 90s, were not observed. And he was transferred quite peacefully and received "very special status" as part of China. Incredibly special. And even a Chinese with a Chinese passport is so easy not to get to Hong Kong: there is something like border control there.
Wiki:
"According to the joint Sino-British declaration and the Hong Kong Basic Law, the territory is granted wide autonomy until 2047, that is, for 50 years after the transfer of sovereignty. Within the framework of the course "One country, two systems" and "Hong Kong are governed by Hong Kong themselves in a high degree of autonomy", during this period, the Central People's Government of China takes over the defense and foreign policy of the territory, while Hong Kong retains control over legislation, police, the monetary system, duties and immigration policies, and also retains representation in international organizations and events. "
Here is such autonomy was granted. Representation in international organizations. But something went wrong. Let us honestly admit: de facto Hong Kong did not completely become part of China. Nevertheless, already in the 10s we have a powerful political crisis. And as we all, again, fully understand that Beijing's ultimate goal is the full integration of Hong Kong. Since otherwise managing the country and planning something there is quite difficult. Given the fact of the presence, such as in the composition, of such an "enclave".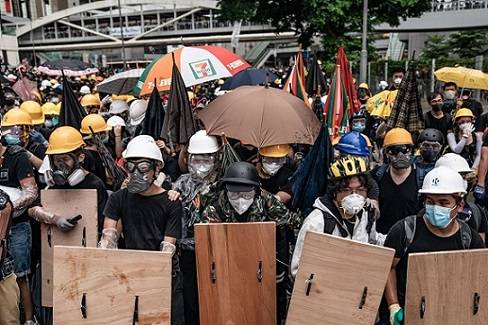 So, without any integration, riots broke out, which makes us involuntarily think about the general prospects of the entire project "one country - two systems". Now, if, for example, southern and northern China were united, then some kind of logic would have taken place, but here we have disparate values: one city and a huge country. And because of this, to fence some kind of "supersystem"? What for? Is it too complicated and costly? Or is China so needed and not needed at all by Hong Kong? Or what's going on?
Some strange picture was drawn: the "pro-Chinese" forces were not very noticeable in Hong Kong. Generally imperceptible. The masses of people fell to protest. The option with the introduction of troops looks very strange in general: what will we get from the results? And what will it look like? No, in 1968 the British also introduced troops there, but they were like invaders. And the Chinese are kind of like their own. But for some reason, this "personal character" is not noticeable for some reason. Somehow, the Hong Kongers did not notice any "Chinese patriotism".
The CCP got in with this very Hong Kong like chicken in the pluck. One city is protesting de facto, but it's like the "political crisis in China." By the way, it is quite possible that just the political crisis in China takes place (and it takes place), but it is very, very indirectly connected with Hong Kong. Nevertheless, we constantly hear something there about the revolution of umbrellas in Hong Kong and about China's problems in this regard. Moreover, the most offensive, no split, as has already been said, is not observed in Hong Kong and no one speaks seriously for Beijing.
I understand that everything is not so simple and quite specific forces are behind these protests, this is a no brainer. But did the Chinese leadership really not understand the cultural and political consequences of almost one and a half centuries of British rule? Did they not realize that there would be not just a lot of "bookmarks", but a lot? Did they seriously trust British decency in political affairs (surrendered territory - accepted territory)?
Don't you think that during the "reunion" some serious mistakes were made? Was it worth it? And now, China is imposing sanctions against the United States ... to protect Hong Kong. From whom, excuse me? Why are there such difficulties? It's just such an impression that Hong Kong is not playing on the side of China in the global confrontation between the USA and China. And China, by the way, and without Hong Kong, has enough internal problems that have arisen as a result of the "accelerated development of the coast."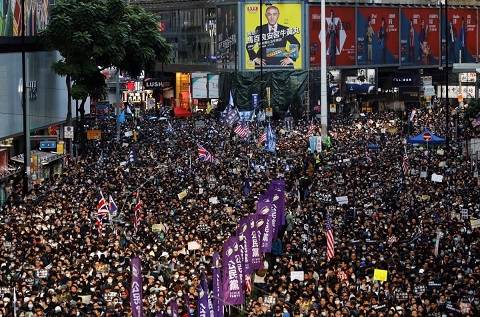 And to put a huge country "on the ears" because of the vagaries of one city? It's worth it? And, most importantly, how long will this same political crisis last? Is the game worth the candle? After all, as I understand it, it was originally supposed that the "return of Hong Kong" would increase the credibility of the Chinese state in the international arena,
so inside
Of China. There, even an electronic dial in the center of Beijing was set with a countdown
to
Hong Kong return. And what did it all result in?
I understand that the logic was as follows: the main thing is to return, and then we'll figure it out. As it turned out, all the main problems arose just after returning. Is there, excuse me, eliminated autonomy and introduced the Chinese police? They distributed Mao's quotes to everyone and made them memorize? What is wrong?
Wiki:
"The Hong Kong Security Bureau invited the Legislature to amend the Hong Kong Extradition Act in February 2019, which was supposed to include China, Macau, and Taiwan in the list of 20 countries with which there were already agreements to extradite suspected criminals."
That is, the issue is the extradition of criminals to China (in this particular case, Taiwan, with which China has no diplomatic relations). But hell, what then is the principle of "one country", even if
criminals
nobody wants to transfer to China? That is, as it were, with Don (that is, from Hong Kong) there is no extradition? Does that mean one country? Do you understand that? An interesting movie turns out ... So what is the unity, brother? Where is it, this unity?
And then we "suddenly" learn that the Hong Kong people strongly dislike the Chinese legal system. Well, then why unite? Around what to unite? Even very different (independent) states have extradition agreements. And here inside
one
countries, this principle does not apply. Well, and how to live with it? The Chinese leadership can be understood just right - some kind of nonsense is obtained in fact.
Dead end and trap. The CCP can't retreat here in any way - a complete loss of prestige. And the Hong Kongs are organizing protests. Against extradition of criminals. Somehow everything turned out "wrong". They praised China for the exemplary reunion with Hong Kong, praised ... and seem to have praised. Even after 20 years, the Hong Kong people themselves do not feel Chinese.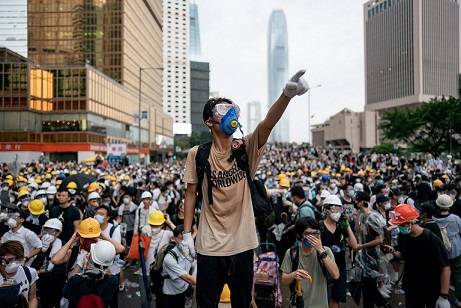 Reunion with Taiwan
I will not retell here the most interesting
history
the civil war in China and the history of the flight of the losing Chiang Kai-shekists to Taiwan and their creation of their state there. Most importantly, Taiwan was initially categorically hostile to mainland China. Fundamentally and categorically hostile. And so it was almost his whole story. Several generations of Taiwanese have grown up, for whom communist China is their worst enemy. At the same time, like Hong Kong, Taiwan is cooperating economically with Beijing, but no more.
And it is from these very positions that the idea of ​​"reuniting" with Taiwan looks rather strange. The trouble is that the people of Taiwan do not need this categorically. There, they were not "occupied" by the Americans, they themselves want to live separately. And here it is
really
problem. There, the Chinese comrades are also developing plans for a "power operation", while the American comrades are sending aircraft carriers to that region. It also means that they are publishing purely theoretical plans for the capture of Taiwan from the mainland ... Why is this all?
So to say, what is the profit? That is, in many ways, Chinese foreign policy is "suspended" in the "inevitable" military conflict with Taiwan. Why do they need it? This is a kind of trap: right now we have a big problem, but we'll solve it and everything will be fine.
First, it is completely unclear how long the "problem" period will last. And what will it cost politically and diplomatically. You know, there are no free cakes. If you have been concentrating your resources on one (possibly dead-end) direction for decades, you are wasting time and other opportunities. Why do you need it?
Secondly, it is absolutely unclear how and by what this conflict will be resolved: both China and Taiwan do not exist in a vacuum, but are tightly tied into a system of international relations. What will lead to an attempt to force solutions, one can only guess.
Well, and thirdly, it is not completely clear what will result from even the successful entry of Taiwan into the PRC. You know, "vague doubts torment me," especially judging by the example of Hong Kong. And if there will still be a real invasion, with shooting, corpses and fires? And the mass exodus of Taiwanese abroad?
Who ever said that such a scam of the century would burn out? For some reason, they are considering a "purely military option". Say, China can seize Taiwan. Of course it can. And then what to do? What will be the methods of political settlement? What will China gain from this operation? What will lose? Complete suspense.
In fact, reuniting with Taiwan is a kind of leap into the dark, you can even break your legs. Obstacle - it, of course, is a good thing, but not always and not in everything. That is, China's policy is more than predictable, and even the direction of this policy itself is more than predictable. That is, there is a great reason for manipulation.
Whether all the policies of a huge state should revolve around one island, albeit a Chinese one, is a debatable question. Somehow, this is a little embarrassing - the desire to solve the "Taiwan question" at any cost. What is this, wounded pride? But big politics cannot be based on emotions.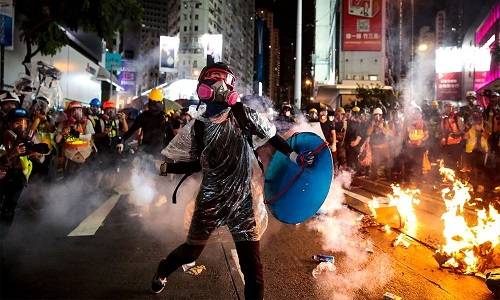 Politics and Illusions
Is such a policy generally illusory? When has a great power for decades been working on a very dubious goal? While creating yourself a bunch of problems and paying frankly insufficient attention to solving other problems? For some reason, I recall how almost the entire 19th century Russia was breaking into the Balkans, freeing the Slav brothers from the Turkish yoke.
Yes, that's right, almost the entire 19th century after the defeat of Bonaparte we spent fussing with Orthodox brothers, which brought us numerous expenses, bloody wars, the Paris Congress of 1856, the Berlin Congress of 1878 and the shots in Sarajevo on June 28 1914 ...
Then, quite predictably, all the Balkan Orthodox Slavic brothers turned to the West, and Bulgaria generally fought two world wars
против
Of Russia. It seems that we spent the 19th century a little on what we had to spend. Such an impression is formed that someone dragged us into this ridiculous adventure, which, according to the results, did not bring us anything good.
After the collapse of the USSR, they told us for a very long time that the main thing for Russia was its relationship with Ukraine. But what about the brotherly people ... At the same time, the logical arguments, namely the frank Russophobia of official Kiev, were somehow not taken into account much. The economic and political importance of modern Belarus is close to zero, but again, we are buzzing in all ears that we need to integrate. And integrate endlessly and at all costs.
Is someone trying to manipulate us in this way? And do we have more urgent tasks? And is it worth it to build big politics on emotions? That is, of course, in all the above situations, it would be necessary to conduct a policy, but tightly tying it to a specific foreign city, whether it be Belgrade, Varna or even Bobruisk, seems to be a big mistake. In no case should you deprive yourself of the freedom of political maneuver.
At one time, the Austro-Hungarian (two-pronged) monarchy wanted
at any price
solve the Serbian issue. And she even almost succeeded. When a great power wants
at any price
to solve minor (and especially foreign) problems, this usually does not end in good.