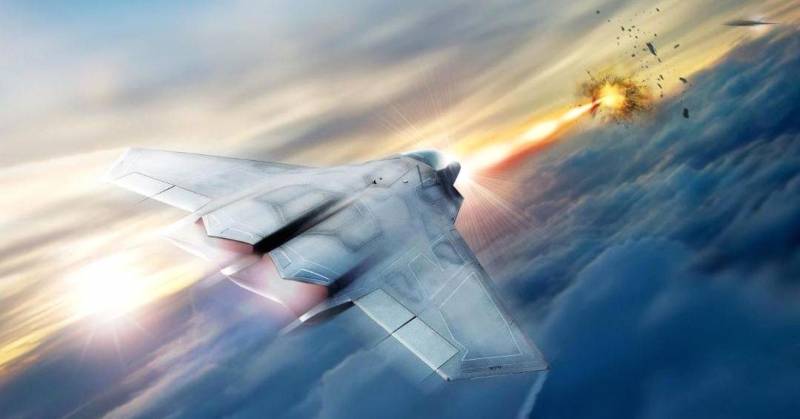 Lockheed Martin is participating in the US Navy program called SHiELD ATD, which will develop a small high-power laser system for mounting on aircraft and protecting them from air-to-air and air-to-air missiles
After several decades of laser technology, the Pentagon is finally on the verge of deployment weapons directed energy. Nevertheless, a number of problems remain that hinder the deployment of this technology in the troops.
When the U.S. Department of Defense decided in May this year to deploy the Patriot division to the Middle East to counter what they call the heightened threat of Iran, it deployed personnel that were already too exhausted by periodic rotations.
"As for the missile defense forces, we in the Middle East regularly faced this problem long before this deployment," the then deputy minister told reporters, noting that in May Patriot units the ratio of combat duty and rest in May was less than 1: 1. At the beginning of the year, the overall ratio of combat duty and rest was about 1: 1,4, while the command set the goal to achieve the ratio 1: 3.
While the American army is looking for ways to reduce the number of continuous two-shift rotations and increase the level of combat readiness, the agenda raises the no less acute question of how the future combination of kinetic and non-kinetic weapons will affect its combat needs.
"If you must engage in a battle with an almost equal rival, the Patriot complex will be effective, but will it ultimately be able to weaken or neutralize the threat?" Perhaps not. Therefore, over time, you will see new opportunities that will be introduced into our arsenal of missile defense ",
He said, adding that future major investments in the development of weapons of directed energy could change the tactical model of the army.
"Otherwise, you will continue to accumulate Patriot batteries, trying to deal with an increasing number of threats."
The Pentagon has been hunting for directional energy technologies for decades, and it often seemed that "the bird is already in the cage." Many US military officials believe that today the situation has fundamentally changed, and recent advances in this area inspire the country's armed forces with the hope of soon deploying real weapon systems for various combat missions.
Although the Pentagon seems optimistic about the deployment of directional energy systems in the near future, especially high-power lasers, there are many unresolved problems. From differences in tactical and strategic capabilities to issues related to the scalability or scalability of lasers and the financing of competing projects, the armed forces still have much to overcome.
The Stryker armored vehicle with the installed MEHEL system using 5-kW laser to combat UAVs during the US Army exercises in 2017
Change of needs
Almost six decades have passed since the advent of the laser, and almost all the time the Ministry of Defense was looking for ways to develop this technology with the goal of creating weapons of the next generation. For air defense forces, such systems promise a lower cost per defeat and at the same time a reduction in ammunition consumption. For example, if China launches many cheap missiles on an American ship, then theoretically a powerful laser could be used to direct and destroy them later.
Dr. Robert Afzal, a leading laser technology specialist at Lockheed Martin, believes that so far, two factors have prevented the implementation of laser technology: the Department of Defense's initial focus on strategic weapons and its underdevelopment.
In the past, the military allocated funds for directional energy research in projects such as the now closed YAL-1 Airborne Laser program, which was jointly implemented by the US Air Force and the Missile Defense Agency. As part of this initiative, a chemical laser was installed on the modified Boeing 747-400F aircraft to intercept ballistic missiles during the acceleration phase.
"At that time, the emphasis was always on strategic confrontation, which required very large and very powerful laser systems." Today, the proliferation of unmanned aerial vehicles and small boats has contributed to a partial shift in Pentagon's short-term focus on tactical systems. This helps the military gradually scale weapons systems with an eye to tackling new threats.
In April 2019, a discussion was held at the Brookings Institution in Washington. "I have a little idea of ​​the short and medium term prospects of directed energy,"
- noted a senior researcher at the institute.
"Apparently, directed energy can help us in a very, very specific tactical environment. The idea of ​​creating a sufficiently large laser to provide a territorial missile defense is quite unrealistic, while protecting a specific machine with an active system is a little more realistic. "
At that time, the then US Army Secretary of State noted that progress in the field of directed energy "has moved further than you can imagine", and the army's decision to restore maneuverable air defense for its heavy units makes it possible to deploy new laser weapons.
"Based on existing and new threats, this is really a big deal for us. As for where the technology goes, we are close to owning a deployable system that can shoot down drones, small planes and similar objects. "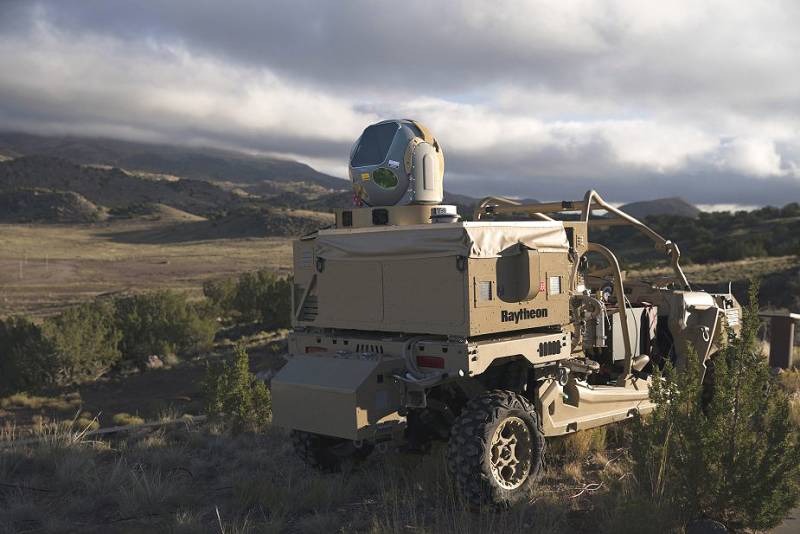 Raytheon company demonstrated a system to combat swarm of drones, consisting of a weapon subsystem with a high-energy laser and a powerful microwave installation
Technological obstacles
To create high-power laser systems capable of shooting down drones, the widest spectrum technology is needed. In addition to the base platform, a radar is used to detect air threats and various sensors to capture the target. Then the target is tracked, the aiming point is determined, the laser is activated and holds the beam at this point until the UAV inflicts unacceptable damage.
For several decades, researchers developing these lasers have been able to test a number of concepts, including major investments in chemical weapons, and then shifted their focus to scaling fiber optic lasers.
"The advantage of fiber lasers is that you can fit these lasers into much smaller dimensions."
- said during a meeting with reporters the director of the Office of DARPA (Defense Advanced Research Projects Agency).
The YAL-1 ABL system, for example, used a high-energy chemical oxygen-iodine laser and, although it successfully intercepted the test target in the 2010 year, its development stopped after almost 15 years of funding. At that time, then Secretary of Defense Robert Gates publicly questioned the operational readiness of the ABL and criticized its effective range.
One of the drawbacks of chemical lasers is that the laser stops working when chemicals are consumed. "In this case, your store is limited, and the goal was always to create a laser that works on electricity. After all, while you have the opportunity to generate electricity on your platform, either through an on-board generator or a battery pack, your laser will work, "Afzal said.
In recent years, the Department of Defense has increased investments in the development of an electric fiber laser, but has also encountered serious problems, especially when developing a laser with reduced mass and energy characteristics.
In the past, every time developers, trying to increase the power of a fiber laser to the required level for combat missions, built large-sized lasers, which in particular created problems with excessive heat generation. When the laser system generates a beam, heat is also generated, and if the system is not able to divert it from the installation, the laser begins to overheat and the quality of the beam deteriorates, which means that the beam cannot focus on the target and the laser efficiency decreases.
As the military strives to increase the power of electric lasers, while limiting the increase in mass-dimensional and energy-consuming characteristics of systems, the efficiency factor comes to the fore; the higher the electrical efficiency, the less energy is needed to operate and cool the system.
A representative of the US Army working on high-power lasers said that although generators can usually power 10 kW systems without problems, problems begin when the power of the laser systems increases. "When increasing the power of a combat laser to 50 kW or more, unique energy sources, such as batteries and the like, should already be used."
For example, if you take a laser system with 100 kW, which has an efficiency of approximately 30%, then it will require a power of 300 kW. However, if the platform on which it is installed generates only 100 kW of power, the user needs batteries to cover the difference. When the batteries are discharged, the laser stops working until the generator recharges them again.
"The system must be extremely effective, starting from the generation of energy and its further transformation into photons that are sent to the target,"
- noted the representative of Lockheed Martin.
Meanwhile, Rolls-Royce LibertyWorks said it has been working for more than a decade to integrate a power and heat control system that can be used in high-power laser systems and has recently "made significant technological breakthroughs."
A Rolls-Royce statement said these breakthroughs relate to areas such as "electrical power, thermal management, temperature control and monitoring, instant energy availability and business continuity." They added that customer testing of the system will begin at the end of this year, and if they are successfully completed, it may be possible to supply modular integrated solutions for power control and heat removal for army programs and
fleet
.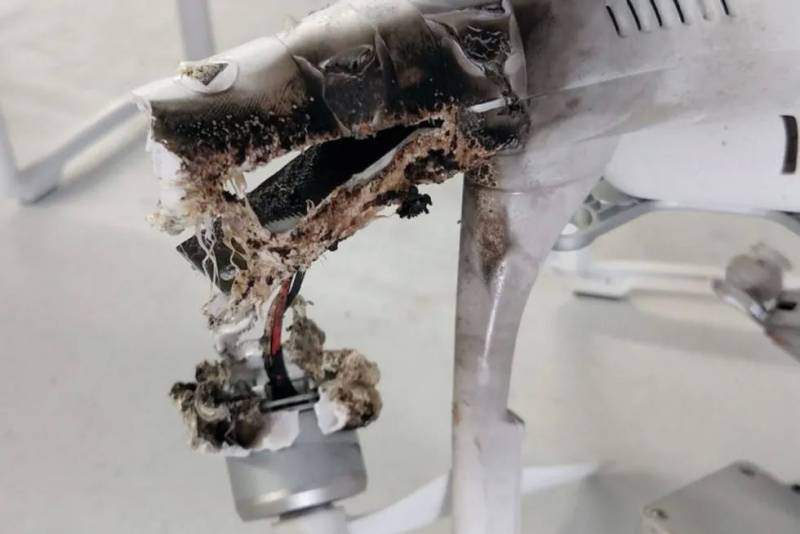 One of the drones, knocked out by the MEHEL laser system in 2017 year
Looking for solutions
The DARPA Office and the Lincoln Laboratory at the Massachusetts Institute of Technology have successfully developed a small-sized high-power fiber laser, which was demonstrated in October this year. However, they refused to clarify the details of this project, including the power level.
While the military and companies have claimed success in developing military lasers, Afzal said Lockheed Martin's efforts to address some technological challenges include a "spectral beam combining process that is somewhat reminiscent of the cover of Dark Side of the Moon album Pink Floyd bands. "
"I can't manufacture a 100 kW fiber laser if there are scaling problems. The breakthrough was made possible thanks to the ability to expand high-power fiber lasers using a beam-combining technique rather than just trying to build a larger laser unit of a larger size. "
"Laser beams from several laser modules, each with a specific wavelength, pass through a diffraction grating similar to a prism. Then, if all wavelengths and angles are correct, then there is not mutual absorption, but alignment of wavelengths in strict sequence one after another, as a result of which the power grows proportionally, "Afzal explained. - You can scale the laser power by adding modules or increasing the power of each module, without trying to just build a huge laser. It's more like parallel computing, not a supercomputer. "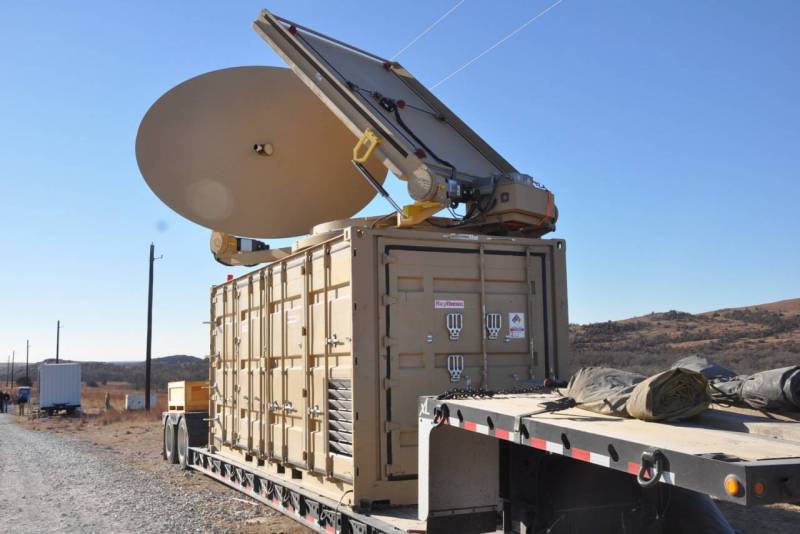 Raytheon showcases its powerful US military microwave system mounted in a shipping container
Together
Much attention is paid to the potential of high-power lasers, but at the same time, the US military and industry also see the potential of using powerful ultra-high frequencies to shoot down swarms of drones or combine them with lasers.
"Combining technology may be a good solution," General Neil Turgood of the Critical Technology Office told reporters. - That is, you can hit many objects with a laser. But I can hit more targets with two lasers, I can hit more targets with lasers and powerful microwaves. Work in this area has already begun. "
The directed energy expert at Raytheon, Don Sullivan, for his part, spoke about work in this direction. In particular, he said that Raytheon combined a high-power laser with a multispectral sighting system on a Polaris MRZR, while developing a high-power microwave system that is mounted in a transport container. Raytheon demonstrated these technologies individually during the Army Maneuver Fires Integrated Experiment (MFIX) experiment in the 2017 year, and in the 2018 year, their joint work during tests conducted by the U.S. Air Force at the White Sands training ground.
Sullivan said the laser system was used to shoot down drones flying over long distances, while powerful microwaves were used to protect the near field and disrupt swarm UAV attacks.
"Of course, the Air Force sees and understands the complementary nature of both technologies in performing not only the tasks of fighting drones, but also other tasks."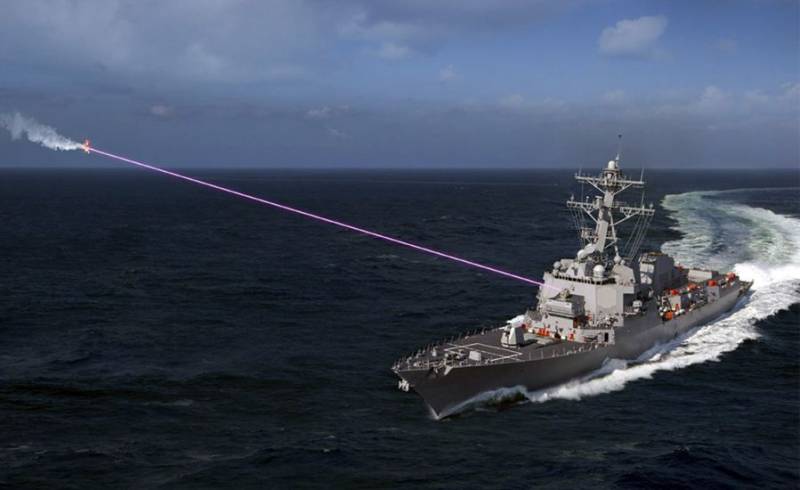 In March of 2018, Lockheed Martin won a contract for 150 million dollars (with options up to 943 million) for the development, production and supply of two HELIOS systems to the U.S. fleet for 2020
In the Navy
When it comes to problems of mass, volume and energy, warships with their large sizes have a clear advantage over land and air platforms, which allowed naval officers to launch several projects at once.
The fleet is working on the Navy Laser Family of Systems (NLFoS) family of laser systems, an initiative to deploy high-power ship laser systems in the near future. This Navy initiative includes: SSL-TM (Solid-State Laser Technology Maturation) technology development program; 150-kW high-energy laser in a protected version of RHEL (Ruggedized High Energy Laser); Optical Dazzling Interdictor Optical Dazzle Laser for Arleigh Burke Project Destroyers; and the HELIOS project (High Energy Laser and Integrated Optical-dazzler with Surveillance).
According to a report from the Congressional Research Service, the fleet also implements the HELCAP (High Energy Laser Counter-Anti-Ship Cruise Missile Program) program, which borrows NLFoS technology to develop advanced laser weapons to combat anti-ship cruise missiles.
The HELIOS program aims to provide surface combat ships and other platforms with three systems: a 60 kW laser; surveillance, reconnaissance and long-range information collection tools, and a dazzling device to combat UAVs. Unlike other lasers tested on US Navy ships, which are installed on ships as additional systems, HELIOS will become an integrated part of the ship's combat system. The Aegis weapon system will provide fire control for standard missiles, along with the planning and selection of appropriate weapons depending on the type of target.
In March of 2018, Lockheed Martin received a contract worth 150 million dollars (with options for another 943 million) to develop, manufacture and supply two systems by the end of 2020. In the 2020 year, the fleet plans to conduct an analysis of the HELIOS project in order to ensure that it meets the requirements.
A report from the Congressional Service notes that integrating lasers into ships potentially offers many benefits: shorter combat contact times, the ability to deal with actively maneuvering missiles, precise targeting and accurate response, ranging from warning targets to reversible jamming of their systems. It is noted that potential restrictions remain.
According to the report, these restrictions include: shelling only in direct line of sight; problems with atmospheric absorption, scattering and turbulence; thermal diffusion, when the laser heats the air, which can defocus the laser beam; the difficulty of repelling swarm attacks, defeating hardened targets and electronic suppression systems; as well as the risk of collateral damage to aircraft, satellites and human vision.
The potential shortcomings of high-power laser weapons noted in the report are not unique to the Navy; other types of armed forces also face similar problems.
For its part, the Marine Corps (ILC) specified tactics, methods and methods for the combat use of the Boeing CLWS (Compact Laser Weapon System) laser system, which is installed in a transport container.
A Boeing spokesman said it was planning to upgrade the CLWS system by increasing power from 2 to 5 kW. At the same time, he noted that an increase in power will reduce the time required to shoot down small-sized drones. "The Navy wants to get a very fast system that can give the desired capabilities. They are in the process of verifying the characteristics of these systems, in connection with which they have given us a contract for their modernization and capacity increase. "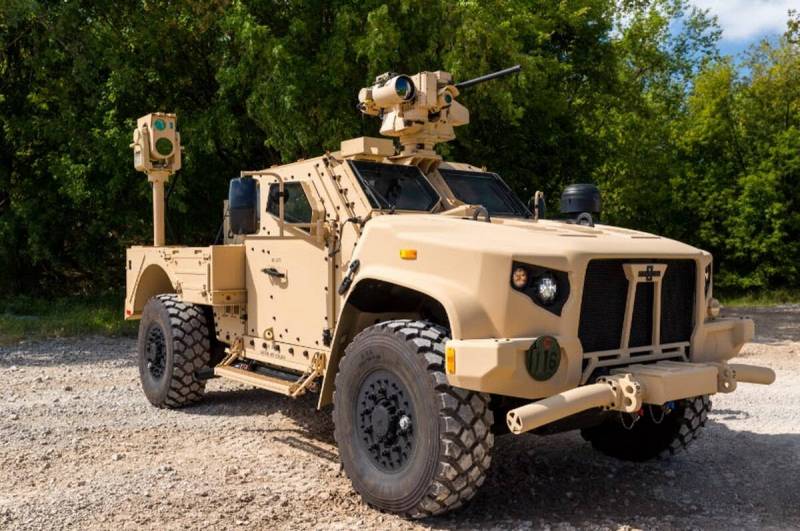 Boeing also installed its CLWS laser on the Joint Light Tactical Vehicle
Desire to invest
Throughout the first half of this year, the army command was engaged in determining current programs for directed energy and developing a long-term plan for transferring projects from the development stage to the stage of practical combat use.
As part of this activity, General Turgud was given 45 days to clarify and collect all current projects into a single register. This may result in some of them being rejected. "Once we set up the Office of High Technology, I made a special effort to find all competing directed energy projects. Everyone is working on what is called directed energy, and I'm trying to understand what this really means and what is really happening there, "Turgud said at a hearing at the committee on the armed forces.
At the end of May, the army command approved a comprehensive plan, which provides for increased investment and accelerated development of laser and microwave technologies in various army projects. During a press conference, Turgud announced that the army had decided to accelerate the MMHEL (Multi-Mission High Energy Laser) program, in which 50-kW lasers would be installed on Stryker armored vehicles as part of a short-range air defense system. If everything goes according to plan, then by the end of the 2021 year the army will adopt four cars with laser systems.
It is not yet clear which initiatives will be combined or closed, but Turgud said that this will certainly happen. "Some people are working, say, on an 150-kW laser, which will ultimately be installed on a truck and trailer or ship. "We don't need our own 150 kW laser program, we can combine such projects together, accelerate this process and save resources for our country."
Meanwhile, a number of directed energy initiatives remain in the army's portfolio. For example, the army used MEHEL (Mobile Experimental High Energy Laser) in order to accelerate the development of promising laser systems and to develop tactical techniques, methods and principles of combat use related to the operation of such systems. Under the MEHEL project, the army installed Stryker on a machine and tested lasers up to 10 kW.
In May 2019, a group led by Dynetics announced that it had been selected to develop an 100 kW armament system and install it on FMTV trucks (Family of Medium Tactical Vehicles - medium-duty military vehicles) under the HEL high-power laser setup demo development program TVD (High Energy Laser Tactical Vehicle Demonstrator). This is being implemented as part of the army's work on directional energy weapons designed to combat missiles, artillery shells and mortar mines, as well as drones.
In accordance with a three-year contract worth 130 million dollars, a tripartite group was formed (US Army, Lockheed Martin and Rolls-Royce) to prepare a critical analysis of the project, in which the final laser design will be determined, after which the system itself will be fabricated and installed on the FMTV truck 6x6 for field tests at the White Sands missile test site in 2022.
This trio plans to increase the power of Fiber Laser Lockheed Martin, for which Rolls-Royce is developing a power system. At the same time, Rolls-Royce refused to disclose whether it would use its new integrated energy management and heat transfer control system.
In 2018, the army announced it was working separately with Lockheed Martin to equip the drones with a powerful microwave system to shoot down other drones. Under a contract worth 12,5 million dollars, this duo will develop an airborne anti-drone system. Possible payloads for UAVs will include explosive devices, networks, and microwave installations.
However, the director of the DARPA Office told reporters that despite progress in the field of directed energy, the armed forces are still far from integrating technology into the aircraft, and therefore ships and ground vehicles are likely to become the first base platforms.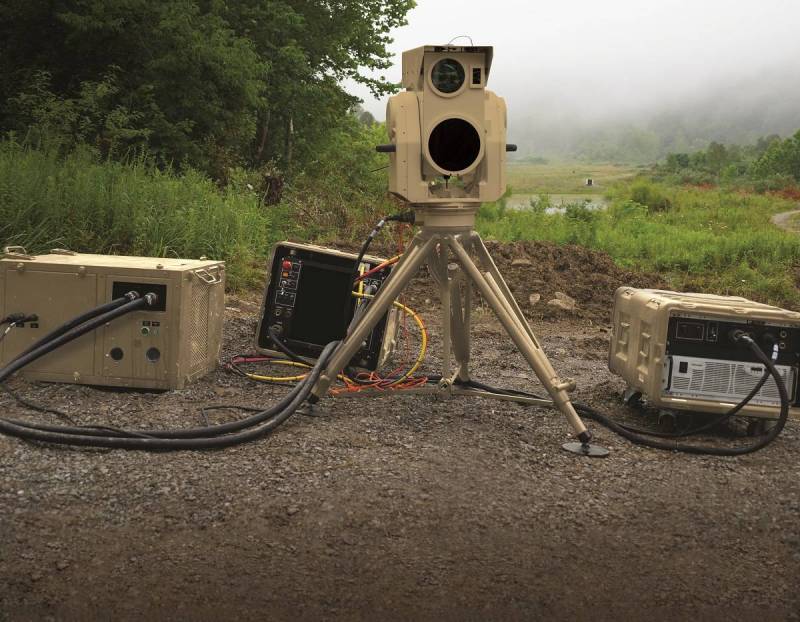 Boeing CLWS laser device on a tripod. The ILC also put this system in shipping containers
In the sky
The U.S. Air Force is also implementing directional energy projects, including those developed under the SHiELD ATD (Self-Protect High Energy Laser Demonstrator - Advanced Technology Demonstrator) prototype program, which includes the installation of a small high-power laser system on aircraft to protect against missiles ground-to-air and air-to-air class.
At the beginning of this year, the Air Force research lab announced that it had achieved intermediate success when it used a ground-based test sample to shoot down several missiles. As technology evolves, the US Air Force plans to make the system smaller and easier and adapt it for aircraft.
A more ambitious plan by the Pentagon and the Missile Defense Agency is a retrospective of President Ronald Reagan's Strategic Defense Initiative project, also known as Star Wars, which theoretically provides for the deployment of laser weapon systems in space.
In January this year, the Trump administration published a long-awaited missile defense review, which positively assessed the work of the Missile Defense Agency in developing directed energy weapons to intercept ballistic missiles in the upper part of the trajectory. In 2017, for example, the Agency issued a request for information on high-altitude drones with a long flight duration, which would have a load capacity that allows the installation of powerful lasers for the destruction of intercontinental ballistic missiles in the upper stage. The request for proposals, issued in 2017, provides that the UAV will fly at altitudes of at least 19000 meters, have a load capacity of at least 2286 kg and available power from 140 kW to 280 kW. In order to create a promising installation for such drones, the Agency is working with Boeing, General Atomics and Lockheed Martin, exploring the possibility of implementing high-power laser technology on board UAVs.
"As for us, we place particular emphasis on capture, tracking and guidance,"
- noted the representative of Boeing.
"These are really our key competencies, which we have gained while working with chemical lasers. Boeing has demonstrated this in all of its systems and has shown that, using existing technologies, you can create a compact, highly efficient capture, tracking and guidance system and integrate it into any laser device without any problems, thereby significantly increasing its capabilities. "