Different countries of the world continue to work on the development of armored vehicles, using different approaches to creating promising projects. World Tank Leaders Continue Improving Main Combat
tanks
, implying the creation of new cars or modernization of old ones. Other countries cannot afford such expensive equipment, as a result of which a completely new concept is being formed. It provides for the construction of a medium-mass tank with the maximum possible characteristics for it.
It should be noted that this concept is not fully new. The first projects of this kind appeared in the seventies of the last century. However, in the future, the situation in the field of armored vehicles changed, and as a result, the designers had to return to old ideas that could be implemented with the use of modern technologies and components.
New old concept
Over the past few decades, the army and tank builders have shown great interest in the so-called. main battle tanks (MBT). This class of equipment combines high mobility, good security and outstanding firepower. However, modern MBT is not without flaws. First of all, the development of technology and increased performance has led to a serious increase in cost. As a result, not all armies of the world who wish to upgrade their fleet of armored vehicles can afford to purchase a significant number of main tanks.
In addition, in some regions, the purchase of high-grade modern MBT does not make sense for objective reasons. A likely opponent of the buying country may have a weak army with outdated equipment, and in this case, the latest tanks will be simply redundant to solve their problems. Much more successful tool for waging war in such a situation could be a tank, which has major differences from the classic MBT.
In the past decades, a light tank with less powerful defenses and weaker weapons was considered the addition or alternative to MBT. However, actual threats on the battlefield have so far reduced the value of such equipment. Light tanks of the past, above all, no longer meet the requirements for protection, and this fact was taken into account when creating new projects.
To date, tank-building enterprises of several countries - both recognized industry leaders and smaller manufacturers - have managed to work out and form a new concept for armored vehicles. She has not yet received the generally accepted name, but most often these machines are called medium tanks. It should be borne in mind that the modern medium tank is significantly different from the same-name machine, which in the past gave way to MBT.
Requirements and opportunities
A key feature of the "new" medium tank is the reduced cost. This problem is solved by reasonably simplifying the configuration and, as a result, some reduction in performance compared to MBT. It is understood that the average tank on the battlefield may not meet with the main one, and his opponent will be a different technique. As a result, when designing it, it is necessary to take into account real threats in the proposed theater of military operations. The specificity of modern local conflicts makes it possible to rationally reduce some characteristics, which leads to cheaper cars.
The first way to simplify, facilitate and reduce the cost of a new medium tank is to use less powerful armor. The main threat to technology in current conflicts are small
weapon
large caliber and small-caliber artillery, as well as anti-tank missiles and grenades. Thus, instead of a powerful armored obstacle, typical of MBT foreheads, you can use lightweight protection on an average tank, which can withstand hitting projectiles of caliber up to 30 mm. Modern anti-tank grenades and missiles are capable of striking even the main tanks, and therefore not only armor is needed to protect against them. Medium tank should be equipped with dynamic or active protection. In the conflicts of the last decades, explosive devices were of particular importance, which requires equipping the armored vehicle with anti-mine protection.
On a number of theaters the medium tank will not be able to meet with the main one, since it will have to fight light armored vehicles and outdated tanks. Thanks to this, it becomes possible to save money on armaments by abandoning the most powerful weapons. The caliber of the main gun can be reduced to 100-105 mm, which will be enough to defeat outdated tanks, not to mention lightweight technology. At the same time, there is still a need to use twin and anti-aircraft machine guns.
The fire control system can be simplified in accordance with the wishes of the customer, but you should not save much on it. With the help of all-day and all-weather observation devices, an average tank will be able to find and attack targets earlier, reducing the risks of a successful retaliatory strike. In some situations, even a simplified tank with a modern MSA will be able to implement the concept of "hunter-killer" and effectively deal with actual goals.
A modern medium tank should have a combat mass of no more than 35-40 and show high mobility characteristics. When designing it, it is advisable to use already existing components of one or another purpose, which will speed up and reduce the cost of production, as well as simplify operation.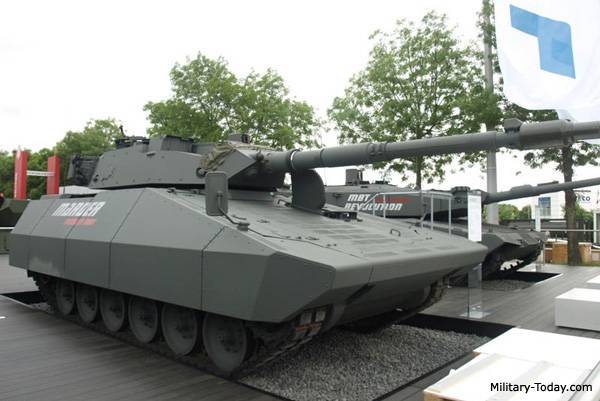 Medium tank Marder Medium MBT from Rheinmetall. Photo Military-today.com
"New medium tank", differing from other armored vehicles, is able to solve various combat missions. First of all, he can carry out support for infantry in conditions of general arms combat or low-intensity conflict. At the same time, it can be used both in ground and in airborne troops. Also an average tank can be a reconnaissance vehicle capable of standing up for itself. In fact, this technique is more flexible tool than the modern MBT traditional appearance.
Class representatives
The first representative of the conditional class of the "new" medium tanks can be considered the TAM armored vehicle, developed in the mid-seventies by the German industry for the army of Argentina. The customer could not buy an expensive car, and in addition, he had strict mass requirements related to the landscape and road network of the country. The design problems were solved in an interesting way. The Thyssen-Henschel company, which developed the TAM tank, took the Marder serial infantry fighting vehicle as a basis. Its insides were seriously reworked, and a tower with an 105 caliber mm gun was placed on the roof.
The TAM tank had a battle mass of just over 30 t, was protected from bullets, fragments and small-caliber shells, but at the same time carried a relatively powerful weapon. 105-mm shells could hit all types of armored vehicles that were in service with neighboring countries. Subsequently, various tank modernization projects were developed and implemented. The tank chassis, developed on the basis of the BMP, proved to be very successful. Later, on its base, other machines for various purposes were created.
In 2013, Rheinmetall presented its vision of a medium tank called the Marder Medium MBT. This machine was also based on the chassis of a serial BMP and, in its overall appearance, differed little from the TAM tank. At the same time, it used modern units and components. The specimen presented was claimed to withstand a projectile with a caliber of at least 30 mm, and also carried an 105-mm cannon with a modern SLA. Combat weight reached 43 t - primarily due to the installation of additional booking corps.
As far as is known, the medium tank Marder Medium MBT never went into the series, although it was able to attract the attention of foreign experts. In this case, we can assume that this particular vehicle gave impetus to the new stage in the development of armored vehicles, which is being observed at the present time. The concept of a lightweight and cheap tank interested the military in different countries and was implemented in new projects. One of them will soon reach mass production.
According to the latest data, this year the Indonesian Ministry of Defense will sign a contract for the serial production of MMWT Harimau medium tanks, developed jointly with Turkey. This machine is based on the redesigned chassis of the Kaplan 30 multipurpose platform. It installs a ready-made CMI Cockerill 3105 tower with a 105 caliber mm. The tank is protected from small-caliber artillery and is capable of destroying outdated tanks. The mass, according to various estimates, does not exceed 30-35 t.
The customer of the Harimau tank was Indonesia, and soon she plans to sign the first contract for the supply of production vehicles. It also became known that some other countries of Southeast Asia are showing interest in this tank. They can also become customers of such equipment. Unless, of course, the Indonesian industry copes with its release.
Russian version
With the advent of MBT, light and medium tanks have lost their importance, and therefore for several decades in our country they have not received too much attention. Nevertheless, the development of one of the promising areas in the past led to the emergence of a combat armored vehicle that meets modern requirements for "new" medium tanks. It was a self-propelled anti-tank gun (SPTP) 2C25 "Sprut-SD". It is curious that in foreign publications the Russian UTP is often referred to as a light or medium tank.
The Sprut-SD of the base modification was built on the basis of the chassis of an experienced light tank. The armor of this body provided all-view protection against small arms of normal caliber, and the frontal unit could withstand shelling from large-caliber systems. Not so long ago, a new version of the 2C25M Sprut-SDM1 was created, using a different chassis with similar protection options. Both chassis used give the car a high mobility, as well as provide for crossing water obstacles by swimming.
A smooth-bore gun-launcher 2А75 of caliber 125 mm - a modified version of the tank gun 2А46. Such a gun can use all existing 125-mm projectiles and missiles, so that in its firepower SPTP 2-25 only slightly lags behind the Soviet and Russian main tanks. The main gun is complemented by machine guns and smoke grenade launchers. In the latest modification of the "SDM1" self-propelled gun gets modern observation and guidance systems, as well as fire control tools that enhance its similarity to Russian tanks.
Thus, despite the official classification, the 2C25 "Sprut-SD" cars can be considered as another representatives of the class of new medium tanks. They combine low mass, high mobility, limited protection and firepower almost at the level of the MBT. Nevertheless, the Russian command considers these UTP exclusively as a means of fire support for air assault forces. Such equipment is available only for the Russian Airborne Forces and is not planned to re-equip other types of troops.
Response to a threat
The formation of a new class of armored combat vehicles leads to the appearance of obvious questions about how to combat them. A careful study of this topic can show the curious features of the situation. "New" medium tanks are still gaining popularity, and effective means of dealing with them already exist and are being introduced.
Obviously, the specificity of the fight with a specific model of armored vehicles is determined by the characteristics of its protection. Almost all new medium tanks, as well as many other light and medium armored vehicles of other classes, have frontal projection protection that can withstand an 30-mm artillery projectile. This means that large-caliber weapons are needed to combat them. However, it turns out that not all existing systems are suitable for this task.
Modern tank gun caliber 120 or 125 mm guaranteed to hit the tank TAM, Marder Medium MBT or Harimau. However, the characteristics of such weapons are unnecessary for these purposes, and therefore shooting at them will not be economically advantageous. Medium-caliber guns can be a more convenient means to combat current targets. They can show the required characteristics with limited cost and complexity.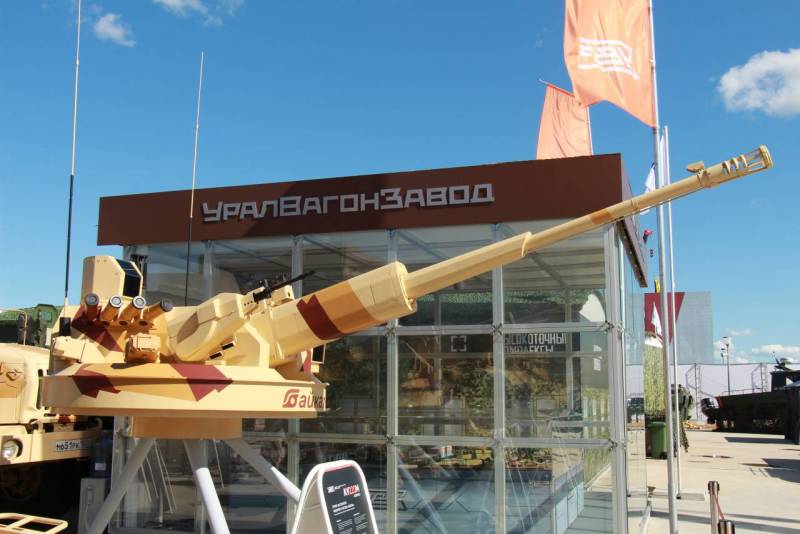 The "Baikal" combat module with the 57-mm automatic cannon is a promising means of combating new medium tanks. Photo NPK "Uralvagonzavod" / uvz.ru
In recent years, the issue of creating automatic guns of the 40 caliber mm has been actively studied abroad. Such weapons are considered as weapons of modernized and new armored combat vehicles. The installation of 40-mm guns in the towers and remotely controlled combat modules. In addition, this year the Chinese project of a light self-propelled unit with similar weapons, built on the basis of an unprotected all-terrain chassis, was presented.
Russian designers went even further. For several years, exhibitions showcased promising combat modules equipped with an 57-mm automatic cannon. Such products have found application in a number of projects involving the construction of new equipment or the modernization of old ones. According to calculations, the caliber 57 mm provides a significant increase in muzzle energy and, consequently, the power of the projectile. Due to this, it is possible to effectively hit equipment with light protivosnoryadnoy protection. It is also possible to break through the armor of outdated tanks.
Thus, in parallel with the new class of armored vehicles, means for combating it, which are distinguished by high efficiency, are being developed. The tools of enlarged calibers are gradually being introduced into new projects and reach operation in the army. In the future, as new equipment appears with characteristics that meet modern requirements, such weapons should become more widespread.
Ways of development
A number of characteristic factors that limit the development of armored combat vehicles, leads to the formation of new unexpected concepts. Thus, against the background of the rapid development of powerful and efficient main battle tanks, there was a gradual return to the idea of ​​a simplified and cheap medium tank with reduced characteristics and modern equipment. New projects of this kind appear regularly, and some of the promising designs get a chance to go into service.
The events of recent years show that small and poor countries that do not have the ability or desire to acquire main battle tanks still do not remain without the necessary armored vehicles. They prefer to buy samples of other classes that meet existing requirements and financial or production capabilities. However, not all the projects of the "new" medium tanks reached mass production, and such equipment is still not widely used. But it can be expected that in the future this situation will change, and this will lead to new curious events.
On the materials of the sites:
http://globalsecurity.org/
https://armyrecognition.com/
https://breakingdefense.com/
https://rheinmetall-defence.com/
http://military-today.com/
http://gurkhan.blogspot.com/
https://bmpd.livejournal.com/