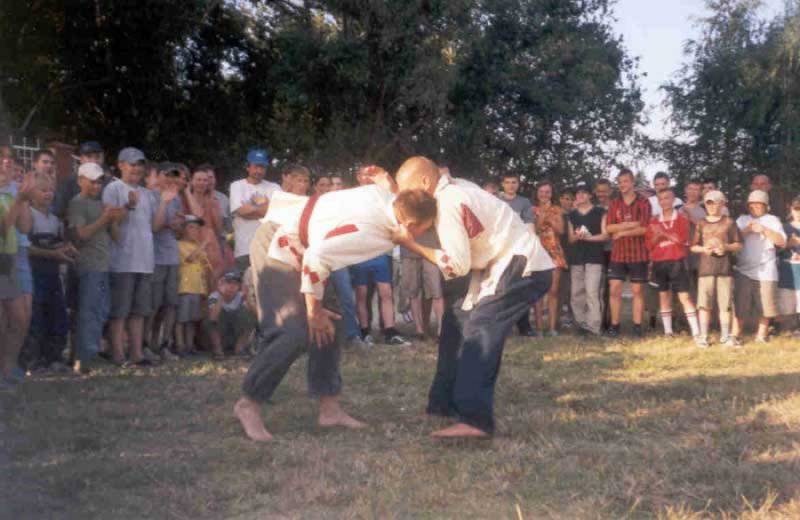 Few people wondered why today we need combat skills and knowledge, for what purpose we are engaged in them. Of course, this in no way concerns those people who, by the nature of their professional activities, are obligated to do this, no, we are talking about us - mere mortals.
When you start asking about it for those who do it just like that, for yourself, then you get an unequivocal answer - you just like it. Where does this love for this occupation come from?
Each person perceives martial arts in his own way: some as a hobby, others as a desire for security, but almost everyone has one common external enemy factor, and most often it's a street. No one is immune from falling into an extreme situation. And if this is called a dangerous work for security officers, for which they prepare, they train, then for most people who are engaged in martial arts, such extreme situations are the only way to stand up for yourself, not to be beaten and humiliated.
After all, each of us, whether he is a doctor, a programmer or a special forces fighter, is exposed in life to the same risk and danger.
Studying the pages of the Russian chronicle works, it is simply impossible not to marvel at the courage and courage of our ancestors, when an enemy stood in front of them, tens of times better than him numerically.
For many centuries Mother Russia has produced a natural selection of such people who could defend themselves and therefore did not die, but survived, in order then to transfer their own specific skills to their descendants, and not only that. Their predisposition to combat skills and knowledge was also part of the inherited inheritance, which, as a living chain of knowledge, passed from one generation to another, and finally reached us, their descendants today.
And today it is time for us to think about what we will pass on to our children, what responsibility will fall on their shoulders.
Genetics is a "great" science, and it is she who always says that information is transmitted from generation to generation at the gene level. In this case, this is the information that has helped a particular family survive, which is already manifested in our children, highlighting their interests and predispositions. And we, their ancestors, need to be traced as long as we can, so that it is the most important predispositions and skills that are strengthened, and the minor ones themselves, over time, gradually step back and quietly die away.
On a subconscious level in Russian, the types of Russian dances, folk games, such concepts as beauty and honesty, various methods of armed as well as unarmed struggle with their enemies are sleeping.
And it is for such people that there is a program for teaching Russian martial arts, which has as its goal self-education. The main thing in this program is the knowledge of one's roots, the deepening of one's knowledge in such directions as a folk song, language, dances, prayers, fairy tales, games, lives of our saints,
stories
heroes, army, state history, household, etc.
For hand-to-hand combat, the entire structure of Russian life served as a motive base, which provided certain skills and abilities for fighting and promoted good health. It was impossible then to walk three times a week for training, there was no time, and it was necessary to somehow exist. It was necessary to fish, hunt, work around the house, sometimes fight - that's the whole training. And the motor base was created as a result of natural household movements, for example, bending a thick branch, brushing thin branches with a hand, etc. And today you can engage in any activity, work in production, play sports, hunt, fish, etc., the main thing is to always be in motion, not lie on the couch and talk aloud about hand-to-hand combat techniques. All this together can be called such generalizing concepts as tourism, life and work in the country.
The impetus for the revival of the forgotten Russian style in the martial arts were the difficult years of the Great Patriotic War. It was the use of the Russian style that helped the Soviet soldiers emerge victorious from many hopeless situations.
Few people know that back in the distant 1945 year, only ten paratroopers, led by Captain V. Leonov, were able to capture six thousand soldiers of the Kwantung Army, but this, and not only, history is silent.
The reason for this is the fact that after the victory, the Russian martial arts were hidden behind the high walls of special schools, in which they prepared saboteurs. Therefore, for a long time this national treasure was practically hidden from the people.
Training in martial art is a complex multi-factor system, using various methods and means that are aimed at the physical development of a fighter and are intended to prepare him for a fight with one or many opponents. At the same time, the development of all physical qualities in the practice of martial arts is an integral part of a single training process, which is organically intertwined with tactical and technical training, as well as the development of mental qualities.
One of the main means of development, and later improvement of physical abilities and qualities - this is physical exercise. In order to successfully practice martial arts, you must have a very high level of development of many physical qualities, such as strength, speed, agility, flexibility, and also have a high level of special endurance.
The specific meaning of training in martial arts is, ultimately, training in such motive techniques and actions that reflect the characteristics and specificity of this particular type of Russian martial art.
These are percussion techniques with legs and hands, continuous combinations that combine multilevel efforts, and, most importantly, high-speed linear-circular strikes with all parts of the arms and legs, starting with fingers, fists, elbows, shoulders, and ending with feet, knees, hips.
In today's turbulent times, group attacks are ubiquitous, which is why Russian martial arts devote so much attention to the tactics of actions taken against a large group, as well as psychological and technical features in such a fight. Only those who are more prepared psychologically can expect to be able to survive in an extreme situation.
Combined melee combat is an order of magnitude more effective in self-defense than martial arts that specialize in unarmed combat. Indeed, it is much easier to slaughter a person than to beat them with bare fists. For a man who was brought up in the traditions of Russian martial art, it was quite natural to be armed.
The knife was originally part of a traditional military Russian costume. Russian fighter has always been with
weapons
, which meant one thing: if an attack was being prepared against him, then the one who attacked knew that he would definitely deal with an armed man, and therefore, he himself was armed.
With a high probability, such a conflict could always end in the death of someone, and any man understood this. And the proximity of death made every Russian, and in those days the words Russian and a warrior carried one meaning, sensual to all the divine. Therefore, while the man was brought up in military culture, the true Orthodox faith was strong in Russia. To be Russian always meant to be both a warrior and an Orthodox.
To Russian martial art include such areas, which are based on the ethnographic reconstruction of martial arts like Skobar - Slavic-Goretskaya struggle, Tver bouza, etc.
There are quite original among them, but there are also many homegrown ones, which are only a semi-literate demonstration of power, a kind of mixture of kick-boxing and power struggle. Some of them proved their involvement in "Russianness" with the help of rituals and clothes, which more resembled a farce, others had some special, supposedly Russian, manner of movement, but the real Russian martial arts are reconstructed to date such fights as fist or stenosh, Russian buza and others.
Russian martial arts quickly gained popularity in very narrow circles, but among professionals it was not immediately recognized. Today there are practically no official competitions in Russian battles, however, representatives of Russian martial arts perform in mixed styles.
You can easily identify the so-called Russian style - by the basic technique, which basically consists of several of the following elements: getting into the correct plane for a strike, unbalancing the opponent and possibly finishing it.
In classes on Russian martial arts, close attention is paid to the study of history, Russian culture, as well as the art of gun ownership.
In Russia, initially there were a lot of fighting men's games, the most important of which are "wolves and hunters", developing a sense of battle distance, "daisy" - for leaving in group fights, as well as the notions of "back" in battle, leapfrog, "blind with a whip or a whip ", wrestling, football with a tennis ball, etc.
Combative folk dances - "Russian dance", Komarinskaya, ryazanochka - dancing with weapons, mistress, crouching are no less interesting and relevant.
Remember, earlier in the school there were TRP norms, and now our young people are not suitable for anything, either for work or defense, therefore a powerful complex exercise is exactly what controls a person's physical condition.
You can immediately check yourself, considering how many pushups you can do.
If the rate is low, then you need to start working in such a way as not to become a burden for your loved ones, moreover, to become their protector.
Here are some tips for doing the right thing.
One of the most important things to learn for those who will study on their own, without a mentor, is control over the loads being taken, otherwise only harm and no benefit will be. To do this, you need to grope around the neck of the adolescent and calculate the pulse per minute.
It is better to be engaged from 10 to 13 hours, and also from 17 to 20 hours - at this particular time the body is as ready as possible for the loads. The room must be ventilated.
Start and finish classes need to gradually.
You need to sleep an odd number of hours, and then nerve cells and protein will be restored most productively.
Eat better twice a day, doing one day a week unloading.
Adhering to these recommendations, and most importantly, doing everything with passion and enthusiasm, and not by force, you can create your own stereotype of a real Russian person, of what our ancestors dreamed of. The Russian people survived only because they possessed a culture of transmitting certain information along generic chains, and also because they were able to bring up the most appropriate survival methods in subsequent generations, for example, the same martial arts.
Materials used:
http://cmekalka.orthodoxy.ru/Article20.html
http://www.kem-systema.ru/content/view/879/122/