In Germany in 1917, requirements were announced for an aircraft machine gun with a rate of fire of more than 700 rounds per minute, suitable for mobile
aviation
installations. Carl Gast (Gast) developed an organically paired automaton circuit. Presented by Forwerk, the Gast double-barreled machine gun was tested in the fall of 1917, and already in the winter an order was issued for 3 machine guns. True, now they were intended to be used in the air defense system - the increasing superiority of the allies in the air affected, but some were nevertheless used on aircraft.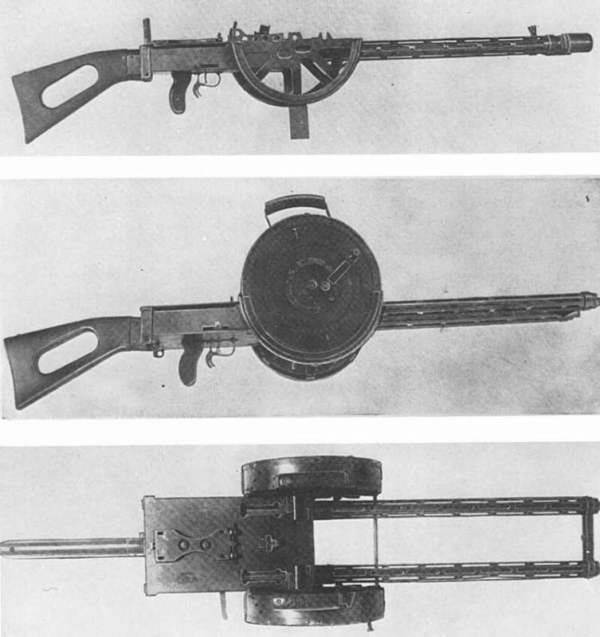 In both systems, the barrel recoil scheme was used in the short run, kinematically they were tied by a swinging arm. Swivel larva, made in the form of a roller, made the barrel bore locked. The roller was attached to the receiver vertically. The mobile system moved forward at a speed equal to the recoil speed, and the rate of fire increased to 1600 rounds per minute, the weight and dimensions were less than that of conventional machine guns, and the recoil impulse transmitted to the support did not exceed the recoil impulse of one barrel. Each barrel was powered from a disk magazine with a radial 180 (192) cartridges.
Finalize this promising
weapon
simply did not have time. The assembly of the first production models began shortly before the conclusion of a truce. Developed versions with caliber 11 and 13 mm, were not built. The degree of secrecy of work on "especially rapid-fire" machine guns was so high that the Allied Disarmament Commission became aware of it only after 25 units were discovered in the Königsberg fortress, the commission registered 1314 machine guns and full sets of parts.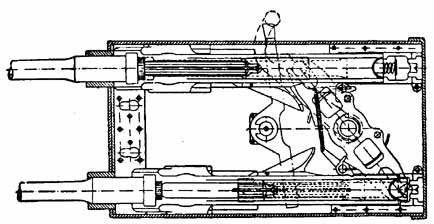 Technical characteristics of the Gusta machine gun:
Patron - 7,92x57 "Mauser";
The mass of the "body" of the machine gun is 18,5 kg (without cartridges);
The length of the "body" of the machine gun - 1470 mm;
Barrel length - 720 mm;
Grooves - 4 right;
Initial bullet speed - 895 m / s;
The rate of fire - 1300-1600 shots per minute;
Magazine capacity - 2x180 cartridges;
Installation type - anti-aircraft tripod;
The angle of horizontal guidance - 360 grad mustache.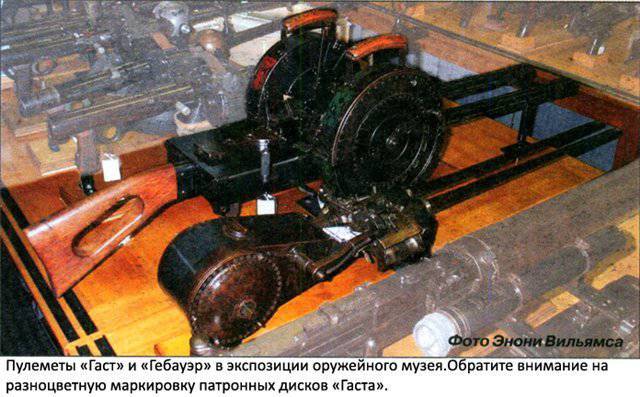 Based on: S. Fedoseev - Machine Guns in the First World War