A series of several articles on canvas boots and footcloths, as well as their comparative advantage over boots with socks, brings us to further consideration of how this tarpaulin can be useful and even vital for the army.
In my opinion, it is worth considering a situation that the army has not yet encountered, but the occurrence of which is quite probable - fighting in radioactively contaminated territories, later, for better clarity, on "dirty land".
"Dirty land": from nuclear war to total war
Of course, the widespread assertions that there would be nothing more after a nuclear war, have no basis other than enemy military propaganda. It will, and how it will be! Why I think so, it will be possible to set out in detail in another case, so as not to be distracted from the main topic now. Spots of radioactive contamination may well appear for a variety of reasons.
First, nuclear war, that is, radioactive contamination from nuclear explosions. Around the areas where nuclear
weapon
will be applied massively, there will be a large stain of radioactive contamination.
Secondly, the destruction or damage of nuclear power plants, storage of nuclear fuel and radioactive waste caused by hostilities. For example, a direct hit of the GBU-43 bombs equipped with 8,4 tons of powerful explosives in the power unit of the Leningrad NPP, is quite able to arrange a repetition of Chernobyl. The same RBMK-1000 reactors are installed at this NPP as at the Chernobyl NPP. The destruction of a reactor with a powerful explosion will undoubtedly cause about the same consequences, and then a significant part of the Leningrad Region may become "dirty land".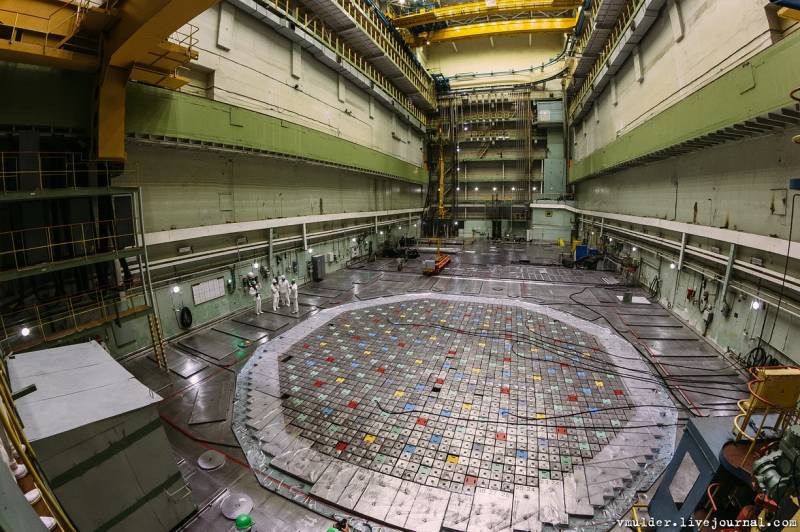 RBMK-1000 at the Kursk NPP, the same as at the Chernobyl NPP and at the Leningrad NPP. Under the site, filled with steel "cubes" - biological protection, is the reactor itself. GBU-43 will easily pierce the ceilings of the reactor hall and the biological protection of the reactor.
Third, the destruction or damage of the same nuclear facilities due to technological reasons: weakening of control over them in wartime, inadequate repair and maintenance, difficulties with power supply, and so on. In wartime, a weakening of attention to atomic objects is quite likely, which can lead to serious accidents.
Fourthly, already existing zones, such as the Chernobyl "thirty", the Semipalatinsk test site, the East Ural infection area, which also have some chances to be in a combat zone.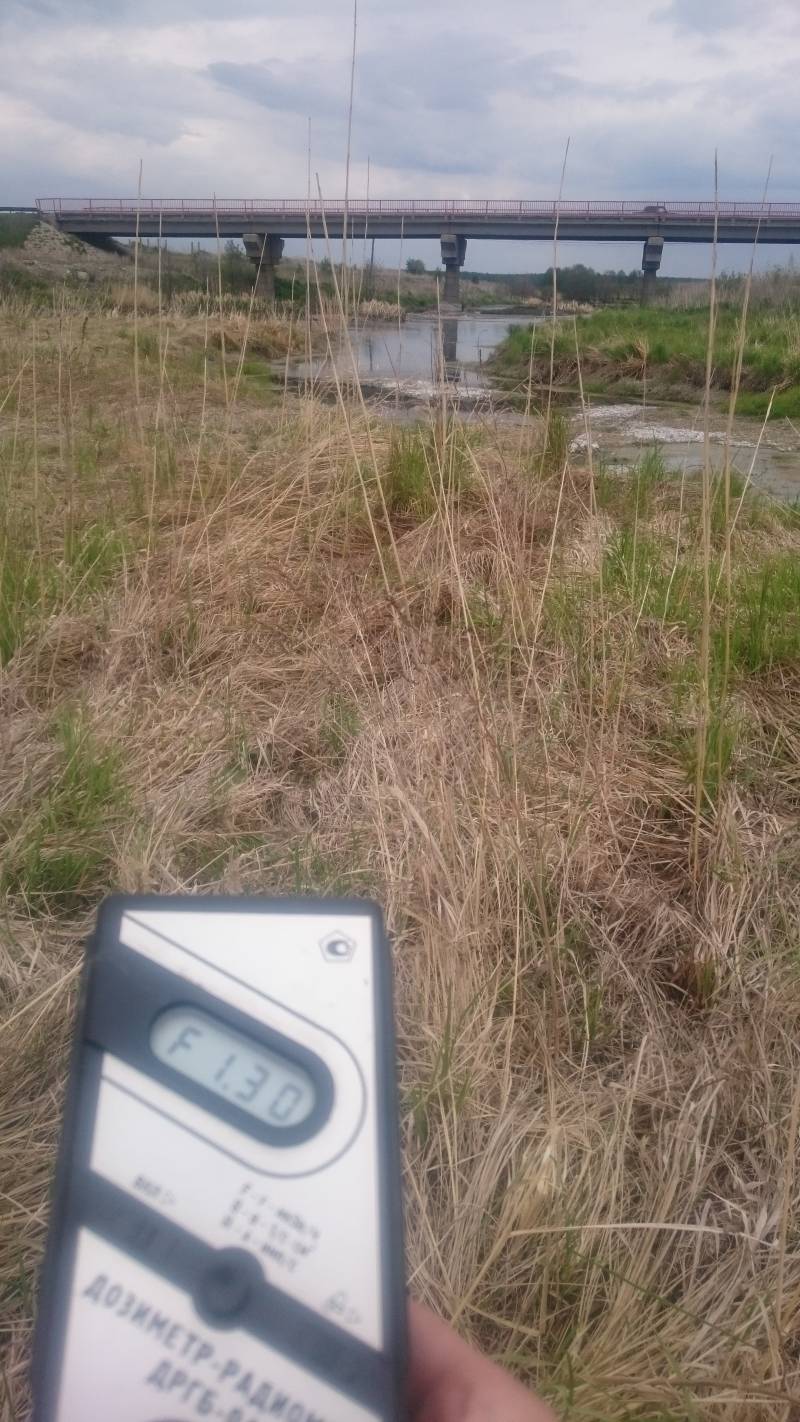 The radioactive river Techa, near Muslyumovo, Chelyabinsk region in the East-Ural zone of radioactive contamination. The dosimeter shows 1,3 μSv / h, at this point the dose of 100 X-rays can be collected in 320 days. Non-lethal, but a good example of how the most pastoral landscape can actually prove dangerous.
As you can see, the list of causes is quite voluminous, and most of them are not directly related to nuclear war. To them you can add another reason. In the last world war, the methods of "total war" were quite widely used, including the destruction of everything of a little bit valuable in the territory left to the enemy. This is not only evacuation, but also an explosion of factories and plants, burning houses, burning grain and crops, slaughtering livestock and similar measures of total economic war. In the new world war, their list may be supplemented with radioactive contamination of the territory being left. Technically, it is not so difficult to do this; it is enough to spray over a certain territory a powder of highly radioactive substance, an aqueous solution of radioactive salts, or simply use liquid radioactive waste that has accumulated tens of thousands of tons. To do this, it can be created special equipment (something like a fire truck with a lead cabin) or special ammunition, for example, bombs filled with cobalt powder with a source of neutron radiation. Infection of the territory will reliably block its economic use, since it will be impossible to live and be on the "dirty ground" for a long time so as not to grab a large dose and not die from radiation sickness.
So the fighting may well be associated with the need to fight on the "dirty land", and the likelihood of such a turn of events makes this topic be considered in terms of preparation for it.
The subtleties of grabbing the dose
In order to understand how to conduct combat operations on "dirty land" and what is needed for this, it is necessary to understand how radiation occurs in a radioactively contaminated area.
Radioactive substances usually fall into a certain territory in the form of the smallest radioactive dust or aerosols. The activity of the source is measured in Becquerel or Curie (the second unit is more convenient), reflecting the amount of radioactive decay in a certain period of time. If a radiation source (dust or aerosol) has covered a certain area and there are radiation sources everywhere on it, then the activity can be measured in curie / sq. km Activity over 0,1 curie / sq. km is dangerous and people should be resettled from this area. For comparison, Chernobyl gave pollution in many territories with 40 Curie / sq. Activity. km and above.
Radiation negatively affects a person not instantly, but for a certain time, until particles pierce his body and lead to cell damage. Accordingly, time plays a role. A person can take a highly radioactive object (for example, a piece of graphite from a reactor) for a second and not receive serious damage to health. But if you hold it for a few minutes in your hands or stand nearby, you can get a dose of radiation that will lead to radiation sickness or even death. The dose of radiation absorbed by a person is measured in X-rays or rem. We will use X-rays, as more familiar, assuming that we are talking about the radiation absorbed by the body.
In order to get a mild radiation sickness, from which the overwhelming majority of the patients recover, you need to grab the dose of 100 X-ray (or 1 rem). The main trouble is profuse vomiting. 150 X-rays give mortality in 5%, 350 X-rays - this is already a "half-lethal dose", that is, 50% of patients die within 14 days. 700 X-ray and above - lethal dose of radiation.
Irradiation affects a person not only in relation to the time "under the beam", but also in relation to distance. The farther from the source, the weaker the irradiation (since the molecules of oxygen and nitrogen in the air, as well as water vapor, are obstacles to particles). For example, a point source in 1 curie in the 1 meter gives a dose of 0,3 X-ray / hour, and in 10 meters - 0,003 X-ray / hour. But in radioactively contaminated areas, radiation sources are located everywhere, and a person on "dirty earth" is everywhere "under the beam".
It is easy to calculate that on the "dirty land" with the activity in 1 Curie / sq. km, for a set of "half-deadly dose" will require 1166 hours or 48 days. Therefore, one can stay in this territory for a day or two without harm to health, but one cannot live. 40 Curie Activity / sq. km is gaining a "half-deadly dose" in just 9 hours. Staying safely on "dirty land" with such activity does not exceed 2 hours. You can stay longer if you protect yourself with appropriate protective clothing.
Linen jacket, headgear and boots
No, this is not "chemical protection". A set of personal radiation protection is different, and first of all it protects the body from radiation. A person quite easily tolerates even large doses of radiation that came on his hands or feet. There is a known case at PO Mayak when an employee suffered from a spontaneous chain reaction that began right in his hands (he worked with a solution of plutonium). The worker received an X-ray of X-ray radiation on his hands and subsequently left them in the hospital, but he survived. The same training of the trunk and internal organs would lead to a guaranteed death. Therefore, first of all, the body is protected from direct irradiation, and respiratory organs are protected from radioactive dust entering the lungs, which will cause internal organ irradiation.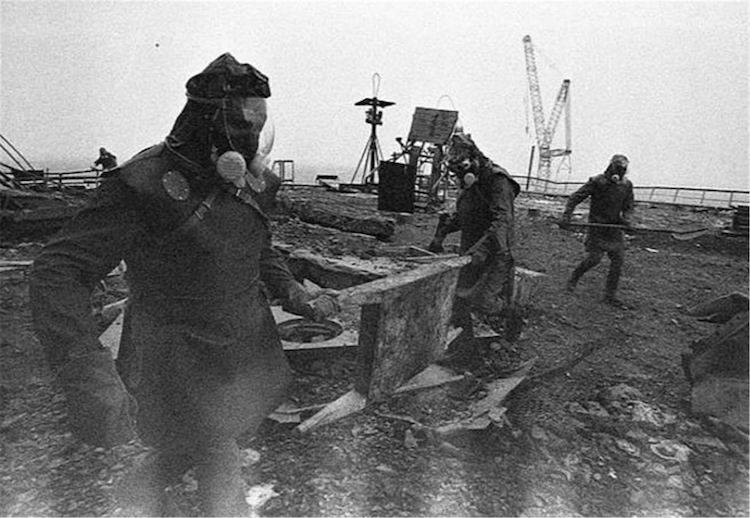 Liquidators on the roof of the Chernobyl NPP unit. Their equipment is clearly visible. The bottom edge of the film is exposed to radiation, at which point it reached the 1500 X-ray per hour.
The liquidators, who worked on the roof of the power unit of the Chernobyl nuclear power plant, used for this purpose rubber capes, worn over a dense jumpsuit and tightened on the sides. Sometimes they were combined with thin sheets of lead. Such a dense material as rubber is an excellent barrier to particles, completely blocking alpha and beta radiation, and significantly reducing penetrating gamma radiation.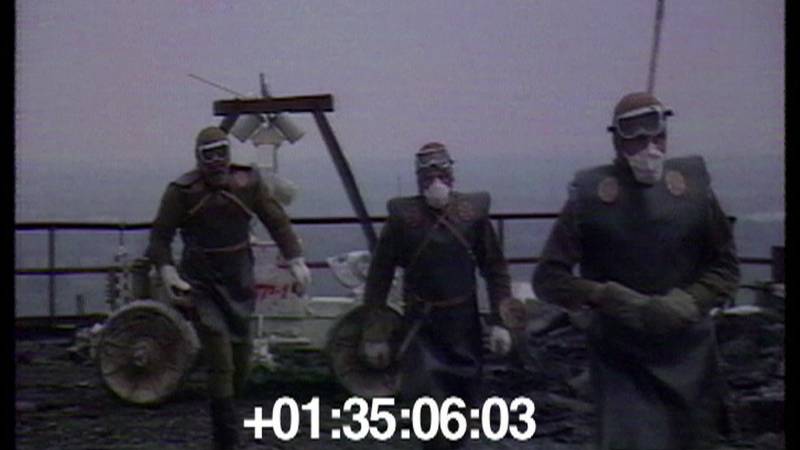 Color frame from the video recording of the exit of the liquidators to the roof of the power unit. All three have rubber capes of different cut and different designs.
For "nuclear soldiers" who are conducting combat operations on "dirty land", you will also need to make a special set of protective equipment, similar to the equipment of the Chernobyl liquidators. When contaminated with 4-5 activity, Curie / sq. km and above protective equipment is absolutely necessary, because in addition to radiation there is still the danger of severe radiation burns caused by beta radiation.
Just kersey, as rubberized fabric, is a very suitable material for this purpose. It is as dense as rubber (since rubber is a major component of the vulcanized impregnation), but it is also lighter and stronger than rubber. In addition, the kersey has a smooth surface, from which it is convenient to wash away radioactive dust. Kirzu can produce different varieties, from thin to very thick. Thin grades of kersey will look like a leatherette most of all. A thick kersey, especially folded in 3-4 fold and stitched, will create a fairly reliable wearable shield from radiation. So, the kit should include:
- a kersey jacket with floors approximately to the knees, the chest and back parts of which are reinforced with additional 3-4 layers of material (here you need to balance the protection and the wear of the jacket; it should still be possible to minimize movement constraints);
- kersey headband with fields on the shoulders;
- tarpaulin boots;
- thick cotton gloves, lined with kersey on the outside, and with kerchiefs;
- respirator and goggles (or a transparent mask).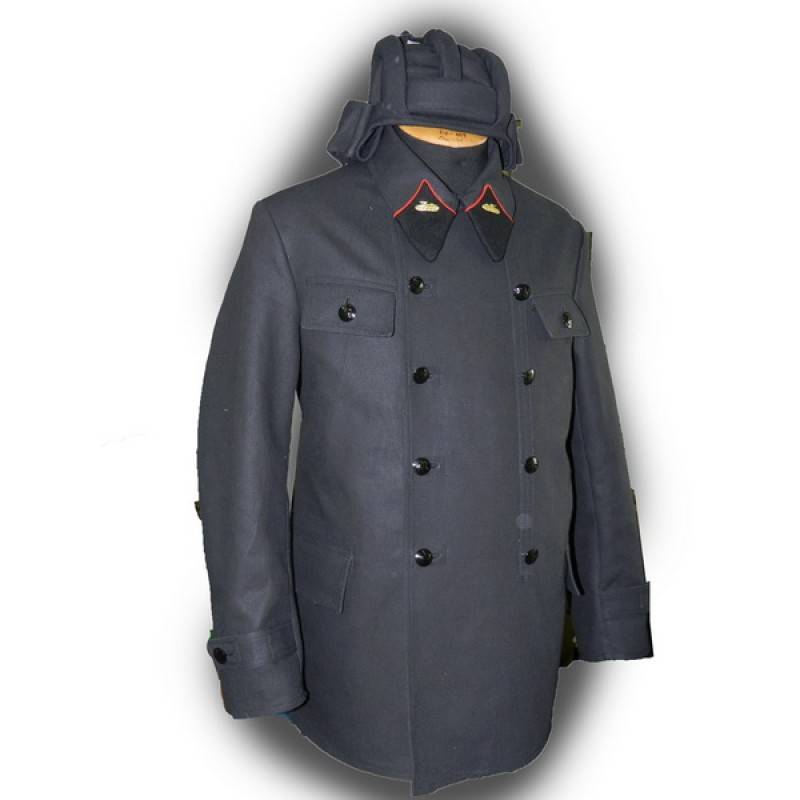 By the way, a kersey jacket can be quite elegant. In the photo kersey jacket for ABWT model 1937 year.
Other items of equipment, such as belts, bags and ammunition bags, and weapon cases can also be made from a kersey. It is more expedient to keep the "nuclear soldiers" machines in covers with the aim of minimizing the ingress of radioactive dust into them, and to get them right before the battle. In case of sudden fire contacts, it is best to supply them with pistols or compact pistols-machine guns worn in kersey holsters. This is dictated by some features of the battlefield tactics on "dirty land", which can be described separately.
The cheap kersey allows you to make from it disposable sets of equipment "nuclear soldiers". Contamination with radioactive dust can be quite large, especially in an area with high activity, and in conditions of summer and hot weather, when dust does not hold anything in place. Therefore, it is simpler to simply burn a heavily polluted set of equipment (the ash is then disposed of as radioactive waste), and instead of it, issue a new one. In addition, kersey equipment for combat on "dirty land" can be not only factory-made. Capes and caps of the simplest design can be made, if necessary, directly in the troops, for which it will only be necessary to bring rolls of kersey there.
Such a case that it took to fight in a radioactively contaminated area has not yet been in the practice of any army in the world. But this does not mean that such a situation can never happen in principle. Can. Having prepared in advance for this, still hypothetical situation, having developed and tested beforehand in field conditions (including within the infected zones, for example, in the Southern Urals), one can gain a significant tactical or even operational-tactical advantage over the enemy. Well, to protect your fighters from overexposure, of course.