Although the controversy "which is better: the caterpillar or the wheel" is as old as the tank itself, it still does not lose its topicality, since the armies are striving to modernize their power structures in order to cope with future threats.
Most armies in the world exploit mixed fleets of wheeled and tracked combat vehicles, with each type having its own advantages. While tracks provide superior mobility to heavier platforms, the use of wheels reduces logistics and allows modern platforms to move farther and faster — effectively projecting power and capabilities — across different types of terrain, including civilian infrastructure such as roads and bridges.
Defeat distance
The debate on "what's better: a caterpillar or a wheel" has been particularly hot lately. This is due to the formation of deployable medium or "shock" forces, which, although they do not reach the firepower of armored units, but have higher strategic and operational mobility compared to them.
The average forces should theoretically be able to maneuver at long distances and respond more quickly to international crises. A good example is the Stryker mechanized brigades, the debates about the feasibility of which have not abated since their formation at the beginning of the 2000-s. The initial concept of the middle forces was influenced by the processes that started after the Cold War, or rather regional conflicts, for example, the conflict in Kosovo, in which the deployment of armored forces was considered excessively excessive.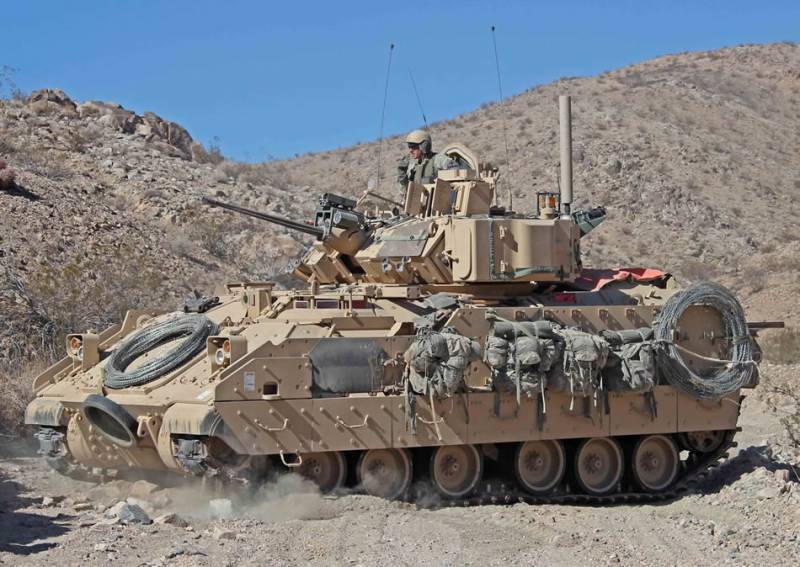 At the end of the driving course, soldiers of the American army note that the tracked off-road patency of the Bradley platform significantly exceeds the patency of wheeled armored vehicles, for example, Stryker armored personnel carriers
This concept is based around a common chassis, which can be adapted for various tasks, which helps to reduce the logistic load, and be light enough for transportation by C-130 Hercules military transport aircraft and other similar aircraft, for example, C-17. Before the 90, the American army traditionally preferred the tracked armored vehicles rather than wheeled, especially in the face of heavy Soviet technology, but after the Cold War, the nature of the combat missions and the enemy with whom the army could face had changed very much.
"We have entered a new era of new threats, new demands and new methods of conducting armed operations," said Timoney director of the company Timoney Wilkes, specializing in power drive technology. - Indeed, at that time wheeled vehicles prevailed in the parks, it is clear that this was determined by operational tasks, and not by the fact that one technology is better than another. It was just that the path was more expedient at that time. "
Wheeled vehicles were considered the best solution in this new world, especially in urban environments against asymmetric or unequal threats. As a result, the LAV III 8x8 armored vehicle developed by General Dynamics Land Systems (GDLS), the later Stryker designation, was chosen as the final platform for the US Army's average vehicle project. This ready-made wheeled platform was preferred to the M113A3 tracked armored personnel carrier, since then mobile shock forces would need heavy tractors for transportation, while the fuel consumption and service volume would be noticeably increased over long distances.
The Stryker armored vehicle, weighing over 20 tons, was then deployed in Afghanistan, Iraq and Syria, and they were also permanently deployed in Europe as part of the second reconnaissance regiment. Currently there are ten different Stryker variants, including the Infantry Carrier Vehicle (M1126), the Mobile Gun System (M1128) gun mount and the 120-mm mortar (M1129).
Due to the fact that the Stryker wheel platform, it is able to develop a maximum speed of 97 km / h. It can travel 530 km (average speed 64 km / h) without refueling and with minimal maintenance, which is impossible in the case of tracked platforms. This allows you to save a lot of time when deploying inside the operational theater.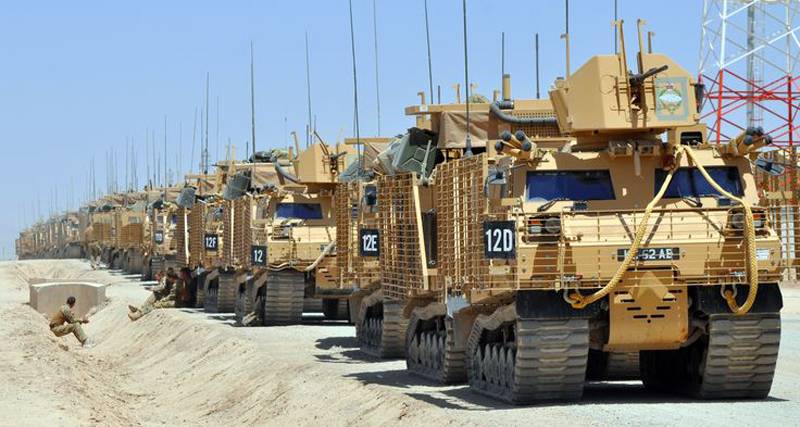 The British Army deployed the Bronco 2 Warthog armored vehicle in Afghanistan. This platform is notable for its rubber tracks.
We look for the mass
However, in order to maintain its relatively small mass and ensure maximum mobility and deployability, it is necessary to sacrifice something. Wheeled vehicles do not have such a good booking as their heavy tracked counterparts, which hold the bar somewhere between 40 and 70 tons with additional booking kits. The lack of armor — which made the machines vulnerable to more than 7,62 mm ammunition — was a common critic of the Stryker, especially when this machine was first deployed in Iraq in 2003.
Stryker armored vehicles were particularly vulnerable to rocket-propelled grenades, but these risks were curtailed by the addition of bulky lattice armor. However, this decision leads to an increase in the mass and size of the machine and adversely affects the overall mobility of the platform in difficult terrain. The installation of heavy armor has become a common practice in Iraq and in Afghanistan, where the threat of IEDs did not allow the international contingent to relax. Based on the results of these two wars, today's requirements for combat vehicles, including wheeled vehicles, were defined: protection should meet at least the fourth level of STANAG 4569 as standard.
In this regard, the full mass of wheeled platforms tends to 30 tons, and some models, such as the Boxer from Rheinmetall, have already overcome the bar in 36 tons. According to Wilkins, these machines are currently working "at the limit of their capabilities" in terms of mobility.
"The limiting factor is very simple: the standard wheel of the largest size, which you can install on the machine and the load on this axle. The standard wheel of the largest size, if you look at almost every combat vehicle in service, excluding the Boxer, is the 16R20 wheels, he explained. "If you give the axle load, which is equipped with 16R20 wheels, more than 9 tons, then you will not get good mobility ... As soon as you exceed 8 tons per axle, then mobility starts to deteriorate."
As the mass increases, engineers must look for ways to reduce the pressure on the ground in order to maintain permeability. One way is to further increase the size of the wheels, but this entails a corresponding increase in the size of the machine to such an extent that it can no longer be called a rapidly deployable platform. Some armies also insist that their cars be floating, and this will require a larger (but not heavier) platform in order to maintain buoyancy after the mass increase, because the Archimedes law has not been canceled.
As a result, for machines that have broken 35 tons, the tracks are the only solution.
According to Mark Signorelli, Vice President of BAE Systems, one of the main factors when it comes to choosing between tracks and wheels is the category by weight of the car, which is determined by the level of protection that the end user needs. "Wheeled vehicles can have very good mobility, but they are limited by the upper limit. If you want to go above these 35 tons ... then the difference in mobility really begins to manifest itself. "
High levels of protection and mobility are especially important for vehicles that are part of heavy armored forces, which are equipped with OBT, BMP and the corresponding support vehicles, for example, M113 armored personnel carriers. Such units, known in the American Army as the ABCT (armored brigade combat team - armored brigade groups), use general military tactics to get closer to their targets and fight in vehicles, which will often include fighting against equal opponents, who can use the most sophisticated offensive and defensive weapon systems, including their own MBT and BMP. For example, a Stryker wheeled vehicle with a mass of 20-35 tons will not be able to survive this type of war and will be quickly surpassed by enemy armored vehicles.
As part of its modernization process, the American army will replace the existing M113 in ABCT brigades with the new Armored Multipurpose Vehicle (AMPV), which have a high level of uniformity with Bradley.
"This machine, acting in conjunction with the given forces, should have the same level of protection and mobility as Bradley, may not be as high as the M1 Abrams, but by and large equivalent to the M1 in terms of all-round protection," Signorelli said, noting that AMPV and its variants will be near the mark of about 40 tons. - If you have a military structure with
tanks
M1 Abrams weighing 70 tons, then, of course, you have the entire infrastructure to support such heavy machines. "
An interesting touch to
stories
AMPV was the short-lived tracked version of the Stryker, which was offered by GDLS at AUSA 2012. Perhaps it was the manufacturer's hint that his wheeled vehicle could not meet the requirements of the ABCT project. The company later withdrew from the project and left BAE Systems the only applicant.
On deflated
In the past, wheeled vehicles were constantly criticized for their vulnerability to small arms fire.
weapons
or shrapnel from explosions that could disable the machine or put at risk those inside. Today, armies operating wheel armored fleets solve this problem by introducing the technology of fighting wheels, which allows platforms to maintain mobility even when the wheel is broken through.
This technology has now made wheeled vehicles of all types much more reliable on the modern battlefield; compared to tracked vehicles, their operation is more attractive to the ground forces. Companies such as Hutchinson and Tyron, began their activities in this area a few decades ago. Tyron once developed solutions for Land Rover Defenders armored vehicles in Northern Ireland, and is currently constantly expanding its range of products for a variety of wheeled vehicles.
Tyron has developed a lightweight Multiband system, which, in essence, is a tape that is placed in the mounting niche of the wheel and fixes the tire to the rim and does not allow it to fly off when punctured. This product remains popular, especially in military and law enforcement structures.
"When you know that the tire and the wheel do not come into contact with the road surface, it increases the car's handling," said Tyron's chief executive, Richard Gleisbrooke. "This is what takes you out of a difficult situation, it's not a wheel with reinforced inserts, in fact, it's a way out of a difficult situation."
At DSEI 2017, Tyron presented a disc with a bedlock (a metal part (disc), which is mounted on a specially designed wheel (wheel)) and prevents wheel disassembly when driving at extremely low pressures) for a rubber tire optimized for machines with centralized regulating tire pressure. Bedlock prevents foreign objects from getting inside the tire and the tire itself remains on the wheel even with low pressure caused by a puncture or pressure control settings. "The crew's crew clearly doesn't need a situation where the wheel is turning and the tire stays in place, which can easily happen when trying to overcome the lift," Gleisbrooke said.
Tyron's All Terrain Rubber Anti-puncture inserts (ATR) were also selected for the Lazar 8x8 BBM, giving you the opportunity to move at least 50 km on all the propelled wheels.
At the start of 2017, the company also showed off a new Carbon-ATR lightweight carbon insert. For the 8x8 configuration machine with 1400R20 tires, the minimum weight reduction compared to standard ATR steel inserts is 240 kg. "If we have reduced the mass and retained all the benefits, then we have succeeded," concluded Gleizbrook.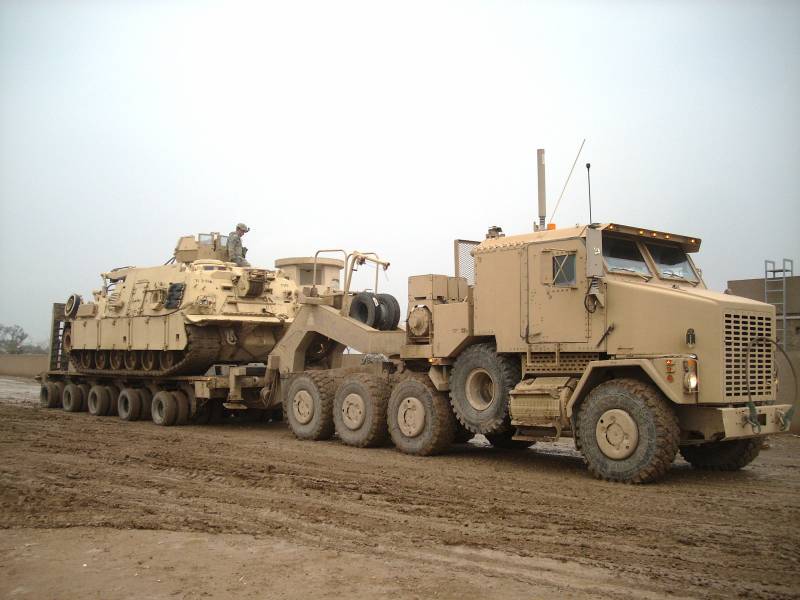 Heavy tracked vehicles cannot be deployed over long distances without the use of heavy conveyors; there is no such problem for wheeled vehicles
Combined strategy
The US Army tried to integrate the Stryker wheeled and Abrams tracked in one unit when the then 3 Brigade was deployed to the National Training Center in 2015 year to test new operational concepts.
However, the audit showed that "there are serious problems," since it is impossible to achieve a synergistic effect from the interaction of these two machines. Both cars can perform maneuvers on the roads at the same speed, but on rough terrain Stryker was "noticeably slower."
"This made it difficult to maintain a constant pace when maneuvering in open areas, it also deprived tanks of strike power and speed with which they could usually attack. When the tanks maneuvered independently, they found themselves without the support of infantry during the stripping of the forbidden terrain and were quickly destroyed by the enemy's anti-tank weapons, "one of the organizers of the event shared with his impressions in an article for the American Army Military Review magazine.
It is clear that heavy armored forces still occupy an important place in modern armies, especially in high-intensity conflicts, but the problems associated with them have not disappeared for several decades. Tracked vehicles are less reliable compared to wheeled vehicles, they are more difficult to deploy without a long supply chain, which includes links such as engineering, recovery vehicles, heavy conveyors and fuel tankers. Ultimately, everything depends on their weight and steel tracks, which increases fuel consumption and requires a significant amount of maintenance.
According to Nicholas Drummond, a retired British officer and defense consultant, tracked vehicles should stop every 300 km for preventive maintenance, which may take up to 8 hours, which actually prevents further progress and contributes to a loss of pace. Crews need to rest due to fatigue associated with increased noise and vibration of steel tracks. This is another possible problem if armies want a combination of wheeled and tracked vehicles.
Currently, the UK is debating about the formation of two combined-arms shock brigades by the British army. New formations of the middle category by weight, equipped with a combination of Ajax tracked vehicles and a MIV (Mechanized Infantry Vehicle) 8x8 wheeled vehicle (a specific model has not yet been selected), should be able to be deployed on 2000 km. Ajax will be a formidable machine with its 40-mm cannon with telescopic ammunition, but at the initial stage of deployment there may be problems with acting in the same battle formations with MIV.
"If you have a mixed fleet, and all the armies with such a mixed fleet, it's very difficult to maintain wheeled and tracked vehicles together," explained Kevin Sloan, a retired major of the British Army.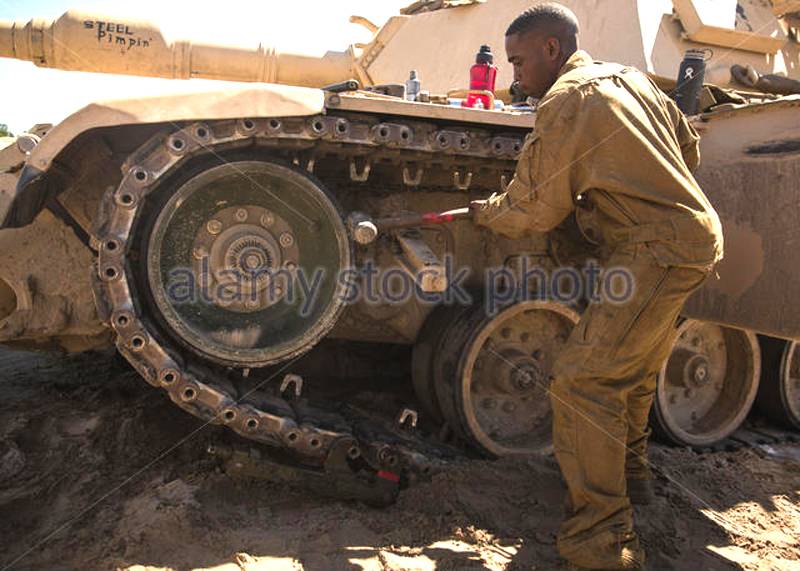 Tracked vehicles are known for their maintenance requirements. Preventive checks are required every 300 km, which creates problems during long operations
Rubber replacement
Several countries are currently exploring the possibility of replacing traditional steel tracks with rubber tracks. One of the companies active in this field is Soucy Group, which first began to equip military vehicles with rubber tracks about 25 years ago, starting with the BAE Systems Hägglunds Bv206 and BvS10 platforms. This collaboration with Hägglunds has since expanded to include heavier tracked platforms weighing about 30 tons into its orbit, including the CV90 armored vehicle, for which Soucy developed rubber tracks that the Norwegian and Dutch armies liked.
Sloan, currently involved in business development at Soucy Defense, noted that the advantages of rubber tracks include fuel savings of a third, noise reduction at 13,5 decibels and vibration by 70% less and "significant reduction" of the life cycle cost.
"It does not require maintenance at all, and here the cost over the entire life cycle is a serious argument; you do not have to do anything with this rubber track after it was worn. The drive wheel, steering wheel, track rollers ... they all live about the same time as the caterpillar, "he explained. "You need to immediately replace the entire track after running 5000-8000 km, whereas on steel tracks you drive about 2000-3000 km and during this time you change the rubber linings about six times, and this is 18 running hours."
Soucy tracks were also installed on M113 armored personnel carriers of several armies, as well as the Bronco BMP family from ST Kinetics. At the DSEI show in London last fall, Winston To, head of marketing for ST Kinetics, said that with these tracks, the Bronco 3 could "overcome the overwhelming part of the terrain found on Earth."
Soucy rubber tracks can withstand blast in accordance with STANAG 4569 3 level. A fourth-level explosion, and this 10 kg of TNT, can destroy it. "With the 4 STANAG 4 Level, you will have no suspension left, that is, one way or another, the evacuation of the car is necessary," said Sloan. "The 1 STANAG Level Landmine will tear the steel caterpillar, but if the 3 Level bombs explode, the rubber caterpillar will absorb the blast wave, it will not pass through the entire machine, that is, we see another security element here."
Sloan admitted that the initial investment required when buying rubber tracks was higher than when buying steel and replacing them (an unlikely event of rupture) is required to lift the car on jacks, but this is just a fee for the obvious advantages gained. Indeed, after the Norwegian army tested rubber tracks on CV90 machines at the beginning of this decade in Afghanistan, they decided to transfer their entire fleet to tracks. The Dutch army also follows fashion and, according to Sloan, will transfer all CV90 vehicles to tracks soon.
Looking at the prospect, Soucy bought one Leopard 1 tank from the presence of a Canadian army to test rubber tracks on platforms weighing 42-45 tons. "They are designed specifically for the new Ajax machine of the British Army in order to try to enter this market. This category by weight exactly matches our plans. We are also focused on the Australian Land 400 Phase 3 program, which is about to begin, and on the US program on the Mobile Protected Firepower machine. "
The company is also testing rubber tracks on the Warrior IFV (510) BMP of the British Army in order to demonstrate its solution on a platform weighing 35-38 tons. In the future, this will pave the way for rubber tracks and their integration with other platforms, including M2 Bradley, especially at a time when armies are beginning to see the benefits of rubber composite materials and are beginning to change their traditional setup for the fact that tracks need only be steel.
"I believe that the army commanders have already realized that rubber tracks are reliable and durable enough for these masses, and you can begin to consider the advantages of these machines," Signorelli explained. - When you combine these technological advantages with electric drives, you begin to reduce a certain gap with wheeled vehicles regarding fuel consumption, road traffic and even some logistical problems, since electric drives are inherently more reliable than the mechanical drives that we have had since the appearance of the tracks. machines. "
British steel
There remains a need for steel tracks from companies such as, for example, Cook Defense Systems, the "strategically important" supplier of the British Ministry of Defense. It supplies tracks for all BBMs in the British Army, and has also received a multi-million dollar contract for the supply of tracks for the Ajax program. In addition, in 2015, the company received a four-year contract worth 93 million dollars to provide all the vehicles of the British army with tracks.
"From 1996, tracks for all British BBM are manufactured by Cook Defense Systems plant in Durham County," said Deputy Director William Cook. "The plant is specially built for the production of tracks for BBM, and constant investments allow us to keep it up-to-date."
The company also supplies spare tracks to other armies of the world, in particular to the Middle East, while its other division designs and manufactures tracks for new BBM world giants, for example, General Dynamics, BAE Systems and ST Kinetics. The caterpillar from Cook Defense TR30 was installed on the prototype of the BMP Tulpar of the Turkish company Otokar, as well as on the Terrier engineering vehicle from BAE Systems.
"Armored vehicles are getting harder and harder as more security systems are being added," Cook noted. - A difficult task in the design and manufacture of tracks for BBM is to ensure their durability so that they can withstand additional mass, while reducing the mass as much as possible. Caterpillar versus wheel spores never subside, but less pressure on the ground of a tracked vehicle means that it can maneuver more freely and can take on more protection than a wheeled vehicle. Steel tracks also provide much greater grip than wheels or rubber tracks. "
Many industry experts say that these disputes are, in fact, superfluous, since they boil down to two different technologies that are suitable for different requirements and different combat missions. It is almost impossible to determine which technology is better, since both of them have positive and negative qualities depending on the scenario in which they are placed. More lively debates are currently underway on the structure of future forces and how these two technologies can be combined to create middle divisions that can project force on b
о
greater distances.
Materials used:
www.shephardmedia.com
www.timoneygroup.com
www.rheinmetall.com
www.tyron-usa.com
www.gdls.com
www.baesystems.com
www.soucy-track.com
www.cookdefencesystems.co.uk
www.alamy.com
www.wikipedia.org
en.wikipedia.org