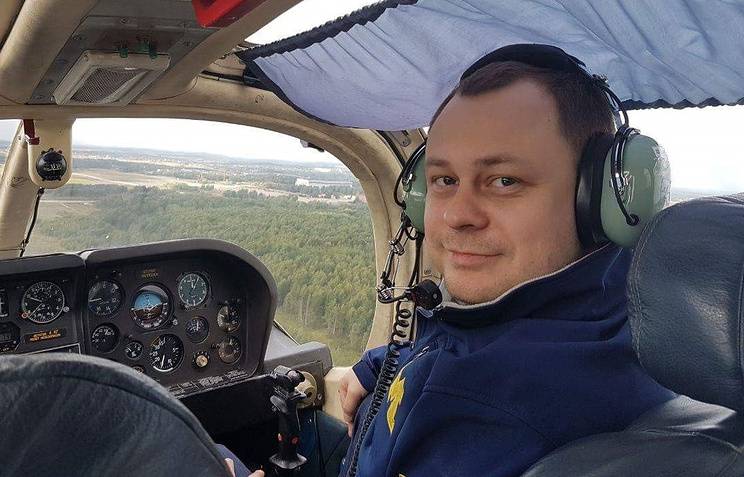 Pavel Cherenkov
New military transport aircraft IL-112 is preparing to make the first flight. Developed for the army and the average turbojet IL-276. On what kind of aircraft Ilyushin Design Bureau wants to offer for pilot training, what are the differences between IL-112 and IL-114 and how many new IL-76 will be produced in Russia in a year, told Pavel in an interview with TASS Cherenkov.
- Deputy Prime Minister Dmitry Rogozin on the first day of the Dubai Airshow 2017 exhibition said that Russia intends to develop the transport and passenger market
aviation
with the UAE. What can Ilyushin's firm offer in this case?
- The local audience at the cabin of great interest is our new light military transport aircraft IL-112. I recall that his first sample is preparing to rise into the sky.
In addition, a very interesting project of the medium transport aircraft IL-276. This dimension is very popular. Different countries present similar projects at the exhibition, but we have something to offer to interested customers. The Ilyushin technique has traditionally been of great interest because it is reliable, unpretentious in operation and has been serving in the East for quite a long time in quite a large number.
Today, we face big challenges in the service of this technology and the supply of spare parts for operators in all corners of the world. In principle, the eastern market is ready for this.
- Are there any agreements on the modernization, repair and maintenance of aircraft, which were purchased by customers back in the Soviet era?
- We are now working to open modern authorized services. One of the peculiarities consists, for example, in the fact that foreign Il-76 aircraft are often not certified by civil standards, but only by military ones. A good, high-quality service of military transport aircraft has not been developed until recently.
We are currently negotiating with some large companies, operators that work here in Dubai, in the region as a whole, as well as in the African market. Negotiations are conducted in two directions. Firstly, it is the organization of warehouses and service in any territory, and secondly, the promotion of Russian aircraft in this region.
We are selling not just a plane now, but the life cycle of a single machine, so it is crucial for the buyer to have an understanding starting from the first day of the aircraft's operation until the end of its operation.
- When do you expect to create service centers?
- Our task is to establish logistics and service in the perspective of two or three years. We have several new programs that run in parallel with the IL-76 theme, I have already mentioned them. That is, we are creating a system of service and software maintenance not only for old cars, but also for new ones - for the entire line of Ilyushin military transport aircraft.
Specific steps are now being implemented. In general, there is a certain proportion: the number of service centers directly depends on how many aircraft in the region fly. In some cases it will be much more profitable to fly for repairs to our site in Russia. The question is now being worked out taking into account the volume of markets and specific forms of local repair.
By the way, Ilyushin already has a large number of service brigades that, if necessary, leave for the site. Given that the number of vehicles is growing, we are developing our local presence in those markets that interest us.
- In Russia, front-line Il-76MD are being upgraded to the appearance of MD-M. Do foreign partners show more interest in upgrading or purchasing new cars?
- In general, there are a lot of "seventy sixths" in the world, another order of 300 machines is actively flying, and by and large this is our potential market for upgrading and extending the life of such aircraft. And yet modernization is a difficult topic, because not everyone is equally in demand. Resource Extension - Other
история
. Infinitely technology will not serve, but we expect that the existing park will fly somewhere else before the 2035 year. And the newest serial IL-76MD-90А is being prepared for it. Outwardly, it is the same, but in fact significantly updated.
- Ilyushin Design Bureau is currently developing some new projects?
"On request, including foreign customers, we are considering the possibility of restoring the production of a light IL-103 piston in a deep modernization."
- What engines are going to put on it?
- This is a rather complicated question, since in Russia no engines of this size have been manufactured yet. But there are several alternatives: first, we can still work with foreign power plants, if we are talking about the commercial use of the aircraft; secondly, the Simonov Design Bureau is currently developing engines for a drone that can be adapted for use on a light-engine aircraft. There are a lot of options.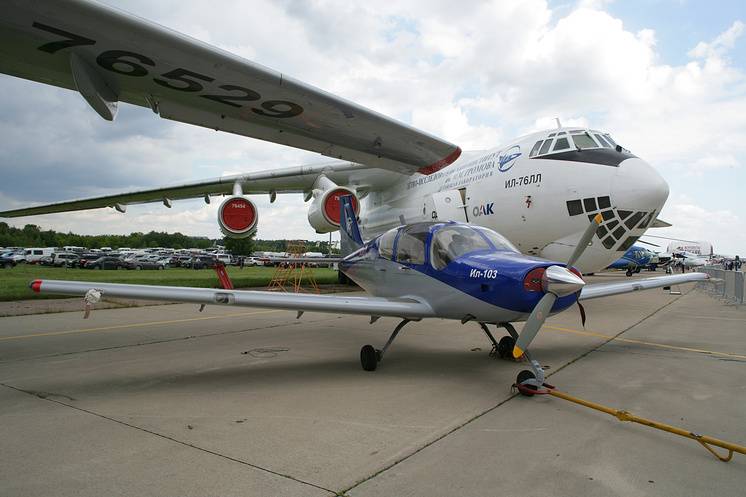 The IL-103 aircraft next to the IL-76LL aircraft (flying laboratory) with the PD-14 engine installed
Prospects for IL-103 good. Now in the world flies about 40 such machines. This is an excellent aircraft, which is suitable not only for everyday tasks, but also for training fighter aviation pilots. On it, of course, you can not turn the "barrels", but you can easily learn basic flying skills.
- At what stage is this idea now?
- The project still needs to resolve several issues, for example, with a balanced heating of the cabin of the aircraft. But in general, we now need to answer for ourselves the question whether this program has a future. This is still the initiative development of the Ilyushin company. We are ready to offer the market a comfortable, ready-made aircraft for $ 150 – 200 thousand. It will be just a bomb for the price offer.
- And where is this "bomb" to produce?
- Production of IL-103 was fully mastered at one of the enterprises of the KLA, for example, in the Moscow-based Lukhovitsy - where MiGs are currently collected. In Soviet times, the order was released 100 pieces, quite successfully.
- In Lukhovitsy will also collect IL-114?
- This program was worked out for a long time, but certain moments were resolved only in September of this year. Now, neither managerially nor technologically, nothing prevents us from preparing the production of IL-114. The first aircraft is being made now at the Ilyushin pilot plant in Zhukovsky, work is actively going on on it in order to conduct further tests.
The serial aircraft will be produced in Lukhovitsy - the plant managers perfectly prepared all the logistics for this aircraft.
The assembly will take place in the same workshop as the assembly of the MiGs, in two parallel streams. Naturally, there will be extensive cooperation: some units will be manufactured at the Sokol plant, some at VASO, our Voronezh aircraft plant. All this will be brought to the Moscow region, where the final assembly will be carried out.
- Who needs such an aircraft now?
- This aircraft is incredibly in demand in Russia. Probably, this is one of the few cars for which there is an objectively high demand.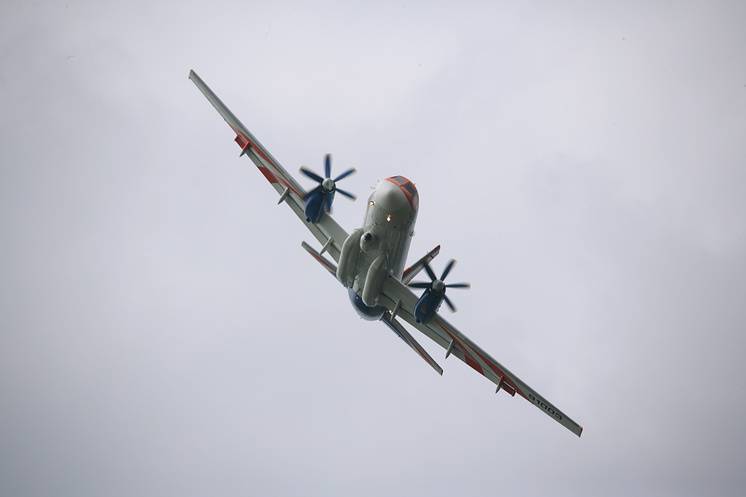 IL-114
First, this is the Far North. The price of a flight on a turboprop aircraft is less than on a turbojet, especially for northern traffic, the northern delivery. IL-114 has special anti-icing systems, landing on the ground.
Secondly, it is generally regional transportation. The TV7-117CT engine, which is now being tested at LII Gromov, promises to be very economical and powerful enough to provide transportation of a sufficiently large radius. In this sense, the plane is in demand by airlines, which have a lot of key regional routes.
Thirdly, it is Asia, Africa and Latin America. IL-114 economical and unpretentious. His life cycle is being thought out. Its maintenance is somewhat simpler than aircraft with other types of engines.
In addition, IL-114 - is the basis for various kinds of special aircraft. Any versions demanded by the military can be implemented on it. For example, on each MAKS, an Il-114 of the Radar Mms company, equipped with the Kasatka sighting and search complex, flies. By and large, electronic warfare of any kind can be carried out by them. Even the "plate" he can carry.
- And IL-112? Do these planes duplicate each other?
- No, since IL-112 is first of all a ramp aircraft, and it was made according to the demands of the military. Of course, 112 and 114 have a lot in common: the same engines, a very similar control system.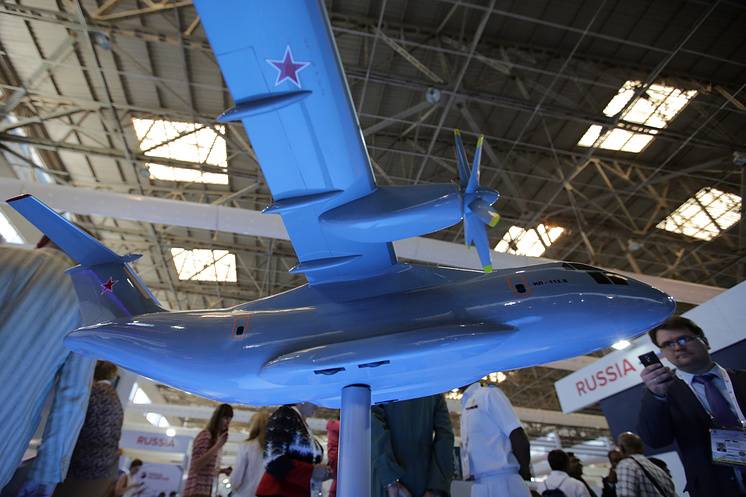 The layout of the military transport aircraft IL-112В
But IL-112 is a very interesting format. He has his own consumer, and this is not only the military. It is also cargo and passenger tasks. This is MES, special operations forces. We received a very interesting request from the government of Yakutia, for example. They have a large region, there are a lot of cargo transportation tasks, the weather is unpredictable, and the IL-112 is the machine that could close a large specific segment in any region.
- "Aviastar", where IL-76MD-90А are built, is very loaded, as far as I understand.
- You just have to go through this moment. Aviastar was originally built as a serial plant, which is radically different from the pilot production.
On mass production take ready-made designs and must be sure that this system works. With IL-76 plant for the first time for this type of aircraft applied the concept when the first production aircraft is experienced. This slightly increased the graphics, but there will be no other conditions. In fact, the plant can produce at least 12 aircraft per year and will do so. Already at the end of this year, Aviastar will present more aircraft for acceptance than in the past 20 years! This has never happened before.
- Will you pass on to the military?
- We have a contract this year, there is no delivery of IL-76, only a presentation to state tests. One tanker only.
- VKS is going to do something with the IL-18?
"These are great cars, but their resource is not very clear there. For our part, we are ready to deal with their modernization, and the installation of additional equipment, and are ready at any time to join the extension of the resource. Another thing that you need to ask the videoconferencing, what tasks are. There are no big projects yet.
- The average IL-276 transport aircraft is of great interest to them, as far as I understand.
- These are very popular machines, because, if you look at the essence of transportation problems, the range of loads up to 20 tons is just what makes up the foundation.
The IL-76 is still another kind of car, twice as large, and transport tasks are much cheaper to perform on an average plane. Plus, of course, this training paratroopers. If you need to train ten people, then for the sake of them to raise the IL-76 unproductive. At the same time, the cross section of the cockpit and fuselage of these aircraft is the same, so they have a lot of intersections, and for the military it will be one line of equipment, with the help of which they will be able to most effectively solve the tasks that they have.
- In the Ilyushin Design Bureau, are you satisfied with the interaction with the Russian Aerospace Force?
- I think we have a constructive relationship with the military. They are established primarily with the Military Transport Aviation. These are people who are the most immersed in the topic and support our common cause.