At the AAD exhibition in 2014, the Ingwe portable laser-guided missile complex with missiles was installed on the Badger 8x8 armored vehicle. The pre-production model of the complex was made in 2015 year, and mass production began last year.
After many years of lack of personnel and funding, tensions in the South African army can finally be reduced, subject to the implementation of some long overdue equipment and weapon modernization programs.
South African National Defense Forces SANDF is struggling with the effects of quarter-century underfunding, when the budget has declined in real terms, and the volume of current liabilities has increased significantly. In addition, since 2001, peacekeeping tasks and a return to border security put an additional burden on the army. One of the results was a sharp increase in personnel costs, which, combined with high inflation, sharply limited the costs of training and maintenance, as well as the financing of material purchases. This caused a reduction and / or postponement of the largest procurement projects and left the army for the most part with outdated weapons.
Although the recent Defense Review provides for additional funds to meet commitments supported by all parties in Parliament, it seems that the likelihood of additional funding for defense programs before the general elections in 2019 remains quite weak. One of these initiatives is the Project Hoefyster project, the acquisition of 242 Badger ICV armored vehicles in ten variants, most of which are intended to arm two regular infantry battalions. These units will receive variants of the branch transporter and fire support (30-mm gun), the mortar version of the 60-mm, anti-tank complex (Ingwe) and the commander machine.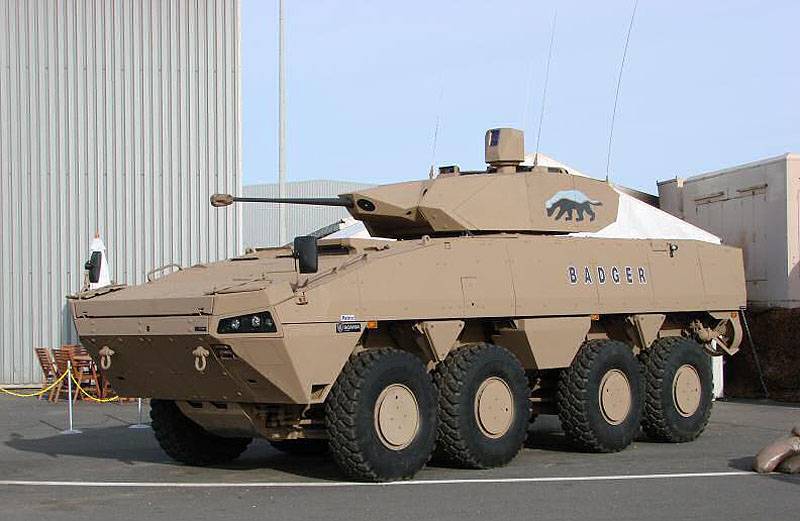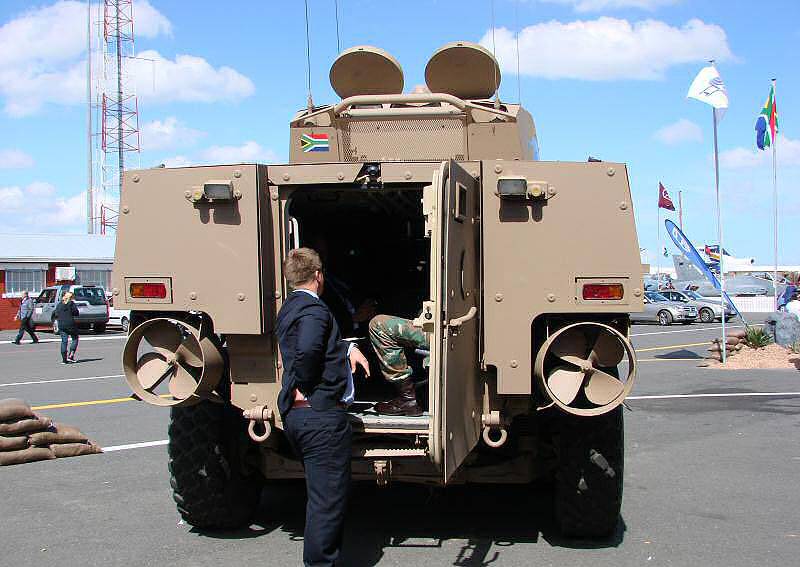 South African Infantry fighting vehicle Badger ICV
Badger is based on the AMV modular armored vehicle manufactured by the Finnish company Patria, on the chassis of which the Denel Land Systems modular tower will be installed in seven configurations. The changes compared to the AMV are as follows: a flat bottom with anti-mine protection, a rear door with storage areas for weapons and ammunition of the squad, a new supplementary booking and a modified interior layout. The turret version, armed with an 30-mm cannon and Ingwe missiles, is exported to Malaysia.
Five additional options are being developed: the Badger sanitary version with a raised roof; communications vehicles and mobile air operations teams with a 7,62-mm machine gun on the roof; machine of the advanced artillery observers with a tower mortar; and an artillery control center. In addition, the private company Thoroughtec has developed turret and driver simulators for the Badger armored vehicle. With funding, the Badger platform in the future may also become a base for other options.
Another couple of major projects is the purchase of Skyguard fire control radar for paired Oerlikons 35-mm units and the purchase of tactical radio stations of the new family developed by Reutech Communications.
Suspended shipments
Among the deferred projects it is worth mentioning the replacement of the Casspir and Mamba armored personnel carriers (under the Sapula program) and the trucks of the Samil series (according to the Vistula project), the former are based on the mechanical components of the latter. Both of these projects were stopped after an inexplicable decision taken several years ago not to continue the Vistula project. It turns out that the army is awaiting the delivery of a new armored vehicle, but at the same time the purchase of new logistic machines that could effectively support them is a big question. This delay also affected the technical and logistical projects that were to be integrated into the prospective truck program, although some of them, such as field kitchens, are moving forward in accordance with the planned schedule.
Among other protracted projects are the program for ground-based air defense system Stage 2 (Ground-Based Air Defense System Phase 2), in particular, its short-range ground-to-air missile (most likely Umkhonto from Denel Dynamics), and the corresponding radar, as well as a project for the purchase of light artillery. Among the smaller projects that are awaiting funding, we can note the new light anti-tank
weapon
short range. But there are also positive trends. Over the past few years, the army has received the British Starstreaks, the new generation French SIRMs Milan, 40-mm automatic grenade launchers and 60-mm long-range mortars with an appropriate fire control system.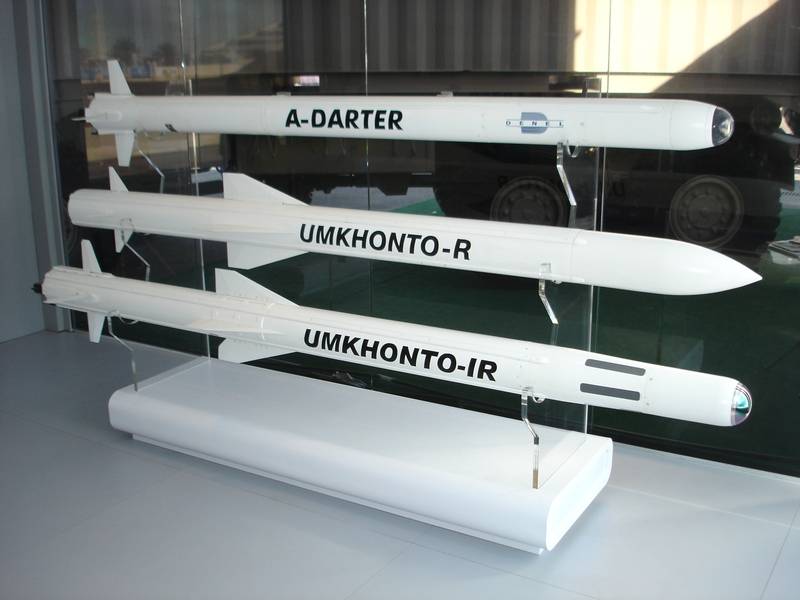 The line of ground-to-air Umkhonto rockets from Denel Dynamics
In the future, the armored corps has a project for a new light reconnaissance vehicle, but so far there are no signs of future funding. Another pressing issue that needs to be addressed is what to do with
tank
units. Many understand that the potential of Olifant tanks based on the English Centurion has been exhausted, but the Ministry of Defense has not been able to accept very advantageous offers for used Leopard 2 tanks from the presence of the German army. In addition, due to the weakness of the currency and the state of the economy, the cost of new tanks is likely to be simply unbearable.
The defense industry has dramatically weakened due to a shortage of orders from SANDF, but was able to continue to export mainly protected vehicles, infantry support weapons, ammunition, communications equipment and electronic warfare systems. The main task today is to find funding for the development of new equipment and systems in order to keep up with international requirements and developments. As for the South African Ministry of Defense, one should not expect "manna from heaven" from it, since it finances research activities very limitedly. Taking into account that many other countries are also developing wheeled combat and mine-proof vehicles, it seems that a definite consolidation will take place in this sector.
The main player here is Denel, which offers combat vehicles, artillery systems, infantry support weapons and a wide range of ammunition on the world market.
Denel Land Systems, part of the Denel group, produces the Badger armored vehicle for the South African army and the turret for the new armored personnel carrier of the Malaysian army (the project is currently suspended). The 30-mm cannon and the 60-mm water-cooled mortar loader were designed specifically for Badger, but are also available for other platforms. In addition, the company manufactures turrets with 76-mm and 105-mm cannons, designed for self-propelled artillery installations (sometimes referred to the class of reconnaissance armored vehicles) Rooikat, retrofit kits for armored vehicles Ratel and Eland / AML-90, including single-seat towers with night sights and power drives and protected weapons installations.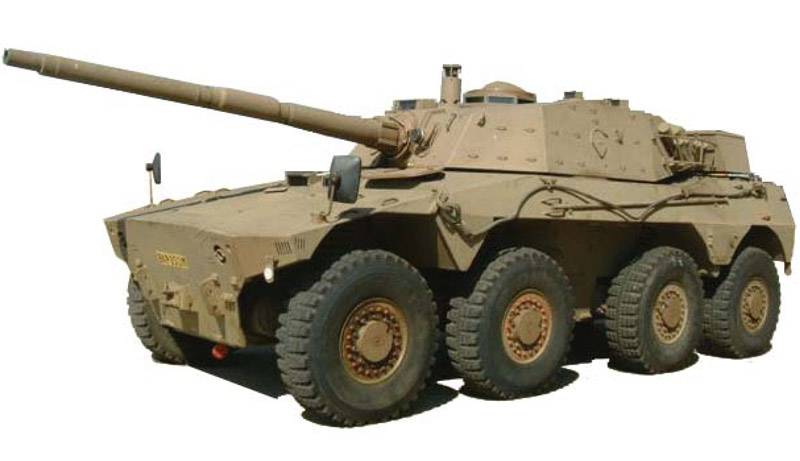 Self-propelled artillery Rooikat
Denel recently acquired BAE Land Systems South Africa, now called Denel Vehicle Systems (DVS), which had great success with its RG31 MRAP vehicle, the RG31 mobile mortar complex, the RG32 lighter communication and reconnaissance vehicles, and the RG12 police vehicle. Recently, the company sold the rights to its armored vehicle RG35 4x4 and 6x6 to the UAE firm Nimr and carries out orders for further development work for it. Mention may also be made of the RG21 armored personnel carrier and the RG41 8x8 combat vehicle.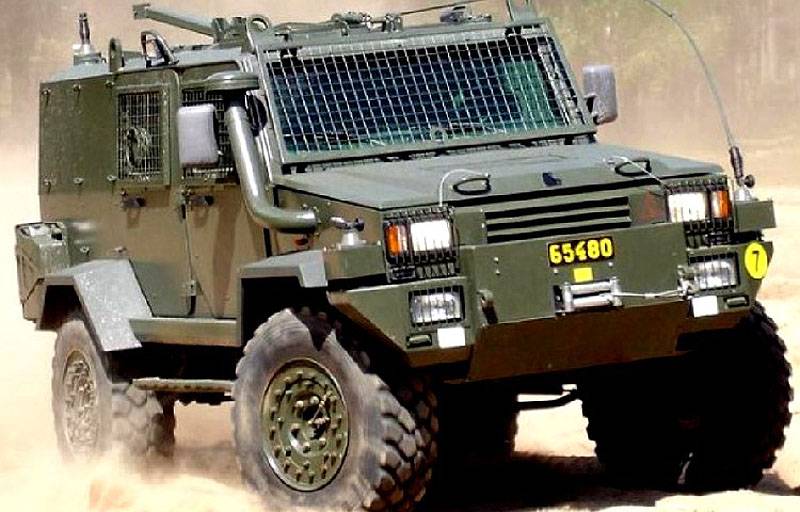 Armored car communications and intelligence RG32
RG12 police car manufactured by BAE Land Systems South Africa
DVS supports all tactical vehicles of the South African army and more than 1500 of their machines, which are in service with other armies. Mechatronics offers outboard armament modules and turrets for assault helicopters, including the Rooivalk and SuperHind, as well as an automatic rifle training system, while the suspension systems division develops and manufactures various gearboxes, axles and complete wheels.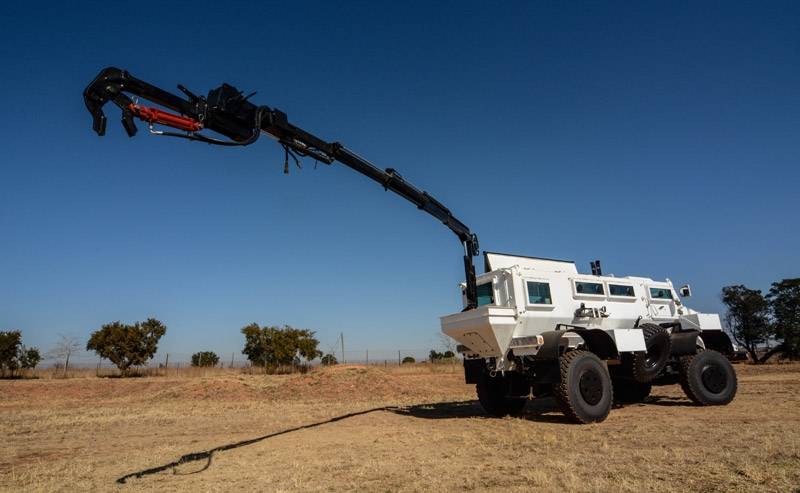 Armored car Casspir4x4 with a mechanical arm installed in the back
External interests
Also in the "stable" Denel there is an 100-percent subsidiary of Mechem and Land Mobility Technologies (LMT) with a share of 51%. Mechem expanded the Casspir family of mini-protected machines to include the 6x6 and 8x8 variants in various configurations, including cargo, diesel tanker and evacuation, while the 4X4 variant is also manufactured as a weapon transporter, and in a wide body package, as a sanitary vehicle, in the case of a hygiene package, as a sanitary equipment, health, health and health are also used as a conveyor for health, and in a wide case for health equipment, sanitary equipment for health, sanitary equipment, sanitary equipment, sanitary equipment, sanitary equipment, sanitary equipment, sanitary equipment, sanitary equipment, sanitary equipment, sanitary equipment, sanitary equipment, sanitary equipment, sanitary equipment, sanitary equipment, sanitary equipment, sanitary equipment, health equipment, sanitary equipment, sanitary equipment, sanitary equipment and sanitary equipment in sanitary equipment, sanitary equipment, sanitary equipment and sanitary equipment for health, sanitary equipment and sanitary equipment for health. The Casspir armored vehicles were exported to several countries, and Mechem currently has a permanent contract with the UN to manufacture vehicles on request.
LMT sold more than 1000 armored vehicles, armored cabs, capsules for armored personnel carriers and specialized corps to many countries around the world. Its product line starts with armored SUVs and protection kits for HMMWV armored cars, armored and mini-protected cabs for Mercedes Actros and Zetros trucks and ends with light and medium armored personnel carriers. For highly specialized options are machines for demining groups of unexploded ordnance.
LMT has developed for Badger ICV a flat-bottom, mine-proof system, as well as a new tailgate and interior layout for seats and storage areas. Among its vehicles for the local army are the 9-seater LM13 armored personnel carrier with a mass of 13 tons and a maximum speed of 120 km / h and 16-ton 11-local armored personnel carrier LM14, both with mine protection and protection against improvised explosive devices (IEDs). When creating both machines, the South African Army's extensive combat experience was used: they have an air-conditioning system, cooled water tanks, individual energy absorbing seats with four-point safety belts, carefully thought-out storage places to prevent detonation of the armament and internal equipment detonation when undermining a mine or IED
LM13 armored personnel carrier (above) and LM14 armored personnel carrier manufactured by LMT
DCD exported more 1000 mobile Husky mine reconnaissance complexes to the USA — one of the few foreign systems qualified by the type of American army — and fewer to other countries, the last of which was Turkey. Husky is also offered in a double configuration with the workplace of the system operator, in addition, the complex is supplemented with a trailer for blasting Millipede mines. The system is also offered in a remote controlled version. In addition to Husky, DCD exports its lightweight, mine-proof Springbuck machine, and its Ikri variant is made by Mekahog in Nigeria. It also produces the Mountain Lion 4x4 MRAP variant, which is based on the Husky chassis with all steering axles, and the compact Oribi truck weighing tons of 3, which is also well suited for air transport.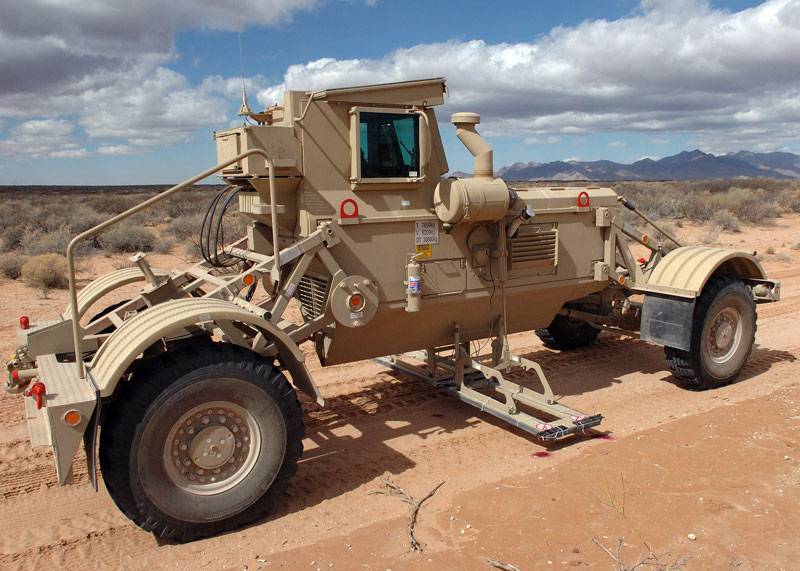 Husky Mobile Mine Intelligence Complex
Integrated Convoy Protection has exported its REVA 4x4 low-impact vehicles to Africa, the Middle East and Thailand, and also offers the 4x4 protected 6 tons 6 evacuation vehicle and 26XXNX XMXXXXXXXXXXXXXXXXXXY XYNUMX evacuation vehicles Assault vehicles have a foot ring for mounting an 4-mm machine gun or 4-mm grenade launcher and vertical trunnions for four light machine guns, and, in addition, are capable of accepting 12,7-mm mortar.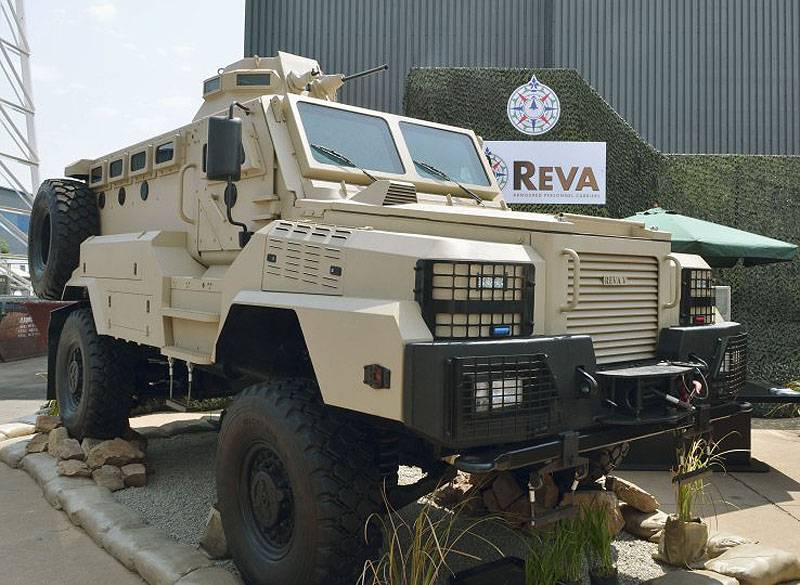 Armored car REVA-V company Integrated Convoy Protection
OTT has developed and exports two mini-armored armored personnel carriers based on the chassis of commercial trucks, a ten-seater M26 weighing 8 tons and an 12-seater M36 Puma weighing 12 tons, which also has protection from IEDs. She exported her armored personnel carriers to Kenya and the UN. OTT also offers the option of Puma 6x6 weight 22,5 tonne evacuation variant protected patrol car Marrua M27, based on the Brazilian Agrale Marrua AM200CD, and high-speed assault vehicle based on truck Samil-20 4x4, which was originally designed as a conveyor compartment infantry units of the South African Army .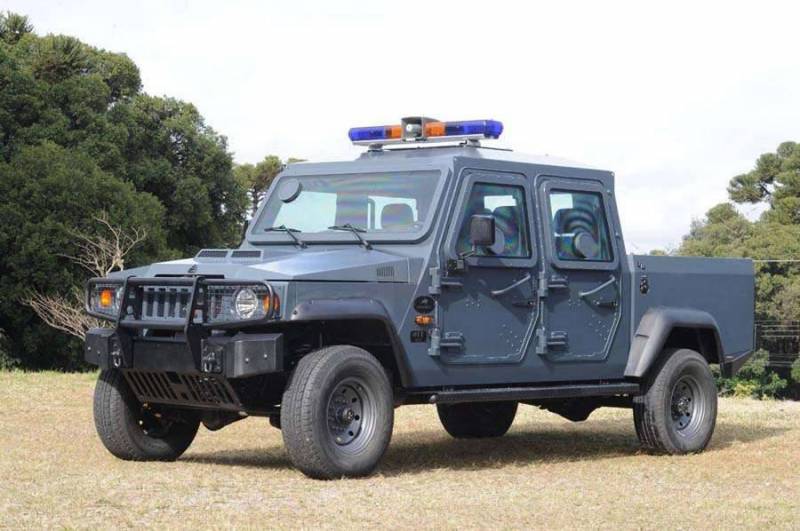 Marrua M27 light patrol armored car from OTT Technologies and Agrale
Paramount offers its Marauder and Matador 4x4 armored personnel carriers and three variants of the Mbombe 4x4 armored vehicle. Mbombe 4 was acquired when Paramount was acquired by IAD, it has an unusual characteristic, a maximum speed of 150 km / h and a sustained speed of 100 km / h. The Mbombe 6 ton mass of 22,5 tons has been modified for greater unification with Mbombe 4, and for the new Mbombe 8 ton mass of 28 tons the same chassis components are used. Both cars have a flat bottom, they are provided for the role of an armored personnel carrier or an infantry fighting vehicle, although the Mbombe 6 axle spacing means that it overcomes a bit better than the 4x4 configuration machine.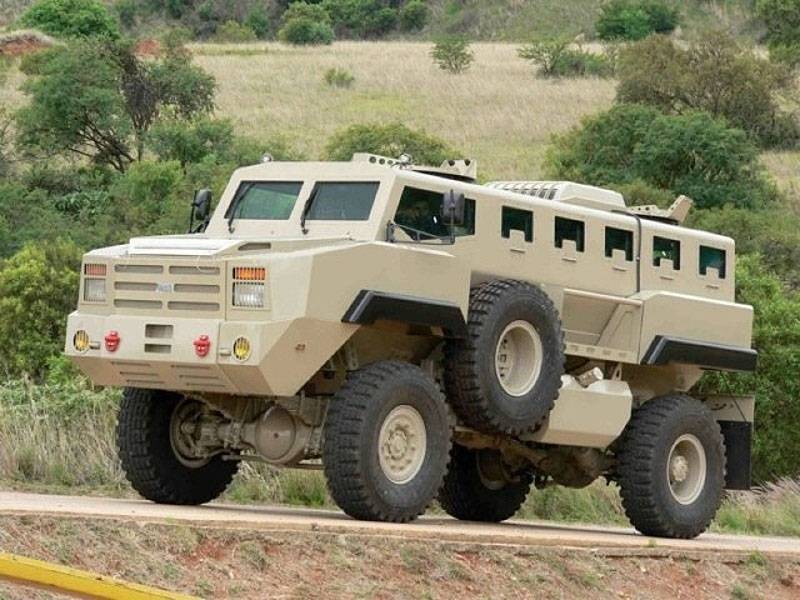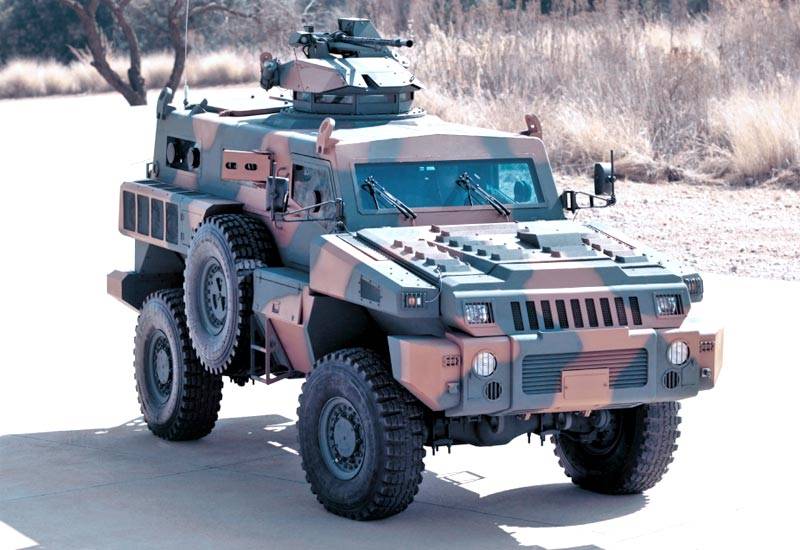 Paramount manufactures Marauder armored personnel carriers (below) and Matador 4x4
Denel Land Systems continues to develop its G155 5 towed howitzer and G6 self-propelled howitzer, which are available in the L45 and L52 variants. She also developed a new version of the G5 howitzer mounted on the Tatra 8x8 truck chassis. In this system, with a mass of 38 tons, a gun with a barrel length of L52 was installed, which made it possible to obtain a range of 40 km with a projectile with bottom excavation and 50 km with an active-missile projectile. She can shoot six shells in MRSI mode ("barrage of fire" - shooting mode, when several shells fired from one cannon from different angles reach the target at the same time) and withstand a long fire rate of two shots per minute. Another project is the LEO 105-mm gun with a range of 30 km, which was also developed and qualified as a turret for installation on light armored vehicles and, in this form, was shown on the LAV armored vehicle in the United States, including testing military vehicle compatibility C-130.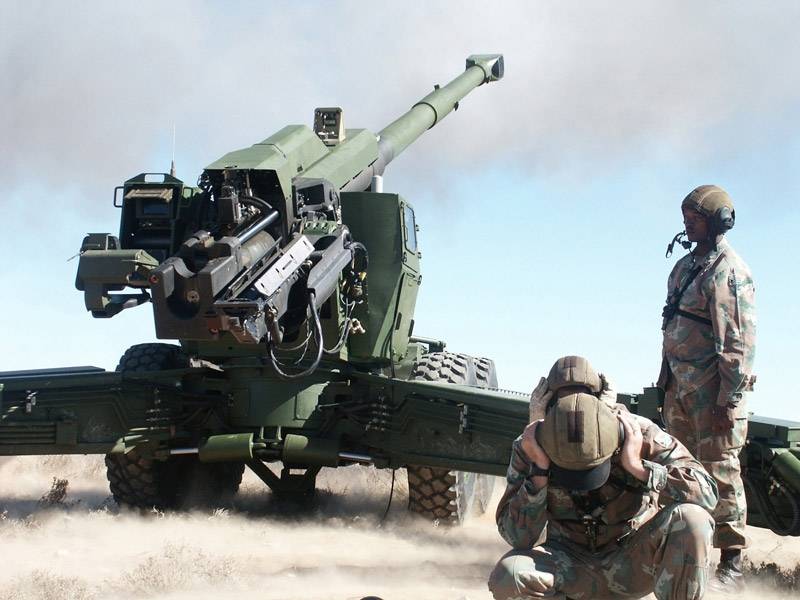 155-mm G5 towed howitzer (top); self-propelled 155-mm howitzer G6 (below)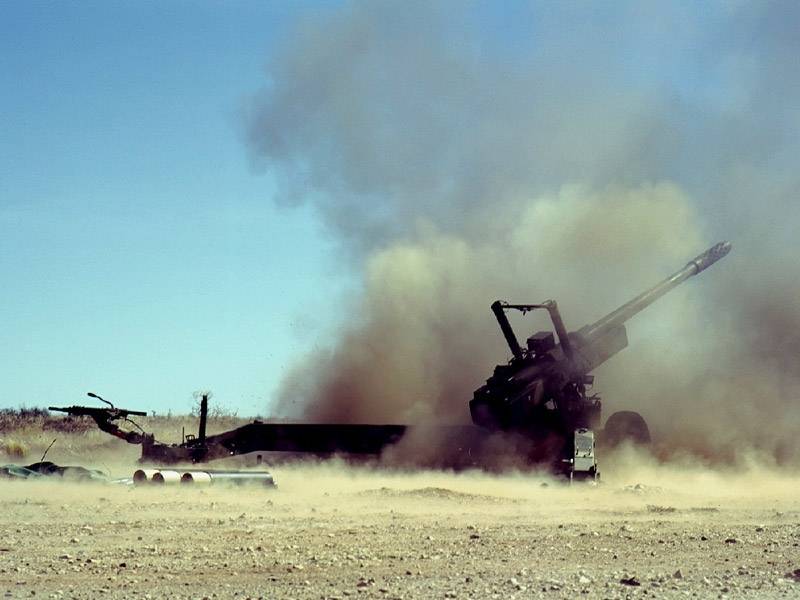 The LEO 105 towed howitzer was towed as an armored vehicle for armored vehicles.
Attacking shells
The main players in the South African ammunition industry are RDM (51% Rheinmetall, 49% Denel) and the 100% Denel subsidiary, PMP. RDM designs and manufactures: 105 and 155 mm long-range ammunition; 76 mm ammunition for armored vehicles and naval guns; 60, 31 and 120 mm mortar rounds; 40 mm low-, medium- and high-speed grenades; missile warheads, rocket engines and propellants for artillery shells, as well as
aviation
Plofadder demolition bombs and linear charges. RMP develops and manufactures ammunition for small arms (up to 14,5 mm) and shells for guns of caliber up to 35 mm, as well as new ammunition 20x42 mm and brass components for many other products. Denel Dynamics is developing a trajectory with a corrected trajectory for artillery shells.
RDM's mid-range 40xXNNMX mm long-range projectiles with extended range include high-explosive, cumulative-frag, red-phosphorus, colored smoke and practical tracer options with double initial speed, which improves accuracy and increases maximum range. Such a projectile can get into a window in a house from a distance of 51 meters and fight rocket grenades and equivalent threats from a distance of 350 meters. These munitions were qualified for weapons systems manufactured by Milkor and Rippel Effect, they were successfully used in combat by French special forces.
RDM Plant Engineering has developed a mobile autonomous container that protects ammunition from adverse environmental conditions, ensuring operational reliability and combat readiness. The modular design of the system is suitable for the deployment of a company or battalion. RDM also offers modular, transportable demilitarization solutions designed to neutralize ammunition and explosives encountered in peacekeeping operations. These systems leave behind the waste in the form of copper and brass, which can be disposed of at local enterprises.
RDM also organizes the production of ammunition in other countries, mainly for a factory in Saudi Arabia, which is owned by Military Industries Corporation. This plant was designed, built and launched by RDM, which at one time built several factories in South Africa. RDM is the main supplier of components and materials for the production of ammunition.
Atlantis manufactures self-destructing fuses for 40-mm grenades and 120-mm mortar shots, and also developed a new 40-mm grenade with a small long-range recoil force, which it supplies to Diehl and Rippel Effect. Atlantis also organizes ammunition production in other countries. Another ammunition manufacturer, Reutech Fuchs Electronics, develops and manufactures a wide range of fuses for ground systems, 76-mm ship guns and aerial bombs.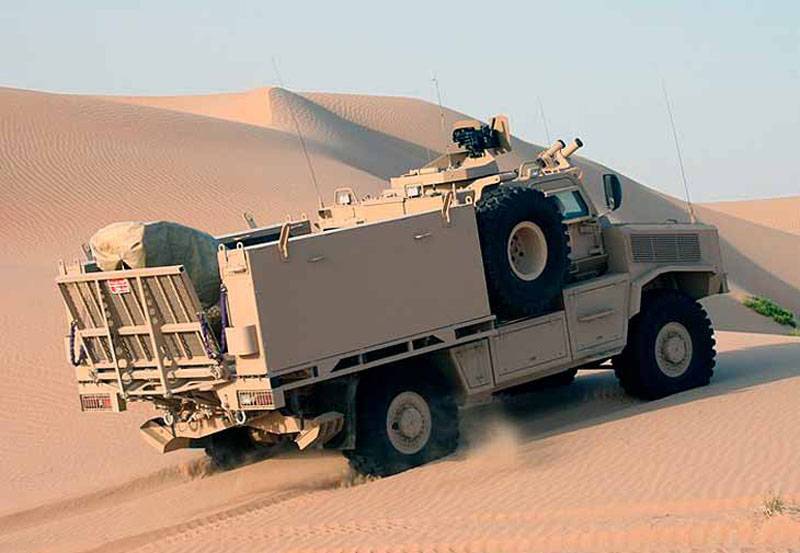 The International Golden Group company delivered the last of 2014 mobile 72-mm mortar complexes Agrab Mk 120 (Scorpion) to the UAE at the end of 2 at the end of the year. The complex is an advanced SRAMS mortar from ST Kinetics, installed on a modernized armored car RG31 Mk 6E
Other developments
Denel Dynamics offers its own laser-guided Ingwe 5 km rocket for installation on vehicles, such as the Ratel and Badger anti-tank versions, or for installation in its own ALLERT turret. It can also be used with helicopters (sold in Algeria) or installed on light vehicles. The company also launches the Mokor rocket with a laser homing range of 10 km, although it is intended mainly for assault helicopters or light aircraft.
Reutech has developed its Land Rogue remotely controlled combat module, which can accept 7,62 or 12,7-mm machine guns, Denel 20xXNNUMX mm gun or 82-mm grenade launcher. 40 of such installations was ordered by Malaysia in addition to the ship versions of the module, which are in service with several fleets. A larger module Super Rogue armed with a gun Rheinmetall CAE 55x20 mm. There is also an option with missiles that can accept 128-mm or 12,7-mm weapons in addition to Denel Ingwe missiles. Reutech also produces manual, semi-stabilized and retractable installations for machine guns and grenade launchers.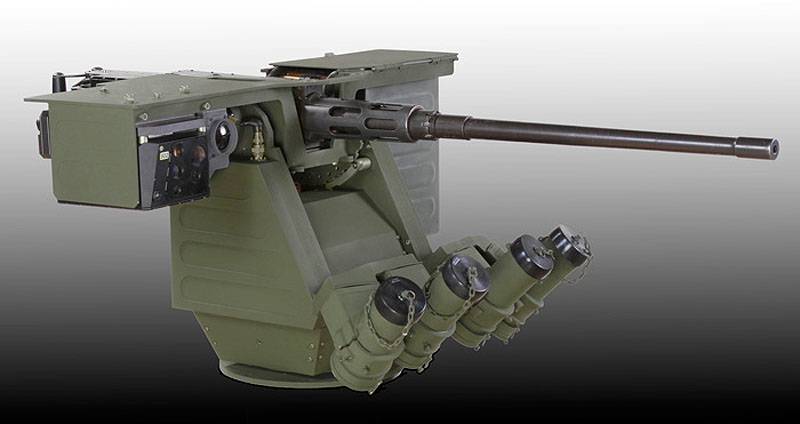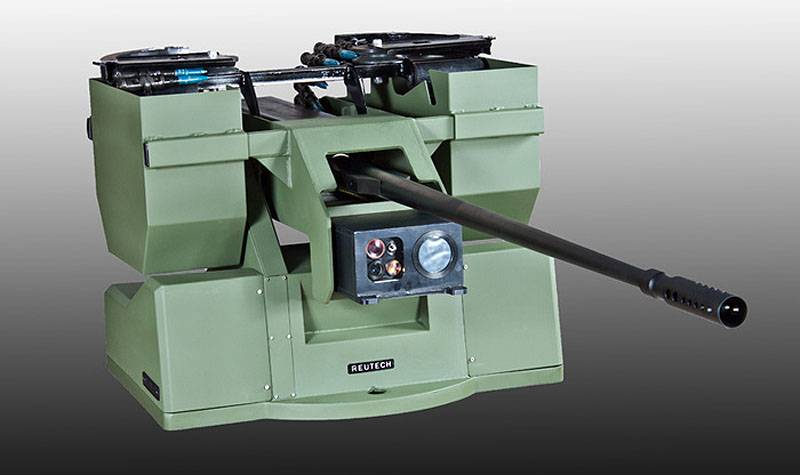 Remotely controlled combat modules Land Rogue (top) and Super Land Rogue company Reutech
Comenius Consultants offers a wide range of turrets and turrets for armored vehicles, some of which were installed on various South African vehicles. Saab Grintek Defense continues to develop the LEDS warning and electronic suppression system for armored vehicles (or patrol boats) and is currently performing a two-stage export contract for the 170 LEDS-50 complexes after previous deliveries of complexes to the Netherlands for the CV9035 BMP. The LEDS-150 active protection complex has not yet entered mass production, although Denel Dynamics has completed the development of the corresponding Mongoose counter-shear. Optoelectronic warning system sensors are developed by a local company. Reutech Radar Systems RSR150 detection and acquisition target radar can also be configured to deal with sniper rifles and mortar shells.
In the field of infantry weapons, DLS achieved success with such weapons as the 40-mm automatic grenade launcher, the 60-mm long-range mortar (6 km), the SS77 light machine gun and the NTW sniper rifle; All of these systems are in service with the South African army and special forces. Light weapons are engaged in another company that is part of the Denel group. PMP is developing a personal assault weapon and a self-loading grenade launcher iNkunzi 20x42 mm, which is effective at distances up to 1 km and which is developed as a weapon with a tape feed. Ammunition for it is developed on the basis of projectiles from 20-mm automatic guns, equipped with shorter sleeves with a length of 42 mm.
Line of small and medium caliber ammunition manufactured by Denel PMP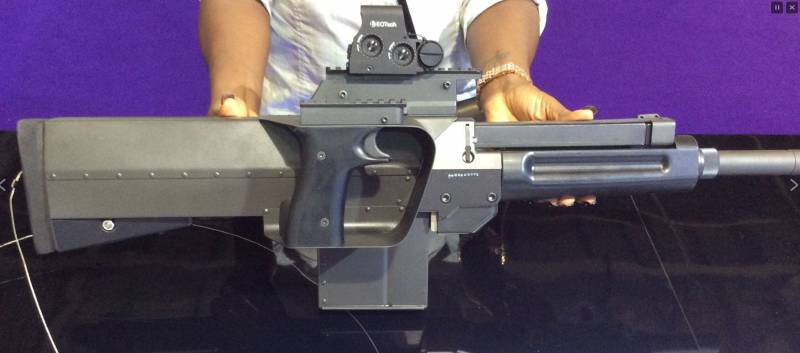 Self-loading grenade launcher iNkunzi 20x42mm of the South African company PMP
The private company Truvelo Armory has successfully established itself in the export of sniper rifles of various calibers and high-precision barrels. Another popular infantry weapon from South Africa is the 40-mm six-shot grenade launcher, its various variants are made by Milkor and Rippel Effect, including long-range grenade launchers for which Rheinmetall Denel Munition and Atlantis have developed new ammunition. Atlantis also produces a new fuse.
7,62х51mm sniper rifle (top) and 14,5х114mm large-caliber sniper rifle from Truvelo Armoury
Several South African companies are involved in organizing and maintaining military bases for peacekeeping forces and similar contingents, such as peacekeepers in Somalia and Afghanistan. Even more companies, such as Redeployable Camp Systems, Mechem and Saab Grintek Defense, produce awning structures, containers and related equipment. Saab Grintek Defense has recently developed a rapidly deployable resuscitation tent station and a container field hospital, and also works with several local companies in the field of chemical, biological and radiation intelligence equipment and systems.
The industry in South Africa is supported by the research activities of the Armscor Corporation and the Council for Scientific and Industrial Research. Also a considerable amount of work on defense topics are performed by various universities. In addition, Armscor Corporation owns several test and evaluation ranges, which are quite enough to meet most of the needs, given that there is also a Denel missile test range.
Materials used:
www.shephardmedia.com
www.reutechsolutions.com
www.denel.co.za
www.lmt.co.za
www.revaarmoredvehicles.com
www.rheinmetall-defence.com
www.truvelo.co.za
www.baesystems.com
www.wikipedia.org
en.wikipedia.org