We have long been accustomed to tow trucks for parking violators - they can be found on the streets of any city. But the tow truck for
tank
- the car is more exotic and is used primarily for delivering tanks to places of deployment. M25 was one of the most interesting models in this "genre".
Pacific Car & Foundry Company has changed its name and headquarters many times. Founded as Seattle Car Manufacturing Company in 1905, today it is known as the Paccar Corporation, which owns the famous Kenworth and Peterbilt brands. The company closed its own brand Pacific many years ago. In addition to trucks, the company has built railway equipment at various times and made a lot of money on military contracts, in particular on the production of tanks.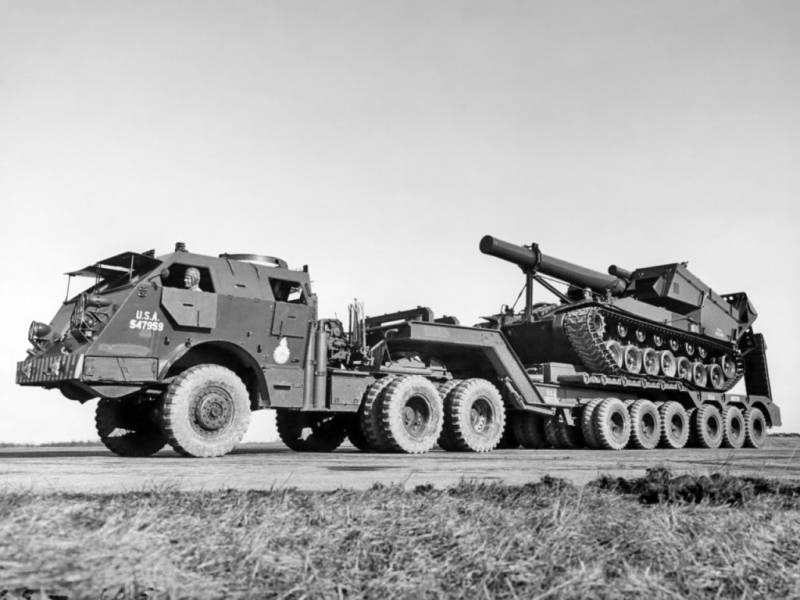 By the beginning of the war, the army monopoly, which produced military trucks, was Diamond T (there were a lot of their cars in the USSR — supplied by Lend-Lease and even partially assembled in the Soviet Union). This included the Diamond T 981 Tank Transporter tank transporter, which was actively produced and put into service in the 1941 year. K T 981 hooked Shelvoke or Drewry semitrailers, and the whole structure could carry tanks weighing up to 30 tons, that is light. Transportation of heavy tanks remained a problem. Here in this niche and decided to squeeze the Pacific.
M25 Tank Transporter appeared in 1943. Pacific semi-trailers were ordered on the side, from the Fruehauf Trailer Corporation of Detroit, and the design of the tractor from another firm, Knuckey Truck Company. Installed on the machine 240-strong 6-cylinder engine Hall-Scott 440. The 7 crew man was in an armored cockpit. Interestingly, the M25 designation refers specifically to the combination "tractor + semi-trailer", separately these two elements were designated as М26 and М15. In wartime, joint production was very common - it was profitable for companies to cooperate for the sake of state order, and not to try to do everything alone.
М26А1 - post-war version without armor
From 1943, the Pacific produced tractors, and Fruehauf - semi-trailers. After the war, a civilian version without reservation was developed - M26A1, which was produced before 1955. The next army contract for a tank tractor was awarded to Mack with the Mack M123 model.