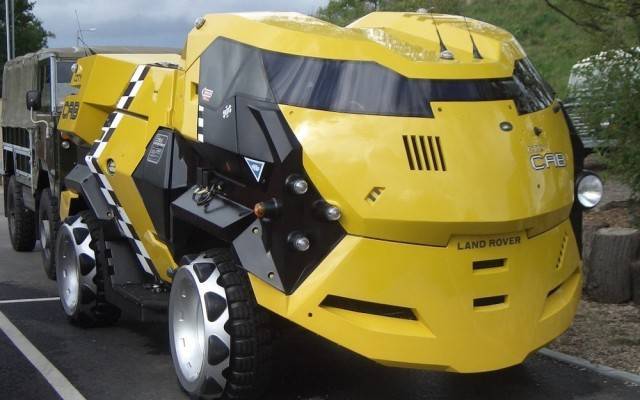 As it turned out, the British army did not always use the services of manufacturers of heavy military equipment to upgrade its fleet of trucks and all-terrain vehicles. Occasionally, in search of new solutions and maybe even visions, the Ministry of Defense turned to large, reputable automobile companies. One day, Her Majesty's army wanted a truck and ordered it from Land Rover, which had a good reputation as a manufacturer of army off-road vehicles, but had never dealt with trucks.
Initially, the novelty was supposed to be a tractor for the L118 105-mm caliber cannon with an additional load of no more than a ton, therefore, at the design stage, the concept was called the Rover for one ton. The final name was influenced by the wheelbase of the car and the position of the driver in the cab. The 101-inch bridge and driver's seat in front of it played a decisive role and the truck was born with the name Land Rover 101 Forward Control.
Norman Busby, an engineer in 1967, took up development in five years, and after five years the company was able to start mass production of one of the most popular British army trucks used throughout almost all units of the ground forces as well as the Air Force and Navy. 101FC quickly turned into a universal army vehicle.
There were many modifications: they used it as a medical center on wheels, auto radio protection and even for the usual transportation of heavy artillery. FC was produced before 1978, and has not officially retired so far. Despite the fact that in the middle of the 90's, Austrian Pinzgauer ousted them from the market, a more modern and sophisticated analogue of an all-terrain vehicle, and part of FC was written off, they are still used on all five continents. Often preferring civilian modification. Although military carriers are now in service with Australia, some countries in Africa and Indonesia. Enough of them naturally in Afghanistan, Iraq and Libya.
The inconspicuous 101 became famous thanks to the American militant "Judge Dredd". Film Studio acquired the 31 car and turned them into a futuristic taxi with fiberglass elements mounted on the chassis and dismantled body.
Forward Control is a little-known Land Rover legend, time-tested in combat conditions around the world.