Remotely controlled: a deserted revolution of the towers of combat vehicles
The Rheinmetall Defense Lance Modular Turret System modular turret system is equipped with a selective-powered 30-mm Mauser 30 MK 30-2 cannon with a twin-mounted 7,62-mm machine gun (pictured on Piranha IIIC armored vehicle)
Remotely controlled combat modules have been installed on armored combat vehicles for many years, but remotely controlled towers are currently being installed on a number of platforms. Let's look at the state of affairs and prospects in this area.
Remote-controlled combat modules (SDM) for armored combat vehicles (BBM) are usually armed with 7,62-mm or 12,7-mm machine guns or 30-mm or 40-mm automatic grenade launchers. They are currently being installed on the BBM to increase firepower, but some machines are equipped with remote-controlled turrets (OAK), which are usually armed with medium-caliber guns, machine guns paired with them and in some cases anti-tank guided missiles (ATGM).
The main armament is in most cases stabilized and this feature, coupled with stabilized day / night sighting systems, including a laser rangefinder, allows you to hit targets in almost any weather conditions. Some towers are also equipped with an automatic target tracking station to facilitate the work of the gunner and simplify the sequence of destruction of flying objects.
As a rule, these OAKs are controlled by one person inside the body of the machine, whose workplace is equipped with a flat-panel display and appropriate controls, including a joystick and several handles.
Their layout usually provides for functional flexibility and therefore the machine is equipped with two sets of controls: one for the commander and one for the shooter. In this case, a commander panoramic sight with day / night channels and a laser rangefinder can be added.
Most of the OAK has the ability to reload weapons from under the armor, one of the typical examples - OAK HITFIST 30 Italian company Leonardo (formerly Oto Melara), which has a door at the bottom for access to the tower. Some of these OAKs are unskilled in their pure form, while others have habitable options.
OAKs can be extremely expensive, easily reaching 50% of the cost of an armored vehicle, with the inclusion of options such as ATGM launchers, additional video cameras, rocket launchers, and sometimes components of the active protection complex.
The main advantage of the OAK is the absence of the basket and the corresponding penetration into the hull, thereby increasing the valuable internal volume inside the platform, which means at least the placement of two additional paratroopers.
The inhabited towers are heavier because they are larger and have additional crew protection, but at the same time their crews have elevated levels of situational awareness and can detect and destroy targets faster than in the case of OAK. By the way, the reconnaissance vehicle of the French army Jaguar 6x6 and the reconnaissance tracked vehicle of the British army Ajax, currently undergoing tests, are equipped with a two-seat turret.
The Belgian company CMI Defense has considerable experience in the design, development and production of towers, which are mainly intended for the export market.
The company's latest development is the Cockerill 3000 range of modular and expandable towers. They are offered in manned and uninhabited versions and can be equipped with weapons ranging from 25-mm guns to 105-mm rifled guns.
The company CMI Defense is currently engaged in the manufacture of a large batch of manned towers of the Cockerill 3000 series for an unnamed foreign customer. But it is obvious that these towers are designed for installation on LAV 8x8 vehicles manufactured by General Dynamics Land Systems - Canada, which are in service with the Saudi National Guard.
The first two options that went into production were the Cockerill 3030 and Cockerill 30105 towers. The first one is armed with an MK30 selective-powered 44 gun from Orbital ATK Armament Systems and an 7,62-mm machine gun paired with it, while the second one is equipped with a CV105 105-mm threaded gun from CMI Defense.
For 105-mm guns, ammunition is fed by automatic loader (it is also installed in the CT-CV turret); In addition to 105-mm projectiles, she can also fire a projectile guided by a laser beam to the maximum range of 5000 meters.
Of course, there are many options for the Cockerill 3000 series of towers: sighting systems, fire control systems, situational awareness systems, rocket launchers, etc. A more advanced version has two stabilized sighting complexes.
Based on the experience of developing and producing single and double towers for local and overseas markets, Rheinmetall Defense developed the Lance Modular Turret System (MTS) modular tower, which is offered in habitable and uninhabited configurations.
The first serial order for the Lance manned turret came from Spain, which received four systems for installation on Piranha IIIC 8x8 (manufactured by General Dynamics European Land Systems - MOWAG) of the Spanish marines.
This turret is armed with an 30-mm Mauser MK 30-2 ABM cannon and a paired 7,62-mm machine gun, equipped with a computerized FCS and various surveillance systems, including a commander's stabilized panoramic sight.
The RCT version of the Lance tower is offered with different weapons and can be controlled by one or two operators sitting in the vehicle body. For testing, the manned turret was installed on the Boxer 8x8 MRAV multi-purpose armored vehicle for export. For example, the company Rheinmetall offers Boxer MRAV with this tower for the program of the Australian Army Land 400 Phase II.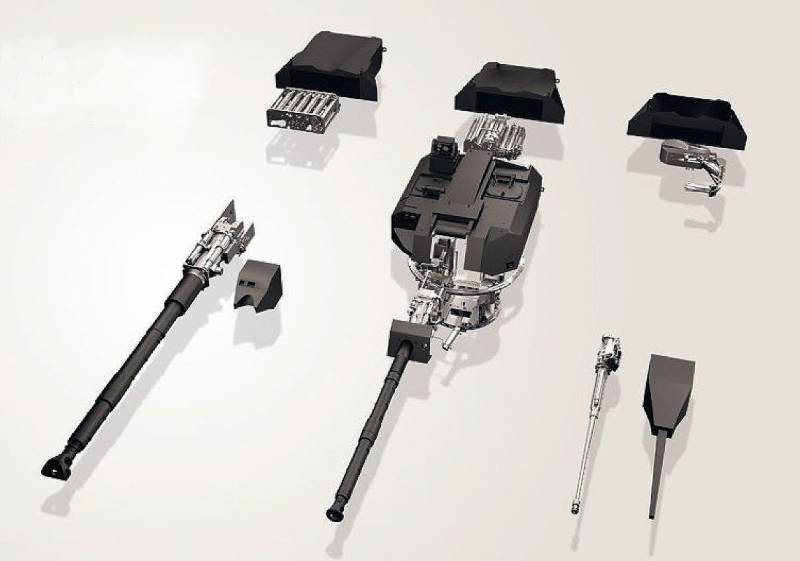 Picture of the Cockerill 3000 series from CMI Defense: 105-mm gun on the left, 90-mm gun in the center and 30-mm gun on the right
OAK and Puma
The German army currently receives from PSM a Puma infantry fighting vehicle in the number of 350 units, of which 8 is a driving training machine.
On the Puma BMP, an Krauss-Maffei Wegmann uninhabitable RCT turret is installed, armed with an 30-mm Mauser MK 30-2 ABM cannon and a paired 5,56-mm machine gun. A competition is currently open to replace this 7,62-mm machine gun. For testing on the port side of the tower of two Puma machines, a dual installation of Spike anti-tank guided missile was installed.
Also for the test version of this turret was installed on the Boxer MRAV armored vehicle, which is usually installed with the double-engined anti-aircraft gun with the 12, -7-mm machine gun M2 HB. Installing a tower from the Puma BMP on the Boxer transforms this platform from BTR to BMP.
In the meantime, the Israeli company Elbit also developed and started production of its UT30, which was originally positioned as an SDSM, but now received the designation Unmanned Turret (uninhabited tower).
Weight UT30 depends on the set of weapons and is about one ton. Typical kit: 25-mm cannon from Orbital ATK M242 or 30-mm MK44 with a 7,62-mm machine gun (optional ATGM is installed). The touch kit includes a CCD camera, a second-generation thermal imager and a laser range finder.
Leonardo has developed several towers with armaments of a caliber up to 120 mm, as well as an OCDM for the Italian and foreign markets. In the middle of 2008, the company introduced the HITFIST 30 turret, which was already being installed on a number of platforms for testing, including the Freccia 8x8 BMP and the French VBCI 8x8 platforms.
Relatively small weight 1350 kg allows you to install the tower on a variety of machines. As a rule, the turret is armed with a stabilized 30-mm MK44 cannon with selective power from Orbital ATK with 230 rounds of ammunition, as well as a twin 7,62-mm machine gun.
Electric tower drives and armament, large angles of vertical guidance, from –10 ° to + 75 °, make it possible to effectively deal with threats in built-up areas, as well as with low-low-altitude air targets. The firepower of HITFIST 30 can be enhanced by installing a launch container with two Spike ATGMs on the left side of the tower. The system can be serviced by one or two operators, the second operator captures the targets with the help of a panoramic sight mounted on the roof.
In June 2016, the development of the HITFIST 30 OAK was completed, two pre-production samples were made, but orders for it have not yet been reported.
Russian BMP-3 with automatic artillery installation АУ-220M with 57-mm cannon and 7,62-mm machine gun (aka "Derivation"). This OAK is equipped with two stabilized day / night sighting systems.
OASM American Army
Since its inception, the Norwegian Kongsberg has manufactured more than 10000 DUBM, and the American army is the largest operator of the products of this company. These systems are typically armed with 5,56-mm, 7,62-mm, 12,7-mm machine guns or 40-mm grenade launcher, although the latter module version is armed
weapons
two types. This newest Protector Dual Remote Weapon Station (DRWS) was selected for the Canadian Tactical Armored Vehicle (TAV) tactical armored vehicle program.
On its own initiative, the company also developed the OAK Protector Medium Caliber Remote Weapon Station (MC-RWS), which began production in the middle of 2010. For testing it was installed on several platforms.
In 2016, the US Army chose the MC-RWS turret to upgrade the 97 of M1126 Stryker 8x8 armored personnel carriers manufactured by General Dynamics Land Systems in order to increase its firepower. The first eight towers will be supplied by Kongsberg at the end of 2016 of the year.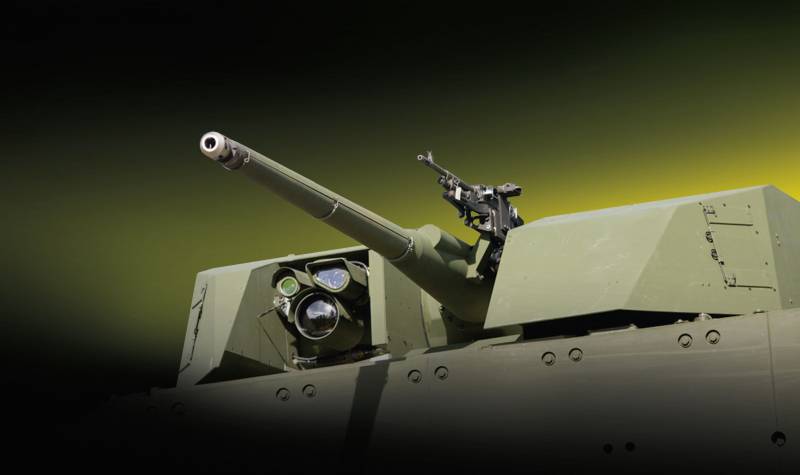 MC-RWS Norwegian Kongsberg Remote Controlled Tower
The OAK MC-RWS is usually armed with a 30-mm cannon with selective power and a paired 7,62-mm machine gun, optionally a Kongsberg AUVM with 5,56-mm, 7,62-mm, 12,7-mm machine gun or 40-mm automatic grenade launcher can be mounted on the tower roof. Javelin-made Raytheon / Lockheed Martin ATGMs can also be installed aboard the turret with increased range.
The MC-RWS tower was installed on a variety of platforms, both wheeled and tracked. The US Army also installed it on the Bradley BMP, which is currently equipped with a twin turret armed with Orbital ATK 25-mm cannon, paired with a 242-mm machine gun and two TOW ATGMs on the left side.
In February, the Russian corporation Uralvagonzavod 2015 presented a full-scale model of its automatic artillery installation AU-220M as a possible candidate for the Enigma 8x8 family of vehicles, developed by the Emirates Defense Emirates company.
At the end of 2015, the AU-220M, also known as Baikal, was shown on the BMP-3 as one of the new weapon systems that can be installed on this platform.
The AU-220M turret is armed with a 57-mm cannon with selective power and technical rate of fire up to 120 shots / min, paired with a PKTM 7,62-mm machine gun and two groups of 81-mm grenades. Ready-made ammunition 200, including armor-piercing and high-explosive fragmentation, is housed in a turret. It should be said about the guided ammunition, the declared maximum range of which is 12000 meters.
The model presented at the beginning of 2015 of the year (photo above) had a gun with a perforated muzzle brake, but the gun, shown in September of the same year on the BMP-3, had a slit muzzle brake, and above it, apparently, a barrel bend sensor. The range of angles of vertical guidance of the full revolving AU-220M is from -5 ° to 75 °, which allows to obtain limited zenith capabilities. The specimen shown was equipped with two stabilized sighting systems.
Another Russian company, the Instrument Engineering Design Bureau (KBP), has extensive experience in creating turrets and tower armament, especially guided missiles. Its newest development, the OAK or Epoch crewless combat module, is installed on three new Russian cars: the heavy T-15 infantry fighting vehicle, the crawler-mounted Kurgan-25 infantry fighting vehicle and the wheeled infantry fighting vehicle Boomerang. This turret is armed with a fully-powered 30A2 42 dual-power cannon with 500 rounds of ammunition. On the left, an 7,62-mm machine gun with 2000 ammunition ammunition.
Along the sides of the turret, launchers with two laser-guided missiles Cornet, also manufactured by KBP, are installed, having a range of 8000-10000 meters depending on the variant. These missiles are equipped with a thermobaric warhead or a tandem high-explosive warhead to neutralize targets equipped with dynamic protection systems. The tower is equipped with a computerized MSA, and the commander and the gunner have a stabilized sight mounted on the roof with day and night channels and a laser rangefinder.
Due to the integration of the OAK Epoch into three new BBM platforms, Russia has made a big step in unifying its weapon systems, since in this case the costs of full service life and training are reduced.
KBP also developed at least two OAKs, which are offered as separate products or for installation on a new BMP-3M Dragoon.
The first of these, the BM 100 + 30 combat module, has the same weaponry (100-mm cannon, 30-mm cannon and twin 7,62-mm machine gun) as the original two-seat turret installed on the serial BMP-3. The second combat module BM 125 is armed with a 125-mm smooth-bore gun and an 7,62-mm machine gun paired with it.
The Slovak company EVPU developed and tested the OAK Turra 30, and then showed it on the upgraded BMP-1 and Finnish armored vehicle The Modular Vehicle 8x8. The turret is armed with a Russian 30-mm 2A42 stabilized cannon with an ammunition of ready-made 300 shots, although it can accept an alternative MK44 cannon from Orbital ATK Armament Systems.
Paired 7,62-mm PKT machine gun (installation of other machine guns is possible) and two ATGMs mounted on the right, there are also two groups of grenade launchers. The turret rotates through all 360 °, and the vertical guidance angles range from -10 ° to 70 °.
The gunner has a stabilized aiming system with a CCD camera, an infrared camera and a laser rangefinder. The commander has a panorama mounted on the roof with similar characteristics.
OAK Turra 30 weighs only 1540 kg and has a basic level of protection that corresponds to STANAG 4569 1 level, although it can be upgraded.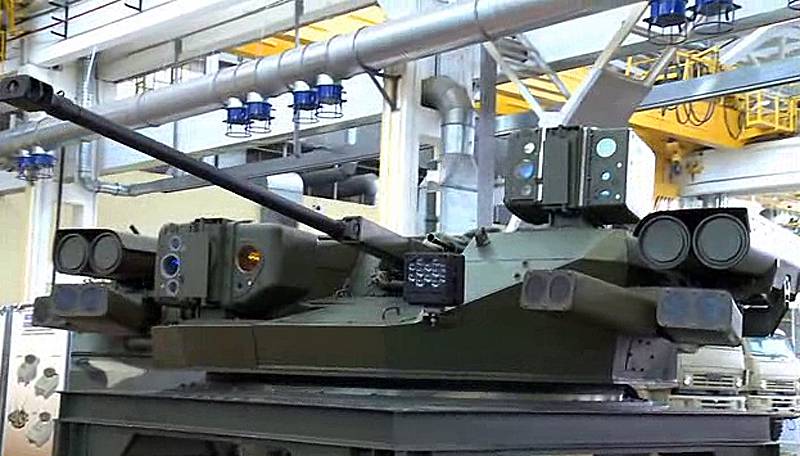 The Epoch OAK of the Russian company KBP is armed with an 30-mm 2A42 cannon, a paired 7,62-mm machine gun and two dual ATGM Cornet launchers
More OAK
The Tactical Remote Turret (TRT) tactical remote-controlled turret was originally developed by BAE Systems Land Systems South Africa, but is currently part of the South African Denel product line.
The TRT can be armed with various 25-mm and 30-mm cannons and machine guns, including the 2A42 cannon, and a twin PKT machine gun. This variant received the designation TRT-R30 (R - Russia and 30 - caliber). A dual ATGM can be added and then the designation becomes TRT-R30MK.
Another option is usually armed with an Orbital ATK Armament Systems 25-mm M242 cannon with 260 ready shots plus 7,62-mm machine gun with 1000 cartridges. The weapon is aimed at the target by the shooter with the help of the display, which is displayed from a color or black-and-white day camera and thermal imager installed coaxially with the weaponry. The basic TRT OAK is controlled by one operator, but there is the possibility of placing a second operator with an independent aiming system.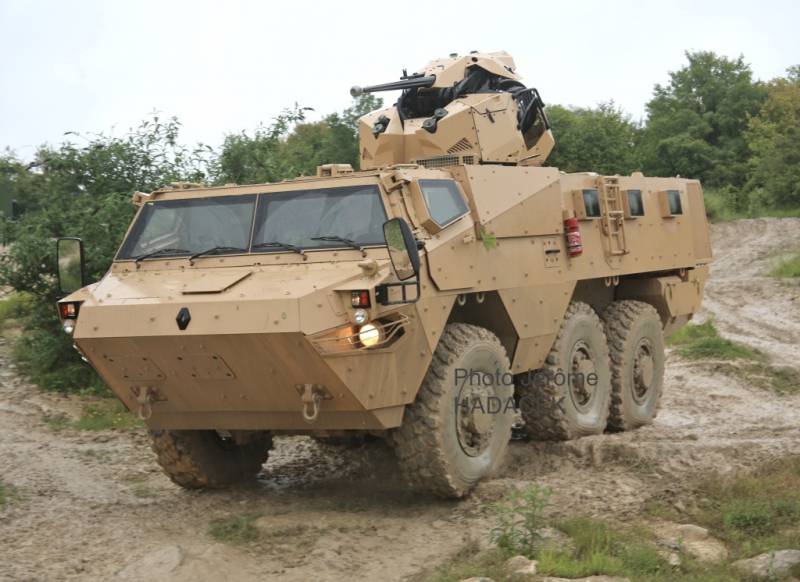 A new VAB Mk 3 6x6 machine from Renault Trucks Defense in BMP configuration is equipped with a Denel TRT-25 turret armed with an Orbital ATK M25 242-mm gun and 7,62-mm machine gun
Turkey is also not lagging behind in this area. The Turkish company FNSS Savunma Sistemleri manufactures various tracked and wheeled armored vehicles, as well as corresponding weapon systems. One of the latest developments of the company, the modular mid-caliber tower Teber-30, is offered in habitable and uninhabited configurations.
Teber-30 Uninhabited Tower weighs 2500 kg with STANAG 4569 protection. 2 Level, which can be upgraded to STANAG 4569. 3 Level. The inhabited Teber-30 tower has seats for the commander and the shooter and weighs 3500 kg with protection system 4 Level upgraded to 5 Level.
The turret can accept various 30-mm or 40-mm guns with selective power, including the MK44, and 7,62-mm machine guns and grenade launchers. Electric and vertical and horizontal guidance drives, commander and gunner jobs are equipped with stabilized day / night aiming systems with a laser rangefinder. Also in the tower installed a computerized MSA with automatic calculation of lead angles and automatic target tracking.
Over 10 years, the Turkish company Otokar finished the transition from the development and production of light armored vehicles - usually based on the chassis Land Rover and HMMWV 4x4 - to the development of not only heavy armored combat vehicles and 6x6 8x8, but also heavy tracked vehicles, such as main battle tank Altay. The company also developed several towers, among them the Oak Mizrak (spear). It is mounted on the Arma 8x8 BMP and Tulpar heavier tracked BMP.
On the Tulpar BMP, the system was shown with a 30-mm MK44 cannon and a 7,62-mm machine gun with vertical guidance angles from -10 ° to 60 °. It is also possible to install on the starboard side of the tower two ATGMs produced by Turkish Roketsan, which can hit armored targets at ranges up to 8000 meters.
The Mizrak OAK is serviced by a single operator with a stabilized sighting system installed to the left of the main armament. Also developed a version served by two operators, the commander in this case has a panoramic sight mounted on the roof.
Like most OAKs, Mizrak is available in a variety of options, both with different sighting systems, and with different levels of protection, starting with the STANAG 4569 ballistic protection 2 level. Unlike other OAKs, the Mizrak has an escape hatch on the roof of the tower.
Inhabited towers and remotely controlled towers have unique advantages, but the OAK do not penetrate the hull, allowing you to occupy the precious volume inside with something useful, for example, additional paratroopers. They also weigh less and therefore increase the level of platform protection.
Currently on the market are hundreds of models of tower systems. This includes combat modules, unmanned towers, and towers with a crew. It is very difficult for customers to make the right choice of the right turret from all this variety, but in the future this task will not become easier, since the number of manufacturers of weapon systems for combat vehicles offering their extended model series will only grow.
Materials used:
www.rheinmetall-defence.com
www.leonardocompany.com
www.cmigroupe.com
www.kmweg.com
www.kongsberg.com
www.kbptula.ru
www.uvz.ru
www.renault-trucks-defense.com
www.otokar.com.tr
www.wikipedia.org
en.wikipedia.org