Information Agency
France-Presse
reports that the armed forces of the Syrian Arab Republic have taken control of a stronghold of militants of the Jebhat al-Nusra group in Latakia province. It is about the city of Salma and the strategic heights surrounding the city. For the past two to three weeks, a military operation has taken place with the support of the Russian
aviation
thanks to which the Syrian army and militia first managed to take control of the height of al-Nub, and then develop an offensive and liquidate a large group of militants in Salma itself.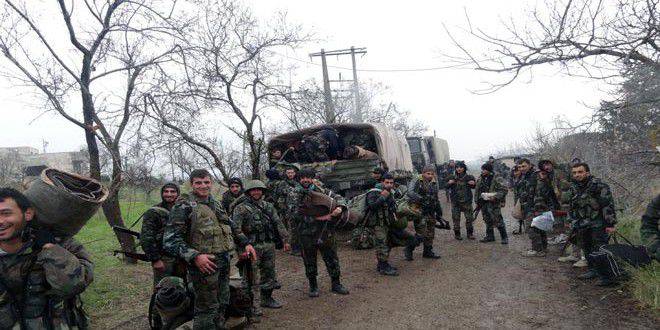 Syrian News Agency
SANA
reports that in Salma and the city of Tertiy there were numerous groups that had connections with the Erdogan regime. We are talking about militants, including the so-called Gray Wolves, one of whose representatives shot Russian pilot Lieutenant Colonel Oleg Peshkov at a time when the pilot parachuted after hitting Su-24M with Turkish fighters.
In addition to the militants of "Dzhebhat al-Nusra" in the area of ​​Salma and Tertiyah, a large number of terrorists from the group "Liva Ahrar Al-Sahel" were destroyed, on the positions of which the Syrian army carried out a sweep, disabling dozens of explosive devices.
From the message of the agency SANA:
The source noted that during the battles (for Salma) chaos reigned in the ranks of terrorist groups, a large number of militants left their posts, abandoned
weapon
and set off on the run, unable to withstand the attacks of the Syrian army.