The American strategic bomber B-52 with bombs and cruise missiles on board flew over the Republic of Korea in connection with the recent test of thermonuclear DPRK
weapons
transmits
RIA News
the message agency rhenhap.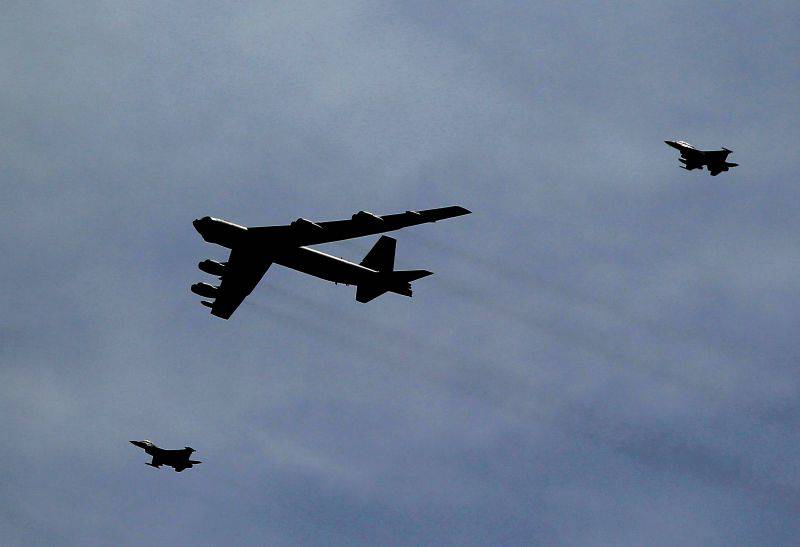 According to the report, "the bomber was sent from the American military base on Guam in the Pacific Ocean and entered the Republic of Korea's airspace near Osan city in Gyeonggi Province by noon."
The agency notes that "this is already the second retaliatory measure on the part of the South since North Korea announced the testing of the hydrogen bomb." The first measure is the resumption of propaganda from loudspeakers on the border with the northern neighbor.
"With the help of a B-52 bomber, the United States can strike at the commanding military facilities of the DPRK at a distance of three thousand kilometers from the border with South Korea. The plane has 35
aviation
bombs of 907 kilograms each and 12 cruise missiles AGM-86 and AGM-129 with a range of 2,5 and 3 thousand kilometers, respectively, with an impact accuracy of up to 100 meters, "Ryonhap writes.
At the Pentagon information about the transfer of aircraft confirmed.
"It was an armored demonstration of the loyalty of the United States to our allies, South Korea and Japan, as well as the defense of our homeland," said Harry Harris, commander of US forces in the Pacific.
The DPRK's nuclear weapons test "committed a flagrant violation of international obligations," he stressed.
For its part, Pyongyang believes that it does not bear any obligations in this area, since the country left the treaty on the non-proliferation of nuclear weapons back in 1993.