The official representative of the Ministry of Defense, Major General Igor Konashenkov, presented the latest report on the counter-terrorism activities of the Russian Aerospace Forces in Syria. According to General Konashenkov, the airplanes of the Russian Federation armed forces deployed at the Khmeymim airbase struck militant positions in several Syrian provinces. In particular, in the province of Homs, the Russian bombers destroyed the hidden base of the DAISH (ISIL) terrorists in the area of ​​the settlement of El-Karateyn.
Igor Konashenkov says that the base consisted of a whole network of underground communications, including a command post, barracks and a warehouse
weapons
and ammunition. All these underground structures were destroyed by a hit
aviation
bombs.
Active work on the destruction of terrorists and their infrastructure was carried out in the province of Aleppo. There, Su-25CM attack planes and Su-24M bombers struck a crowd of manpower and military equipment of militants. Three cars with anti-aircraft installations and large-caliber machine guns, as well as about a dozen militants DAISH (ISIL) were destroyed.
Strikes were made in the province of Idlib.
The press service of the Ministry of Defense of the Russian Federation cites a statement by Igor Konashenkov (quote
RIA News
):
In a separate building near the town of Maaret-en-Numan there was a warehouse of ammunition and equipment, as well as a command center of gangs.
Especially Igor Konashenkov stressed that information about the terrorist object was obtained from representatives of the so-called moderate Syrian opposition. After receiving this kind of information, the object began to be monitored by means of Russian unmanned aerial vehicles, confirming the fact that this is indeed a command post and a munitions depot of a terrorist group. After confirming the data the object was destroyed.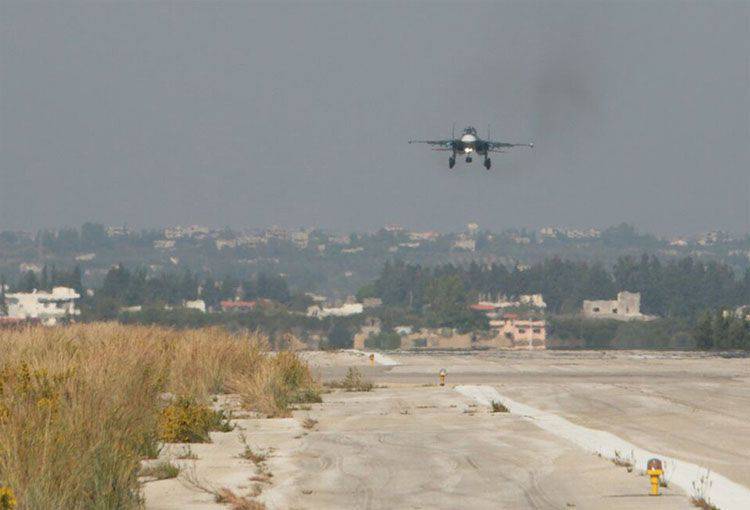 According to the representative of the Ministry of Defense of the Russian Federation, the operation of Russia in Syria is informationally open:
From regular representatives of the so-called anti-Igilov coalition, we regularly hear criticism of our attacks on the terrorist infrastructure in Syria, and even a pattern emerged - the more we beat terrorists, the more noise in the foreign media with links to some anonymous sources about the alleged non-selectivity of strikes by Russian aircraft.
According to an official representative of the Russian Ministry of Defense, the aviation of the Russian Aerospace Forces destroyed over 320 militants and 34 units of military equipment (including
Tanks
) in Syria, having made about 60 sorties. In total, attacks were carried out on 212 terrorist targets.
According to Igor Konashenkov, after the completion of combat missions, all Russian aircraft returned to the air base.