Test pilot Sergei Bogdan talks about the Russian fighter 5-th generation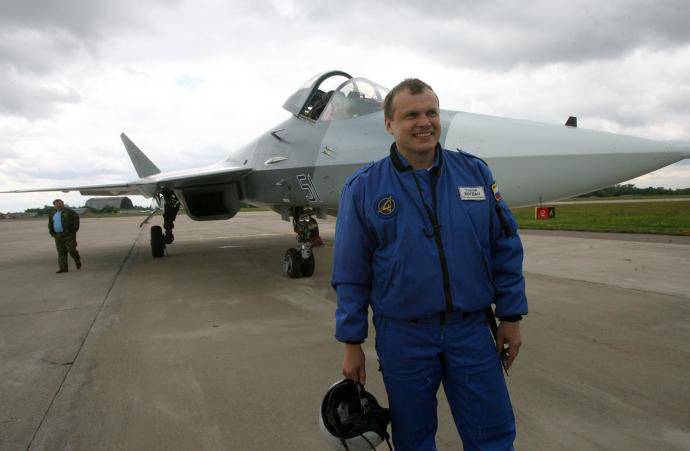 Sergey Bogdan and his "ward", the aircraft of the 5 generation T-50. ©
Photo: Maxim Shemetov, Tass
The decoration and the culmination of the MAKS-2015 air show, which was held with the support of VTB, once again became the flights of the first Russian 5 fighter of the generation - T-50. We asked to talk about this plane of the Hero of Russia, Honored Test Pilot of the Russian Federation Sergey Leonidovich Bogdan - the man who first lifted the T-50 into the air.
- Test pilot Vladimir Sergeevich Ilyushin, the first to fly the Su-27 into the sky, very vividly described this plane. He said: "See, I smile all the time. This smile has not faded from my face since I first raised an 4 generation fighter into the sky. " And how does the 5 generation fighter feel in flight?
- When I happened to fly for the first time on the Su-27, I was fascinated, and it was then that I felt for the first time that the plane could indeed become a continuation of the pilot. But now the generation of 4 +, 4 ++, and finally —5 generation has arrived. Su-35 belongs to the 4 ++ generation, and according to the control system it is close to T-50, and it so happened that in recent years I have performed a huge amount of test flights on Su-35 and T-50. About a year I did not fly on the Su-27, and then it took to fly on it. Already flying, I felt how heavy and completely unnatural it was, as if I took off on a bomber, and not on a fighter. And in my head I even flashed the thought: "Can I even sit on it?" I don't exaggerate, in fact there was such an idea: "I took off, but I can sit on it?" I calmed myself in flight: " I'm a test pilot, I'll probably sit. " Naturally, he later settled down, and this sensation passed, but the progress of the 5 generation compared to the 4 was quite serious, even from the point of view of the control system. If I describe it in the simplest terms, then with all my deepest respect for the Su-27 I can say that, in comparison with the Su-35 and T-50, it's like a truck and a car. For all, again I emphasize, my deepest respect for the Su-27, which is just as different from the 3 generation airplanes, such as the Su-17 and Su-24, as a passenger car from a cargo one.
- Can T-50 already do something in the sky that Su-27 is not capable of even with a deflected thrust vector?
- In principle, the Su-30 with a controlled thrust vector is also already very far advanced in the control system, and in the Su-35 the handling and maneuverability characteristics are further improved. Introduced new service modes. For example, if on an ordinary fighter the pilot lets go of the control stick, then the plane, like the unmanaged car, begins to move somewhere, roll, roll over. And in the Su-35 and T-50 control system locks the handle in the position in which the pilot threw it. Moreover, if there are no control actions from the pilot for a few seconds, the plane smoothly removes the roll, pitch and proceeds to horizontal flight.
This is the most elementary, which is already implemented on the Su-30 and Su-35. The T-50 engines are more powerful, and the future will be even more powerful. He has more specific steering surfaces that can create more moments, so at high angles of attack, on super maneuverability modes and in situations where it is necessary to maneuver intensively, the aircraft behaves more optimally, more comfortably, steadily and in a controlled manner. In general, the T-50 in terms of manageability is already something qualitatively new. But the main thing that distinguishes the 5 generation aircraft, for which it was created, and which largely determined its appearance, is low visibility. If you see one plane on the radar for 300 km, then another plane of the same size and the same mass is only for 100, and this is a very serious advantage in combat.
- Stealth technology does not harm the flight qualities of the T-50?
- Stealth is a very important factor for combat
aviation
, and, of course, its provision is very expensive in terms of aerodynamics. The shape of the T-50 is very specific, and it is determined not only by the requirements of aerodynamics, but also, for example, by the need to place weapons in the internal compartments. Nevertheless, the T-50, having received a fundamentally new quality - low visibility, also reached a new level of flight performance. The creators of the aircraft managed to solve this problem, and tests confirm this.
- There are many all kinds of arguments about comparing the F-22 Raptor and T-50. Are such comparisons correct?
- At the first meeting with Vladimir Vladimirovich Putin, I heard interesting words from him about Raptor and T-50. He said that we, as a rule,
weapon
we create in response to the emerging threat. It's hard to disagree. Historically, in the creation of weapons systems, we go half a step behind. On the one hand, this is a loss in terms, on the other - an advantage, because, knowing the emerging realities, we embody something new in our projects. Our 5 fighter generation is created later than the American one, and, of course, it implements solutions that should provide an advantage over an already existing rival.
The same situation was with the Su-27, which was created later F-15. It's no secret that our Su-27 family aircraft, which are supplied to India, Malaysia, and other countries, are constantly "fighting" at the exercises with NATO aircraft. According to the statistics, which is regularly reported to us, the worst option is when our planes lose 30% of air battles. And usually our equipment wins 90% of battles or wins "dry", that is, it has an overwhelming superiority over rivals of the 4 generation.
- Is it possible to say with certainty what T-50 is better than the main rival?
- As for comparing 5 airplanes, I, for example, looked at how the Raptor was piloted in Farnborough, and I can say that our Su-30 demonstrated a much more advanced program 10 years ago. This is with regards to super maneuverability. But, of course, there are many other aspects on which, for obvious reasons, I cannot stop: how in general the aircraft is integrated into the weapon system, what kind of information exchange structure exists - these are questions of a somewhat different level, since the F-22 is already in service, and the T-50 is only being tested. But if we talk about their confrontation in a one-on-one air battle, then I do not see any problems for us in the future. Of course, we still have a lot to do; let's say, at the beginning of the road to turn the T-50 into a formidable weapon, but on the whole it's quite clear what to do and how.
- At MAX, we watched the awesome T-50 aerobatics performed by you. How long do you need to train to work out such a demonstration program? Or for you it is just - sat down and flew.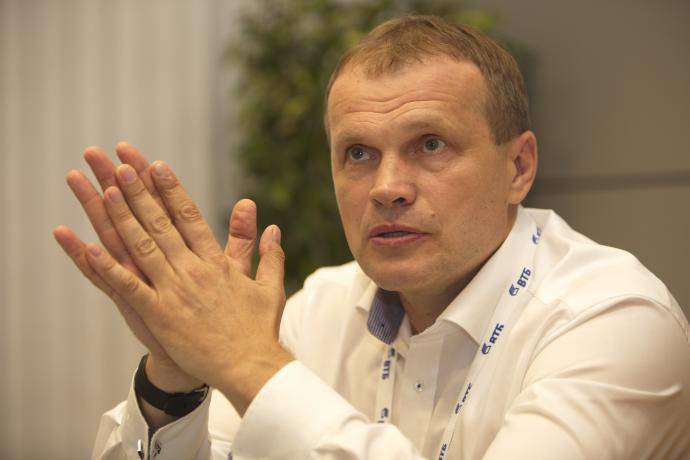 Sergey Bogdan: "I am always with some kind of skepticism about some amazing reviews about my aerobatics"
Photo © VTB Press Service
- I am always with some kind of skepticism about some amazing reviews about my pilotage. We are test pilots, and aerobatics is not our specificity. This is for us an elective, to which we are attracted with a certain periodicity. On the T-50 pilotage I have not been actively engaged since the past MAKS. In general, more than two weeks of training cannot be distinguished, and at best, these are two dozen training flights, although earlier, when our planes flew to the first aerospace showrooms, the training programs included about fifty flights. But these flights are quite expensive, and most importantly - they divert cars from moving through the test program, because the planes are at other bases, where there are training grounds, and here they are taken to another place to engage in a demonstration task. Although, of course, it is also important, and here too there is a test component: some resource things are developed, but the main goal is to show the capabilities of the technology, and the T-50 really allows you to demonstrate a very effective program, but I rate my piloting very restrained.
Imagine that a gymnast is told: you didn't perform a year, suppose Tkachev's flight, we'll take you to the projectile two weeks before the competition, and you'll make this element. Probably, the performance of such an athlete will not be perfect. I know that I have something to improve, and I would put 4 with a minus for my aerobatics, and put words of admiration to the possibilities of a wonderful plane in which the work and talent of many people have been invested.
- January 29 2010, you raised the T-50 in the first flight. That day, not everything went smoothly, there was a malfunction in one of the drives, the plane "shook" and you even talked to him, calmed him. Do you really believe that the plane hears you or is it a form of psychological training before the flight?
?
"This is from the same series of questions, like" why does a person go to the temple? " There is already something at the level of mentality. This may be wrong, but the flight crew are quite superstitious people. And I also pay attention to some trifles. It is necessary to treat something with disdain, they say, this is just a piece of iron, and this piece of iron will immediately show its character. And it will happen on level ground and it is not clear why. Therefore, with a bit of superstition, you treat both the aircraft and some trifles in preparation for the flight.
In general, if we talk about the attitude of the test pilot to the aircraft, the goal of our work is to obtain the maximum number of comments. Therefore, we never treat the plane with piety: how wonderful it is, how I love it and so on. We treat planes like children. A child cannot be praised, otherwise nothing good will grow out of it. Therefore, we are also very critical of the aircraft: in each flight, we look primarily for flaws in it, not dignity.
- How does a test pilot prepare for the first flight in a new car?
- The laws in aviation are written in blood. Incidents were also happening while lifting the new aircraft. Therefore, at one time, Alexander Gavrilovich Zudilov, head of the flight test base of the Sukhoi Design Bureau, proposed to create a document ordering the preparation of flight personnel for the first ascent. It was a document, so to speak, for internal use, but it was approved quite high - in the Flight Department. It describes in detail how the pilot performs the first rise of a prototype, how to lift a second prototype of this series, how to raise a production aircraft of a new modification, what equipment to carry out, how much to work on the stands, how many hours to study theoretical disciplines, what tests to take and t .d
When the pilot is going to raise a new car, he opens this document - and everything is very clearly written there. The theory depends on the complexity of the machine: the first rise of a prototype aircraft, for example, is a program on 100 hours of studying theoretical disciplines. The gazovki of the airplanes are painted, working out at the stands: what stands should be, what departments. The pilot studies all this, asks questions, works with engineers, goes to the design bureau, finds out everything, and in the end everything becomes quite understandable.
- And T-50 also raised exactly on this document, or was there any specificity?
- The specificity of lifting the T-50 was that the task was to lift the car not in Zhukovsky, but in Komsomolsk-on-Amur. There is an ordinary military airfield and the entire length of the strip is 2500 m. And in Zhukovsky the strip is the longest in Europe. Its total length is 5,5 km. In case of failure and termination of take-off, it helps a lot.
When lifting the plane, the most difficult moment is a speedy run. You need to accelerate to a certain speed - about 250 km / h, lift the nose, run with the nose raised at a certain angle and then lower it. For example, the first run on the Su-35, which I performed in Zhukovsky, did not go as expected. I accelerated to a speed much lower than the one at which I was supposed to start climbing, I was still at the maximum thrust, and here, with a fixed handle, the plane lifted its nose and flew. I throttled traction, the handle was completely removed from myself and successfully put the car, the benefit was a long strip. It turned out that the control system had a peculiarity: at a certain speed, a transition from the "ground" mode to the "flight" mode occurs. That is why it is necessary to raise the nose while jogging, so that all sensors are reconstructed. And it turned out that because of the abnormal installation of one of the sensors, the control system went into flight mode on the ground, and the plane "decided" that it needed to reject the stabilizer, because it had the wrong parameters. Here for such cases the size of a strip is important.
There is always the risk of some failure, inaccuracy during assembly, a design defect. So in the case of the T-50, we had to work out at the stand, how to run, how to stop taking off, how to fit into certain strip sizes. To find out, on the stand, the order of 240 modes under different conditions was worked out: failure of this, failure of this, such a thrust, another, and only after it became completely clear that everything is solved quite safely, we moved to the first ascent.
- You tested Su-47 "Golden Eagle" with a backward-swept wing. Tell us about this unique aircraft. Does this wing really have an advantage?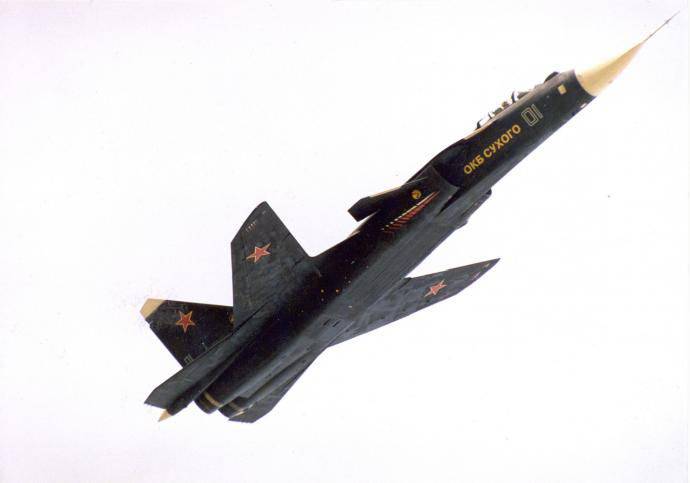 According to Sergey Bogdan, Su-47 has become a good flying laboratory for 5-generation aircraft systems.
Photo: © RIA News
- A distinctive feature of the "Berkut" really was the wing of the reverse sweep. Even at the dawn of aviation development, it was concluded that the backward swept wing has one great property: it does not disrupt the flow, that is, a plane with a backward sweep wing maintains stability and controllability at any angles of attack and practically does not fall into a spin. But this wing has one problem: strength. Under the action of the incident flow on such a wing, the phenomenon of divergence, twisting arises, which can lead to the destruction of the structure. The necessary rigidity of such a wing was achieved only with the use of composite materials, which was implemented in the Su-47 project.
But a lot of other know-how was implemented on this plane. He was already much closer to the 5 generation. On it, for example, there was an internal compartment under the weapon and a radio absorbing coating. He had an interesting control system - a joystick on the side, not a big pen. But it so happened that just at that time a breakthrough was made in the engine industry - an engine with thrust vectoring was created, and in order to obtain stability and control at high angles of attack, it was not necessary to use such an expensive and complicated wing with its own problems. It turned out that the controlled vector thrust perfectly solved this problem.
Moreover, if the reverse-swept wing made it possible to maintain stability at normal flight speeds, then at near-zero speeds the plane still lost controllability, because in the absence of the oncoming flow there is nothing to create a control moment. And the controlled vector of thrust works in any conditions, and it so happens that he pushed aside the wing of the reverse sweep.
- It turns out that the creation of the Su-47 was useless?
This aircraft has brought great benefits: firstly, it allowed us to investigate the problem of stability and controllability of an aircraft with a backward-swept wing, and secondly, it became a good flying laboratory for 5-generation aircraft systems. The results were obtained on the behavior of the aircraft with open wings of the weapon compartments, it was studied how the missiles behave in these compartments, how the flow is distributed at high speeds. This plane had a folding wing and a place for placing the hook, so it could be put on the ship, but the problem is that, due to limited funds, it was created in a single copy, while usually it is also a copy for strength tests. Therefore, to continue the tests, it was necessary, after a certain number of flights, to remove the structural elements, keels, and carry them to the laboratory for research each time. Because of this, the tests stopped for several months. It was a very expensive process, so when the plane completed its task, it was decided to abandon its further tests.
- You have experienced more than 50 of various types and modifications of aircraft. Tell us about a particularly difficult flight. Have you ever got into abnormal situations? Catapult?
- Extreme situations in our work, unfortunately, happen. And these are the most unpleasant moments in our work. Each such case, as a rule, is the result of someone's mistake. Experience shows that 80% of abnormal situations are always a human factor. Even if the pilot is not guilty, even if he managed to land safely, then this is not a reason for universal rejoicing. Anyway, someone didn't finish something, anyway it will be extreme, that is, trouble with the plane is always a disaster.
Here was a case: the height of 12 km, two speeds of sound, and suddenly - a terrible blow, a vibration such that the devices are not visible, and the "fire" alarm goes off. And the plane burns in the air in 14 seconds. There even the titan burns. Yes, you think, probably, this time it will not be possible to fly. But then somehow the solution is found, it is possible to slow down, and, it turns out, the designers are great, everything is provided for, the systems are duplicated, and in fact everything works, and the fire is extinguished. In general, God helped, landed. I looked at the plane: it looked as if it had worked for about forty minutes on it with an autogen. Holes in the engine, and in the construction, and next to a single hole the fuel pipe passes, and if it had burned out, it would have been a torch, as if from an explosion.
In general, anything can happen, but so far, as they say, God has mercy, and everything ended well. It was not necessary to eject.
- In one of the interviews you said that in childhood you got on the crane and began to rock it. This was the first "flight" test equipment in your life. So was the character of the future test pilot?
- Not. It was an example of wrong, childish behavior. Just a prank on the principle of "weak." But in general, I was not an extreme child as a child, and I was afraid of heights, and now, frankly, I am afraid of her. The open space under your feet in any normal person causes an unpleasant feeling that you need to get used to. When regularly, at least a couple of times a month, jumping with a parachute, then it passes.
- Can you say about yourself that you can't imagine your life without risk?
- With regard to risk, the job of the test pilot is to make the aircraft as safe as possible. And for this, as in the case of a car, the correct limits must be assigned to it: maximum speed, overload, etc. To determine these restrictions, you need to exceed them and understand where control is lost over the situation. The task of the test pilot is to go beyond the permissible. And these flights are often very adrenaline.
For example, you need to understand how a plane behaves at take-off when a single engine fails. At sufficiently high speeds, a twin-engine aircraft with a single engine normally flies and is controlled, because aerodynamic control surfaces work well. But if this speed is reduced, then in the end the plane will reach such a regime, when the aerodynamic control surfaces are no longer enough to balance the plane with raznotagami due to a non-working engine. Moreover, this threshold speed cannot be groped at high altitudes, since the engine thrust there is much smaller and the unwrapping moment is also smaller. It is necessary to check at the ground, at the height of 200 m.
One engine is at full afterburner, the second has thrust removed completely, and we begin to carry out modes that exceed the maximum permissible angles of attack, on the verge of loss of controllability that occurs instantaneously. Here is an example: Nikolai Fyodorovich Sadovnikov tested the ship's Su-27K with raznotyagm at low altitude. During normal flight, this aircraft has a maximum permissible angle of attack - 24 degrees. But in that mode, he fell into a corkscrew on 12 degrees. And it happened at a low altitude - about 400 m. There was no reserve for withdrawing from a spin. The pilot managed to eject, but received serious injuries.
When you perform these modes, you feel like a tightrope walker, only without a balancer. Everything is on the verge. Controls are very important. The pilot constantly balances all controls. The slightest inaccuracy leads to the development of a critical displacement, and the aircraft is instantly driven into a stall mode. There is no reserve in height, and, as a rule, there are settlements below, because this is not Siberia or the Kara Kum. Therefore, you enter the mode and look: if something happens now, then where will the plane go? One thing is an athlete-parachutist: jumped - that's all. Or demonstration aerobatics: five minutes - that's all. He exhaled, went, relaxed. And this mode is carried out for one and a half to two hours, and all this time the pilot is on an adrenaline platoon. Imagine the sensations of a person when he is under such stress.
Yes, in general, our work is very interesting, important and necessary, but these are the moments associated with the risk ... Believe me, this, to put it mildly, is not a pleasure. Even when you are preparing for such a flight, your body seems to say to you: you do not need to go there. Fear, like love, is the same chemistry; certain biochemical processes take place in the body. The state of stress by the body is not welcome. I fly, I see the forest below and I understand: I want to go there, I need to wander there, sit, think, feel safe. Therefore, to be honest, when I hear the words that a person is so accustomed to risk that he cannot live without him and never leave the profession associated with danger, I do not really believe these words.
- And what are the qualities in this case should have a test pilot?
- I believe that the most valuable quality not only of the pilot, but of any specialist, person in general, is honesty. In our work, this is especially important. You need to be able to talk about your weaknesses, about your mistakes, because it significantly reduces the clarification of all the issues that arise during the tests. When you arrive after a flight in which you made a mistake, everything is hard, not easy. But if you were mistaken, you must admit it, and this greatly simplifies the work and, accordingly, increases your confidence in you. Even to say a half-truth means to tell a lie.
Another very important quality for a person of any profession, not only for a pilot, is reliability. From my own experience I can say that the pilots are different. One may be enough stars from the sky, but unstable. And a person who slowly, like a horse, carries a cart and all that he is entrusted with, will do reliably, if not always brilliantly, trust the next job. When they see that a person is reliable, they trust him more and more. This applies to absolutely any activity, but in the work of a test pilot, I can say that these qualities are especially important.
And one more thing I want to say about that I fully felt on myself: if a person wants something, sets a goal and moves towards it step by step, then he achieves tremendous results. Nothing is impossible in life. It's just that in the same situations, some people give up, while others, for example, Paralympians, become winners, despite their disability. I want to take an example from such people. Therefore, for those who want to achieve something in life, I advise you to go forward to your intended goal on the direct path and not look for curved paths. And everything will be fine.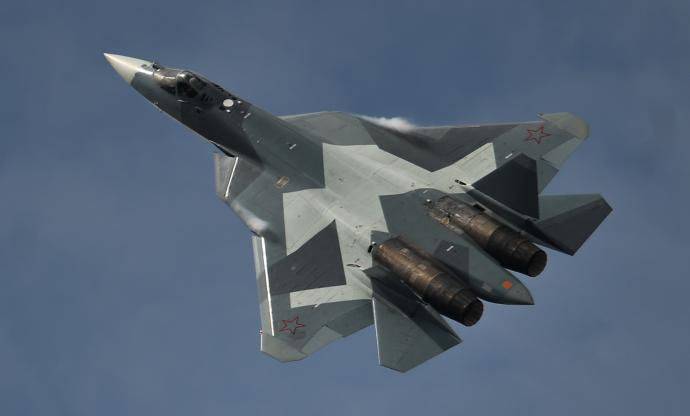 Sergey Bogdan: "... T-50, having received a fundamentally new quality - low visibility, reached a new level of flight characteristics"
Photo: © Vladimir Astapkovich, RIA Novosti
For your information:
Sergey Leonidovich Bogdan - Honored Test Pilot of the Russian Federation, Hero of Russia. He experienced more than fifty different types of combat aircraft.
Born on March 27, 1962 in Volsk, Saratov Region. In 1983 he graduated from the Borisoglebsk Higher Military Aviation School of Pilots named after V.P. After that, until 1987, Chkalov served in the Leningrad Military District in the 67th Aviation Regiment of fighter-bombers, then served for three years at a Soviet base in Mongolia. In 1990-1991 he was deputy squadron commander of the 43rd Separate Naval Assault Aviation Regiment of the Black Sea Maritime Aviation fleet.
In 1991, he studied at the Test Pilot Training Center. Since 1993, at the State Flight Test Center of the Ministry of Defense of the Russian Federation, he has held the positions of test pilot, deputy commander and commander of an aviation squadron of a flight test service of fighter aircraft. In parallel, he studied and graduated from the Moscow Aviation Institute.
With the 2000 of the year, after retiring, he continued his testing test pilot career at the Sukhoi flight test base. He is the Deputy Chief of Flight Operations of the company.