Today, the Syrian army managed to achieve a major victory over the militants in the province of Aleppo. The Syrian armed forces broke through the blockade of the air base in the area of ​​Quairis. The blockade by terrorists of the airbase, where Syrian military personnel were near 800, lasted more than two years. All this time, Syrian soldiers, surrounded by militants, were not let go of
weapons
and, deprived of communication with the main Syrian forces, attempted to break out of the "steel" ring.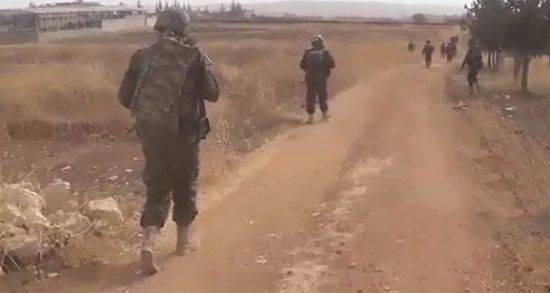 It is reported that before breaking the blockade of the Quereis Syrian Air Base
aviation
inflicted a series of airstrikes on the militants of the Islamic State. Accurate data on the losses of the militants is not reported, however, the Arabic-language information resources report said that "there were many killed among the terrorists."
Information Agency
SANA
reports that scattered militant groups are trying to hold their positions in the Kveyris area, but the upcoming Syrian army leaves the militants no chance.
In addition to the success in Quairis, the Syrian armed forces launched a series of attacks in other parts of the province of Aleppo. Thus, in the city itself (Aleppo), UAR army units launched an attack on the positions of militants of Dzhebhat al-Nusra, as a result of which they were dislodged from their positions in the districts of Al-Sheikh Sa'id, Al-Castello and Al-Ansari. In Al-Halyabiya quarter, ammunition and weapons depots of a terrorist group were destroyed.
The Syrian army continues to advance in the capital province of Damascus. According to the latest data, in one of the suburbs of Damascus - Eastern Ghouta - ATS army units freed from terrorists the Al-Mahalej district and plantations in its vicinity, where the positions of militants "Dzhebhat al-Nusra" and other groups were located.