In the Southern Military District, a battalion exercise began with live firing. The exercise takes place as part of the inspection of the combined-arms army of the Southern Military District. The press service of the Southern Military District reports that more than 1,2 thousand troops, as well as about 250 units of various equipment, including
Tanks
T-72B3, Grad MLRS, Su-34 multifunction bombers, Mi-35M Crocodile attack helicopters, and 2C1 Gvozdika self-propelled howitzers.
From the message
press service of the Southern Military District
:
Under the leadership of the brigade commander, Colonel Oleg Tsokov, units with standard armament and military equipment carried out an 550-kilometer march in a combined way from their deployment in the Stavropol Territory to the Prudboy proving ground in the Volgograd region.
During the advancement of the motorized rifle reflected a raid
aviation
conditional enemy, attack by reconnaissance and sabotage groups and overcame the infected area.
As part of the exercise, battalion tactical groups, in cooperation with attached forces and means, will work out the preparation and conduct of defense and offensive, the pursuit of a retreating enemy, withdrawal from combat, and withdrawal to the area of ​​recovery of combat capability.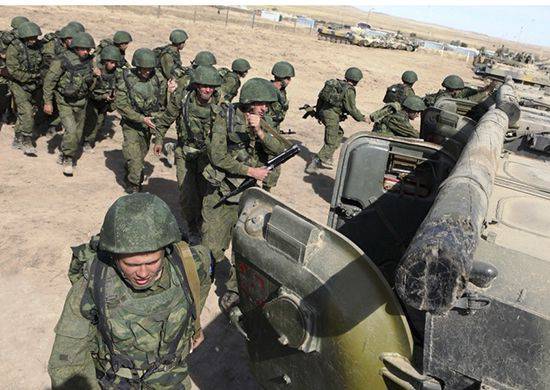 The Ministry of Defense of the Russian Federation reports that at the final stage of the battalion exercise, firing of all kinds will be conducted.
weapons
at the disposal of the connection.