The Ministry of Defense is summing up the next wave of bombardment by the Russian Aerospace Forces aircraft of the positions of terrorists of the so-called Islamic State. The report says that the planes made 18 sorties and attacked 12 targets of ISIS groups in different regions of Syria. We are talking about the use of the shock air group as part of the Su-24M, Su-25 and Su-34 aircraft. Clarifies that 10 sorties were flown at night. The purpose of the night flights were seven objects of terrorists.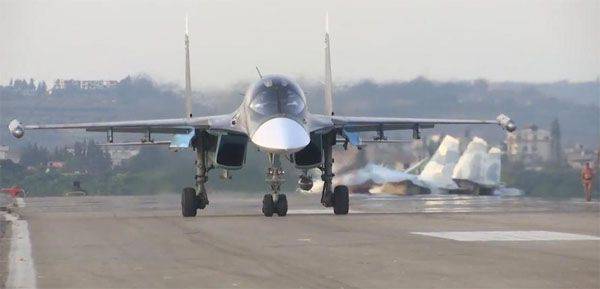 Here is the official message
Ministry of Defense of the Russian Federation
:
As a result of direct hits, the command post and communications center of the armed units of ISIL in the Dar-Taazza region, Aleppo province, were destroyed.
Su-25 attack aircraft hit the field camp of ISIS militants in Maaret en Nuuman, Idlib province.
Bunkers and warehouses are completely destroyed.
weapons
and fuels and lubricants of terrorists.
As a result of a point bombing attack in Habit, Idlib province, the facility used by militants as a staging base and a large ammunition depot was destroyed.
In the province of Hama, near the village of Kafet-Zaita, the Su-24m aircraft completely destroyed the command post of ISIS militants, which represented a well-fortified concrete object in which terrorists equipped shelters. Analysis of video control materials showed that several dozen units of equipment equipped with large-caliber small arms were also destroyed.
On October 1, Su-34 aircraft struck the ISIS training camp in the Madan-Jadid settlement and a disguised command post in the Kaserert-Faraj district, south-west of the city of Raqqa.
As a result of strikes, the command post of the ISIL militants was put out of action. The infrastructure used to train terrorists has been completely destroyed.
Russian Su-34 delivered pinpoint strikes against targets from a height of more than 5 thousand meters.
The airborne sighting and navigation equipment of these aircraft allows for assault on any ground targets with absolute accuracy. That was confirmed yesterday when carrying out the combat mission of destroying the infrastructure of ISIL in the area of ​​the settlement of Rakka.
With the use of this type of aircraft strikes can be applied to the objects of terrorists throughout Syria.
Turning on
REFERENCE
, on the website of the main military department you can see footage
aviation
attacks by the RF Aerospace Forces on the positions of terrorists.
On the eve of the Ministry of Defense spread the message that the RF Aerospace Forces destroyed the headquarters and depots of weapons, ammunition and fuel and lubricants of ISIS militants in Syria.