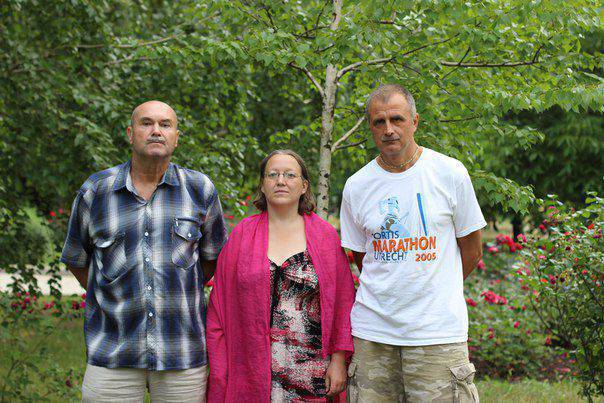 The struggle for the Donbass united many, very different people. Of course, the main backbone of the defenders of the DPR and the LPR consists of local residents, contrary to the propaganda of the "dill", inclined to tell horror stories about the "great and terrible GRU". However, it is no secret that volunteers from almost all parts of the world — even from the West — join the defenders of the Republics. Of course, the citizens of Ukraine could not stand aside, especially - those regions that were historically part of Novorossia.
"Russian Spring" is not only the resistance of the Crimea and Donbass. This is the heroic struggle of the guys from Kharkov, Odessa, Kherson, Nikolaev, as well as Dnipropetrovsk and Zaporizhia. The fight that cost freedom to very many. Little is said about large-scale repression by the junta against these guys. It is difficult to imagine how many people are now in the dungeons of the ukrorezhima - the arrests were not only official, but also secret, which are more like abductions.
Many of those who disagree with the junta from these regions are in the DPR today, are engaged in social and political activities, and are fighting directly in positions. Today, the way home is closed for these people - otherwise they will be immediately arrested. They are separated from relatives and more than anything else they dream of returning to their homeland - but not to the occupied, but to the liberated cities.
I was able to talk in Donetsk with the leaders of the Kharkiv resistance movement (CDU) about the events of the Russian Spring and about further prospects.
"Please tell us how you ended up in Donetsk," I ask the CDU co-chair. Sergey Korneev - a person who has experienced torture by Ukrainian "democratizers" for a political action in support of Novorossia.
- I was engaged in antifascist activities, mainly in Kharkov. And on September 18, 2014 of the year posted in the Dnipropetrovsk region two flags of New Russia, 3,5 size on 9 meters. For this he was arrested by the Dnepropetrovsk Security Service of Ukraine. I was accused under article 110 - separatism. I visited the special prison of the SBU, in a concentration camp. Then I was exchanged for Ukrainian prisoners of war in the DPR. So I got to Donetsk. Here I was treated in a hospital for a long time, as I had serious injuries. Pneumonia in extremely neglected form, fractures of four ribs on the right side.
As soon as I recovered, I met with my comrades who had also been in captivity. And there was the idea of ​​creating the Kharkov resistance movement. This is a public organization of Kharkiv citizens who are here, who have been subjected to political repression by this self-proclaimed fascist hunta government. We have joined forces, created a movement to help our fellow countrymen, to unite them around a single rod. In my understanding, the most important thing is justice.
We come together to return home. But not in that today's Kharkiv, gray, deserted, which suffocates under the yoke of the junta, but in the one to which we are accustomed, in which we have lived all these years. In the bright, beautiful, cheerful. In our favorite city.
The priorities of the CDU are to work with the Commission on Prisoners of War. We are constantly in contact with this commission in the DPR, we are constantly raising the issue of the exchange of our comrades who are in prisons - these are Sergey Yudaev, Yegor Logvinov, Ignat Kramskoy (Topaz), Spartak Golovachev and many others. These are our Kharkiv citizens who are in prisons today in the most difficult conditions. We would like to exchange them, but the problem is that the junta does not go to any negotiations and absolutely does not want to change them. But we will still strive, we will try, we will protect our children. This is our first priority.
The next task is to help those guys who are returning from captivity. They undergo rehabilitation here, and we help them with housing, employment, provide them with food and necessary things. Of course, because of its capabilities. They are small, but with what we can, we help. There are guys from Kharkov who were injured at the front and are in the hospital. We visit them, help with medicines. We are about 150-200 people here.
- Let's go back to the moment when there was a coup in Kiev. As you know, Kharkiv was one of those cities where particularly active resistance flared up. How did the events develop?
- I just came from Kiev at this time. At the end of February in Kharkov there was an attempt to bring down the monument to Lenin. Now, unfortunately, it is still knocked down. And then the locals did not allow it.
1 March was born resistance itself. I emphasize - it was born not in Donetsk and not in Lugansk, but in Kharkov. 1 March stormed the Kharkov regional administration, from where representatives of the Right Sector were driven out. The building was freed from them. Subsequently, there were still several assaults. Only then Donetsk turned on, and after that - Lugansk.
Odessa, Dnepropetrovsk, Zaporozhye showed themselves not so brightly, but our supporters also gathered there. In Dnepropetrovsk and Zaporozhye, our comrades were ruthlessly suppressed. There, repression was head and shoulders higher than anywhere else. We think that this was at the suggestion of Kolomoisky, who is a key figure there. Well, in Odessa, as everyone knows, it was 2 May.
The first blood was shed not in Donetsk and not in Lugansk, but in Kharkov. Kharkov was the initiator of all movements, but in the end we ended up in Donetsk.
The first note of protest from Russia because of the massacre of dissidents was also about the events in Kharkov. 8 March I tried to kidnap the representatives of the "Right Sector". We were attacked, on this occasion was a report "LifeNews". They broke my car, I was badly hurt, my friend was shot in the leg.
And 14 March people were killed in Kharkov. There was a battle with the "Right Sector". We had a man with the call sign Sharap, who was responsible for guarding the monument to Lenin. My group suffered an 8 march, and the next in line for the massacre was his group. The Right Sector sent a rapid response team to the monument, they arrived in a minibus and waited for the right moment to attack. But ours noticed them, prevented. A clash ensued. The minibus began to run away. Our bikers began to pursue him and drove to Rymarskaya. Pravoseki drove into the yard, ran into the office. Then the defenders of Kharkov began to go there in order to drive them out. Representatives of the "Right Sector got
weapon
and opened fire, "although our guys did not have weapons. There even one policeman suffered. I do not know whether he survived or not. A bullet from a Kalashnikov assault rifle hit him in the head.
Two people were killed - one from Kharkov, the other - a resident of Dnepropetrovsk. Both are young guys. There were also injured, for example, one person was seriously wounded in the leg.
The "Right Sector" was blocked there. Law enforcement agencies arrived there, the mayor of Kharkiv Kernes arrived. He said that pravosekov will now be taken away and they will sit. But he deceived us - they were released the next day without any charges.
6 April we re-entered the building of the RSA. The resistance was led by Sergey Yudaev and Yegor Logvinov, who are currently imprisoned in the Kharkiv SIZO. The SBU building and the local TV channel were also taken under control. At all entrances to Kharkiv, roadblocks were placed. For three days the city was in the hands of the rebels.
But people were unarmed. We had no weapons at all. There were only sticks, helmets and nothing else. Everyone was waiting for help. We did not expect anything supernatural, but we needed weapons. And there were certain promises that it would be.
But after three days, representatives of private military companies arrived. And they arrested all the guys who were in the RSA, the SBU, who took part in the storming. The only ones we saved are the guys who stood at the roadblocks. As soon as private security officers began storming the Regional State Administration, we managed to call and tell the guys to leave the roadblock. They were not able to arrest at that moment. A wave of arrests swept through Kharkov.
Then there were quite numerous meetings, we went out on 9 May and even in summer. But after each meeting there were more and more new arrests. We still know nothing about the fate of many comrades.
Some went to Slavyansk, to Donetsk. There are many guys who fight from the very beginning. They understood that in Kharkov the struggle could not yet continue because of the absence of weapons. There are those who went for weapons, but were forced to stay, realizing that there were not too many weapons here either. Even if they had come to Kharkov alone with their weapons, they would not have made the weather.
- How do you assess the prospects of Kharkov and your movement?
- Today, in the mood of Kharkov, little has changed. Many adhere to the pro-Russian policy.
All those who wanted the federalization of Ukraine, the current government recorded in the separatists. Although these people even with great stretch, it was impossible to call it that. They did not require Kharkov to become part of Russia. There were demands for a federal structure of Ukraine, that we should not have NATO troops, that we ourselves should elect a governor, and not the president, would appoint his proteges. There was a speech about wide powers of local authorities.
But the struggle for federalization was short-lived. The massacres began ...
Another co-chairman of the Kharkov resistance movement, Viktor Sklyarov, is included in the conversation.
- Since May 1 of last year, I have been in the Donbass, because I saw that in Kharkov the situation is such that nothing works. Many then left for Slavyansk and Donetsk. I was in the group of Sasha Nikolaevsky, he now leads the Pennant battalion. Then I was in Gorlovka, in Semenovka, in Slavyansk. Personally familiar with Strelkov Igor Ivanovich. He himself was asked to go to Semenovka - there were the most intense military operations. Especially on the Trinity. They started firing at us from all types of weapons - mortars, artillery,
aviation
. SU-125 came in. In our positions, the tank began to fire directly with the support of two armored personnel carriers.
Motorola asked us to crush
Tanks
that came from the direction of Artyomovsk. They could not restrain them, my checkpoint had to act. We knocked out an armored personnel carrier and a tank. They could have knocked out more, but we had Ukrainian captured RPGs, and out of four only one worked. When we knocked out one of the tanks, the others departed. On the same day, several children were killed - a volunteer from Russia, the call sign "Peter", and also "Gypsy" - from Slavyansk.
Kharkiv are actively involved in the war. Our guys died at Saur-Grave - "Ural" and 17-year-old Tatiana, call "Nonna". They covered the departure of the main group.
When I was in Semenovka, they called me from Kharkov - I kept in touch with them - and asked to come urgently. I realized that the matter is very serious. From fragments of conversations it became clear that an uprising was being prepared in Kharkov. But, according to my data, it should not have been.
I asked my direct commander to bring me to Strelkov. I asked Igor Ivanovich: if an uprising rises in Kharkov, can there be any support? Strelkov replied that there could be no support, and this uprising was a provocation. He also said that everyone who can can move to Slavyansk and Donetsk, because in Kharkov nothing can be done yet. There is neither a weapon, nor an opportunity to help, but the Kharkiv citizens cannot cope with it on their own. Then Strelkov called the man who transferred me to Kharkov.
It was like preparing a SBU provocation. Specifically, it was planned to seize several objects, in particular, a tank factory. We could raise people to revolt, but the result of this revolt would be deplorable. Forces of the junta would shoot people from heavy weapons. The score could have gone not by the hundreds, but by thousands or even tens of thousands of victims. Kharkov would have cleaned out. I, referring to the authority Strelkova, talked with the guys who were going to do it, and everything was canceled. We sent people who wanted to participate in hostilities to Donetsk, Lugansk, and also to Slavyansk. Although in Slavyansk it was already difficult to wade by then. Some people stayed in Kharkov for underground work. They work, perform their functions.
I had to get out of Kharkov, because I noticed spying on myself. My phone was tapped. But I still had several cases there, so I was delayed. Yes, and I did not feel well, I have hypertension, heart problems.
When I was at home, the SBU officers penetrated the fence. They took me without a weapon, but they threw him up during the search. It was not mine. Then - three months in prison and interrogation. I was traded in September. He corrected his health and began to work, to tighten the Kharkiv citizens.
We are fighting here not so much for the Donbass or for Kharkov, as for Mother Russia. Just the front line is now passing through our land. But we are sure that we will still win, that we will liberate our city, Kharkov, and Odessa, and Nikolaev. We will even reach Lviv - they came to bomb our cities, and we will come to them, but we will not take revenge and free them from their own contagion. Ask them: "Your American Poles helped you?"
I - a man who has a military education, was Slavyansk, Semenovka. I would like to see as few losses as possible, so that as few as possible of our children perish, become cripples. I saw it all personally, it is hard, but, unfortunately, there is no war without it. Our task is to keep these losses as low as possible.
The third leader of the CDU, Andrei Bessarabov, tells:
- My
история
not much different from the history of other Kharkiv citizens, who immediately made a conscious choice in connection with the February events. Then it was already clear that an absolutely unconstitutional coup d'etat took place in Ukraine, that it was carried out in the interests of Britain and the USA. No interests of Ukraine were discussed. Naturally, the people who understood this made their choice and took an active position.
I worked as a lead engineer in the field of automated radiation monitoring systems for nuclear power plants and was on a business trip to the Khmelnitsky nuclear power plant. I returned to Kharkiv on February 21, and the next day, February 22, the forces of the Right Sector gathered near the Palace of Sports. They went in a column to the monument to Lenin and tried to demolish it. Got a fight back. Then they took the regional administration, sat there until March 1. Kharkiv did not accept them. Cars drove up to the RSA from various sides and signaled in protest against those who had seized the building. Thus, people kind of said to them: "You are not the owners here."
As a result, March 1 happened what later was called the Kharkov revenge in the press. They expelled Natsik from the RSA building, staged a corridor of shame for them, poured green paint over them, forced them to kneel down and ask for forgiveness from the people. There was such a people's court. Then they were handed over to the police, but the authorities released them.
There was a great potential for resistance, but unfortunately it was not organized. There was no coordination of forces, which is a question for the then leaders. There was no proper assistance from the consulate of Russia.
I was a participant in these events, was on the square, participated in rallies. In November, I was arrested for my political choice, for my activity. Then December 26 for the exchange of prisoners, I got to Donetsk.
At the moment in Kharkov, it seems to be a lull. But we have information that about 70 percent of Kharkiv citizens do not accept this ruling junta and do not want to obey it. Over the region, this value reaches 90 percent. However, people cannot protest, because the junta rests on bayonets and suppresses all by brute force.
It is up to the organization, the correct distribution of capacity and coordination. We do not want to repeat the mistakes of March-April of 2014, when there really was a huge potential, but unfortunately there was no organization. We only know each other here. I am sure that if then we were in that line-up in Kharkov, the events could have gone differently. We would convince people that we should not wait, but act actively, take certain points where there was a weapon, and rely only on our own strength. If something serious happened, Russia would not be able to stand aside. But as a result we have what we have.
Being enslaved, crushed - Kharkov is waiting for the right moment. And then - probably, everything will rest against properly planned operations.
***
People who were not afraid to speak out against the coup d'état in Ukraine found refuge in the Donbas. They believe that one day they will be able to free their land from the power of the junta and simply return home ...
(Especially for the "Military Review")