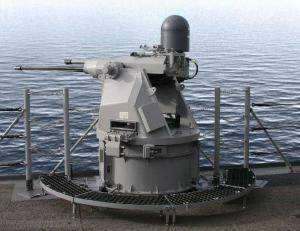 BAE Systems and Boeing, together with the US Navy, conducted a series of successful tests of the Mk38 MOD2 tactical laser system conceptual sample. The tests were conducted at the Eglin airbase, Florida. This is reported on the official website of BAE Systems.
The Mk38 MOD2 system, unlike the rest of the Mk38 family of automatic machines with which most US surface ships are equipped, is complemented by a high-energy laser. On tests used 10kW laser company Boeing.
The tests carried out confirmed the installation's ability to detect targets, identify them and ensure interception under the control of the MATRIX guidance and fire control system. The Mk38 MOD2 system in a test configuration proved to increase the effectiveness and range of impact on air targets and small surface ships.
During the tests, group attacks of a ship equipped with the Mk38 MOD2 system were simulated, with a large number of high-speed, highly maneuverable small vessels operating against the background of heavy traffic of neutral ships. The system reliably detects, identifies, performs guidance.
weapons
and carried out an impact (non-lethal) on the vessels that posed a threat at the required range.
Representatives of the Navy Marine
aviation
and the Maritime Research Directorate of the Maritime Operations Command, the Naval Systems Command and other services were able to see the demonstration static and dynamic tests of the Mk38 system, as well as get first-hand answers to their questions. Demonstration test funding was provided by the 2nd Command
Fleet
USA.
The Mk38 system currently in service with the US Navy is a further development of the Rafael Typhoon Mk25 systems. Both systems are used as the main element of the fire impact of the 25-mm machine gun Chain Gun and are designed for the self-defense of ships against airborne threats in the near zone. The modernization of the US Navy system was ordered in order to ensure the fire impact of the ship's self-defense not only for airborne targets, but also to distribute it to surface ships with a tonnage of 50 tons and a few more.
The Mk38 MOD2 system also uses the 25-mm submachine gun M242 Bushmaster, which has an 180 firing rate per minute and complies with NATO standards for automatic weapons with an 2,5 km range, as the main element of the fire impact.
In Mk38 MOD2, the existing Toplite control system is supplemented with an electron-optical channel optimizing system performance in various weather and light conditions. In the version already in service, the Toplite control system has four-axis stabilization and is equipped with an IR channel, a color television channel capable of operating in low light conditions and a laser range finder.