The Ministry of Internal Affairs of Ukraine said that a detachment of supporters of federalization was able to penetrate the territory of one of the military units of the National Guard under Lugansk and during the battle seized the arsenal
weapons
. At the same time, the press service
Ministry of Internal Affairs of Ukraine
claims that the National Guard under "fighter killed" several attackers, while they themselves suffered minimal losses - one soldier of the National Guard was injured.
The Ministry of Internal Affairs of Ukraine declares that the National Guardsmen had to retreat only because the "terrorists" deliberately damaged the gas pipeline, preparing to undermine the entire military unit.
The description is quite in the spirit of the statements of the Ukrainian security officials of recent times. Only one was wounded, and at the same time the entire personnel of the unit did not at all run away from the battlefield, but merely "temporarily" retreated, leaving the militiamen with the weapons that were at that moment in the territory of the military unit. Why did not the militia retreat after the damage to the gas pipeline, but only one side retreated - the Ukrainian Ministry of Internal Affairs is delicately silent.
Representatives of the Donbas people's militia meanwhile share information that they managed to shoot down another helicopter of the Ukrainian Air Force in one of the Slavyansk districts (Chervonyi Molochar). This information represents
RT
. If this information is correct, then this is the fourth helicopter of the Ukrainian Air Force, shot down by the militia this week.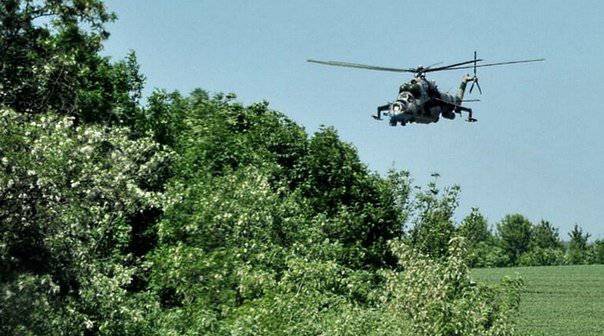 Ukrainian army continues military operation in the southeast, using combat
Aviation
and mortars. Yevgeny Poddubny, war correspondent for Rossiya-1 TV channel, publishes a photograph of a house in Slavyansk that came under mortar fire at a time when there were people in his yard.