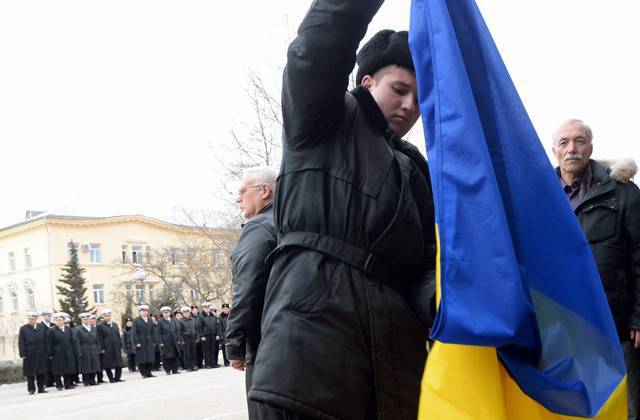 A soldier of the Ukrainian Navy folded the state flag of the country after descending during the ceremony of raising the Russian flag on the territory of the Academy of Naval Forces. P. S. Nakhimov in Sevastopol. Photo: Mikhail Voskresensky / RIA News
The geopolitical situation in the Black Sea after the annexation of the Crimea will barely change, but the Russian Federation still cannot do without a powerful military base in Novorossiysk
Under the Russian control in the Crimea about 200 military units of the Armed Forces of Ukraine passed. However, the overwhelming majority of them are logistical, auxiliary and providing.
What remains of the Ukrainian army in the Crimea
There were no combat units on the peninsula at all. But there was formally quite a strong tactical group "Crimea" of the Air Command "South" of the Air Force and Air Defense of Ukraine. This is the 204th tactical brigade
aviation
(Belbek; 45 MiG-29 fighters, 4 training L-39s), 50th (Feodosiya, Alushta; 2 S-300PS air defense divisions), 55th (Evpatoria; 3 Buk-M1 air defense divisions), 174- th (Sevastopol; 2 divisions S-300PS) anti-aircraft missile regiments. At the same time, as it turned out, in the 204th brigade, at least just five out of 49 planes — four MiG-29s and one L-39 — could at least just take off the ground. Very deplorable is the state of anti-aircraft missile technology. All of it was produced back in Soviet times, while being served, to put it mildly, not in the best way.
Russia almost entirely went to the Ukrainian Navy. This is a submarine of 641 Ave. (Zaporizhia), 2 small anti-submarine ship (IPC) of 1124 Ave. (Lutsk and Ternopil) and 1 1124P (Vinnitsa) patrol ship, 1 of IPC 12412 Ave. (Khmelnitsky "), 2 missile boats (1 Ave. 12411T (" Pridneprovye ")), 1 Ave. 206MR (" Priluki ")), 3 minesweeper (2 Ave. 266М (" Chernigov "and" Cherkasy "), 1 Ave. 1258М (Chernigov and Cherkasy)), 2 Ave 1М (" Chernigov "and" Cherkassy "), 775 Ave 1М (" Chernigov "and" Cherkassy "), 773 Ave. XNUMXМ (" Chernigov "and" Cherkassy "), XNUMX Ave. XNUMXМ (Chernigov and Cherkasy)), XNUMX Ave XNUMXМ (" Chernigov "and" Cherkasy "), XNUMX X. XNUMX (XNUMX Ave. "Genichesk")), XNUMX landing craft (XNUMX Ave. XNUMX ("Konstantin Olshansky"), XNUMX Ave. XNUMX ("Kirovograd")).
Naval aviation was in its composition 5 anti-amphibious aircraft Be-12 (even 3 in storage), 7 transport aircraft (1 An-2, 2 An-26, 4 An-72), 8 anti-submarine helicopters (5 Ka-27PL, 3 Mi-14PL), 3 Ka-3 multipurpose helicopter (still 29 in storage), 1 rescue helicopter (2 Ka-1PS, 27 Mi-1PS). A few units of them may have managed to fly to Ukraine.
The coastal forces included two battalions of marines, a mechanized coastal defense brigade and a division of coastal anti-ship missiles (ASM).
The 1 Battalion of the Marine Corps (Feodosia) and the 501 Battalion of the Marine Corps (Kerch) were armed with the 40 BTR-80, 8 mortar 2X12, 8 PTRK, 8 PZRK Tactical Weapons of the Mortars
The 36th mechanized brigade (Perevalnoye) was armed with 39
tanks
T-64BV, 75 BMP-2, 50 BTR-70 and BTR-80, 12 self-propelled guns 2S1, 18 towed guns D-30 and 2A36, 24 mortars 2S12, 18 MLRS BM-21.
The 25 Division of Coastal Defense was armed with 2 launchers of the Rubezh anti-ship missile system (according to the 2 RCC P-15).
Looking closely at the trophies, the Russian command, apparently, fell into despondency. Virtually all of the above is scrap metal, which we ourselves have an order of magnitude more. At the same time, new equipment is now coming into service in relatively acceptable quantities. Therefore, almost nothing of the Ukrainian trophies we just do not need. Of all the ground and aviation technology, only the BTR-80 and Igla MANPADS can be of relative value. Most likely, Russia will keep the equipment of all three anti-aircraft missile regiments. Everything else may well be returned to Ukraine (including non-flying fighters) in order to shift to her the problem of disposing of all these "treasures", which are now almost impossible to even sell. Moreover, nothing but problems will create for us warehouses of Ukrainian ammunition, we have enough of our own.
With regard to the naval composition of the Navy, it is theoretically possible to leave in service the corvettes "Lutsk" and "Ternopil", minesweepers and landing ships. However, even without this, you can do without the slightest tension. The submarine, the other two corvettes (IPC) and rocket boats are not suitable for anything other than scrap metal. In this regard, it should be recalled that the Black Sea Fleet (BSF) of Russia, to a large extent, is also a collection of scrap metal. The average age of his ships is significantly higher than in the Russian Navy as a whole. Only on the Black Sea Fleet there are still ships in the ranks (guard and two amphibious assault ships), which became operational in the 1960s. Accordingly, there is no point in "strengthening" your scrap metal with Ukrainian.
Why do we need a naval base in Novorossiysk
From the point of view of basing, nothing has changed for the Black Sea Fleet, just now there is no need to pay Ukraine for Sevastopol and at the same time expect what else Kiev will present to us. Naturally, construction plans
fleet
in no way will change in any direction, for this there is no reason. After a trip to Crimea, Defense Minister Sergei Shoigu again drove into Novorossiysk and once again demanded to speed up the construction of a new naval base here. Which is quite natural: for Russia, Crimea is an island, we need a base on the mainland, at least to supply the same Crimea.
Ships of the Black Sea Fleet of the Russian Federation at the naval base. Photo: Alexey Pavlishak / ITAR-TASS

In general, recently Novorossiysk, even in its current "unfinished" form, plays a crucial role in the geopolitics of Moscow. For more than a year, the Novorossiysk-Tartus line has been operating, along which almost all of our large landing ships (BDK) carry Assad
weapon
and ammunition (for some time even the BDK with the Pacific Fleet worked on this line). From Novorossiysk, "polite people" arrived in Crimea. Therefore, in the present conditions, the value of Novorossiysk as a rear base is not something that does not decrease, but increases significantly.
Ukrainian fleet is not and will not be
The Ukrainian Navy currently has two combat units left: the frigate of the 1135 Ave. Getman Sagaidachny and the patrol boat of the 1400 Ave. Skadovsk, armed only with machine guns. Thus, the Ukrainian fleet can be considered ceased to exist. However, even if Russia returns to Ukraine all the ships in the Crimea, this will practically change nothing. And before the beginning of the current events, the real combat potential of the Ukrainian Navy was zero. The position of the Ukrainian fleet worsened only in the sense that it lost a convenient base and part of the ship repair and shipbuilding facilities.
Accordingly, now Ukraine has no place to deploy a fleet. However, this is not a problem, because there is nothing to post anyway. For the Ukrainian Navy at the moment only one ship is being built in Nikolaev - the corvette of the 58250 ave. It was laid in May 2011 of the year and has not even been launched yet. Moreover, it has not yet been determined even by what it will be armed. The current economic situation in the country certainly does not contribute to the acceleration of construction. With the most favorable course of events, this ship can be put into operation in 2017 — 2018. Accordingly, if you rely only on your own strength, the Ukrainian fleet cannot be recreated even theoretically and even in a remote perspective.
The only chance to re-create the Ukrainian Navy is if someone gives Kiev a number of ready-made ships and boats (namely, it's because the country doesn't have enough money to buy even heavily-used units and there's no money for a long time). Theoretically this is possible. NATO countries have a wide assortment of old frigates that are being decommissioned in the coming years: the American type Oliver Perry (now the US has 31 such a frigate, another 2 from Poland and 6 from Spain), the French type D'Estin D'Or "(9 units), German type" Bremen "(8 units), Italian type" Maestral "(8 units), Spanish type" Descubiert "(4 units). The Germans can also share rocket boats of the "Cheetah" type (8 units), a number of European countries can push several old minesweepers to Ukraine. There are even free submarines - German pr. 206 (5 units), Italian type "Sauro" (7 units), Spanish type "Galerna" (3 units).
Whether at least something from this will be presented to Kiev in fact is extremely difficult to say now. Just remember the famous joke: "Do you want to destroy the underdeveloped country - give her a cruiser."
Four fleets instead of six
As for the other three Black Sea countries (Georgia, of course, is not taken into consideration), Bulgaria and Romania do not differ much from Ukraine in terms of the weakness of the Armed Forces in general and the Navy in particular. The economic situation with them is also not very remarkable. Ten years ago, joining NATO did not prevent further degradation of the Bulgarian and Romanian armies, and there was no rearmament of the new equipment. Change of situation is possible only with very significant external assistance. The question is who will provide it. If the Ukrainian situation is more or less stabilized, then it is safe to say that no one.
Ankara's geopolitical ambitions are extremely large, but the internal situation in the country at the moment does not at all contribute to their realization.
Thus, if in Ukraine there are no new big shocks, the geopolitical situation in the Black Sea will hardly change. Russia simply removed the pseudo fleet, the second in six years, from its basin (the first was Georgian). Now here, as in Soviet times, not six fleets, but four.