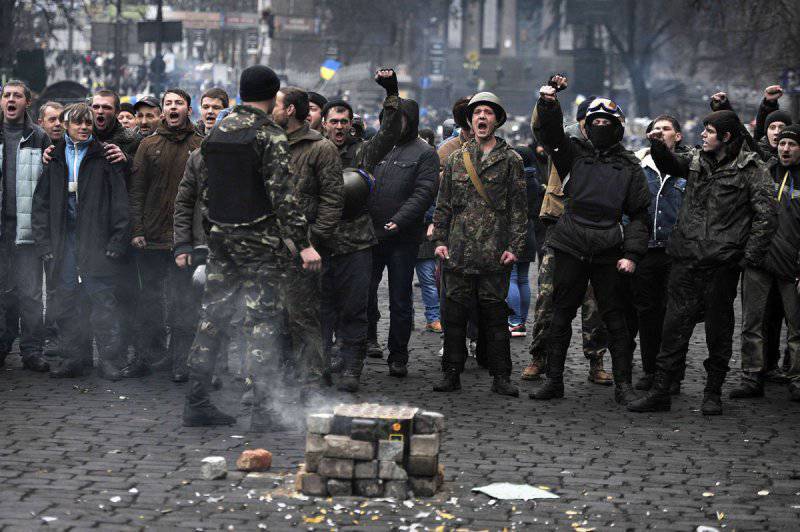 Now in Ukraine begins a civil war. It directly affects the interests of Russia. Therefore, Russia's intervention in these events - protection from plague rats that can bring an epidemic.
On the night of 14 on 15 on April 1986, the United States conducted the operation "Eldorado Canyon": 100 combat aircraft, attack aircraft and bombers, dealt a massive blow to the Libyan cities of Tripoli and Benghazi.
These events have long been forgotten, although some details of that long-standing crisis may seem almost fantastic today: for example, Italy and Germany refused to give permission to the Americans to use their air bases, and France and Spain closed their airspace for
aviation
USA.
It was still a completely different, bipolar world, and the Americans were still wary of behaving like the coolest kid in the area. However, the bipolar world was already rolling towards its infamous decline, and therefore the reaction of the mighty Soviet Union to the Americans 'aggression against friendly Libya was modestly indecent: Moscow only canceled the planned visit to the US of Foreign Minister Edward Shevardnadze, as it turned out, much more sympathetic free america than totalitarian ussr.
However, at the level of mass consciousness, everything was not so good.
I remember those cool April days very well. I studied at the evening department of the Department of History at Moscow State University and worked in the protection of the Pushkin Museum on Kropotkinskaya (now Prechistenka). Our team was a good, friendly, although somewhat hooligan - so, I remember, once we were not allowed into the archives of the museum of Nathan Aidelman, who had forgotten the pass by absent mindedness. Adelman, of course, complained to the director, and was followed by repression. But it is completely different.
история
.
We had a senior, not by position, but by age and experience — a peasant in his forties, grated-frayed, beaten-broken, with a broken nose and flattened wrestler's ears. His name was Kostyan, but I can't remember his middle name now. He had a rich biography, even if a novel was written. And not to say that he somehow particularly loved Soviet power.
When, on the morning of April 15, we all discussed the Americans 'raid on Libya, Kostyan said:
- Of course, you need to extinguish these goats. It's time to fight, stagnant.
Many, especially my peers, were extremely belligerently in those times. Not so long ago, the blockbuster "Single Voyage" appeared on the screens, in which our Marines three of us soaked a whole military base of Americans.
By the way, I still consider it a big mistake of the Soviet propaganda machine that there are not a dozen of such films produced annually. For patriotic education, a properly chosen image of the enemy is far more important than the flag, the emblem and the anthem combined.
But when everyone began to enthusiastically develop this topic (with the exception of one of our colleagues, also a student of the History Department, now a fairly well-known historian), Kostyan gloomily added:
- Only children like you cannot be thrown at them (at Americans). This business for us, muzhiks.
Two years remained before the withdrawal of our troops from Afghanistan. The theme "yesterday's schoolchildren are being sent to Afgan for certain death" was extremely popular in the kitchen conversations of the older generation.
"Collect people like me," Kostyan developed the theme, "and send Libya to this one ... Let them break up, we shall ... break them in ..."
His militaristic plans were never realized, and I think there would not have been many enthusiasts to die for distant Libya.
Why did I now recall this conversation, which took place nearly thirty years ago in a smoky room of the museum's guard?
Because the events of the last days in Ukraine extremely excited the creative part of our society. And now, on the one hand, there are calls for our troops to enter Ukraine, on the other, they are proposing to draw up the first battalion of children and grandchildren of supporters of military intervention, urgently removed from Switzerland, the United States and Great Britain, and on the third to close the borders tightly and not a single cubic meter of gas. no longer supply the former fraternal republic.
Political technologist Gleb Pavlovsky calls "Koktebel warriors," climbing "from under the mattress with shouts of" To Kiev! We will die for the Crimea! "Bastard and hired provocateurs. This is especially piquant to hear from a man who put a lot of effort into propaganda for the two Chechen wars.
Philosopher Sergey Roganov writes: "This is my war! This is my blood and pain! "- and it finds quite predictable approval from those who want to see Russia strong, inspiring fear and respect.
My good friend Dima Volodikhin, referring to the "idiots who are calling for the introduction of Russian troops into Ukraine," declares: "Do you know what? Go by yourself. And I do not want our boys to die there. "
It is unlikely that any of them will be interested in my humble opinion, but this is what I think about this.
Now in Ukraine begins a civil war. It directly affects the interests of Russia and the Russians. Therefore, Russia's intervention in these events is not "burning napalm of feces in someone else's outhouse," as Volodykhin writes, but rather protection from plague rats that can bring an epidemic to our blessed penates.
I do not understand my colleagues, the Russian nationalists, who rejoice at the victories of the rebels in Kiev, seeing in it only the defeat and humiliation of Putin. Comrades, Putin will leave, but the Russian people will remain. And Russophobic, Western Ukraine, which you welcome, will also remain. And the NATO base in half an hour from Belgorod, too. If someone proves to me that NATO bases are what is necessary and good for the Russian people, I am ready to reconsider my opinion.
Therefore, I, of course, for the intervention of Russia in the Ukrainian crisis. And with all my soul I call on those who call for the defense of the Russians in the Crimea and in the south-east "with all the power and glory." But there is one important circumstance.
I am sure that only those who are ready to go to Ukraine in the ranks of armed groups have the moral right to call for such a thing. Volunteers, or, as they said in the Russian Empire, "hunters." Those who prefer to call for war, sitting in a comfortable chair with a cup of coffee or a can of beer in their hands, and watering the imaginary enemy with bursts fired from the laptop keyboard, let them shut up and remain silent in a rag.
As for me, if Russia starts military operations in Ukraine, I will go to my district military registration and enlistment office. I do not know whether the benefit of an elderly fat man, who last time was holding a military
weapon
in 2008 year. But at least for something, God will give, be pleased.
The wife, of course, will be against it. But in such cases, the men of women do not listen.