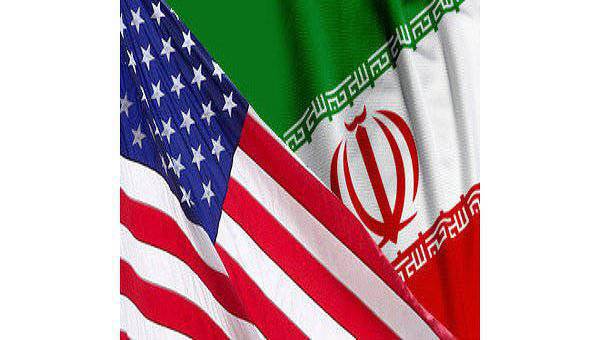 Economic sanctions or the threat of economic sanctions is one of the main instruments of Western international policy, primarily the United States. This tool is used to pressure other countries even more often than
weapon
or the threat of weapons.
Iran as an object of economic sanctions
The classic object of sanctions is Iran. Since 1979, when the Shah was overthrown in Tehran, the United States has invariably held Iran at the sight of its economic sanctions. There were bans on the import of Iranian oil, the export of a wide range of goods from high-tech equipment to medicines, payment and settlement and other operations with banks in Iran, as well as currency reserves of Iran were frozen. By the end of last year, the frozen foreign currency reserves of Iran in foreign banks were estimated at 100 billion.
For Iran, it was an ordeal. Especially after Washington forced the European Union to stop importing Iranian oil. From the middle of 2012 to the beginning of 2014, the daily export of black gold from Iran fell from 2 million barrels to 1 million. Recently introduced new sanctions weakened other sectors of the economy, including the once very successful automotive industry in Iran. It has traditionally been in second place after the oil industry, back in 2011, it created almost 10% of GDP, and almost 1 million people worked in the automotive industry. In 2011, Iran produced 1500 thousand new cars, today production has dropped to 800 thousand. Today, this industry is on the verge of collapse, because in 2011, the import of automotive equipment and some components has been banned.
Civil was in decline
aviation
. Since 1979, Iran has been cut off from the market for new Western aircraft and parts. The national airline of Iran maintains its fleet of aircraft using improvised spare parts and purchasing obsolete Soviet aircraft from some CIS countries. It is no longer necessary to say that there is an acute shortage of some industrial consumer goods, medical equipment, medicines and some food products in the country.
Geneva talks and economic sanctions against Iran
After the change of president in Iran, in Geneva, negotiations began on Tehran's nuclear program, which in the West is called the main cause of economic sanctions. 24 November 2013 was signed an agreement between Iran and the six international mediators (five permanent members of the UN Security Council plus Germany). The essence of the agreement: Iran stops uranium enrichment above the level of 5%, and the West partially lifts sanctions and, above all, thaws 4,4 billion dollars placed in foreign banks. In addition, it allows Iran to import certain goods. The Six also promised not to introduce new sanctions from the UN, the EU or the US. The Geneva decisions have already led to the first results. In early February, 2014, Iran received a tranche of $ 500 million from its assets frozen by Western banks.
The decision of the "six" of 24 in November last year generated great interest from business circles in a number of countries. The delegations of Great Britain, France, Italy, Austria, Georgia, Kazakhstan, Turkey and many other countries reached Iran. Iran still had a very limited number of business partners: China, Russia, India. Now businessmen of other countries considered that they should act quickly and seize the Iranian Klondike. Iran has about 80 millions of consumers and an economy with a gross domestic product of about 500 billion dollars, the third largest in the region after Turkey and Saudi Arabia.
The easing of sanctions is a reversible process.
However, not all so simple. First, we are talking only about the partial dismantling of sanctions. Less than 4% of Iran's foreign reserves are subject to unblocking. There are still bans on the export of oil. The range of goods allowed for import into Iran is very limited. Secondly, US President Obama has repeated many times that decisions taken on Iran have the property of "reversibility." Simply put, at any moment the West can return to its original positions in a circle of sanctions if it considers that Iran is not fulfilling the Geneva accords.
Both in Congress and in the US government, the positions of supporters of maintaining pressure on Tehran are very strong. The statement at the US Senate Foreign Affairs Committee's hearings on the resolution of Iran's nuclear problem, Deputy Finance Minister David Cohen, is remarkable. He oversees the fight against the financing of terrorism and financial intelligence. D. Cohen said that, despite the achievement by the permanent five of the UN Security Council and Germany of a preliminary agreement with Tehran, "the architecture of the central sanctions remains firmly in place." "We continue to enforce: our oil sanctions, which have led to a reduction in Iranian oil exports of 60% over the past two years; our financial sanctions that allowed blocking Iran's assets in other countries; our banking sanctions, in effect, "cutting off" Iran's banking sector from the global financial system; of our sanctions for substantial investments in Iran's energy sector, which has complicated oil and gas production, "said David Cohen. Further, the US Treasury Secretary continued: "In order to achieve the preservation of sanctions pressure, we actively interact with foreign banks, companies and colleagues in governments ... In the framework of such efforts, over the past six weeks I traveled to the UK, Germany, Austria, Turkey and the UAE, directing the next signal: Iran is not open for business. " According to D. Cohen, Washington "is ready to use its tools against any violator of US sanctions, wherever it may be." In the upper chamber of the congress, such a statement received great approval. A legislative initiative is already being prepared there, providing for the restoration of full economic sanctions against Tehran. US Deputy Secretary of State Wendy Sherman clarified that the current easing of the sanctions regime against Iran is "temporary, limited and targeted." US Secretary of State John Kerry in January 2014 at a meeting with French Foreign Minister Laurent Fabius, referring to the French trade delegation's trip to Iran, which was exploring the possibility of contracting and investing in the Iranian economy, warned that this kind of European business activity was premature.
Economic sanctions and Iranian-Russian economic relations
The instability of the situation around Iran is well felt both in this country and in those countries that are its traditional trade and economic partners. Nevertheless, barter deals are in full swing, trade is conducted using gold and the national currencies of the partner countries as a means of calculation. Until recently, Iran traded with Turkey using gold (it is unknown if it uses it today after Washington imposed a ban on settlements in gold). China pays for Iranian oil with yuan, India for rupees.
At the very beginning of 2014, there were reports in the media that an agreement was reached between Tehran and Moscow on a large barter scheme. Russia will receive daily 500 million barrels of oil from Iran, and in exchange will supply various goods for production and consumer purposes. Sources do not disclose the details of this agreement. In particular, it is not completely clear whether this scheme will be used after all restrictions on the export of Iranian oil are lifted, or whether it will be used even if such restrictions remain. Russia itself is one of the largest exporters of black gold, so the point of the scheme is that the Russian side is ready to act as a trading intermediary, re-export Iranian oil and purchase goods necessary for Tehran for the resulting currency.
This information is very excited official Washington. Wendy Sherman, deputy secretary of state for political affairs, said at the hearing in the upper house of the US Congress about the upcoming Russian-Iranian agreement: "We are quite clear that any actions like this agreement between Russia and Iran can lead to sanctions and create a huge risk. .. which significantly complicates, if not disrupts at all, the achievement of a comprehensive agreement, "she added, referring to the negotiations on Iran's nuclear program. There are many statements in the American press calling on the US government in the event of launching such a scheme of trade and economic cooperation between Russia and Iran to return to the initial economic sanctions against Iran, as well as to impose sanctions against Russia. It should be noted that Washington has repeatedly threatened Russia with the imposition of economic sanctions. For example, during the military confrontation of Russia with Georgia in August 2008 of the year. There were threats last year in connection with Russian support for Syria. Never, however, did the threats come to life. For Washington, the economic and political costs of imposing sanctions against Russia are too great.
But Iran, most likely, will have to continue to use the "gray" schemes in trade. For the easing of sanctions is "temporary, limited and pinpoint." In the eyes of Washington, Iran's nuclear program is in some sense only a pretext for returning Tehran to the orbit of its economic and political influence at the negotiating table. Including again to drive Iran into the system of petrodollar. Paradoxically, with all its sanctions against Iran, Washington only achieved that this largest oil-producing country got rid of the shackles of the petrodollar standard that appeared forty years ago. And today, Iran would rather agree to curtail its nuclear program, than to once again obey the oil dictatorship of Washington ...