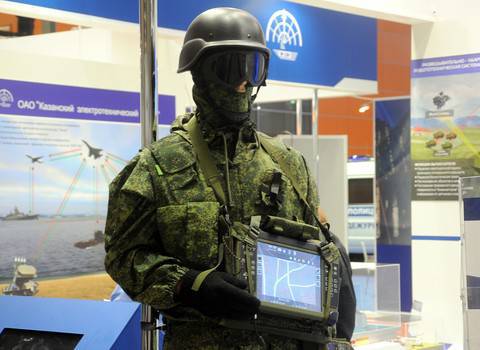 One of the most prominent expositions of the state security exhibition Interpolitex-2013 demonstrated the products of OJSC Moscow Design Bureau Compass (MKB Compass). Vitaly Navodnichy, an adviser to the general director of the company, spoke about some of the samples of Rosinformbyuro presented. At the exhibition, ICD presented gadgets for a soldier of the 21st century, a unified information navigation and communication system on the battlefield, and other products.
- Vitaly Markovich, what are the main activities of OJSC "MKB" Kompas "?
- Among the priority areas of our enterprise, it should be noted such as the development of means and systems of navigation equipment for the Air Force and civil
aviation
as well as equipment for space rocket technology and high-precision control
weapons
. As a promising development I want to mention search and rescue systems, satellite systems for landing aircraft on ships, noise-tolerant satellite receiver for promising aircraft, etc.
Among the initiative developments of the Compass ICB, wearable individual means of orientation and control on the battlefield, an information management system for fire control with an unmanned aerial vehicle, and a self-organizing backbone communications network deserve attention. To create the development of this and other products in the composition of the ICD there are three specialized centers - the development of marine technology, inter-sectoral information and analytical center and special programs.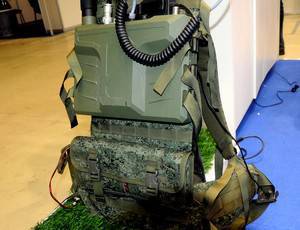 - What samples of products would you note in the company's exposition?
- As a logical continuation and expansion of the enterprise's activity, the navigation and communications complex presented here is presented as an element of tactical control from the brigade and below. It includes the radio station "Bussol" different (wearable and transportable) options. This is a new generation radio station, which was created with the direct participation of representatives of basic science.
"Busol" is designed to create self-organizing, self-healing, jamming and intelligence-resistant tactical level communication networks. The core network in the automatic mode allows you to create a unified telecommunications space that provides communication with stationary and mobile objects, including vehicles and unmanned vehicles, as well as personnel. At the same time, up to 400 node radio stations can be operated in the core network, each of which provides an 10 and 15 connection for subscribers of the TDMA access network and Mesh network. One radio station has 3 high-frequency interfaces that enable communication in the 108-520, 30-108 and 850-960 / 2400 MHz operating frequency bands. The mass of radio stations does not exceed 4,2 kg.
At the same time, each participant in this radio network is also a repeater. If the connection is broken, a new route is automatically searched to restore it. In essence, the principle of multiple reservation is implemented, in which the transfer of a packet of information is carried out along several routes with automatic selection of the optimal one. Moreover, the whole system is built in such a way that it is automatically configured during maneuvers or any actions.
- Here are presented and various types of tablets. What are they?
- In our other products that deserve attention, I would point out the commanding personal tablet (KPP, KPPZ) and wearable receiver-indicator (NPI). Both types of tablets are designed to solve communication, information and computational problems using the user's coordinates, speed and direction of movement, GLONASS and GPS time signals. Tablets can work autonomously and as part of control networks.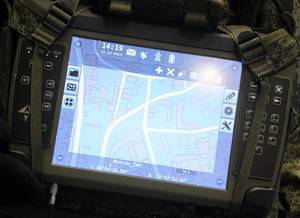 Portable multipurpose wearable NPI in its functionality is similar to tablets, but it is intended for use by an individual fighter and squad leader. NPI has built-in crypto protection, the ability to connect an external voice headset, micro memory cards and USB connector, etc.
These products ensure that each other maintains communication without the use of a radio station at a distance of up to 1100 (300-500) m in open space (rough terrain). When using a radio station, the range can reach 11 km.
Here is also a navigation map tablet (such as 737), which is commercially available. The tablet is designed for accurate navigation of aircraft anywhere in near-earth space at any time of the year and day under any meteorological conditions. It can be used by pilots and navigators of aircraft.
The navigation and communications complex, which is a fully proactive development, is fully prepared and is currently undergoing testing. Previously, our complex was demonstrated at an exhibition in Nizhny Tagil, where relevant structures paid attention to it. Here we have presented a more advanced sample.
- Are the products represented in the "Warrior" program?
- We do not participate in this program. However, the parameters of our products are not worse (data transmission), and in some ways better than those that will be used in the "Warrior".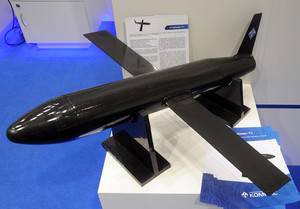 - What is the underwater autonomous robotic device "Glider-T" presented in the exposition of the MKB "Compass"?
- "Glider-T" is designed to perform various research tasks at any time of the day and year in waters without ice cover under any meteorological conditions. The apparatus with various equipment can move through the program and carry out using modern materials and technologies.
The hull of the underwater robot is made of ultrastrong and relatively light material, resistant to the effects of sea water and oil. The original drive based on the electric motor and mechanical actuators has no external mechanical moving parts, which ensures high secrecy from being detected by means of radio and sonar. The device can move in the water and change the direction of movement by commands, the transfer of which can be carried out in several ways. "Glider-T" can be used independently, or as part of a group of similar devices that solve the same or different tasks depending on the goals.
The device is capable at a working depth of up to 100 m and moving at a speed of up to 0,25 m / s with a payload of up to 3 l. With the dimensions of 1,5х1,5х0,3 m and the diameter of the case 200 mm, the autonomy of the device reaches 180 days. The movement of the device along the route is carried out using an inertial control system, for which it automatically pops up and specifies its location.
In conclusion, Advisor to the General Director of OJSC "MKB" Kompas "Floodnichy noted that for more than 60 years the company has been one of the leading developers and manufacturers of onboard navigation equipment for the Air Force and Space Forces. Today Compass ICB is the leading enterprise for the development, production and service of noise-free on-board receiver-indicators and GLONASS / GPS antenna systems (in the future GALILEO) for high-precision positioning, trajectory measurements, monitoring and solving navigation problems using satellite and ground-based radio navigation systems.