The advanced developments of the Russian defense industry are shown both in the parade and in conditions as close as possible to combat
From 25 to 28 in September, the 9th international exhibition of armaments, military equipment and ammunition is held at the Nizhny Tagil State Demonstration and Exhibition Center of Armament and Military Equipment of the FKP Nizhny Tagil Metal Testing Institute (FPI NTIIM). For four days, the participants and guests of the exhibition will be able to familiarize themselves with the latest achievements of the Russian military-industrial complex and advanced world standards of military equipment. The unique characteristics of their products are demonstrated by 2013 exhibitors from Russia and other countries. We are publishing an interview with Igor Sevastyanov, Deputy Director General - Head of the Rosoboronexport delegation at the exhibition, taken on the eve of the salon opening.
"Military Industrial Complex": Igor Olegovich, Rosoboronexport traditionally takes part in all exhibitions held in Nizhny Tagil. What is the peculiarity of this review of military equipment?
"The fact that it is here that Rosoboronexport's foreign partners and all visitors to the exhibition have a unique opportunity not only to get acquainted in detail with the advanced developments of the Russian defense industry, but also to see military products in action. And this is not just a passage of technology in the parade before the stands, as in some foreign exhibitions, but if you will, real maneuvers in front of the public, in conditions as close as possible to the fighting ones.
"MIC": And how does Russia Arms EXPO 2013 differ from the previous Nizhny Tagil salons?
- This time, the actions of military units at the site will be held using modern means of combat control automation.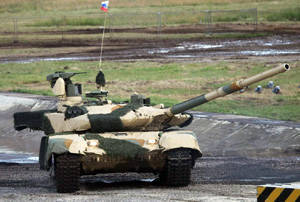 First of all, this is the collection of information about a conditional enemy, including using unmanned aerial vehicles. Then the formulation of tasks for the advancement and deployment of equipment in combat positions, the preparation of initial data for firing and, finally, the destruction of a conditional enemy. And this is not just a rehearsed and played out performance, but an almost real battle involving artillery,
tanks
, BMP, BTR, BMPT,
aviation
. At the same time, participants and guests of the exhibition will not only see the panorama of the battlefield, but also in real time to track individual moments of the "battle". Plasma screens and a multi-channel television complex installed in front of the stands will help the audience. And if the spectacular video sequence is designed for ordinary viewers, then specialists and potential foreign customers of Russian technology will certainly be interested in improving the efficiency of the combat units, a multiple reduction in the time for preparing the initial data and opening fire. All this will take a matter of minutes. At the request of foreign customers, such Russian combat control systems can be equipped with all Russian models of military products of the Ground Forces.
"MIC": What would you advise to pay special attention to potential foreign customers of the Russian military equipment?
- The combat vehicle support tanks BMPT. This is a new and very promising product, which is actually a new type of combat vehicle - a fire support vehicle. Foreign military is not yet familiar with its actual use on the battlefield and do not know all its capabilities. And here, on the proving ground in Nizhny Tagil, it will appear in all its beauty and strength.
Another point of active interest is the T-90MS tank. Retaining all the best qualities of its predecessor, T-90MS significantly surpassed the basic model in all basic tactical and technical characteristics and, we hope, will become one of the most popular in the world. The tank proved to be excellent in terms of high combat effectiveness, exceptional reliability and unpretentious operation. The new combat tower module, increased security and improved chassis meet the modern requirements for tanks. An armament complex and a fire control system make it possible to detect, recognize and destroy targets day and night in any natural and climatic conditions. In terms of its technical equipment, a set of accuracy and temporal indicators of target reconnaissance processes, preparation of shots, firing and the ability to withstand the fire impact of the most modern anti-tank weapons, the T-90MS tank surpasses foreign analogues.
"MIC": At international exhibitions, everyone wants to see new types of military equipment. Will there be debut shows on Russia Arms EXPO 2013?
- Of course. Moreover, there will be more of them than at many international exhibitions. After all, we can not always take out promising samples abroad to show, and it is easier to do it at home. Take at least a floating tracked carrier (PTS-4). It is intended for crossing through the water obstacles of artillery systems, infantry fighting vehicles, armored personnel carriers, towing vehicles, vehicles, personnel and various cargoes. With a weight of just over 33 tons, PTS-4 has a high payload: 12 tons on land and 18 tons on water. Its maximum speed - 60 kilometers per hour over land and 15 - afloat. By the way, the amphibian's patency is comparable to that of the T-80 tank. The machine is armored, equipped with an anti-aircraft machine gun with a remote control and an 400 rounds of ammunition. A new transport amphibian is of great interest to the Russian Ministry of Defense.
"MIC": Now
weapons
production is associated with innovative processes in design development, but there are still few concrete examples. What else will please us with the exhibition in Nizhny Tagil?
- Innovation in weapons is not just a secret, but a particularly secret sphere. Therefore, if they talk about it, then only in the most general terms. At Russia Arms EXPO 2013 we will be able to see truly unique technologies. This also applies to such models as the T-90MS tank, and small arms, and artillery systems.
For example, OAO NPO Pribor, a leading domestic enterprise in the development and production of artillery small-caliber ammunition for automatic cannon armament complexes, will present a wide range of its products, including the 40-mm anti-personnel grenade launcher complex. During its development, a new principle was used - the so-called mortar shot with a "flying away" sleeve. This made it possible to almost double the mass of the explosive used and increase the fragmentation effect of the grenade. That is, with a significant reduction in weight, the damage effect is significantly increased. The mass of the grenade launcher, the sight and the machine tool are just 32 kilograms, the rate of fire is up to 400 shots per minute, and the range is up to 2,5 kilometers. In each "holder" tape is on 20 grenades.
Another innovative model of this enterprise is 30-mm cartridges for automatic cannons with projectiles with plastic masters. Such cartridges (while reducing their cost) significantly reduce barrel wear.
"MIC": Will the Russian military-industrial complex be able to produce a new competitive military equipment?
- Should. There is no other way, as they say. The legacy of 90's with outdated machines and backward technology is a thing of the past. Now in the domestic defense-industrial complex, production is being modernized, cooperative ties are being actively restored, new enterprises are being created, the best domestic and foreign machines, equipment and technologies are being purchased. In particular, the state plans to spend 2020 billion rubles only on the purchase of a modern machine park before 500, including the volume of purchases of products of the Russian machine-tool industry to 150 – 200 billion. In this case, 80 percent of new machines and equipment will be acquired in the interests of the military-industrial complex of the country.
"MIC": Already have specific examples?
- Of course. At three sites, new enterprises are building the Almaz-Antey Air Defense Concern, where large-scale production of the fifth generation air defense equipment will be mastered. I note that according to the version of the American military magazine Defense News in the international ranking of the hundred best enterprises producing military products of the world, this concern occupies the 14 place. And this is just one of many examples.
"MIC": So, it is more profitable to build new plants, and not to retool old ones?
- There is no single recipe. Sometimes it makes sense to use the existing industrial site, provided with energy, water and other infrastructure, building on it a new enterprise. And then reconstruct the old production, eventually creating a single new plant. But sometimes it is more profitable, faster and easier to start from scratch.
"MIC": What, in your opinion, is the model for the development of the Russian defense industry?
- This question is difficult to answer in two words. In my opinion, measures, including state support, aimed at increasing the production potential of enterprises and the competitiveness of their products will help to realize the potential of the Russian defense industry. The replacement of outdated technologies, the elimination of over-employment and over-pricing by suppliers, the stimulation of efficient enterprises, the training of highly qualified specialists, the transfer of labor to the latest technological production, and much more are needed. In general, everything that is connected with the innovative model of industrial development of the whole country, which Russian President Vladimir Putin constantly talks about.
"MIC": Noting the increased competition in the global arms market, we usually mention the increase in supply, price and quality characteristics of military equipment. But there are hidden mechanisms of this struggle.
- Not only mechanisms, but also resources. One of them is political. But if we are talking about specific mechanisms, then it must be remembered that in some countries (Russia, China, Ukraine, Belarus and some others) there is a state monopoly on export-import operations related to weapons and military equipment. As a rule, they are carried out by a special state exporter. In the Russian Federation, this is Rosoboronexport. But in a number of states, companies producing weapons independently enter the world market, where they function as autonomous economic actors. And not always the state can influence their activity. Recall the recent arms supply scandals involving private firms and middlemen from England, France, and Germany. They sold weapons to countries that fell under international sanctions. And taking into account the fact that the states under international embargo are ready to pay big money for military equipment, some manufacturing companies, middlemen and arms brokers are ready to even violate international prohibitions and sanctions. This is not to be said out loud, but such unfair competition warms up the market and is to the detriment of the work of law-abiding states and companies.
"MIC": Now, while fulfilling state defense orders, Russian defense-industrial complex enterprises should switch over to contracts for ensuring the life cycle of military-made products. How much is this algorithm applicable to the system of military-technical cooperation of our country with foreign countries?
- In its recent activities, Rosoboronexport is introducing this practice. It means constant support of the entire life cycle of military export products from the design and construction stage, ordered by foreign partners, its further operation and disposal. This includes post-warranty service, repairs, upgrades. For this purpose, service centers are created on the territory of the customer countries, which solve these problems. Such an approach is mutually beneficial to both suppliers and buyers of military products, increases the competitiveness and attractiveness of Russian military equipment in the global arms market.
We will discuss this and many other issues with our foreign partners at the IX international exhibition of arms, military equipment and ammunition Russia Arms EXPO 2013.
"MIC": At the exhibition sites of Nizhny Tagil will be exhibited not only military equipment, but also dual-purpose and civilian defense products.
- In this regard, I would like to mention a series of KamAZ military trucks. They were created on the basis of civilian models and accumulated the best characteristics of Russian military vehicles, and also acquired additional features - increased thrust-to-weight ratio, enhanced safety margin of the whole structure, easy steering, reliable brakes and a comfortable cabin. All this allowed us to assign the highest quality category to the KamAZ military family.
"MIC": Machines of the Kama Automobile Plant adequately manifested themselves in the Afghan war and local conflicts of recent years.
- Yes, they in real combat conditions showed high throughput, reliability, endurance and unpretentiousness. Now KamAZ trucks are used for mounting weapons and military equipment, towing trailed artillery systems, special and transport trailers, as well as for transporting troops and military cargo on roads of all categories, difficult and rough terrain.
"MIC": What is the export potential of these machines?
- The excellent quality of KamAZ was appreciated by foreign buyers. For only 2004 – 2011 years, over a thousand of these vehicles were sold to Qatar, Bahrain, Yemen, Syria.
Today OJSC KamAZ continues to increase the pace of production of both military and civilian vehicles. In 2012, a two millionth truck rolled off the production line. Growing and export potential of the enterprise. So, in 2007, 13,5 sold thousands of units of various makes of this car abroad, which accounted for 25,5 percent of the total output. The possibility of creating an assembly production of KamAZ trucks in Cuba, where the production volume is assumed to be 500 cars per year, is now being considered. Similar projects are being studied by other countries.
"MIC": It remains for us to wish all the participants of the IX International Exhibition of Arms, Military Equipment and Ammunition Russia Arms EXPO 2013 successful work, constructive negotiations and promising mutually beneficial contracts.
- And we are waiting for guests, visitors and specialists at the booth of Rosoboronexport OJSC.