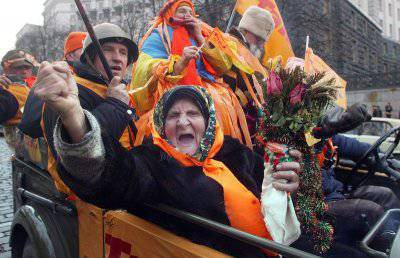 Discussion on the forum Instructions №1 showed that the orange theme, although fairly beaten, and boring, but needs to be continued, because it is replete with many white spots. It affects that democratic myths are firmly hammered into our heads of the media, and even understanding the goals of this myth-making, we remain captive to its particulars.
First, there is confusion with revolutions. The Orange Revolution, as it were, hides behind the great shadows of past revolutions, impersonating their heir. If the Orange Revolution is demagogic in nature, then how to deal with the Great Revolutions, the French and the Russian? They too? Not!
The Russian 1917 revolution of the year was prepared by our liberal intelligentsia for almost 100 years, since the Decembrist uprising of the 1825 year, behind it was a whole outlook, a program of life, and the deep problems of Russia, the peasant in the first place, which the imperial government could not solve in time. Its catalyst was World War I, it produced a "fire" on the Russian empire, like the German one. A whole library is written about it.
All revolutions have something in common, although all unhappy families are unhappy in different ways, as L.N. Tolstoy wrote; Professor Sharpe, a professor of ideological sabotage, studied this. The great French and Russian revolutions are social, although vivid demagogues took part in both, revolution is their time. And they become a disaster, not only for opponents, but also for their supporters.
Much has been written about the demagogy of Alexander Kerensky, the leader of the February Revolution, but, we note, his definition as a demagogue has not yet been given. Here our social sciences are lagging behind the philosophers of Antiquity, maybe not without intent, who were well versed in demagogues and gave them a sharply negative definition.
Kerensky was a great demagogue, so a couple of words should be said about him, for
история
sometimes repeated. At the beginning of 1917, the entire "creative class" of the then Russia was completely delighted with him, he was an ideal compromise figure, as they would say now, and performed remarkably publicly. Although there were visionaries who were immediately amazed at his appearance. It is well known that the physiologist Pavlov, a contemporary of the events, said: "A lousy lawyer, such a snot on the body of Russian statehood — it will destroy everything!"
Kerensky had one method of solving all problems - a psychotherapeutic one, he tried to speak every problem. He spoke endlessly, spoke endlessly, and it was obvious that he was receiving genuine pleasure from it, and he avoided making decisions to the last opportunity. (Like Gorbachev ...) In his youth, Kerensky dreamed of theater, but, to our misfortune, entered the law faculty. Russia paid dearly for the acting talent of the lawyer Kerensky. In exile he was an outcast, everyone cursed him.
Today one detail is of interest. Kerensky lived almost a hundred years, lived to the age of television, and once in an interview he noticed: if television was invented in my time, no one would have overcome me ... Of course, there is old bravado in this, but also a grain of truth. Today, at the disposal of demagogues things are worse: the Internet ...
Hence, the overwhelming passion for speaking, the enjoyment of this process itself is one of the hallmarks of a demagogue. Sweet, liberal couple, Irina Khakamada and Nikolai Svanidze - bright modern examples of fans to talk in public: the rapture of their own speeches, narcissism emanates from their "artistic performances". What they say - for them, in fact, is secondary, the main thing is to produce an effect.
Contemporaries noted that Lenin, for example, was a mediocre speaker, in comparison with the best, although he also fascinated his audience, and did not have a passion for public speaking.
In addition to demagogues, the Great Revolutions had fundamental, age-old reasons. The Orange Revolution in this sense is radically different - it is inspired using the current problems of society, trying to exacerbate them using Sharpov's sabotage methods, and it is always inspired from abroad by the so-called "soft power" - NGOs and NGOs. This, one might say, orange know-how, which tactically distinguishes it from the truly Great Revolutions.
Orange features of the 1991 revolution of the year in Russia, but it was not completely orange: NGOs and NGOs - "soft power" by J. Sharp, had not yet had time to give a lift to Russia, maybe that is why in the zero years Russia managed to escape from "Guardianship" of the West. Ukraine was less fortunate in this sense: "soft power" managed to grab her throat.
Orange revolutions are revolutions of the "well-fed" and creative; the upper strata of society use the lower classes in them as extras and a means of public relations. They are "made" against the background of rising living standards, not falling (compare 90's and "zero"). Our "hamsters" and "goats" are not poor at all, but they want to live even richer, like in the West.
The main slogan of the orange demagogues: "You deserve a better life!" (Compare, the slogan of network companies: You deserve the best products!) Even better than now, and what happened yesterday - is no longer important. The real problems of the country here and does not smell, but it carries a phony deception. They want to live in Russia as in Europe, here and now. This is schizophrenia, for this Russia must immediately become Europe, which is impossible, and nature does not need it: if you want to live like in Europe, go to Europe.
Here there is the stupidity of "hamsters", and the deliberate deception of their curators, but the proportions of this are not important. It is important that the orange parties in principle have no real programs, neither socio-economic, nor for the fight against corruption. Let us take the same Bolsheviks during the revolution: The factories are the workers, the land is the peasants, in any case, a clear slogan. And what does it mean: you deserve a better life? After all, after "everything" they can say: sorry, you were not worthy!
And this is not by chance: the orange, like the network companies, have a universal product that makes everyone happy with the simple method of its consumption. In this case, it is the "Western model of democracy", the attachment of which to any problem magically cures it. Many people sincerely believe this: there is almost no corruption in the West! Therefore, it is necessary to give more "western democracy" to society, and there will be no corruption!
Navalny and his counterparts are just local instructors for the introduction of "Western democracy", but real American instructors are always behind them. For these real instructors, the main thing is the introduction of the "Western model", because behind this magically way the country is plunging into an acute crisis and an abyss of corruption.
This is a big topic, and it requires a separate conversation, but for now let us recall that the touch with the magic wand of "Western democracy" brought Russia down in the 90s, and Ukraine was treading for nothing in one place (according to experts) and as a result turned out today in the IMF debt trap.