In the integrated structure, it was possible to realize the full cycle of creating weapons and military equipment - from the formation of an idea to the sale of finished products
At MAKS-2013, their developments were presented by OAO NPO High-Precision Complexes. The weekly "Military Industrial Complex" publishes an interview with Alexander Denisov, the head of the holding, which unites the leading enterprises for the manufacture of anti-aircraft missile and rocket-artillery, including high-precision
weapons
for the Armed Forces of Russia and foreign customers, as well as small arms, sport and hunting weapons, training facilities.
MIC: Alexander Vladimirovich, what type of weapons and military equipment does the holding develop and produce? What niche does he occupy in the Russian defense industry?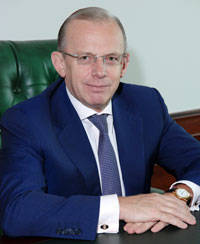 - OAO NPO Vysokotochny Komplektsy is an organization of the military-industrial complex specializing in the field of high-precision weapons systems and complexes of a tactical combat zone, which implements the full cycle of creating weapons and military equipment from the formation of an idea to the sale of finished products.
The mission of our integrated structure is the creation of effective complexes of high-precision tactical weapons, surpassing the best world samples, based on innovations and technological modernization of the holding's enterprises.
The main objectives of the association:
providing the Armed Forces with high-tech weapons during the implementation of the State Armaments Program (LG) and
state defense order (GOZ);

maintaining leadership positions in the market for precision weapons of a tactical zone of hostilities;

organization of the effective functioning of the holding enterprises;

preservation of research, production and personnel potential, ensuring social stability at the enterprises of the holding.


Optimizing the management of the defense industry through the formation of systemically integrated structures is currently one of the most important activities of the government of the Russian Federation. The solution of this task will allow to restructure the national defense industry qualitatively.

"MIC": In fact, the holding company responsible for the implementation of the state defense in the field of high-tech weapons.

- It really is. We produce short-range and short-range anti-aircraft missile and rocket-cannon complexes, ship-based anti-aircraft missile-artillery and anti-tank missile systems, armored vehicles, assault and guided artillery weapons. As well as combat compartments of light armored vehicles, means of automated artillery fire control, active protection systems for armored vehicles, optical-electronic means of observation, target detection and weapon control, infantry rocket flamethrowers and anti-personnel manual and automatic grenade launchers, small-arms, service and civilian weapons.

Among the basic services not only production, but also repair and modernization. By the way, our weapons and military equipment "close" not only a significant proportion of ground-based tactical weapons, we also produce special means for the Space Forces and a system of topographic and geodetic binding.

I would also like to note that the 30-mm shipboard two-automatic artillery installation AK-630М-2 "Duet" has excellent export prospects. The Pantsir-S1 anti-aircraft missile system, Kornet-EM anti-aircraft systems, and small arms are in demand abroad.

We invite participants and visitors of MAKS-2013 to get acquainted with our exposition both in the open area and in the F2 closed pavilion.

Alexander Denisov


Yury Savenkov, Deputy Managing Director, First Deputy Scientific Director, KBP OJSC, spoke about participation in the aerospace show in Zhukovsky of Tula Instrument Design Bureau, which is part of the holding.

MIC: Yury Alexandrovich, at the eleventh International Aviation and Space Salon, Shipunova's firm (the day before it was decided to assign the enterprise the name of the outstanding Russian scientist and designer Arkady Shipunov, who had been responsible for the airborne defense unitary enterprise for more than 44 years). What should I look for?

- The exposition of the enterprise is represented in the holding of OAO NPO High-Precision Complexes. It includes samples of weapons and military equipment, which today consistently complement each other, ensuring maximum defenses and security of protected objects. In the open area, the Pantsir-С1 combat vehicle on a wheeled chassis, a battery control station, a multi-purpose Cornet-EM complex on a Tiger wheeled chassis, a sample of the 95ХX6-2М launch vehicle of a new and promising development are demonstrated.

These systems are also presented as layouts in the F2 Pavilion on an area around 60 square meters. Two simulators for the Pantsir-С1 and Kornet-EM complexes will visually demonstrate their unique capabilities for hitting air targets, the show takes place on a large screen. These training aids are intended for training and training BM calculations for the basic methods of combat work and maintenance. In addition, visitors to MAKS-2013 can familiarize themselves with the Hermes-A KM-6 guided-weapon armament complex (KUV) with homing heads for equipping airplanes and helicopters, KUV with Kornet-E fire control system on the BMP-2, jet-powered infantry flamethrower of increased range and power RPO PDM-A "Shmel-M" and small-sized grenade launcher complex "Bur".

"MIC": What is the level of representation of your company?

- To participate in the exhibition, in preparing and deploying the company's exposition, organizing presentations of our products and conducting negotiations on mutual cooperation with delegations of companies and military representatives of countries present at the exhibition, a delegation was formed as part of 12 enterprise specialists.

We show the further development of military equipment. The highlight of the program of this representative exhibition, of course, is the Pantsir-S air defense missile system, as well as all the other complexes that continue to solve air defense tasks. Among them, the Kornet ATGM in various versions. We expose the entire battery set, which includes a battery control station, a combat vehicle, a target missile. We show a unique mode that only our complex possesses and which has already been used in the military: launching a target missile from our complex. We show on the screens this outstanding work.

The main novelty of our participation today is the vast and invaluable experience that we have acquired over the past two years during the exercises in Kapustin Yar, in Ashuluk. And of course, we show the shots of our march and the combat work of the last exercises in Kamchatka, which are simply amazing. The teachings confirmed that in order to carry out combat operations in the air, we are ready in the shortest time possible to get to the desired dislocation point even in the most difficult conditions.

In the JSC "KBP" created a range of small arms and grenade launchers, including various models of personal weapons, individual automatic weapons, sniper rifles, combat rifles, hand, barrel and automatic grenade launchers. In terms of their combat and operational characteristics, the samples of the enterprise are superior or at least not inferior to the best foreign analogues. A number of models has no analogues. At the exhibition, meetings are scheduled with official representatives of countries and firms with which OJSC KBP is interested in mutual cooperation.

Yury Savenkov


Help "MIC"

The holding of OAO NPO Vysokotochny Kompleks was formed in 2009 in order to consolidate the scientific and technical potential of the group of core enterprises to create, based on innovation and technological modernization of the existing production base of advanced weapons, military and special equipment (VVST) in the field of high-precision weapons systems tactical zone of hostilities. It is part of the state corporation Rostec.


Power units for special equipment

In the current year, other enterprises are also represented in Zhukovsky that are part of the holding of OAO NPO High-Precision Complexes.

Among them, Turbina SKB is the only developer and manufacturer of small-sized gas turbine engines (GTE) and multifunctional gas turbine power units (GTA) with power up to 45 kW for armored vehicles, rocket and artillery weapons and other types of ground military equipment in Russia and the near abroad. basing, and also supercharging units for special engines of the industry.

The main products of the company are mass-produced power units GTA-18A and AP-18D. For more than ten years they have been on equipping combat vehicles of the Russian army, in particular on the Msta-S self-propelled artillery installation, the Iskander-E tactical missile system, air defense systems and systems. Operation in the army, including in combat conditions, confirmed their high functionality and reliability.

SKB Turbina OJSC is constantly working on the creation of power units for special ground-based equipment, considerable attention is being paid to creating a scientific and technical reserve for products of its specialty based on dual technologies for civilian use.

The emergency start-up unit APA-18 is presented at the holding stand. It is intended for land power supply of objects with electric power of direct and alternating current, as well as for ensuring engine start of the object. If necessary, it is possible to use the unit in the mode of a welding generator and connect hydraulic equipment.

OJSC Central Research Institute of Automation and Hydraulics (OJSC TsNIIAG) is also a participant of MAKS-2013. Currently, the institute carries out serial deliveries of Iskander OTRK missile control systems and command and staff vehicles of this missile complex. The troops are actively using the combined control system of the ground forces aeroballistic missiles developed on the basis of a storied inertial navigation system integrated with navigation equipment developed at TsNIIAG. Innovative technical solutions have been implemented as part of the development of optical-electronic systems for the autonomous guidance of high-precision long-range rocket weapons in the image of the underlying surface in the visible range. Technical re-equipment of the institute is being carried out within the framework of the Federal Target Program "Technical re-equipment and modernization of the military-industrial complex". The above confirms the leading position of TsNIIAGA in the development of high-precision control systems and drives for weapon systems.

Anti-aircraft missile-gun complex "Pantsir-С1"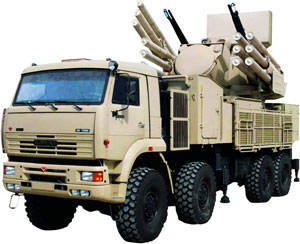 Designed for air defense of small-sized military and administrative-industrial facilities and areas from airplanes, helicopters, cruise missiles and high-precision weapons, guided aerial bombs and remotely piloted vehicles, as well as to strengthen air defense groupings when repelling massive air defense strikes and ensuring the destruction of lightly armored objects. The combat vehicle is designed to fulfill the tasks assigned to a complex of engaging a wide range of aerodynamic targets - manned aviation, UAV, WTO and anti-radar missiles in all conditions of combat use, at any time of the day and in any jamming situations. The autonomy of combat use is determined by the combination of means of detection, tracking and destruction of targets in one combat unit. The modular principle underlying the creation of the combat vehicle allows it to be placed on various transport bases and in a stationary version. The unique characteristics of the complex provide the ability to shoot in motion; simultaneous firing of four targets, including three in radar and one in optical modes; all-weather and all-day use; the presence of noise-protected multi-band radar-optical control system. Combined missile-cannon weapons guarantee a defeat with missile weapons: in range - up to 20 kilometers, in height - up to 15 kilometers and cannon weapons - up to three kilometers.

Anti-tank missile system "Cornet-E"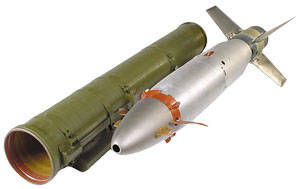 It strikes modern and promising Tanks, lightly armored vehicles, fortifications, low-speed aerial, surface and other targets at any time of the day, in difficult weather conditions and in conditions of radio-electronic and optical interference organized by the enemy. Aiming missiles at the target from the launcher is carried out using high-precision backlash-free two-speed mechanical drives that provide target tracking with an accuracy of no worse than 0,1 thousandth division. For transportation of the Kornet-E complex and operational convenience by combat crew, the launcher is folded into a compact stowed position, the thermal imaging sight is placed in a pack device and delivered to the combat zone by any means of transport. The complex allows target detection, aiming, firing, tracking and hitting a target with one person. The relatively small size, great power of the warheads (a missile with a cumulative warhead strikes modern tanks, a missile with a high-explosive warhead is comparable in power to a large-caliber artillery shell), as well as its significant range, make it possible to equip airborne units, assault groups and troops . The placement of the complex in combat vehicles (infantry fighting vehicles, armored personnel carriers, BMDs, jeeps) increases the mobility and diversity of its use. The ability to place elements of the Kornet-E complex in a rotating wheelhouse allows you to create combat vehicles with electromechanical guidance drives, automate the loading, guidance and launch of missiles. At the same time, the combat vehicles of the complex provide a high rate of fire, constant readiness for launching a rocket, and volley fire with two missiles at one target.

Multi-purpose long-range missile system "Cornet-EM"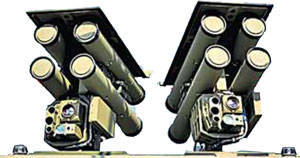 Designed to destroy modern and advanced tanks, equipped with dynamic protection, lightly armored vehicles, fortifications, surface, low-speed air targets (helicopters, RPVs, attacking assault aircraft) at any time of the day, in difficult meteorological conditions and in conditions organized by the enemy electronic and optical interference . The automated launcher with four guided missiles placed on it ready for launch is equipped with a telet-thermal sight with high-definition television cameras and a third-generation thermal imager, an integrated laser range finder and a missile guidance channel, and automatic target tracking with pointing drives. The defeat of targets in automatic mode reduces the psychophysical burden on operators, the requirements for their qualifications, and also reduces the time for their preparation. The complex provides several advantages. Multiple simultaneous shooting at two targets significantly increases the rate of fire and fire performance of the complex. Shooting two missiles in one beam to hit especially dangerous targets, including those equipped with active defense systems. Two-fold (up to 10 km) in comparison with the Kornet-E anti-tank systems, an increase in the firing range, while the pointing accuracy is increased fivefold. Expanding the capabilities of ATGWs due to the destruction of small air targets (helicopters, RPVs, attacking attack aircraft). The Kornet-EM complex can be placed on a wide range of small-capacity carriers (1 units AAP - 0,8 – 1,0 t, 2 units AAP - 1,2 – 1,5 t), provides fire for all Kornet-E missiles.

The complex of guided weapons KM-6 "Hermes-A"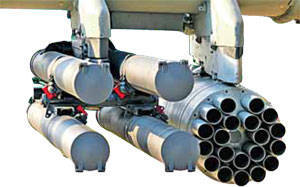 It is intended to defeat day and night modern and prospective tanks, lightly armored targets, engineering and fortifications, surface targets, low-speed air targets. The maximum range of day and night is 15 – 20 kilometers. Benefits and features: increased combat qualities of military transport and combat helicopters due to the increased firing range and power of the universal guided missile warhead, reducing their own losses in the face of enemy air defenses, defeating small targets permanently with one missile, disabling large targets due to consistent destruction of vital elements, high combat performance due to salvo firing (two missiles in a salvo for different targets), supersonic speed rocket and automation of the complex. KM-6 "Hermes-A" is located on various combat, military transport helicopters and airplanes.

RPM PDM-A "Shmel-M" Increased Range Infantry Flamethrower



The new generation of high-precision assault weapons, allowing to solve a wide range of fire support tasks in the melee. RPO PDM-A - modernization of the high-performance rocket infantry flamethrower "Bumblebee", which increases the power of the warhead by half, increasing the firing range by 1,7 times, reducing the mass by 1,3 times. The flamethrower is designed for disabling enemy personnel, located both in open areas and in various types of structures, lightly armored and automotive equipment, for the destruction of fortified buildings, ground or semi-buried buildings made of stone, brick or concrete. In terms of effectiveness in close combat, all types of targets (except tanks) are not inferior to the 152-mm artillery high-explosive fragmentation projectile and allow firing from rooms larger than 60 m3. The flamethrower is always ready for immediate use. Differs in high reliability, allows mobile to move on a cross-country terrain.

Small-sized grenade launcher complex "Bur"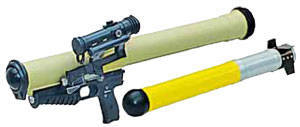 New universal assault weapons, allowing you to perform tasks on fire support in various conditions of close combat. The shot in high-explosive equipment is intended for destruction of openly located manpower on an area of ​​at least 50 m2, destruction and damage to buildings, disabling unarmored and lightly armored vehicles. The shot in high-explosive fragmentation equipment is used for fragmentation damage of an openly located unprotected enemy force on a given area of ​​at least 80 m 2, as well as for disabling automotive equipment. Advantages and features of the application: equipment of various types of shots, the ability to use the type of sight depending on the conditions of use, high efficiency and power of ammunition with low weight and small dimensions, the possibility of firing from enclosed spaces of 30 m 3.