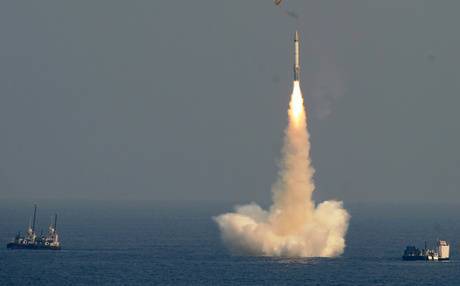 India is considering launching a K-4 long-range ballistic missile from an underwater test platform, the August portal The Sunday Standard 11 reports.
The launch of an SLBM (design range from 3000 to 3500 km) from a platform almost identical to a submarine is scheduled for next month. The launch of the "secret" missile will be carried out in the Bay of Bengal off the coast of Visakhapatnam (the coastal port city of Andhra Pradesh - approx. "VP"). Although the rocket can be launched from the depth of the 50 m, the launch from the underwater platform will be carried out from the depth of the 20-30 m. Previously, the launch of the steam and gas generator of the rocket was successfully tested.
In the pre-dawn hours of August 10, the nuclear reactor of the first Indian strategic submarine INS Arihant was successfully launched. This submarine will be equipped with a K-series SLBM.
It is planned to develop three versions of the K. rockets. The first of these is the K-15 with a 700 km firing range (pictured), it was successfully launched more than 10 times, renamed the Indian defense research and development organization DRDO as B-05, the second one is known as K-4, the third - K-5 - will have a range of more than 5000 km. All K-series missiles have a low mass and secrecy of use, since they are launched from submarines and difficult to intercept.
The K-4 SLBM has a length of 12 m, a diameter of 1,3 m, a starting mass of about 17 t, a head weight of about 2 t. A solid rocket combines the capabilities of both a ballistic and cruise missile, flies at hypersonic speed and is the best
weapons
in class.
"At least four launches of B-05 and K-4 missiles are planned, the first one will be launched from the side of a submarine, the second from an underwater pontoon," a source said.
In addition to the K-series SLBMs, India also has BrahMos supersonic cruise missiles, which have increased the potential for retaliation. After successful tests of the B-05 SLBM from the board of the Arikhant SSBN, the missile will be accepted into the arsenal of the armed forces. DRDO is also developing
aviation
version of the K-series missiles that Su-30MKI fighters can be equipped with.