China is the only official nuclear power in Asia, and it has been in this status for almost half a century. At the same time, there has never been any official data on the size of its nuclear missile arsenal, and it is clearly not foreseen in the foreseeable future. Beijing does not intend to discuss the size and deployment of its nuclear missile arsenal, stating only its extremely insignificant values. Under this pretext, he categorically refuses to participate in any negotiations on nuclear disarmament. Estimated unofficial information provided by most Western sources, is a unique example of surreal absurdity, which is even difficult to find an explanation. The well-known Western institutions - the Swedish SIPRI or the London International Institute for Strategic Studies cite data on which the PRC has no more than 250 nuclear charges.
If, however, China's nuclear arsenal is evaluated on the basis of the country's production capabilities, then it can have at least several thousand charges, and a maximum of several tens of thousands. China's nuclear complex will easily provide such an amount. The first nuclear test China conducted in 1964 year. Did he create 47 charges in 250 years (and Pakistan, whose scientific capabilities and production facilities are incomparable with Chinese ones, in 13 years - already 110, according to the same sources)? But all this absurdity is replicated by many publications in the West and in Russia.
How many rockets, no one knows
In most cases, given values ​​of the number of Chinese intercontinental ballistic missiles (IDB - 30 DF-31 / 31A, 24 DF-5), intermediate range ballistic missiles (IRBM - 20 DF-4, 30 DF-3A, 90 DF-21 / 21A) and operational tactical and tactical missiles (OTP / TP - 600 DF-11, 300 DF-15) in fact are hardly even the lower limit values. Estimates of the production capabilities of the Chinese military industrial complex and the presence in Central China of a huge system of underground tunnels for the shelter of ICBMs indicate that the PRC can have up to one thousand only ICBMs and at least not less number of MRBDs. Regarding the total number of nuclear charges of various capacities and designations, it is hardly a question of less than five thousand units (including, of course, aerial bombs), given that their production in the PRC has been going on for more than 40 years. The mere fact of building a system of tunnels that cost gigantic funds shows that China (who doesn't like to throw money into the wind) has something to hide. This is certainly not the 250 missiles and the same number of charges. Back in 80, Chinese intelligence was able to produce in the US the latest W-88 warhead mounted on ballistic submarine missiles (SLBMs) ​​of the Trident 2, as well as the neutron bomb, which enabled China to make significant progress in developing its own systems saving over 10 for years and hundreds of billions of dollars. In the 90s, China produced at least 140 nuclear warheads per year. Even if part of the old ammunition removed and dismantled, 250 charges can not be considered even a bad joke.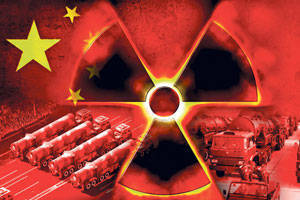 In total, the Second Artillery of the PLA has six rocket armies (51-56-i), which include 17 rocket brigades. The 52 Army, comprising four brigades, is deployed in Anhui Province against Taiwan, it is equipped mainly with OTR and BRSD. The remaining five armies, stationed in various parts of the PRC, are armed with MRBMs and ICBMs. Within the reach of DF-4 MRSD (its range is not less than 5,5 thousands of kilometers), the territories of Russia and India are almost entirely even when fired at them from the eastern regions of China. The same applies to the DF-3 MRBR (firing range - 2,5 – 4 thousands of kilometers) and the newest DF-21 (at least 1,8 thousands of kilometers) when shooting from western China. The most populated and developed southern regions of Eastern Siberia and the Far East are within the radius of impact of the DF-15 (660 km) and DF-11 missiles (up to 800 km). The maritime version of the DF-31 JLR-2 MBR is deployed on four SSBNs of the 094 project. In addition, in China, recently began the deployment of ground-based cruise missiles DH-10, which now has 350 – 500.
It should be recalled that, in relation to Russia, Chinese MRBRs are full-fledged strategic
weapons
because it reaches to any of its points. Russia MRBD does not have. Since the United States is holding back its own ICBMs and SLBMs of the Russian Federation, a very significant imbalance has developed in China's favor with China, although, due to a strange misunderstanding, Russians (including representatives of the military-political leadership) continue to believe in a huge superiority over China in this area .
The air component of the Chinese nuclear forces is described in the article "Attack of the Chinese aircraft industry". In China, as in the USSR, the basis of strategic nuclear forces has always been missiles, not planes. The bombers were just a definite addition. N-6 (Tu-16) of the first modifications, which are carriers of B5 nuclear aerial bombs (there are at least 120 such in Chinese arsenals), are unlikely to break through at least some relatively modern air defense. However, N-6H / K / M, capable of carrying from two to six CJ-10 ALCMs, is now being manufactured in China. From 60 to 70 such vehicles have already been built. Tactical nuclear weapons (B4 aerial bombs of at least 320) can be JH-7 bombers, of which today in the Air Force and Naval
aviation
PLA no less than 160, the production of these machines continues.
Underground shelters and spare cities
In general, there is not the slightest doubt that China has more nuclear charges than the United Kingdom, France, and four unofficial nuclear powers (India, Pakistan, Israel, and the DPRK) combined. It is extremely difficult to say how the Chinese nuclear potential compares with the Russian and American ones. Taking into account the significant multi-stage reductions of nuclear charges of all classes in the United States and Russia in the post-Cold War period, we can safely assume that the Chinese arsenal is at least comparable to the American and Russian (at the maximum it can be the largest in the world). At the same time, the geographical factor cannot be ignored. By the means of delivery of the intercontinental range, the PRC, apparently, is still inferior to the United States (however, the lag will be reduced, since China is launching the production of the newest ICF-based DF-41 with an RCM). But taking into account the BRSD and OTR over Russia, not to mention India, it has achieved significant superiority. Especially in many situations, nuclear Pakistan will act as an ally of Beijing.
Like the US, China would rather win in the event of general and complete nuclear disarmament due to the presence of giant conventional forces, which have greatly improved in the last decade. However, while China is still significantly inferior to the United States in the field of high-precision weapons, therefore, the nuclear arsenal acts as a definite compensation for this lag. The main role of this arsenal is a hidden threat. Its disclosure, if it happens, can be a very unpleasant surprise for the rest of humanity.
In addition, Beijing frankly demonstrates that it is not afraid of nuclear war.
Recently, construction of underground shelters, designed to receive hundreds of thousands and even millions of people, has been launched in major cities of China. According to official data, these shelters are designed to protect the population from earthquakes. It is quite obvious that such an explanation cannot be considered satisfactory. First, an earthquake occurs suddenly and lasts a maximum of a few minutes, so the population simply will not have time to hide in these shelters. Secondly, if people still end up in an asylum during an earthquake, with a guarantee of close to one hundred percent, it will become a mass grave for them, since the walls of the shelter will be broken by seismic waves. When earthquakes are recommended to be on the surface of the Earth away from any structures. We can assume the following: with this pointedly absurd explanation, Beijing makes it clear to both Moscow and Washington that it is quite ready for a nuclear war. Underground shelters, as it is known, are the most effective protection against nuclear explosions and their damaging factors (shock wave, penetrating radiation, light radiation, radioactive contamination).
In addition, in recent years, several dozens of cities with all modern infrastructure have been built in the inland regions of China (mainly in Inner Mongolia), which are empty. And this is with the huge overpopulation of the country. Explanations of this phenomenon are followed by clearly absurd ones - such as an investor's mistake. There could be one or two such "mistakes", but not dozens, especially since nowhere in the world is anything like this (there are a lot of abandoned cities, but nowhere are there new, but uninhabited). There is almost no doubt that these cities are being built in case of a nuclear war. Neither the United States nor Russia will strike blows on empty cities, there simply will not be enough charges. And the residents of the present settlements and megacities will sit out blows in the shelters, and then move to new cities. Yes, several million people will die in this, but for China's 1,3 billionth, this is certainly not a disaster.
In fact, China today is the only country seriously ready to wage any war, both conventional and nuclear. But the rest of humanity in every possible way tries to ignore this fact.